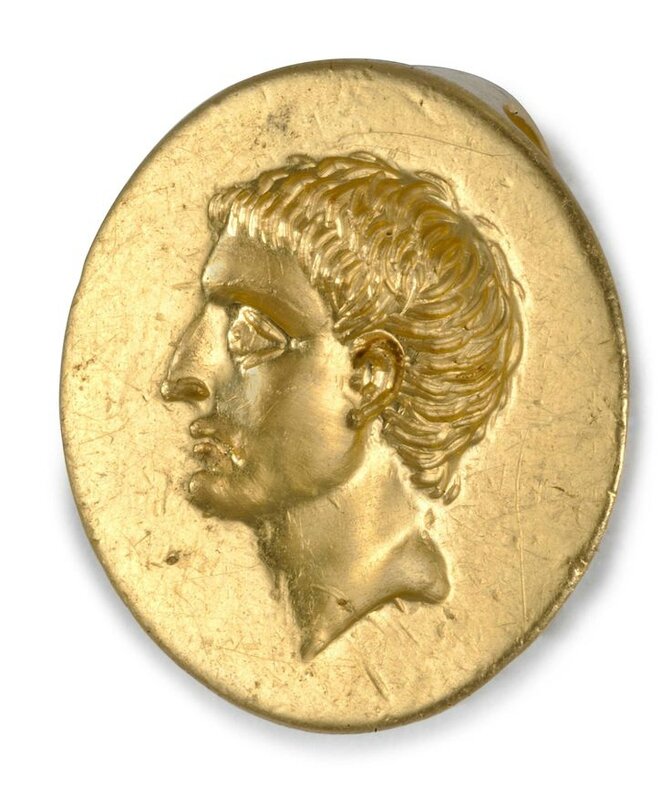 A Greek gold finger ring, Hellenistic period, circa 2nd Century B.C. Estimation: USD 40,000 - 60,000. Photo Christie's Image Ltd 2015
Solid-cast, with a broad hoop, rounded on the exterior, flat on the interior, expanding at the shoulders to the flat oval bezel, engraved with a profile portrait of a man facing left, his hair a mass of short wavy locks radiating from the crown of the head, with a fringe arching across his forehead, with large lidded eyes, a prominent aquiline nose, and a small pointed chin, his muscular neck with the laryngeal prominence indicated - 7/8 in. (2.2 cm.) wide; ring size 5½

PROVENANCE: with Joseph G. Gerena, New York, 1999.
Notes: Engraved portraits on gems and finger rings that depict the specific physiognomic traits of a unique individual make their first appearance during the reign of Alexander the Great (356-323 B.C.). His portrait and that of the many successor dynasts of the Hellenistic world can frequently be recognized through comparison with coins, which typically carry identifying inscriptions. As the Romans expanded into the Greek world beginning in the 2nd century B.C., Greek artists continued engraving portraits for their conquering patrons. One of the earliest examples is a garnet ringstone signed by the artist Daidalos, engraved with a portrait of the Roman general T. Quinctius Flamininus, who defeated Philip V of Macedon in 197 B.C. (see no. 611 in D. Plantzos,Hellenistic Engraved Gems). Closer in style to the ring presented here, especially in terms of the veristic features and hairstyle, is another gold example found at Capua, signed by Herakleidas and thought to depict Scipio Africanus, the Roman general famed for his defeat of the Carthaginians in 202 B.C. (see pls. 212-213 in R. Siviero, Gli Ori e le Ambre del Museo Nazionale di Napoli). While the present ring is not signed, nor is the portrait so far identifiable, its shape and style clearly point to Greek workmanship of the 2nd century B.C. As is typical of Greek work for Roman patrons, gone is the idealized dynamism of Hellenistic ruler portraits in favor of the faithful reproduction of reality.
Christie's. Ancient Jewelry sale - Online auctions December 1 -10.