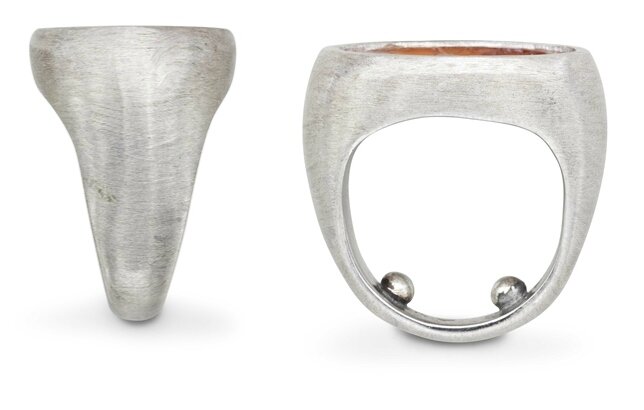 A Roman carnelian ring with a portrait of Julia Domina, circa late 2nd-early 3rd century AD. Estimation: USD 5,000 - 7,000. Photo Christie's Image Ltd 2015
he draped bust of the Empress engraved in profile to the left, her wavy hair pulled back over her ears and tied in a double plait at the back of the head, with sensitively rendered facial features including a large eye, a straight nose and pursed lips; mounted as a ring in a modern silver setting - 13⁄16 in. (2 cm.) long; ring size 7

PROVENANCE: Dr. Paul Ilton (d. 1958), New York; thence by descent.
Property of Paul Ilton; Antiquities, Christie's, New York, 7 December 1995, lot 64.
Notes: Julia Domna was the second wife of the Emperor Septimus Severus, whom she married in 185 A.D. When her husband died in 198 A.D., their two sons, Caracalla and Geta, assumed the throne as co-emperors. The brothers did not take well to their joint rule, and shortly into their reign Caracalla ordered the murder of Geta. Julia Domna never forgave her son for the death of her other child, and multiple ancient sources attribute her suicide in 217 A.D. to their fractured relationship. Her distinctive likeness, including the double plait at the back of her head, the so-called "helmfrisur," is clearly recognized in many surviving portraits in marble, and on coins and engraved gems.
Christie's. Ancient Jewelry sale - Online auctions December 1 -10.