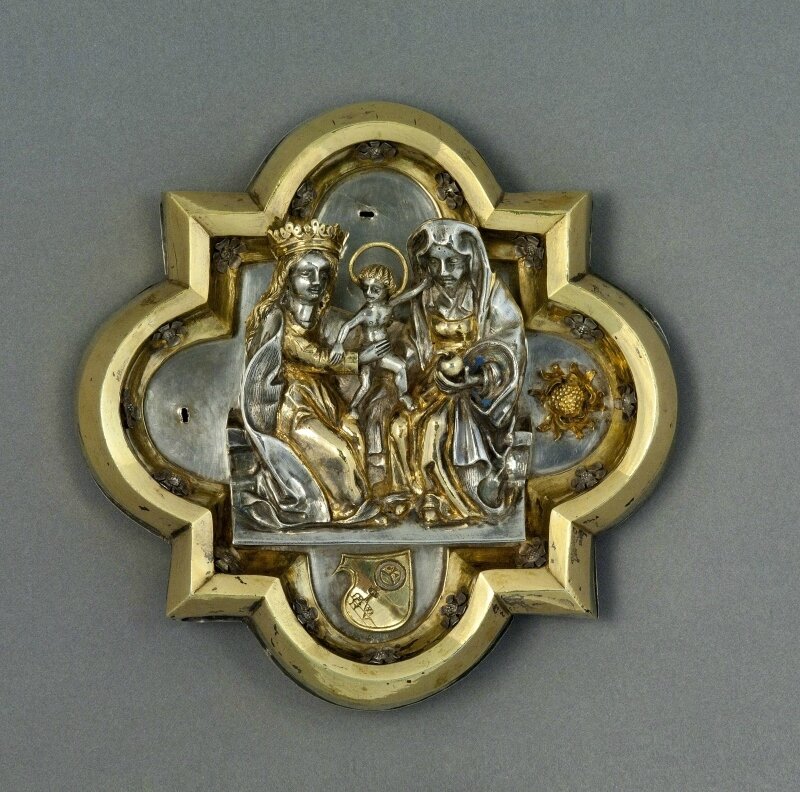 Monile of Heinrich Fürstenau from the treasury of the St. Dionysius to Enger / Herford, Cope Clasp, 1512, Westfalen (Osnabrück?). Silver, wrought, cast, engraved, partly gilded, remnants of a cold paint, 14.2 x 14.1 x 2.5 cm. Ident.Nr. 1888.639. Kunstgewerbemuseum © Foto: Kunstgewerbemuseum der Staatlichen Museen zu Berlin - Preußischer Kulturbesitz. Foto Saturia Linke.
The front of the choir mantle clasp has a strongly protruding, inside grooved frame, the small leaf rosettes are denominated in sterling silver. It surrounds a separately crafted, and the smooth background aufmontierte, vivid representation of Anne with Two Others, ie St. Anna and her daughter Mary and the Christ child. Maria, [...] crowned, and her mother as a matron with his head covered sitting next to each other on a wide bank, the Christ child is standing on her knees, grabs the mother turning around while the shoulder of Anna. The figures of Mary and Anna are abnormally prevented with their torsos, so that the group stands out far beyond the scope. While these two figures made ​​of silver plate driven that the Christ Child is cast in silver, as well as the hands of the two women.
Originally, the buckle of rich color effect must have been; the garments are gold plated, the flesh tones and the outsides of the coats contrast silver left, while the insides, as are corresponding radicals, were painted dark blue. The small flowers on the gilded frames were painted in color, namely red and green. The jewelry of the background were plated thistle-like flowers, one of which is only available at the right Paßfeld. At the bottom there is a separately crafted Paßfeld small coat of arms, the founder crest with the letters MW and HV.DK
An inscription on the back of the buckle reported by the foundation of the choir mantle clasp: ex pia donacione d [omi] ni hinrici vorstenowe hui [us] eccl [esi] e cano [n] ici A [NNO] mdxII (from pious foundation of the Lord Heinrich Fuerstenau, canons of this church, in 1512).