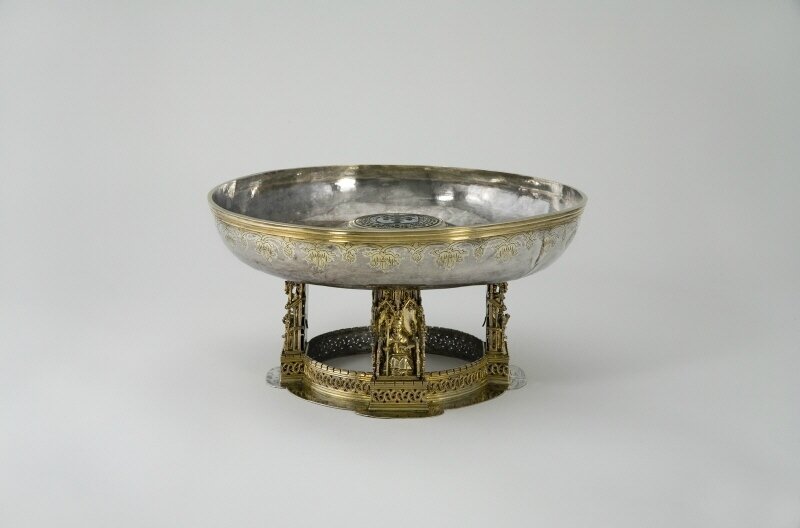 Coupe "Kirchenväterschale aus dem Lüneburger Ratssilber", Cord Hagen, 1476, Lüneburg. Silver, wrought, cast, z. T. gilded, 16.5 x 32 cm. Ident.Nr. 1874.393. Kunstgewerbemuseum © Foto: Kunstgewerbemuseum der Staatlichen Museen zu Berlin - Preußischer Kulturbesitz. Foto Karen Bartsch.
Technically corresponding to Inv. No. 1874.394, execution but less carefully. Mark on the miter of Ambrose. Large indentation in the shell. Email the medallion partially lost.
In addition to the figures largely consistent with the Evangelists shell. Cast wall wreath on the same model, but larger in diameter, the wider towers, also are compared to the previous bowl, the corners of the base ring rounded. Identical is the engraved frieze of the shell edge.The four Latin Church Fathers enthroned in a canopy architecture of Gothic buttresses, pointed arches, triforium, pinnacles and gargoyles. Gregorius is (terminated portion of the rod) by the tiara, Hieronymus characterized by the lion with nail, Augustine and Ambrose (both with an open book) are distinguished only by little present on their mitres asterisk or paws crosses. The architectures and characters is respectively based on a model, the figures differ only in their attributes, headgear, hand positions, the Hieronymus also by another garment type. In bowl inside an enameled crest medallion with the inscription: HANC APOTECARIUS TRIBVIT DOMINIS MATHIAS MUST 1476. (This dish gave the chemist Matthias Must the aldermen 1476). Colours: Black, blue, honey color and transluzides Green. Between the engraved coat of arms and a surrounding wreath of leaves (and formerly enamelled) leaves, flowers, a dog and a winged hybrid creature.