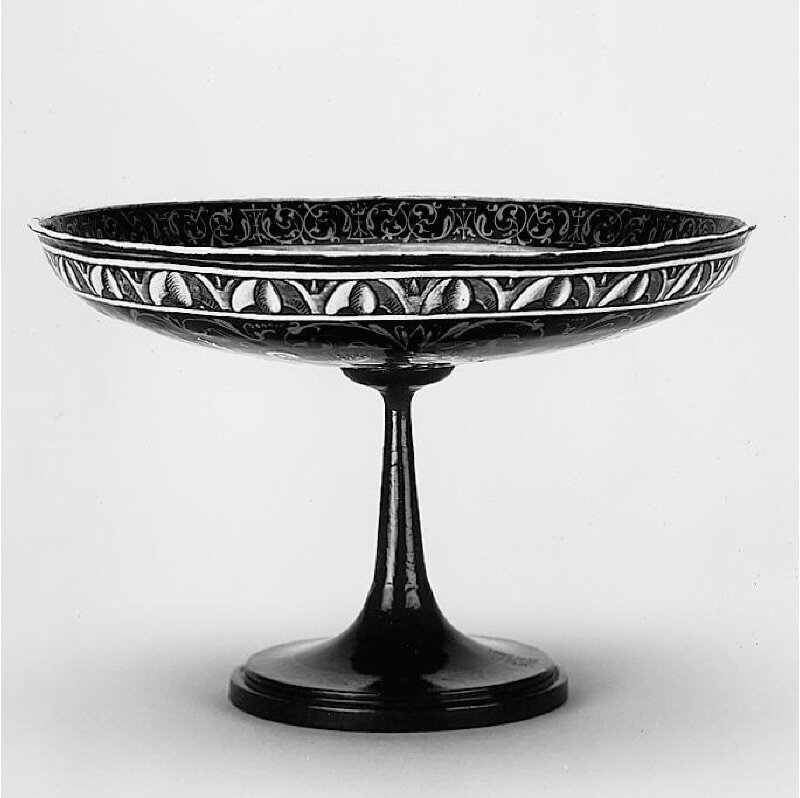 Fußschale showing the erection of the Brazen Serpent, 1571?, copper & glass flux and metal oxides and gold, art: grisaille and gold painting, Height: 13.0. Ident.Nr. K 5029. Kunstgewerbemuseum © Photo: Museum of Decorative Arts of the National Museums in Berlin - Prussian Cultural Heritage.
Shallow bowl with renewed foot, monogrammed on the main screen of the shell bottom.Dense black base enamel, about thin Weißlavierungen, gilding in perfect condition, so that a re-gilding is suspected.
In tray bottom view of an episode from the Book of Genesis of the Old Testament (Exodus XXI, 4-9): The people of Israel quarreled about the hardships of the train by the desert.Because God sent serpents that killed many of them. "Since they came to Moses and said, We have sinned, for we have spoken against the Lord and against you pray the Lord that he take away the serpents from us And Moses prayed for the people And the Lord said to Moses...: Make a fiery serpent, and set it on a pole high on. Who is bitten can look at it, shall live ".
As templates served a woodcut January Swarts for Willem Vorstermans illustrated edition of the Old Testament from the 1528 and figures and motifs from Bernard Salomon illustrated images Bibles.