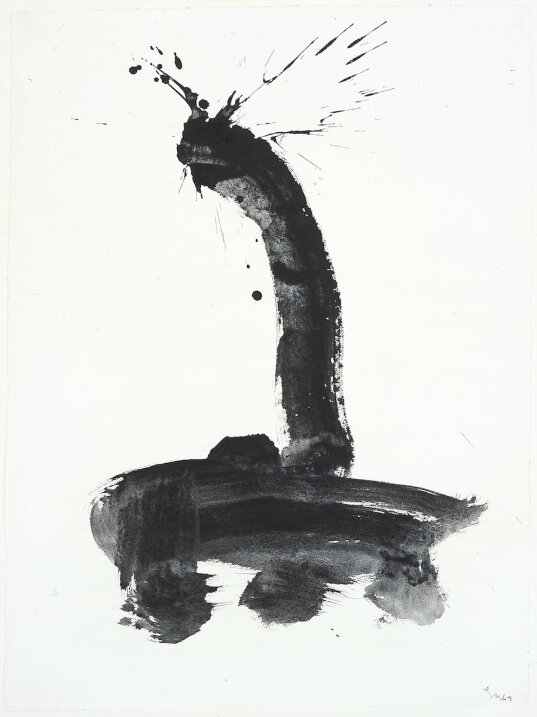 Robert Motherwell, Gesture Series (A),1969, Acrylic on paper, 77.5x57.2cm.
HONG KONG.- Para Site is presenting The world is our home. A poem on abstraction, featuring works by Robert Motherwell, Bruce Nauman, Tomie Ohtake, and Tang Chang. The world is our home is part of Para Site's series of ground-breaking exhibitions employing a speculative approach to the art histories that need to be written around our regions. The exhibition takes as its point of departure a moment in the abstract movement of the post-war era, when dominant international vocabularies became entangled with traditional Asian painting in the work of a few artists, working independently and in disparate contexts. The show gathers a small but consistent body of works by three such abstract painters, active outside of East Asia, whose experimental practices incorporated artistic traditions of this region. The juxtaposition of the artists bring into light similarities at the formal level as well as distinctiveness in their appropriations of ink painting and calligraphy, but also connections between their post-war contexts, and personal and political implications of their works. The exhibition also brings into question the different levels of marginality operated by art historical narratives and the construction of national and international cannons.

The biography and contribution to abstraction of Tomie Ohtake (b. 1913, Kyoto – d. 2015, Sao Paolo), can be discussed in relation to a key generation of Japanese-Brazilian artists who were leading representatives of abstraction in Brazil's art history while remaining unique and distinct from it. She arrived there in 1936 from Japan, and remained when World War II erupted. Ohtake's paintings often embody a calligraphic action. Precise, deep, and often forceful traces of ink and paint introduce a sensuality of pictorial depth and open a discussion about spirituality. Ohtake's images can be inscribed in a humanistic symbolism borrowed from Zen Buddhism. Her own relationship with signs, objects, and interiority was very much connected to this cultural milieu. As she once stated, "A picture is not a thing, but a movement, it could be before, it could be after."
Tomie Ohtake (1913 - 2015), Untitled, 1959, oil on canvas. courtesy of the Tomie Ohtake Estate
Tang Chang (b. 1934, Bangkok – d. 1990, Bangkok) is recognised as an important figure of Thai modern art, while not fully integrated in the national cannon, perhaps due to his Chinese descent and his explicit embracing of his origins. His prolific body of work ranges from informal gestural abstract painting to expressionist portraiture, as well as extensive poetry-drawing. The clear recognition of calligraphy in the materiality of his large-scale canvases translates a gesture of violence and angst. His work is marked by the years following anti-Chinese violence and the poetry-drawings should be read on the background of the 1970s student uprisings and crackdown by the military regime. In this context, informed by nationalism and a conservative outlook in artistic production, Tang Chang's paintings were double outcasts, for being too international abstract and for being too Chinese.

Robert Motherwell (b. 1915, Aberdeen, Washington, U.S.A. – d. 1991, Provincetown, Massachusetts, U.S.A.), the prominent American abstract painter, often appropriated forms and gestures found in Chinese and Japanese painting, while being a collector of traditional art and textbooks from East Asia. Rather than an orientalist infatuation, his obsession with thick strokes and gestures grew over the decades into a unique epistemology of form. Following these developments, a recurrent subject he titled Elegy to the Spanish Republic resurfaced as a never-ending series of paintings which historiography has read as Motherwell's form of protest against the perseverance of fascism.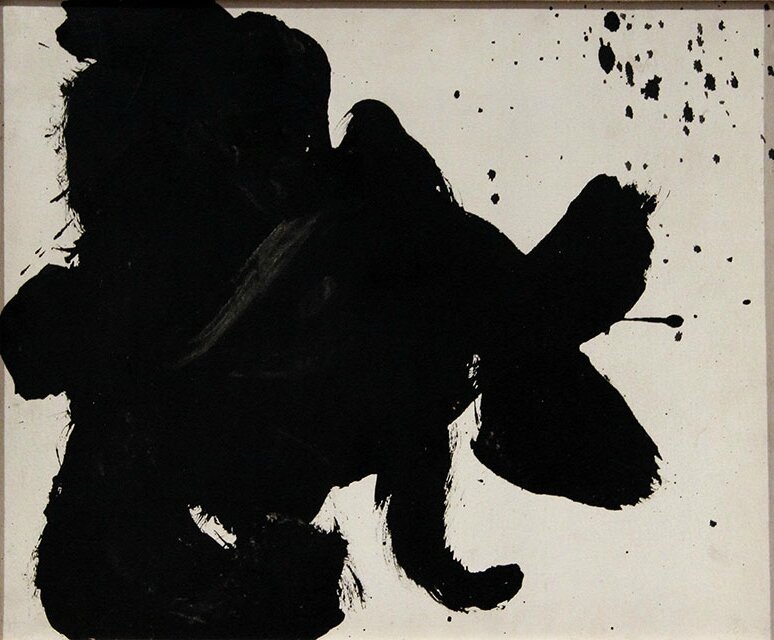 Robert Motherwell, Frontier No. 12, 1958, Oil on primed board, 38.1x45.7cm.
The exhibition also presents Bruce Nauman's (b. 1941) video-performance Dance or Exercise on the Perimeter of a Square (Square Dance), 1967–1968. Shown as an anomaly amongst the pinacothèque display, Nauman's choreography along the limitations of a given area translates, through movement and immateriality, concepts of time, space, and matter found in the works of Motherwell, Ohtake, and Chang.

The title of the exhibition comes from a slogan employed by the hundreds of Chinese serving on the Republican side in the Spanish Civil War, a contingent which played a small but important part in the international brigades fighting Franco's Fascists. The sentence translates the personal sentiment of solidarity and identification with the context and struggles of others. Having actively painted throughout the 20th century in diverse corners of the world, and entered different cannons, these three artists felt entitled to appropriate pictorial languages that transcended national identities, entangling cultural genealogies in their search for an appropriate language for their times.