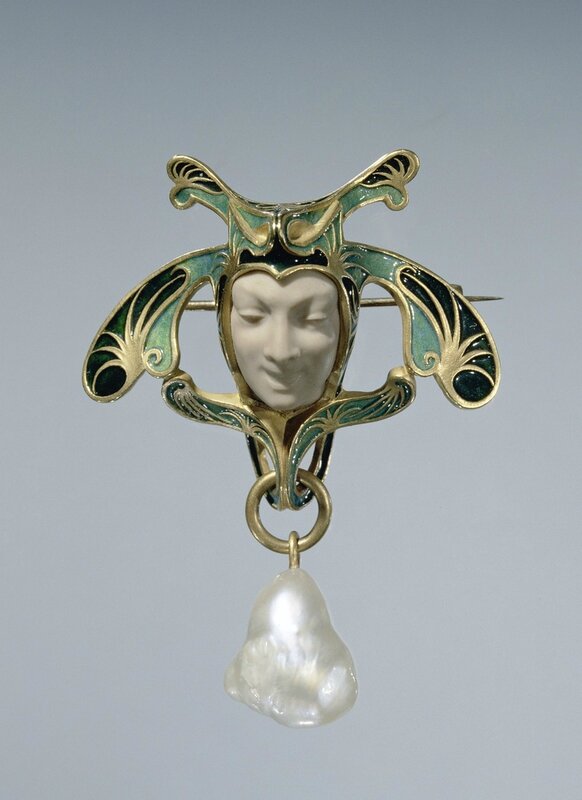 René Lalique, Brooch in the form of a court jester, Paris, ca. 1897 - ca. 1899, gold, litho stone, and baroque pearl enamel; h 7.2 cm × 5 cm b. BK-1969-25. Rijksmuseum, Amsterdam.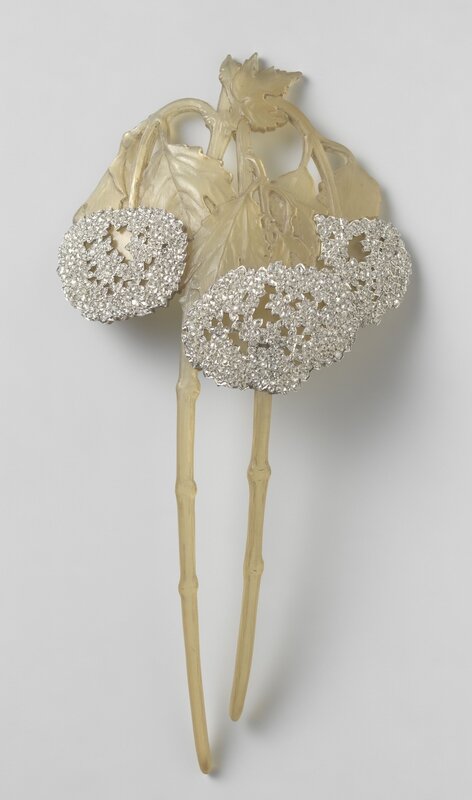 René Lalique, Hairpin in the form of two arms Viburnum, Paris, ca. 1902 - ca. 1903, horn, gold and diamonds; H 15.5 cm × 7.6 cm b. BK-1987-2. Rijksmuseum, Amsterdam.
Hair comb horn, gold and diamonds. The crest is inspired by Japanese models and is shaped like two branches of a shrub with flowers (Viburnum opulus roseum 'snowball').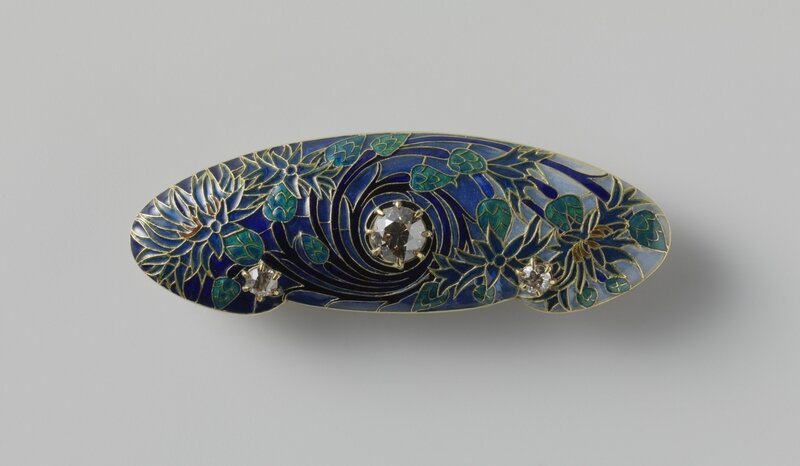 René Lalique, Brooch with cornflowers, Paris, ca. 1904 - ca. 1906, partly enamelled gold and diamonds; h 2.2 cm × 6.8 cm b. BK-1971-6. Rijksmuseum, Amsterdam.

René Lalique (1860-1945)
The decorative artist René Lalique, coming from a middle class family, was the great innovator of the French jewel at the end of the 19th century. From about 1890 he developed a unique style, inspired by nature and the stylized forms of Art Nouveau, the style that was leading in the applied arts. While traditional jewelry were especially valued on the basis of the precious stones which they had occupied, Lalique presented the design in the first place. He combined unexpected materials, such as leather, horn or shells, with precious stones or metals. After about 1900 he engaged in blowing glass into a mold and he applied combinations of blown and pressed glass. Lalique produced in glass sculptures, vases, bowls, perfume bottles and beverage sets, but also panels for doors and windows church.