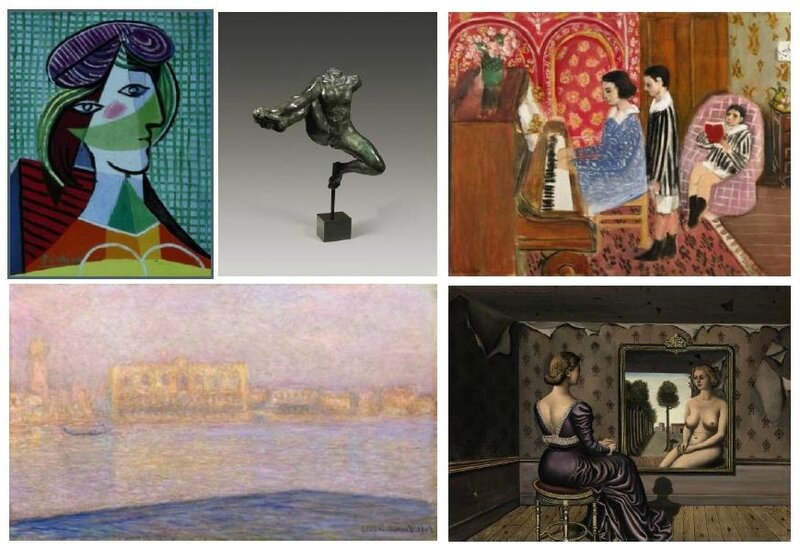 Photo Sotheby's.
LONDON.- Sotheby's London Impressionist, Modern & Surrealist Art Evening Sales on 3rd February are characterised by their breadth of range within these collecting categories, combined with an outstanding level of quality across the board. Encompassing works by the most sought-after artists including Claude Monet, Henri Matisse, Edgar Degas, Pablo Picasso, Auguste Rodin, Paul Delvaux and René Magritte, to name but a few, the 54 lots in the evening sales are estimated to fetch a combined total of £97,630,000 - 138,370,000.

IMPRESSIONIST MASTERPIECES
Claude Monet (1840 - 1926), Le Palais Ducal vu de Saint-Georges Majeur, signed Claude Monet and dated 1908 (lower right); oil on canvas, 65 by 100cm., 25 1/2 by 39 1/2 in. Painted in 1908. Estimate:£12,000,000-18,000,000. Photo: Sotheby's.
Monet's spectacular view of the Palazzo Ducale on the Grand Canal belongs to the extraordinary series he completed during his first visit to Venice in the autumn of 1908. He paints a Venice transfigured by light – conveying the famous Venetian haze in the interplay between the ornate Byzantine façade and the rhythmic expanse of water. Other examples of the artist's views of Le Palais Ducal painted in the same year are now held by prestigious museum collections, including The Metropolitan Museum of Art in New York.

Sotheby's has sold each of the three highest-priced paintings of Venice by Monet, including Le Grand Canal of 1908 in February 2015 for £23.7m, a record price for a Venice painting by the artist and Le Palais Ducal of 1908 in May 2015 for $23m.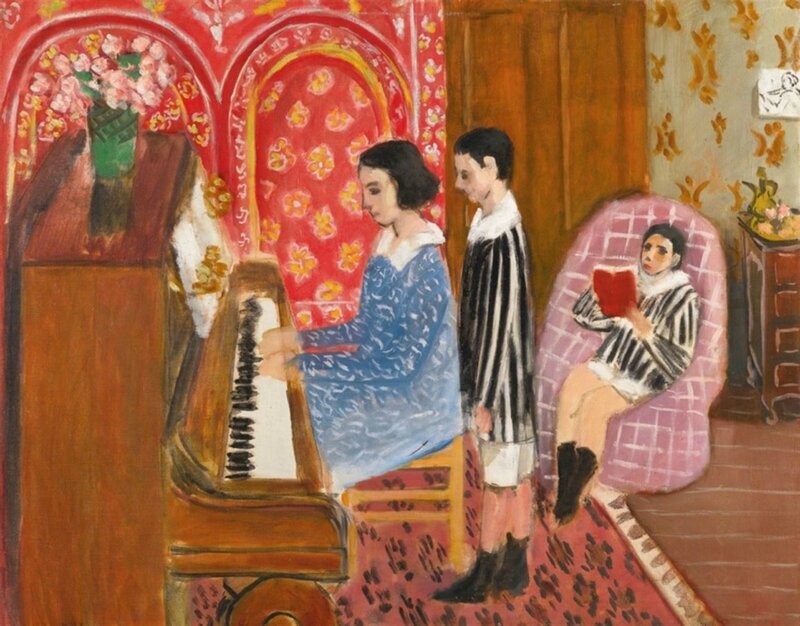 Henri Matisse (1869 - 1954), La Leçon de piano, signed Henri Matisse (lower left), oil on canvas, 65 by 81cm., 25 5/8 by 31 7/8 in. Painted in 1923. Estimate: £12,000,000-18,000,000. Photo: Sotheby's.
An exceptional painting by Matisse, La Leçon de piano has emerged after 89 years in a private British collection. Combining music and art, two of the artist's great passions, this intimate work is one of the finest interior compositions from Matisse's early Nice period, which rank among the boldest and most life-affirming in Matisse's œuvre. The vibrantly coloured and highly patterned fabrics that make up the interior have become synonymous with his art from the 1920s, and in this painting they are complemented by the piano on the left, while the composition is centred around the figures of Henriette Darricarrère, Matisse's favourite model of this era, and her two younger brothers. The painting was acquired by the late Royan Middleton, whose collection is one of the least known and most fascinating of all those formed in Britain from the 1920s onwards.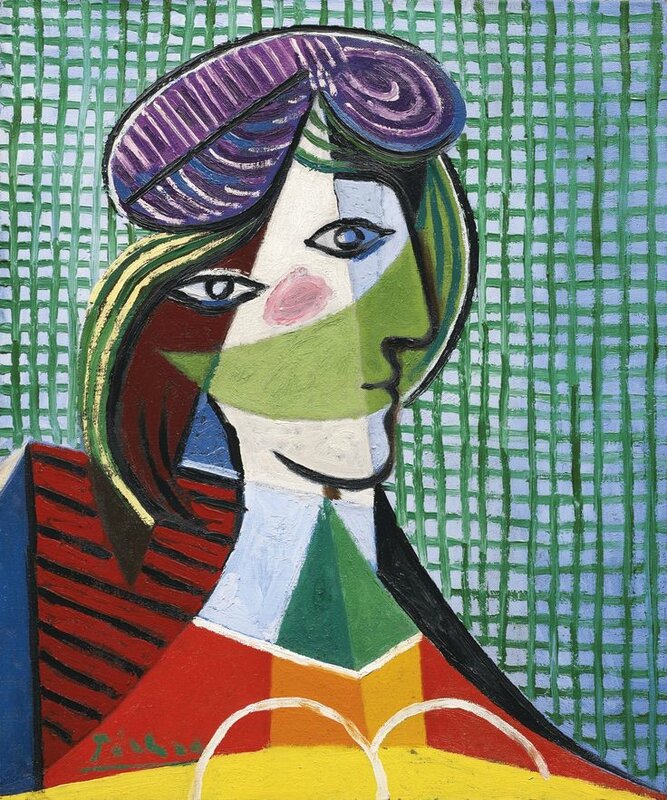 Pablo Picasso (1881 - 1973), Tête de femme, signed Picasso (lower left), oil on canvas, 65 by 54cm., 25 5/8 by 21 1/4 in. Painted on 12th March 1935. Estimate: £16,000,000-20,000,000. Photo: Sotheby's.
Instantly recognisable as a portrait of Picasso's 'golden muse' Marie-Thérèse Walter, this elegant and radiant composition is one of the most geometrically complex renderings of the artist's beloved mistress. The work, full of erotic love for the woman who was pregnant with his child at the time of painting, features a crescent moon across her face, a symbol of Diana, god of fertility.

The linear forms of the composition contrast with the more cubist aesthetic which is achieved through the crosshatching of the background. The image of Marie-Thérèse in Tête de femme inspired a creative synthesis of the most radical aspects of Picasso's production, as he was able to incorporate elements from various different parts of his career into one work – the voluminous treatment characteristic of his plastic work, the grid-like background reminiscent of his ground-breaking collages, and the sharp, linear distortions borrowed from the Cubist canon.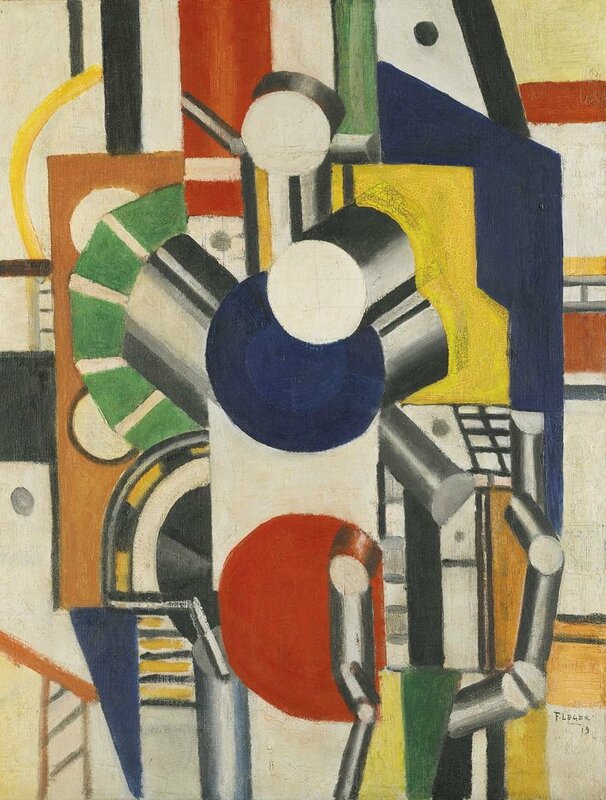 Fernand Léger (1881 - 1955), Eléments mécaniques, signed F. Léger and dated 19 (lower right); signed F. Léger, titled and dated 19 on the reverse, oil on canvas, 64.5 by 49.5cm., 25 1/2 by 19 1/8 in. Painted in 1919. Estimate: £3,000,000-5,000,000. Photo: Sotheby's.
Created shortly after the end of the First World War, Eléments mécaniques is a celebration of technological progress in an age of rapid industrialisation. The piece also marks a return to the simple purity of abstraction and bright palette, which Léger had abandoned whilst serving in the French army. He transforms the composition with a fragmentation of the objects and space to reflect the frenetic simultaneity of modern life.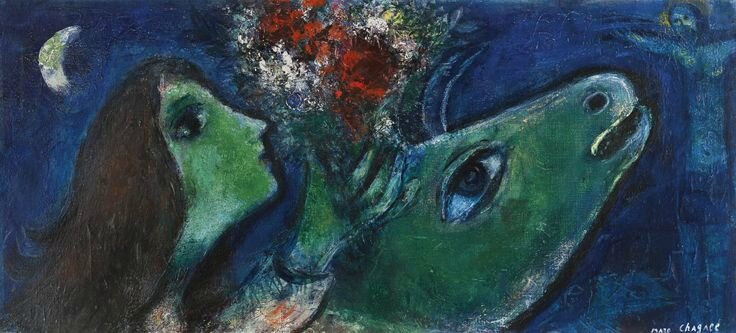 Marc Chagall (1887 - 1985), Femme à l'âne vert or Tête de vache verte, signed Marc Chagall (lower right), oil on canvas, 33 by 72.3cm., 13 by 28 1/2 in. Painted in 1953. Estimate: £400,000-600,000. Photo: Sotheby's.
Femme à l'âne vert is suffused with the rich blue that characterises much of Chagall's post-war work and represents his new engagement with colour and light. The figures in the piece are laden with significance and imbue the work with an underlying nostalgia that suggests both a present happiness and remembrances of a lost past. The young woman with dark, flowing hair was synonymous with the artist's beloved first wife Bella, and here she is lent extra weight by the bouquet of flowers she clasps in her hand. This work comes from the private collection of a Swiss couple Willy and Marina Staehelin-Peyer - ten further works from their collection will be offered across the Evening and Day sales.
GERMAN EXPRESSIONISM
Franz Marc (1880 - 1916), Grosse Landschaft I (Large Landscape I), oil on burlap, 110.5 by 211.5cm., 43 3/8 by 83 1/4 in. Painted in 1909. Estimate: £4,000,000-6,000,000. Photo: Sotheby's.
'Today I was up in the horse pasture again… How magical it was, the bright shiny horses on a carpet of timeless autumn.'1 Marc believed that the horse, with its flowing mane and strong, sinuous physicality, symbolised the ideal beauty of nature. In 1911, Marc and Kandinsky chose this majestic animal for the cover of Der Blaue Reiter Almanach – the manifesto of a group fundamental to Expressionism. This early work heralds the artist's bold palette and his rejection of naturalistic use of colour, in a harmonious and rhythmic composition. Marc died during the First World War, and the surviving artists, including Kandinsky and Paul Klee, later acknowledged their debt to the spiritually based, 'primitive' aesthetic that Marc had pioneered.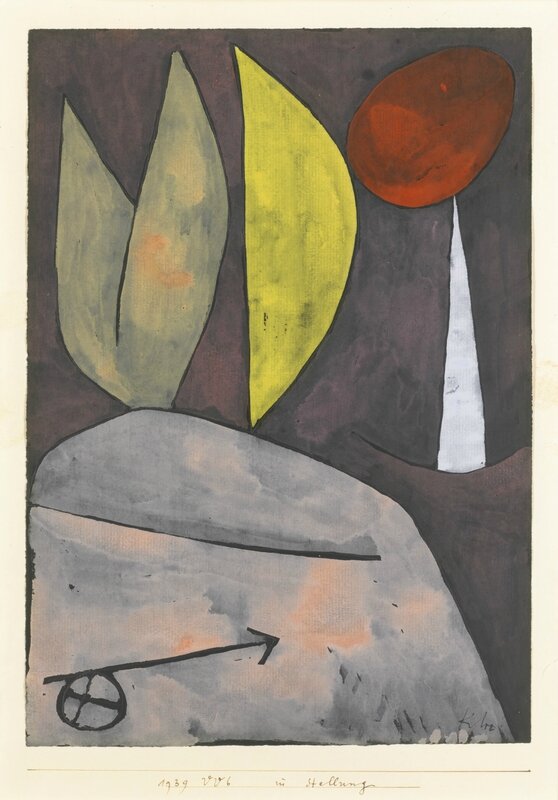 Paul Klee (1879 - 1940), In Stellung (In Position), signed Klee (lower right); titled, dated 1939 and numbered VV6 on the artist's mount, watercolour on paper laid down on the artist's mount, image size: 31.3 by 22cm.; 12 1/4 by 8 5/8 in., mount size: 50 by 35cm.; 19 5/8 by 13 3/4 in. Executed in 1939. Estimate: £120,000-180,000. Photo: Sotheby's.
Executed in 1939, the most productive year in Klee's career, In Stellung is a magnificent example of the artist's ability to blend natural elements and geometric forms into a fantastic, dream-like image. Following Klee's death in 1940, the present work was inherited by his widow Lily Klee and later passed into the possession of the newly formed Klee Foundation in Bern.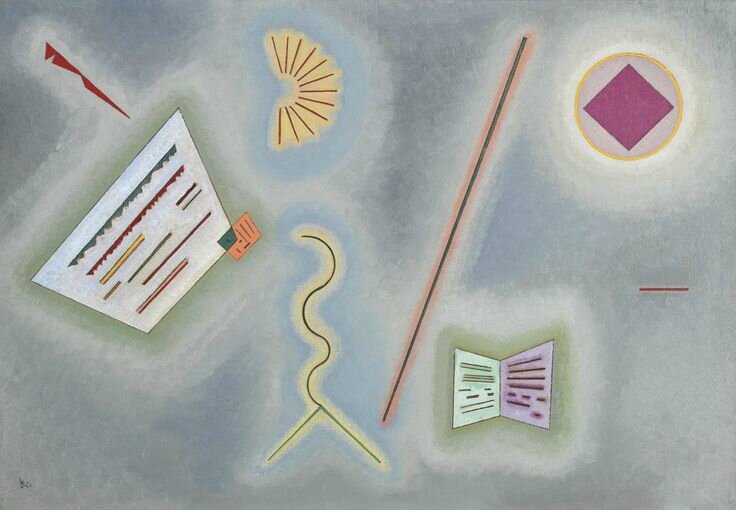 Wassily Kandinsky (1866 - 1944), Flächen und Linien (Surfaces and Lines), signed with the monogram and dated 30 (lower left); signed with the monogram, titled, dated 1930 and numbered No. 522 on the reverse, oil on board, 49 by 70cm., 19 1/4 by 27 1/2 in. Painted in June 1930. Estimate: £700,000-1,000,000. Photo: Sotheby's.
A harmonious exploration of colour and form, Flächen und Linien is an important example of Kandinsky's mature style. The painting dates from the years the artist spent in the industrial town of Dessau, where the Bauhaus was relocated in 1925. Combining flat planes of colour and clearly defined shapes in the style that became associated with his Bauhaus works, this painting exemplifies the artist's ground-breaking aesthetic experiments. His use of strict geometric forms was due to his belief that particular arrangements of shapes triggered an "inner resonance" or "spiritual vibration" and could elicit from a viewer a powerful emotional response.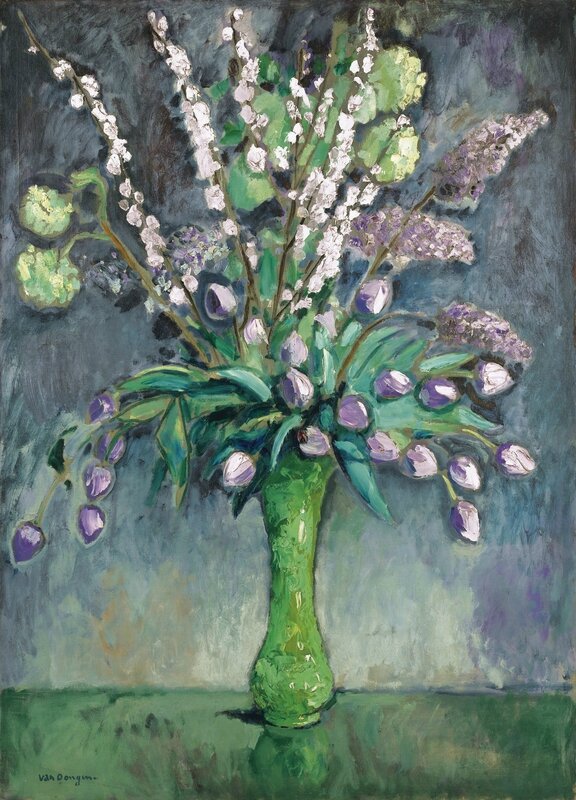 Kees van Dongen (1877 - 1968), Lilas et tulipes, signed van Dongen (lower left), oil on canvas, 130 by 96cm., 51 1/8 by 37 3/4 in. Painted circa 1925. Estimate: £400,000-600,000. Photo: Sotheby's.
Vibrantly coloured and executed on an impressive scale, Lilas et tulipes exemplifies both Van Dongen's remarkable mastery of colour and his innovative approach to the still-life form. Juxtaposing the slender stems of the lilac blossoms with the sensuous heads of the tulips, Van Dongen imbues the composition with a remarkable dynamism and his expressive use of thickly applied colour reflects the enduring influence of an association with the Fauves.
SCULPTURE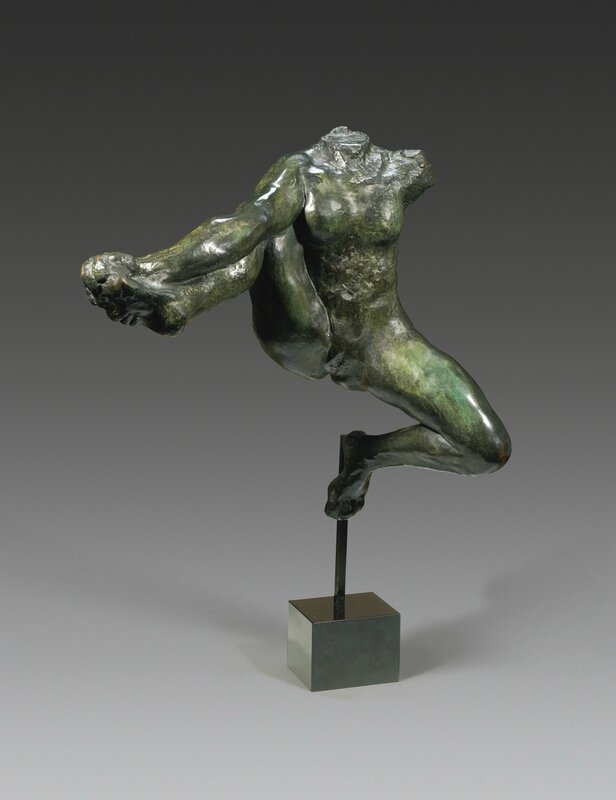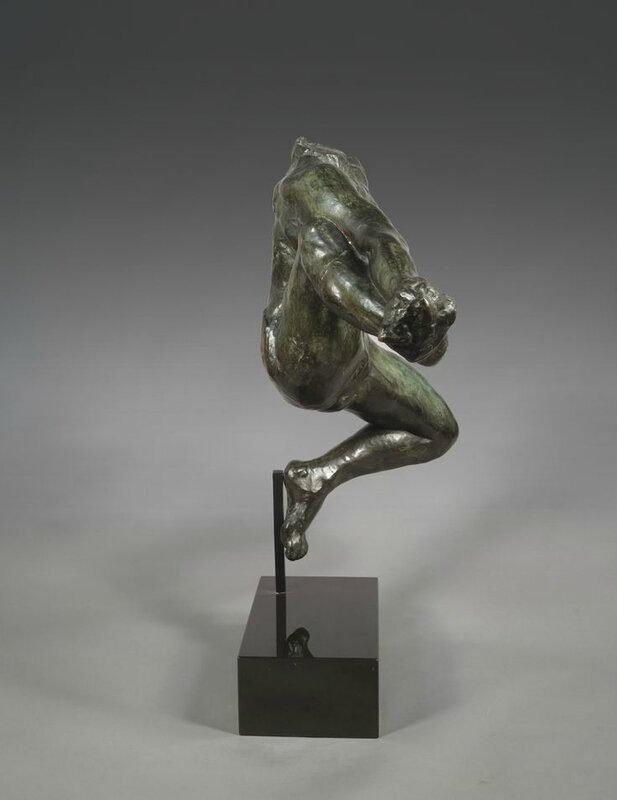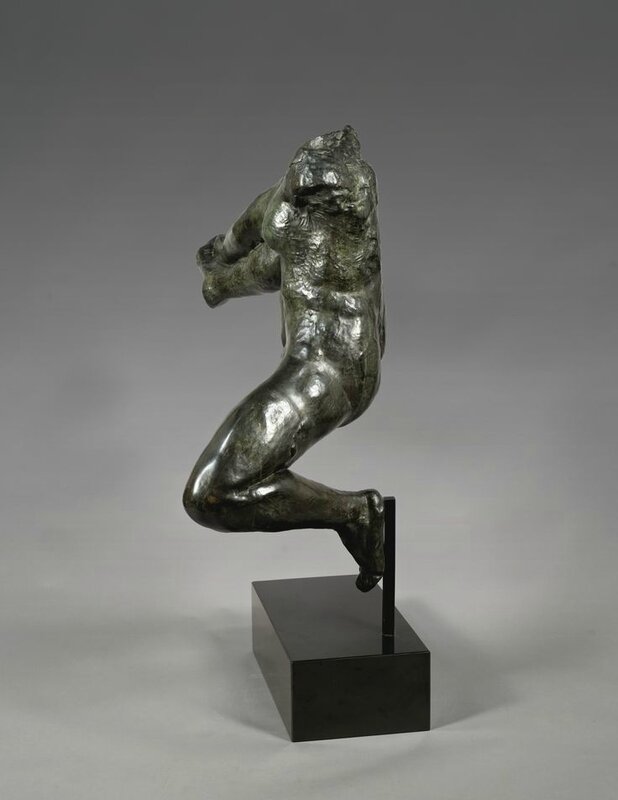 Auguste Rodin (1840 - 1917), Iris, messagère des Dieux, inscribed A. Rodin, bronze, height: 82.9cm. 32 5/8 in. Executed in 1890-91. This work is a life-time cast and was cast by the Alexis Rudier Foundry between 1902 and 1905. Estimate: £6,000,000-8,000,000. Photo: Sotheby's.
Suspended in mid-air, this image of the female body is one of Rodin's most daring sculptures, both in its defiance of gravity and in the frankness of its sexuality. One of only seven known life-time casts of this magnificent work, the bronze is one of his most celebrated sculptures, admired for its expressiveness. Rodin drew voluminous quantities of nudes in unconventional poses, often highly erotic ones, and it is perhaps these studies that prompted the exceptional arrangement of the Iris. Originally conceived as one of the muses in his second project for the Victor Hugo Monument, the flagrantly explicit composition and central focus on the female anatomy also recalls Gustave Courbet's infamous painting L'Origine du monde.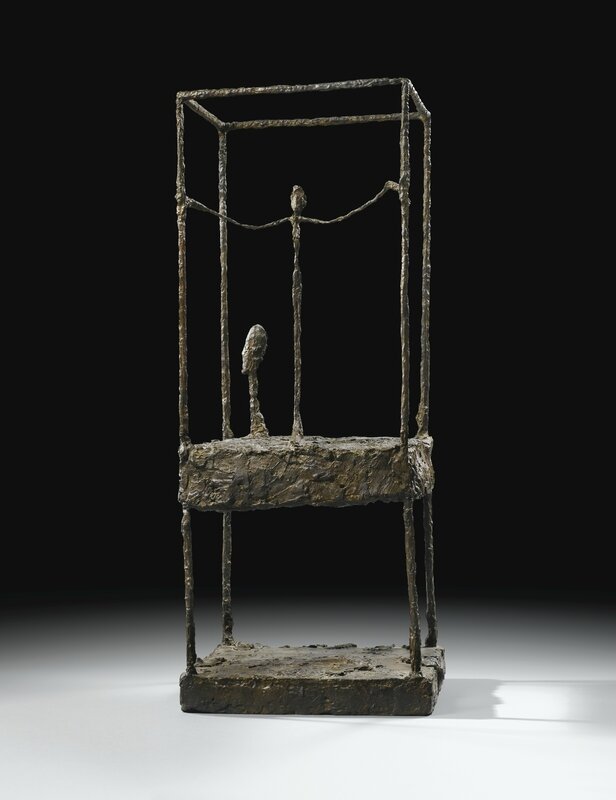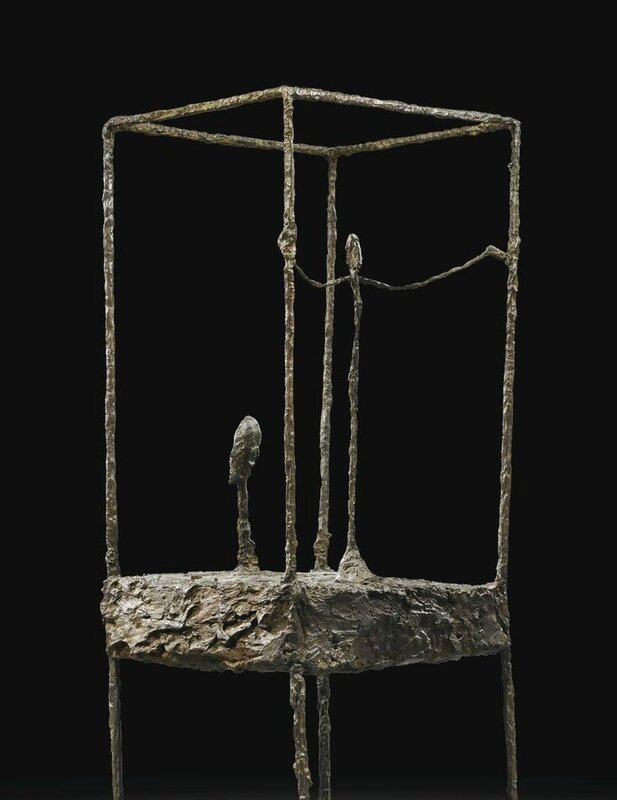 Alberto Giacometti (1901 - 1966), La Cage (première version), inscribed Alberto Giacometti, numbered 00/8 and inscribed Susse Fondeur Paris, bronze, height: 90.5cm., 35 5/8 in. Executed in 1950 and cast in bronze by the Susse Foundry in an edition of 12 in 1990-91. The present work was cast in 1991. Estimate: £1,800,000-2,500,000. Photo: Sotheby's.
Throughout his career as both sculptor and painter, Giacometti was preoccupied with two themes that became central to his work: the role of the artist and his model and the relationship between man and woman. In La Cage (première version) both of these themes combine to create a palpable tension. This is due to the relatively ambiguous relationship of the figures, but also between the geometric structure of the cage itself and the fluidity of its captives. The importance of La Cage (première version) to Giacometti is evident in the fact that he kept the plaster version of the work himself until his death, whereupon it was cast in bronze posthumously.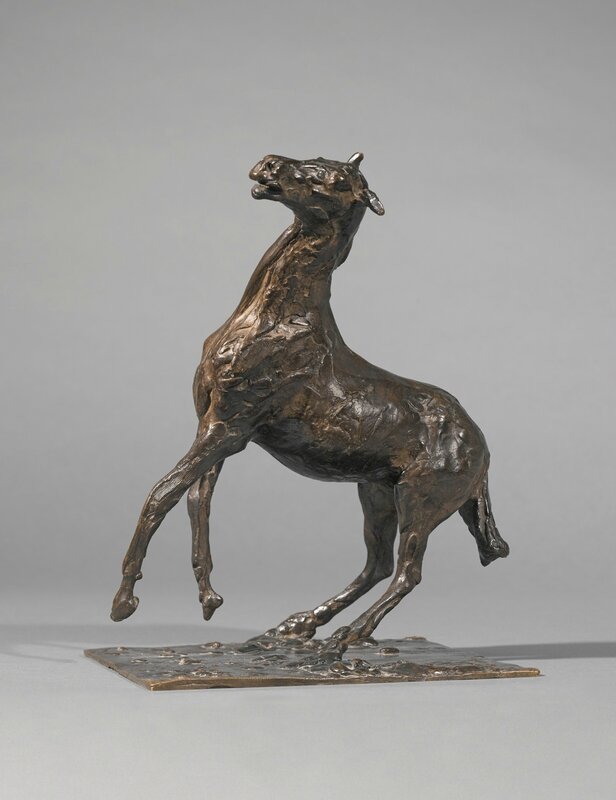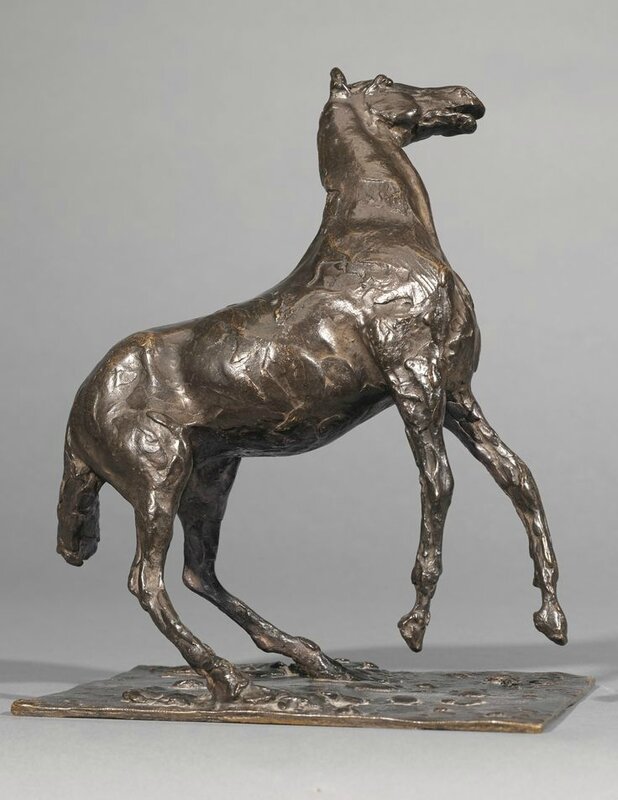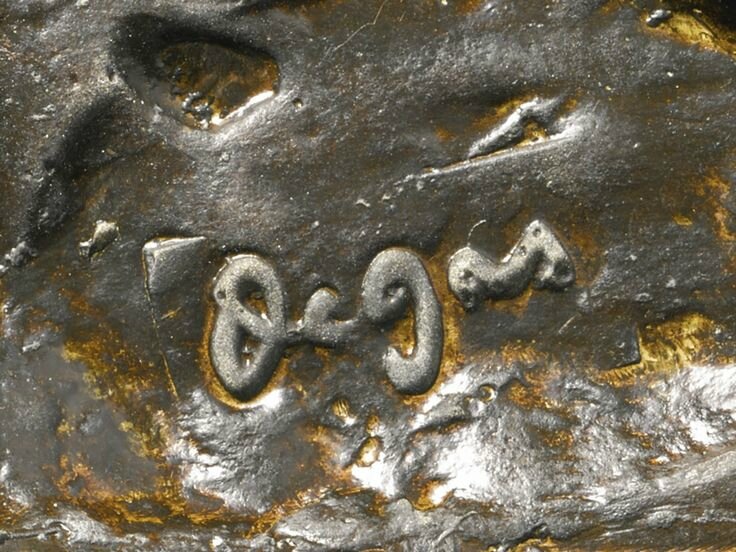 Edgar Degas (1834 - 1917), Cheval se cabrant, inscribed Degas, stamped with the foundry mark A.A. Hébrard Cire Perdue and numbered 4/I, bronze, height: 31cm., 12 1/4 in. Conceived circa 1880s and cast in bronze at a later date. The present work was cast by 1921. Estimate: £500,000-700,000. Photo: Sotheby's.
Widely regarded as Degas' most expressive rendering of a horse, this work celebrates the elegance and power of the animal's movement. Degas' two engrossing passions, horseracing and ballet, provided him with a rich and exciting social life and the artistic inspiration for the greatest part of his œuvre. As a member of the prestigious Jockey Club, the artist was a habitué of the racecourses at Deauville and Longchamps, where he could study the beauty of thoroughbred horses at close quarters. This sculpture is among the earliest-known casts from the edition and was exhibited at the Galerie Bernheim-Jeune in Paris in 1921.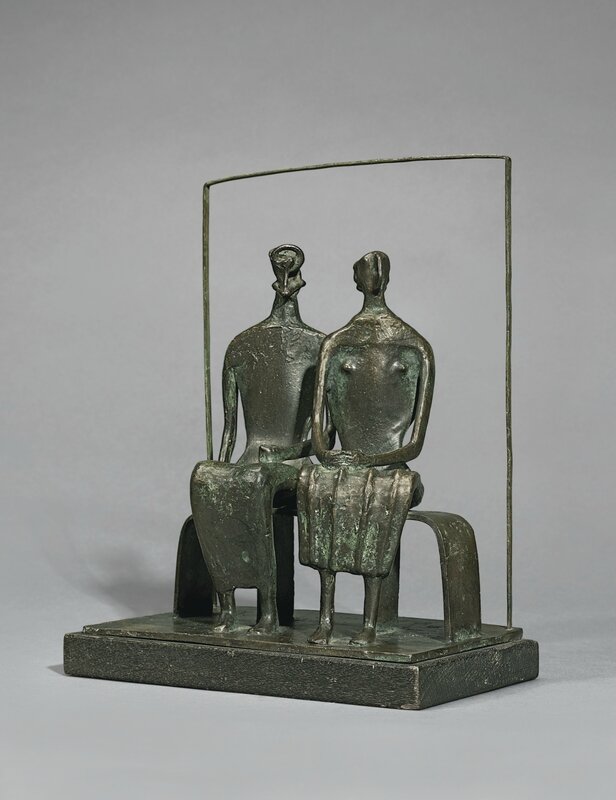 Henry Moore (1898 - 1986), Maquette for King and Queen, bronze, height: 27cm., 10 5/8 in. Conceived in 1952 and cast in bronze in an edition of 10 plus 1 artist's proof. Estimate: £800,000-1,200,000. Photo: Sotheby's.
The maquette for one of Moore's most celebrated monumental sculptures, the King and Queen, the work depicts two figures which are imbued with an ancient, otherworldly majesty that is closer to a primitive notion of kingship than a modern conception of royalty. Moore subsequently suggested that one inspiration for them had been an Egyptian limestone statue in the British Museum and the enigmatic quality of their mask-like faces certainly recalls ancient statuary. The figures' mystical quality was inherent in their making, a process which Moore described as part of an intuitive creative process, stating 'I realise now that it was because I was reading stories to Mary, my six year old daughter, every night, and most of them were about kings and queens and princesses'2. The first full-size cast was made for the Middelheim Museum, Antwerp in 1953, and further casts are now in the collection of the Tate, London, Hirshhorn Museum and Sculpture Garden in Washington, D. C., and the Glenkiln Sculpture Park in Dumfries, Scotland.
SURREALIST ART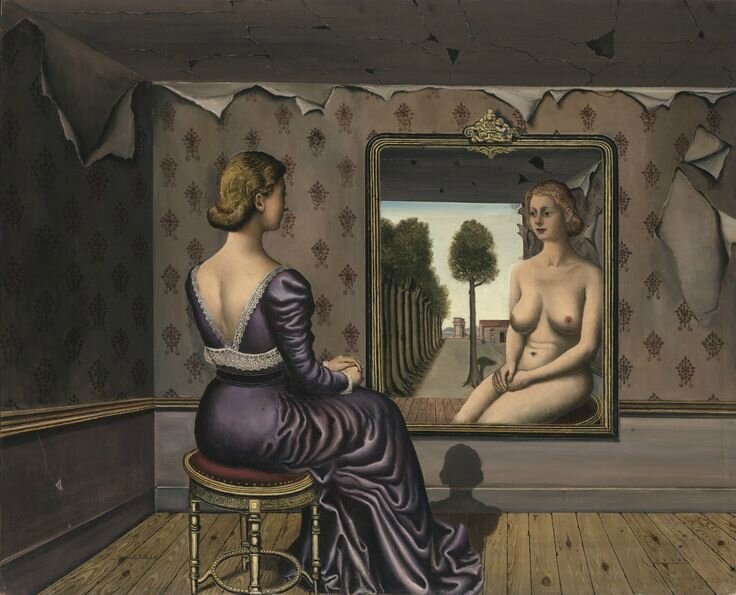 Paul Delvaux (1897 - 1994), Le Miroir, signed P. Delvaux and dated 9-36 (lower right), oil on canvas, 110 by 136cm., 43 1/4 by 53 1/2 in., Painted in September 1936. Estimate: £5,500,000-7,500,000. Photo: Sotheby's.
'For Paul Delvaux, the mirror is a source of knowledge, a tool for revealing self-awareness… tells the truth, exposing vanity and human frailty.'3 In this monumental painting Delvaux presents an encounter of disparate elements, juxtaposed in such a way as to create a world of mystery. Depicting at once an interior and an exterior setting, there is an ambiguity in the relationship between the two figures. The nude woman is associated with nature and beauty, whilst the decaying room with its peeling wallpaper may well serve as a metaphor for the woman's spiritual state. The first owner of Le Miroir was Sir Roland Penrose, who was himself a painter as well as a friend of many Surrealist artists and an avid promoter of their work.
Pablo Picasso (1881 - 1973), Personnages, signed Picasso and dated 29 (lower right), oil on canvas, 33 by 41cm., 13 by 16 1/8 in. Painted on 19th May 1929. Estimate: £1,000,000-1,500,000. Photo: Sotheby's.
In 1929 Picasso's private life was dominated by more than one woman, as he was becoming increasingly involved with his young mistress MarieThérèse Walter while still married to Olga Khokhlova. His depictions of the beach at Dinard often contain references to both women, exorcising the tension of his increasingly distressing relationship with his wife Olga while at the same time reflecting the compelling new inspiration and energy that Marie-Thérèse brought into his life. The work reflects the influence of the Surrealist artists who were at the forefront of the European avant-garde, as Picasso used their highly abstracted vocabulary as a means of disguising the image of his mistress, whose existence he would keep secret until 1932.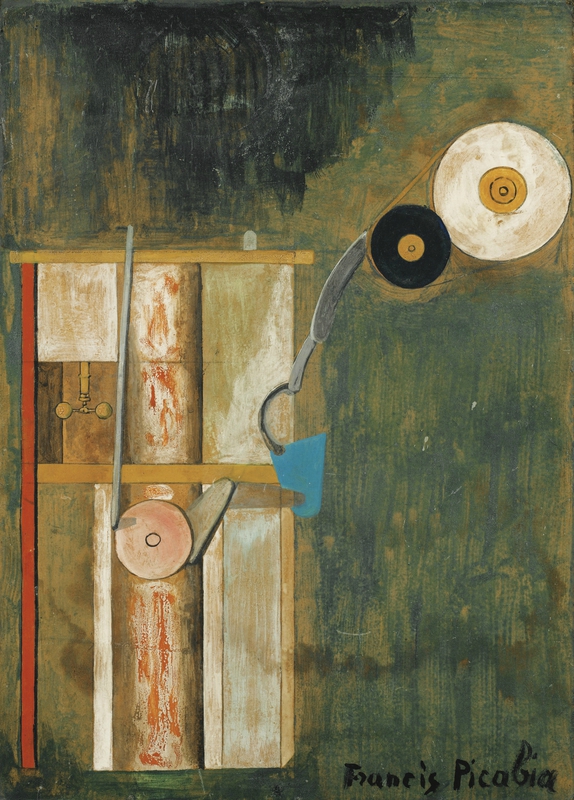 Francis Picabia (1879 - 1953), Ventilateur, signed Francis Picabia (lower right), oil on card laid down on board, 53.5 by 38cm., 21 by 15in. Painted circa 1918. Estimate: £1,800,000-2,500,000. Photo: Sotheby's.
An exceptional example of Picabia's rare and profoundly influential machinist compositions from his Dada period, in this work a ventilation machine is depicted as analogous with a potent female sexuality. The use of mechanical forms and the sensational associations they evoke were fundamental to the artist's perception of art's role in the modern, industrialised epoch.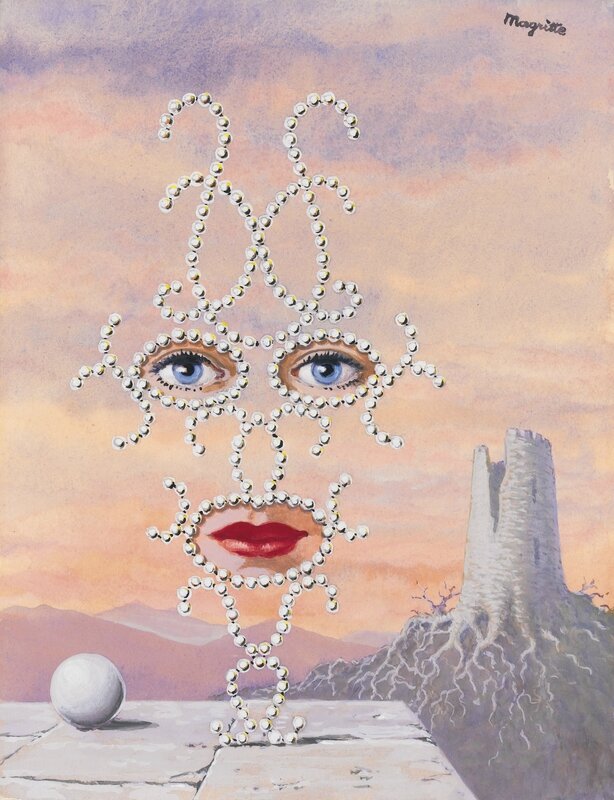 René Magritte (1898 - 1967), Shéhérazade, signed Magritte (upper right); signed Magritte, titled and dated 1956 on the reverse, gouache on paper, 24.5 by 18.8cm., 9 5/8 by 7 3/8 in. Executed in 1956. Estimate: £500,000-700,000. Photo: Sotheby's.
One of Magritte's most elegant renderings of the recurring motif of the pearlwoman, this intricately composed female face alludes to the enigmatic yet legendary storyteller of One Thousand and One Nights. Her beauty is evident, yet at the same time it appears like a fleeting mirage in a mysterious setting, revealing the artist's fascination with the paradox of the visible and the invisible. This gouache was commissioned from the artist by Barnet Hodes in 1956. A Chicago-based collector who was one of the artist's earliest patrons in the United States, Hodes owned over 50 gouaches by the artist - creating a veritable museum of Magritte's work in miniature in his home.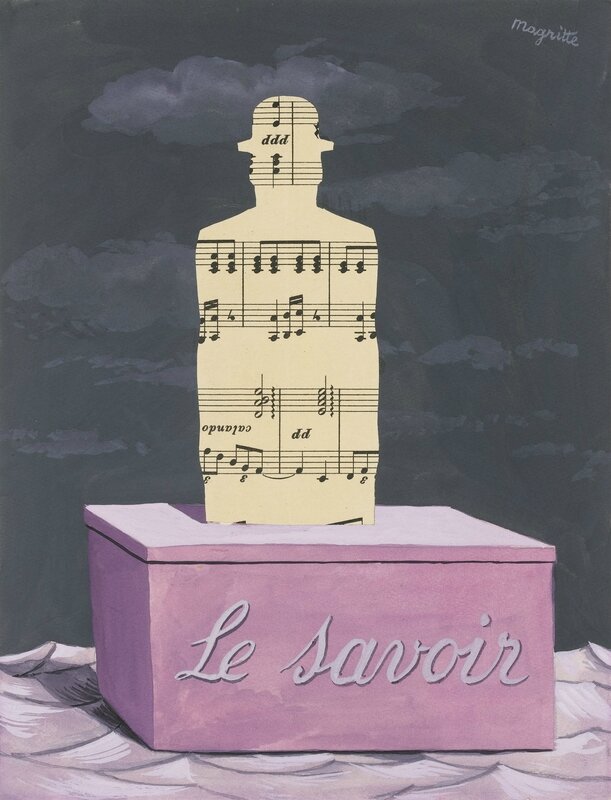 René Magritte (1898 - 1967), L'Usage de la parole, signed Magritte (upper right); titled on the reverse, gouache and collage on paper, 25 by 18.8cm., 9 7/8 by 7 3/8 in. Executed in 1961. Estimate: £500,000-700,000. Photo: Sotheby's.
Magritte's use of paper cut-outs in 1925 began around the same time that he embarked on his first surrealist paintings. This work features a number of the iconic elements and signature objects that he developed at this time, including the silhouette of a bowler-hatted man – which remained the single most iconic motif of his œuvre. The piece is also linked to Magritte's celebrated body of work known as 'word-paintings', and the word representing an abstract notion (knowledge) adds a conceptual dimension to the composition.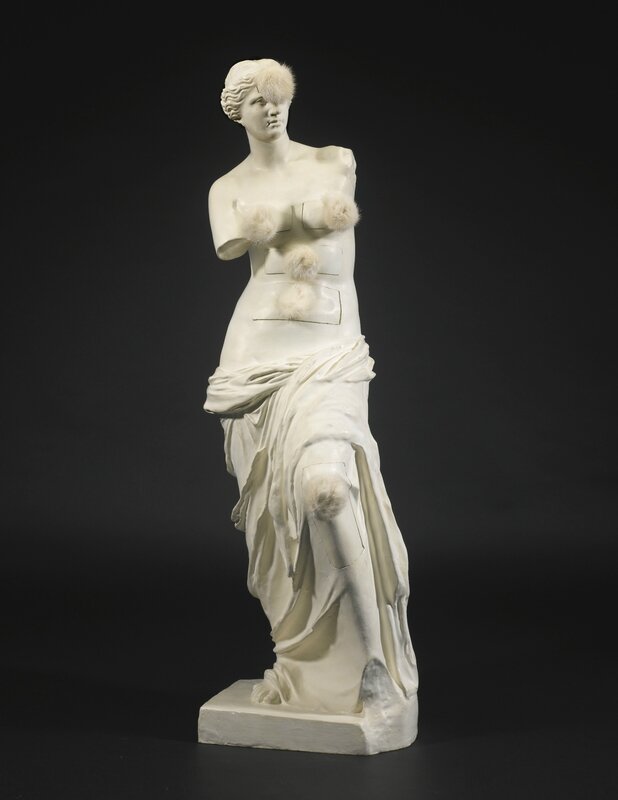 Salvador Dalí (1904 - 1989), Vénus de Milo aux tiroirs, inscribed Dalí and numbered 3/5, painted bronze and ermine pompons, height: 98cm., 38 5/8 in. Executed in plaster in 1936 and cast in bronze in 1964 in an edition of 6 plus 4 artist's proofs. Estimate: £400,000-600,000. Photo: Sotheby's.
The image of Vénus de Milo was celebrated as the apex of female beauty by poets and artists throughout the centuries. Man Ray and Dalí created intriguing reassessments of this paragon of mythical beauty as an object of amusement and sexual play.

As a child, Dalí had made a terracotta copy of the famous Greek marble at the Musée du Louvre. The motif evolved further while Dalí was staying in England with Edward James, the renowned collector and supporter of the Surrealists, after a misunderstanding that arose upon hearing someone talk of a "chest of drawers". The first version of this work was created in 1936 when Dalí, possibly with the technical assistance of Marcel Duchamp, modified a copy of the Vénus de Milo incorporating six drawers. The piece alludes to the mysterious depths of the human psyche. Dalí was influenced by Sigmund Freud, as the human body, an object of beauty at the time of the Greeks, was now full of secret drawers which only psychoanalysis could pull open. Dalí's addition of fur in the place of the knobs adds a soft, tactile quality to the image, amplifying its erotic undertone. In this work Dalí painted the bronze in white, thus tricking the viewer into believing that the sculpture is made of marble. The theme of the Vénus de Milo with drawers appears in several drawings and a painting from the same year.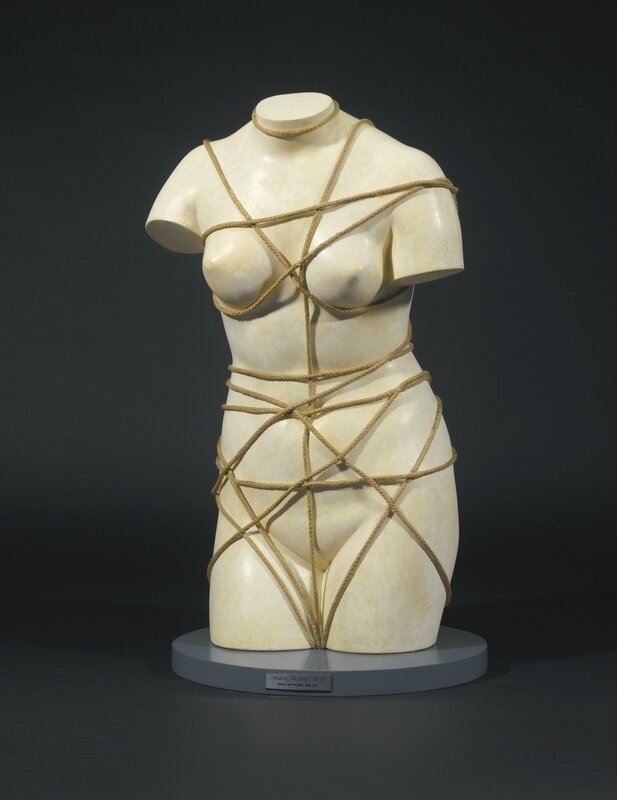 Man Ray (1890 - 1976), Vénus restaurée, inscribed Man Ray, titled, dated 1936-71 and inscribed E.A. on a metal plaque affixed to the base, readymade: plaster and rope assemblage on metal base, height (including base): 73.5cm., 28 7/8 in. This work is from an edition of 10 numbered examples plus artist's proofs executed in 1971 by Arturo Schwarz, after an original object of 1936 (now destroyed). Estimate: £350,000-500,000 Photo: Sotheby's.
Vénus restaurée is one of the most iconic of Man Ray's surrealist creations: a magnificent and thoughtprovoking object which challenges and subverts preconceived notions of sexuality and beauty. The torso of a nude woman – modelled after the celebrated Medici Venus which dates from 1st century B.C., now in the collection of the Galleria degli Uffizi in Florence – is here imbued with undeniable connotations of eroticism and calls to mind the Marquis de Sade, whose writings deeply influenced the Surrealists. The use of rope is suggestive of enslavement, re-enforcing the importance of the body as a sexual and fetishistic tool within Surrealist practice.
PICASSO IN PRIVATE: COLLECTION OF MARINA PICASSO
A stand-alone sale on 5 February 2016, 'Picasso in Private' offers a rare and exciting opportunity to acquire works on paper, ceramics and terracotta sculpture by Pablo Picasso that remained in the artist's studio throughout his lifetime, and which will now be offered from the collection of his granddaughter Marina Picasso. A overview of Picasso's masterful career in its entirety, spanning every decade of his oeuvre and encompassing each of the artist's genres, the collection of 187 works includes 70 ceramics and terracotta sculptures and 106 works on paper. With estimates ranging from £4,000 to £180,000, the sale is expected to fetch a combined total of £6.9–9.8 million.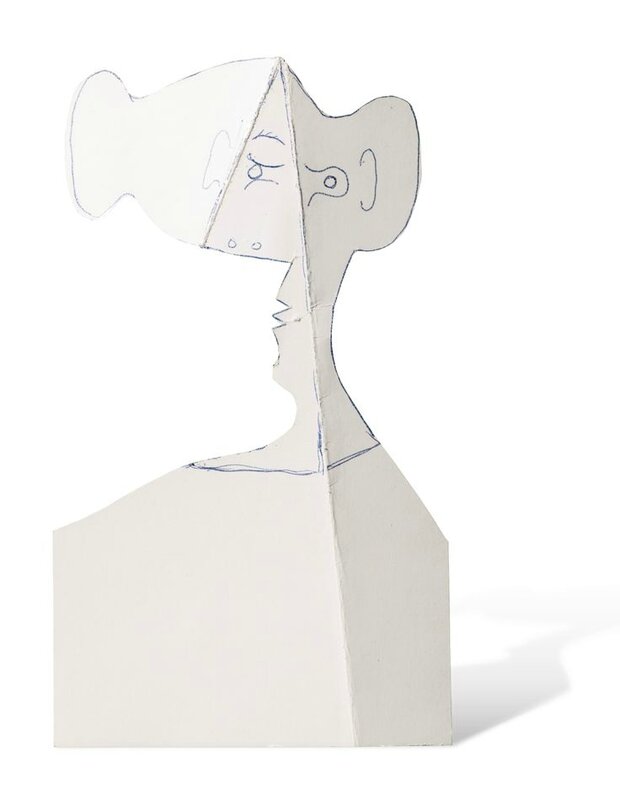 Pablo Picasso (1881 - 1973), Visage de femme, dated 30.11.62. on the reverse, ball-point pen on a paper cut-out, 18.5 by 10.8cm., 11 1/4 by 4 1/4 in. Executed on 30th November 1962. Estimate: £180,000 — 250,000 Photo: Sotheby's.
Pablo Picasso (1881 - 1973), Visage, stamped with the foundry mark Cire Perdue Paris E. Robecchi, bronze, 28.3 by 25.3 by 8.5cm., 11 1/8 by 9 7/8 by 3 1/3 in..Conceived and cast in bronze in 1933-34, this work is unique. Estimate: £120,000 — 180,000 Photo: Sotheby's.
Pablo Picasso (1881 - 1973), Nature morte aux fruits, dated Dimanche 18 novembre 45 on the reverse, collage and charcoal on paper, 21.1 by 32.7cm., 8 1/4 by 12 7/8 in. Executed on 18th November 1945. Estimate: £100,000 — 150,000 Photo: Sotheby's.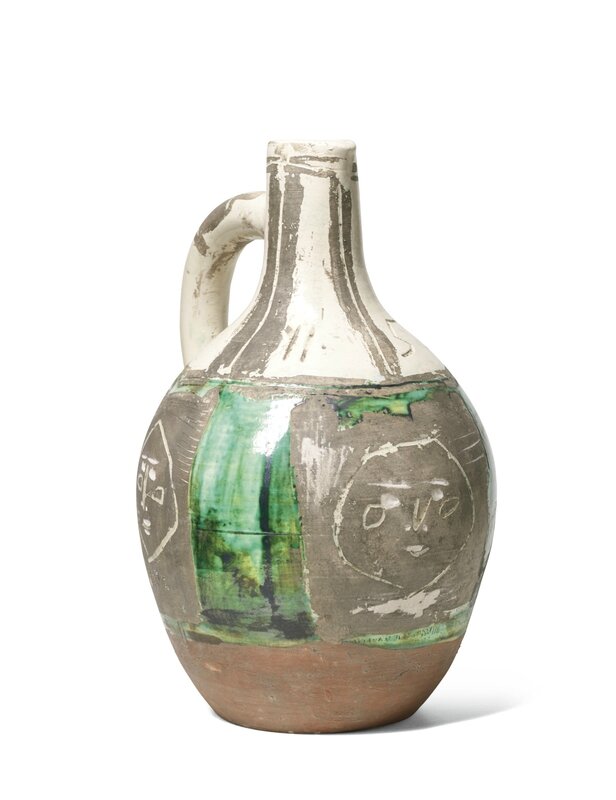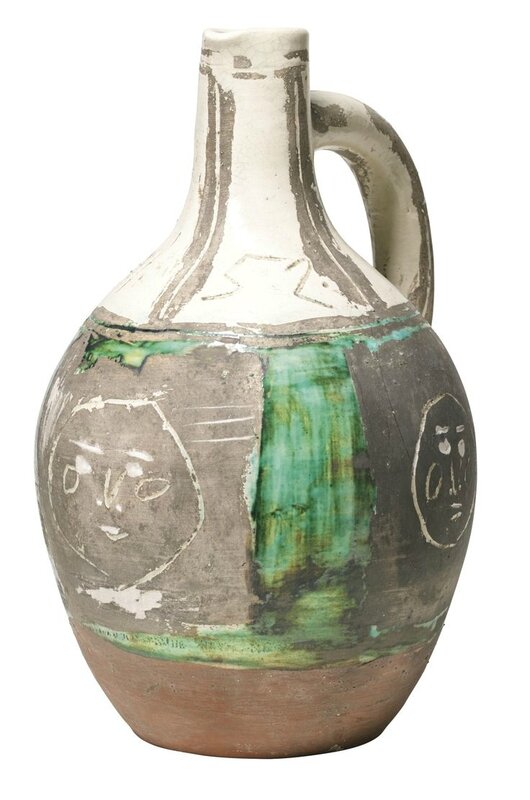 Pablo Picasso (1881 - 1973), Trois masques à quartiers, dated 11.11.52; stamped Madoura plein feu on the underside, painted, incised and partially glazed ceramic; jug, height: 29.2cm., 11 1/2 in. Executed on 11th November 1952, this work is unique. Estimate: £40,000 — 60,000 Photo: Sotheby's.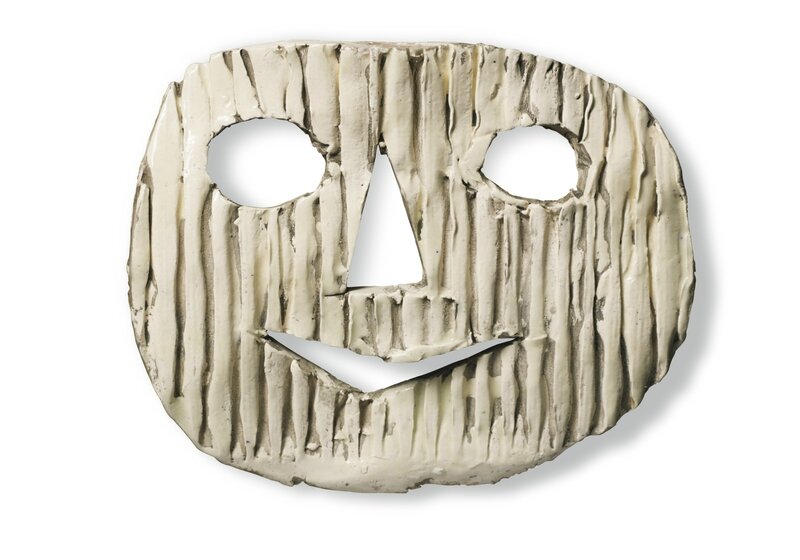 Pablo Picasso (1881 - 1973), Masque, dated Mai 1956 and inscribed Cannes on the reverse, cut out, imprinted and glazed ceramic; mask, 15.5 by 19.5cm., 6 1/8 by 7 5/8 in. Executed in May 1956, this work is unique. Estimate: £100,000 — 150,000 Photo: Sotheby's.
1 Franz Marc in a letter to Maria Franck, 18th September 1909
2 Henry Moore quoted in John Hedgecoe & Henry Moore, Henry Spencer Moore, New York, 1968, p. 221
3 Konrad Scheurmann quoted in Barbara Emerson, Delvaux, Antwerp, 1985, p. 69