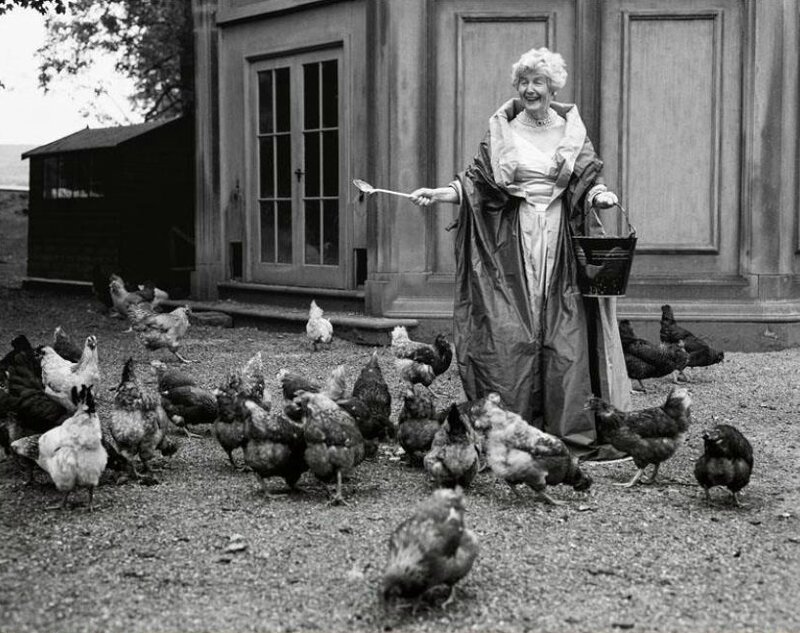 Deborah, Duchess of Devonshire feeding her chickens at Chatsworth, 1995, wearing a Balmain ball gown and pearls. ©Bruce Weber
LONDON.- Property from the personal collection of the inimitable Deborah, Duchess of Devonshire (1920-2014), will be offered at Sotheby's London on 2nd March 2016. The youngest of the Mitford Sisters, and for half a century the chatelaine of Chatsworth, one of England's greatest stately homes, the Duchess was at the very heart of British rural, cultural and political life. Her friends included President Kennedy, Winston Churchill, Harold Macmillan, Lucian Freud, Evelyn Waugh, Alan Bennett, Prince Ali Khan and members of The Royal Family. She was dressed by Hubert de Givenchy, Oscar de la Renta, Balmain and Balenciaga, and was photographed by Mario Testino, Bruce Weber and Cecil Beaton.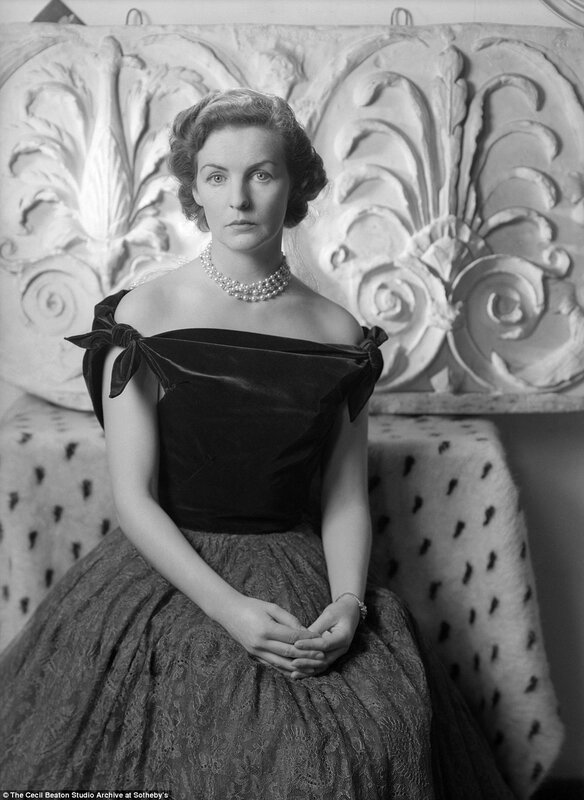 Deborah, Duchess of Devonshire, photographed by Cecil Beaton, December 1949 ©The Cecil Beaton Studio Archive at Sotheby's
An instinctive entrepreneur, patron of the arts, author, countrywoman and – famously – a great poultry enthusiast, the Duchess spent the last ten years of her life at The Old Vicarage, a charming 18th-century house in Edensor, a village on the Chatsworth Estate. Over 450 lots of personal belongings and chattels from her home, attesting to her remarkable life, will be offered for sale with estimates ranging from £10 – 40,000. Together they are estimated to realise £500,000-700,000.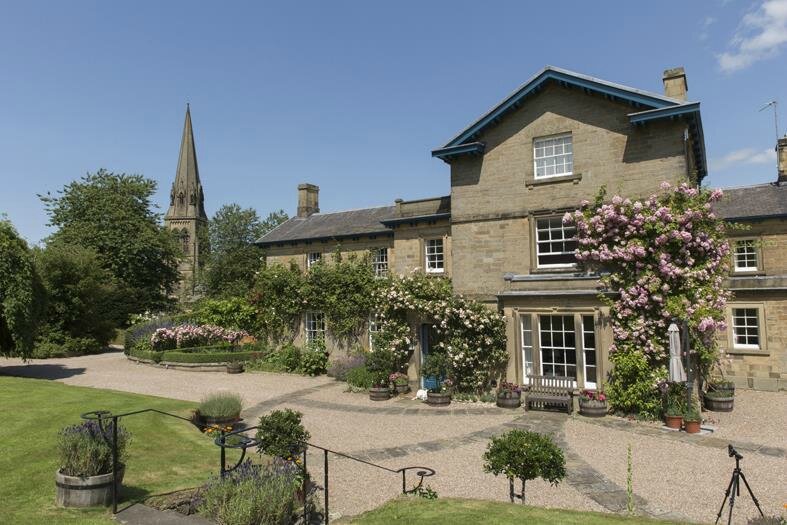 The Old Vicarage, Chatsworth, with St. Peter's, Edensor, behind. © Sotheby's.
Deborah, Duchess of Devonshire's family commented: "Our mother was very clear about how things should be organised following her death. She left precise instructions for a large number of personal legacies and specific bequests to the Chatsworth House Trust, and the remainder of her possessions she left to us. Given the kind of person she was, and the rich and varied life she led, there are more belongings than we can together accommodate. We are keeping items that are particularly precious to us, but we have made the decision to consign the remainder to Sotheby's.

Our mother was always fascinated by the auction process, so we feel sure she would be delighted at the prospect of this sale and would be very happy to know that some of her possessions were to go to new homes where they will be cherished and enjoyed."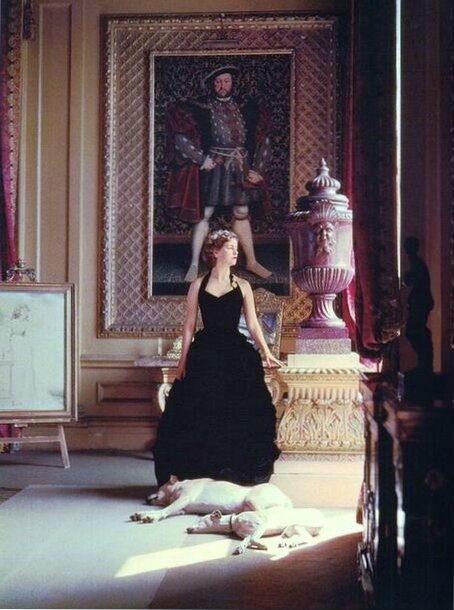 Deborah, Duchess of Devonshire, photographed by Norman Parkison for Vogue, 1952. © Sotheby's.
Deborah, Duchess of Devonshire's archive of personal correspondence – letters, books, manuscripts and documents relating to the Mitford sisters – has been left to Chatsworth House Trust, together with her collection of couture clothing. These archives will be accessible to the public in due course.
English, 20th century, The Mitford Family, photographic print, 1922. Estimate: £400-£600. © Sotheby's.
Objects offered in the sale range from furniture, such as exquisite Regency chairs commissioned by Georgiana (the famous wife of the 5th Duke of Devonshire), to objets d'art and artworks acquired by Deborah, Duchess of Devonshire, over her lifetime: two sketches by Jacob Epstein (from a set of four, one of which Lucian Freud had used as a coal shovel); photographic portraits of the Mitford sisters; and a clock given to her by Prince Ali Khan. Personal jewellery includes a diamond heart-shaped brooch designed by her husband Andrew, the 11th Duke of Devonshire, and given to her to mark their Diamond wedding anniversary, as well as myriad butterflies, beetles, spiders and caterpillars rendered as brooches in diamonds, gold and gems. Over 130 paintings, drawings and prints attest to her lifelong patronage of the arts, including works by the artists Lucian Freud, Duncan Grant and Jo Self (former artist-in-residence to His Holiness the Dalai Lama).
David Dawson, Deborah, Dowager Duchess of Devonshire and 'Skewbald Mare,' 2004.

The Duchess in Lucian Freud's studio alongside an important work, now in the collection at Chatsworth.

Estimate: £400–600
.
© Sotheby's.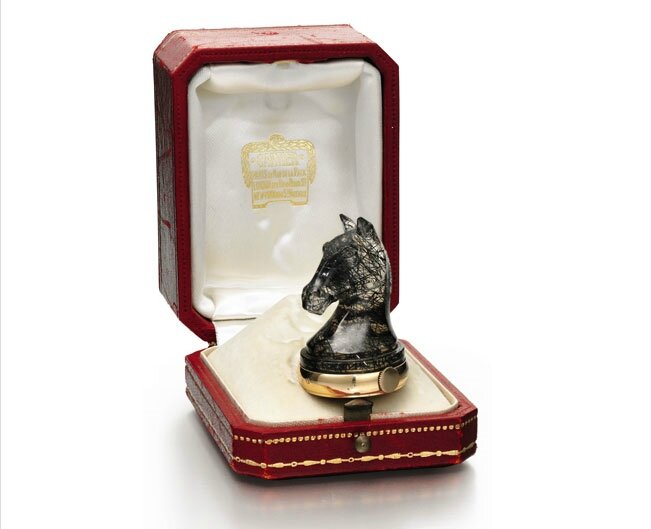 Cartier, a small pink gold and quartz horse-form desk clock, a gift from Prince Aly Khan.

The Duchess became a friend of the Prince through their shared love of racing and she attended the Rio Carnival in 1955 as his guest.

Estimate: £4,000–6,000
.
© Sotheby's.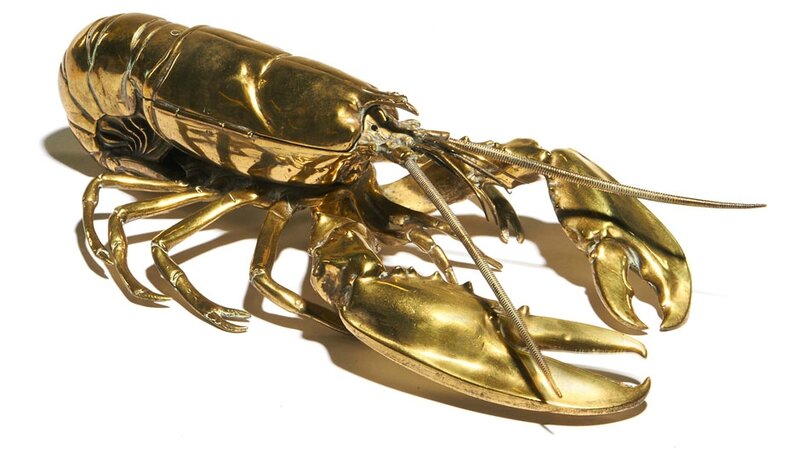 A late Victorian brass novelty inkwell in the form of a lobster, circa 1890–1900. Estimate: £300–500. © Sotheby's.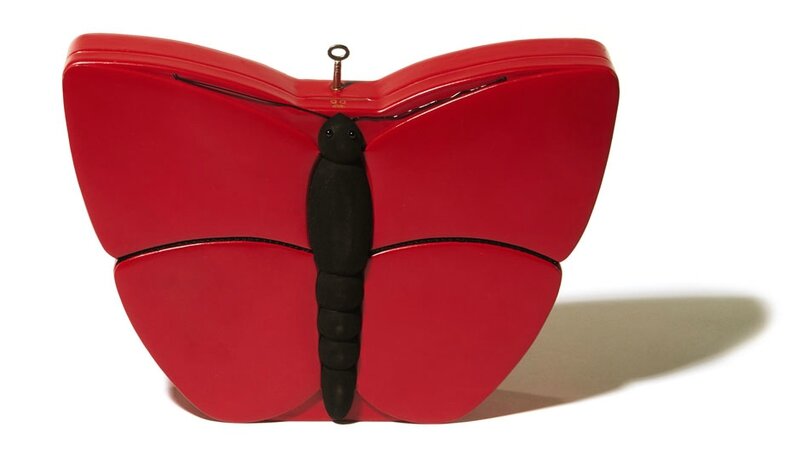 The Duchess's red and black leather novelty jewel case in the form of a butterfly by Asprey.

Specially commissioned by Andrew, 11th Duke of Devonshire for his wife.

Estimate: £800–1,200
.
© Sotheby's.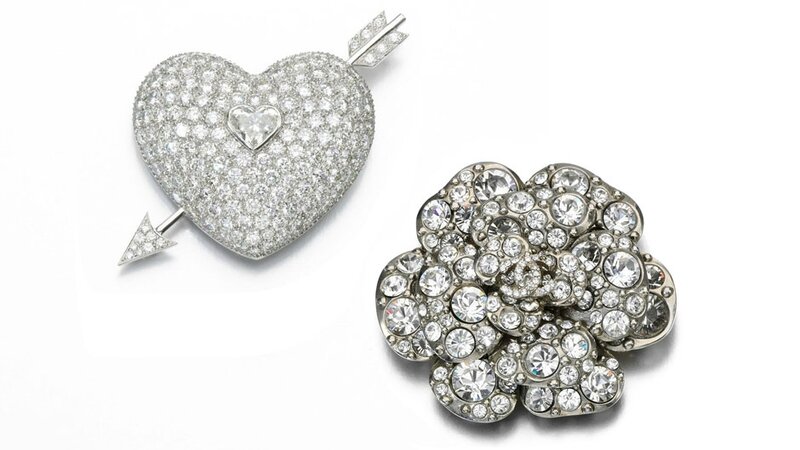 Diamond Brooch, designed by Andrew, 11th Duke of Devonshire, as a heart pierced with an arrow and presented to the Duchess to mark their Diamond wedding anniversary in 2001 (left). Estimate: £7,000–10,000. 'Camélia' Brooch by Chanel (right). Estimate: £300–500. © Sotheby's.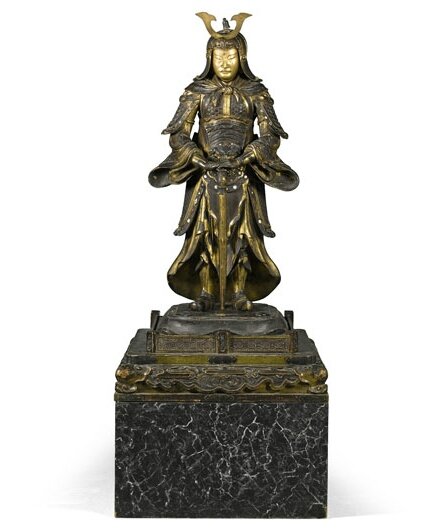 A Japanese gilt-decorated lacquer Guardian figure, Meiji period, late 19th century.

This item was acquired by the Duchess's grandfather, Algernon Bertram Freeman-Mitford, 1st Baron Redesdale (1837–1916), in Japan, where it was probably presented to him by Emperor Meiji (1852–1912)

. Estimate: £20,000–30,000
.
© Sotheby's.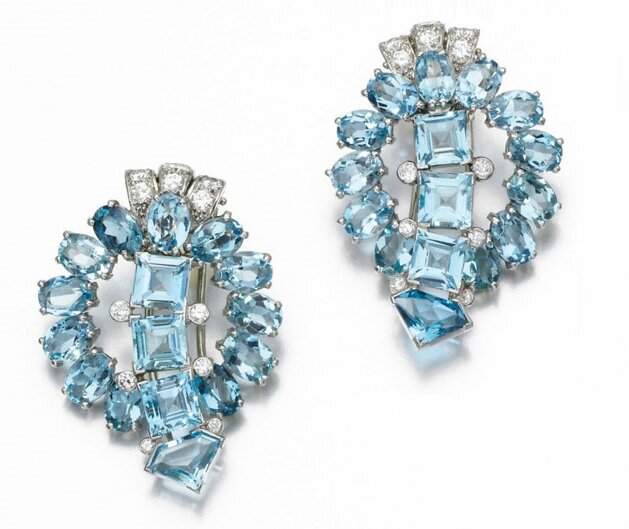 A pair of aquamarine and diamond clips, 1930s, a wedding gift to the Duchess in April 1941 from her parents-in-law Edward, 10th Duke of Devonshire and Mary, Duchess of Devonshire. Estimate: £2,000–3,000
.
© Sotheby's.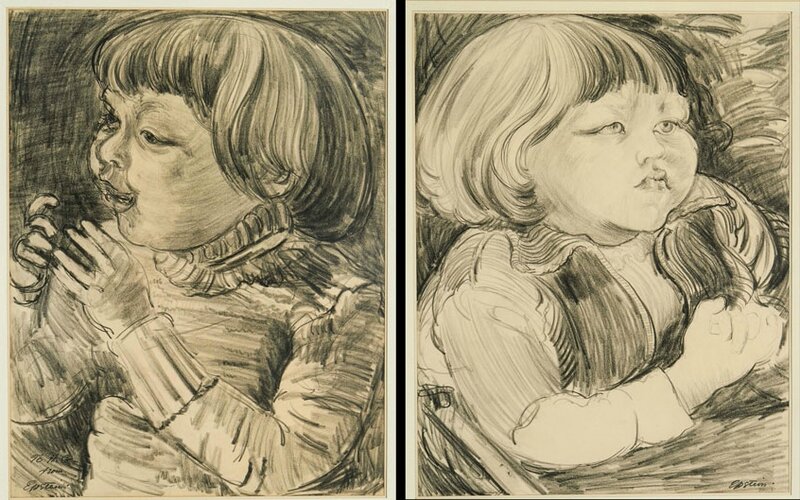 Sir Jacob Epstein, Two portraits of the artist's son, Jackie, circa 1937. Estimate: £2,500–4,000. © Sotheby's.
These drawings hung in the Duchess's bedroom at Chatsworth. She writes: "The … Epstein drawings of his son, aged about three, are powerful and memorable. The first I had was used as a pusher for coal on the floor of his bed-studio by Lucian Freud when I was sitting to him. (Epstein was Lucian's father-in-law for a time) …"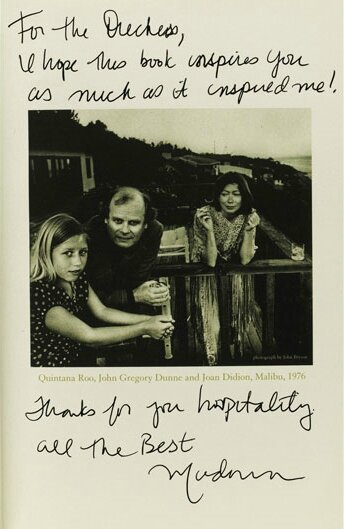 Joan Didion's The Year of Magical Thinking, Presentation copy inscribed by Madonna, 2006. Given to the Duchess when Madonna visited the Old Vicarage for afternoon tea in 2007, the inscribed copy reads: "For the Duchess, I hope this book inspires you as much as it inspired me! Thanks for your hospitality. All the best Madonna." Estimate: £70–90
.
© Sotheby's.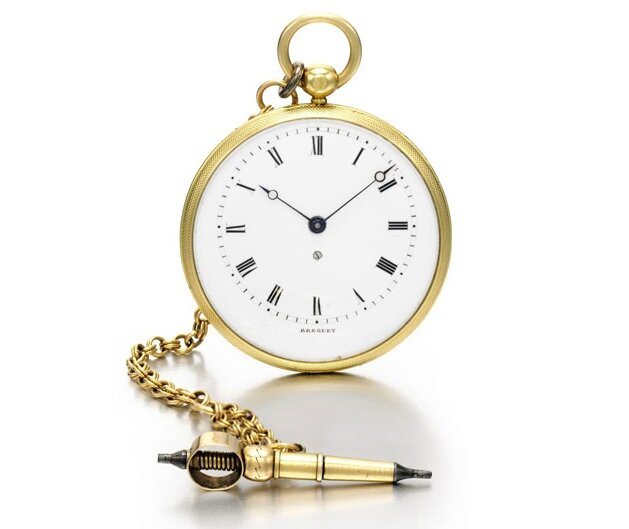 Breguet, a small and elegant yellow gold open-faced watch, circa 1870, a present from Nancy Mitford. Estimate: £4,000–6,000. © Sotheby's.
Gem set and diamond brooch, late 19th century designed as a bumblebee.

A gift from her husband, Andrew, 11th Duke of Devonshire.

Estimate: £1,000–1,500
.
© Sotheby's.
Following the Duchess's death in 2014, HRH The Prince of Wales praised her "…unique personality with a wonderfully original approach to life…", and this is mirrored throughout the sale. Her beloved collection of Elvis Presley ephemera will be offered, as will items reflecting her love of rural life. The sale includes Shetland pony harnesses (she owned and bred over fifty ponies), and forty lots relating to perhaps her greatest passion and lifelong interest – her hens. She once treated Oscar de la Renta to dinner at Chatsworth with her hens and chicks nesting in glass boxes as the table centrepiece. The sale also includes a pair of monogrammed travelling boxes for poultry and a chick-shaped powder compact.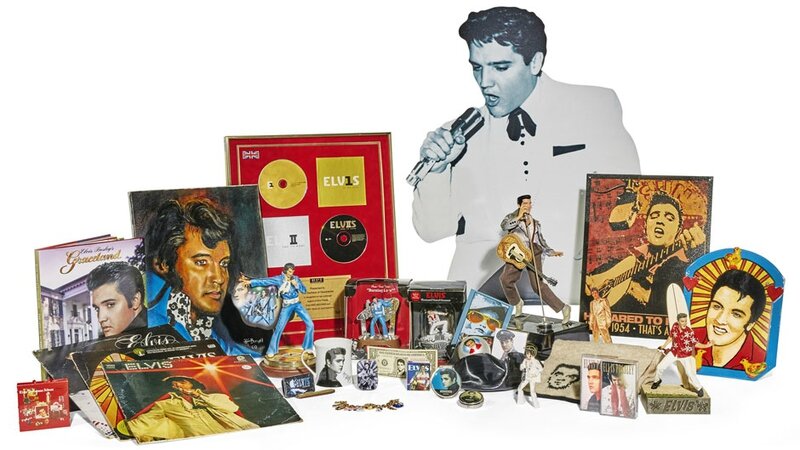 The Duchess's collection of Elvis Presley ephemera, including a novelty Elvis telephone previously installed in the Blue Drawing Room at Chatsworth. Estimate: £500–1,000. © Sotheby's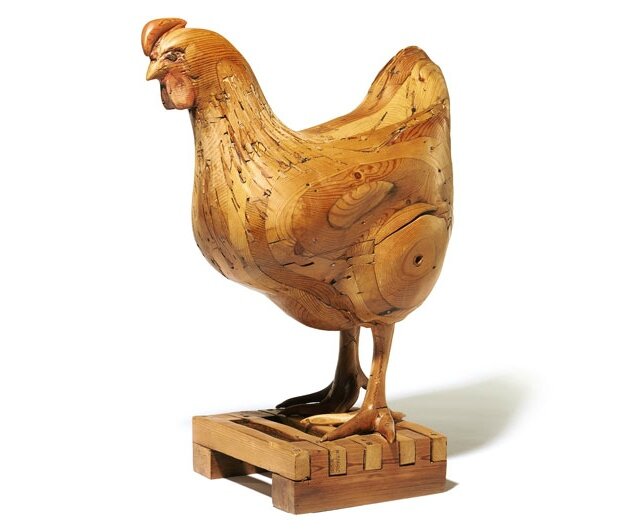 Model of a hen, by Nicholas Johnson, made from reclaimed pine. A gift from Andrew, 11th Duke of Devonshire to the Duchess. Estimate: £2,500–3,500. © Sotheby's.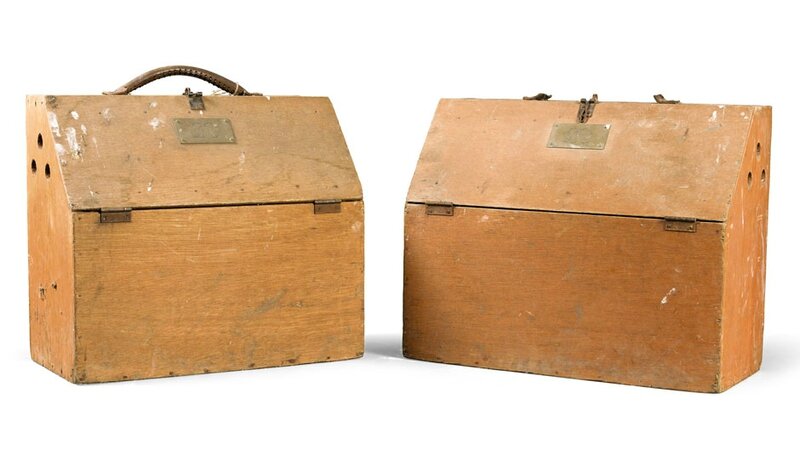 Two bespoke pine and plywood travelling poultry boxes with the specially engraved monogram DD. Estimate: £200–300. © Sotheby's.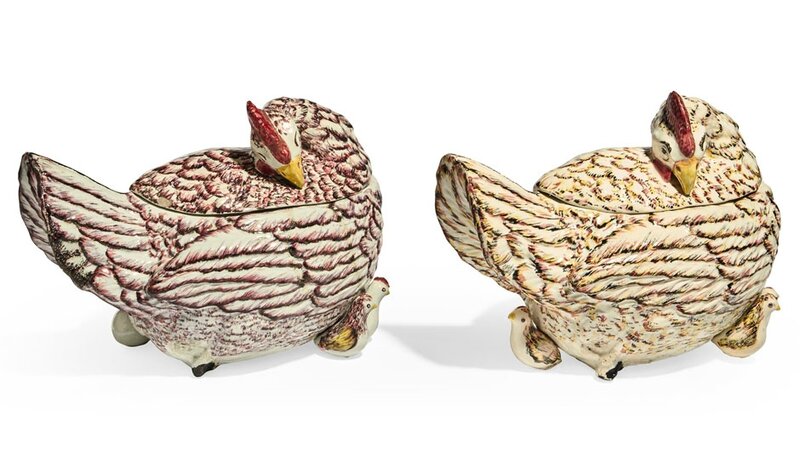 A matched pair of large continental earthenware hen tureens and covers, 19th Century. Acquired by the Duchess circa 1980. Estimate: £700–1,000. © Sotheby's.
She wrote, "In middle age when looking after my own chickens was too complicated, I gathered together pottery and china hens and ducks. They are less trouble than the live kind and are ever-present in my bedroom and sitting room. My favourites are a Belgian faïence pair of life-size speckled hens…They have given and continue to give, great pleasure."
A browse through the Duchess's library reveals some of the lives she touched. Books inscribed from the Kennedy family attest to her lifelong friendship with the American dynasty. Her brother-in-law, Billy, married Kathleen 'Kick' Kennedy, sister of J.F.K., and through her, the Duchess formed a close friendship with the President and his siblings. Among the other volumes are books inscribed by Madonna, Henry Kissinger, and her friend Evelyn Waugh. The library's crowning glory is one of only fifty pre-publication copies of Brideshead Revisited from 1944 inscribed by Waugh and estimated at £15,000-20,000.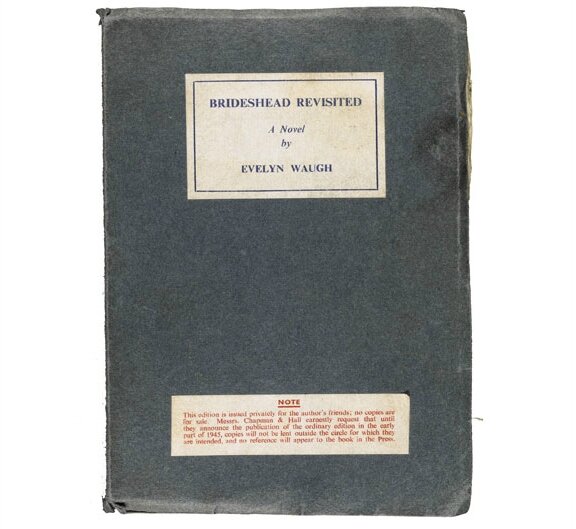 A true first edition of Evelyn Waugh's best-known novel, Brideshead Revisted. Estimate: £15,000–20,000.
Prior to general publication, the author distributed this edition to his inner circle, inviting their suggestions and revisions. This is one of 50 pre-publication copies, and one of only a small number which were inscribed by the author ("Debo & Andrew | with love from | Evelyn | A very old fashioned story"). Writing many years later, the Duchess observed: "In spite of his uncertain ways, Evelyn remained a friend and a generous one."
The sale will be followed by "Never a Bore: Deborah Devonshire and Her Set by Cecil Beaton", an exhibition of Cecil Beaton's photographs of the Duchess and her glittering social, that will be staged at Chatsworth from 19 March - 3 January 2017.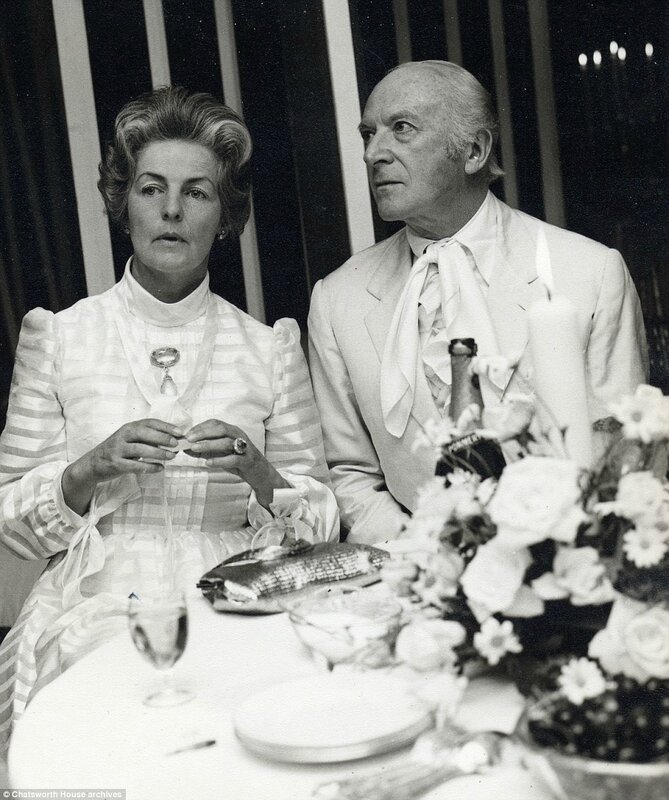 Lifting the society lid: A new exhibition - Never a Bore: Deborah Devonshire and Her Set by Cecil Beaton (both are pictured above) - at Chatsworth House in Derbyshire will show 65 rarely-seen photographs of the Duchess as seen by famous portrait photographer Beaton. ©The Cecil Beaton Studio Archive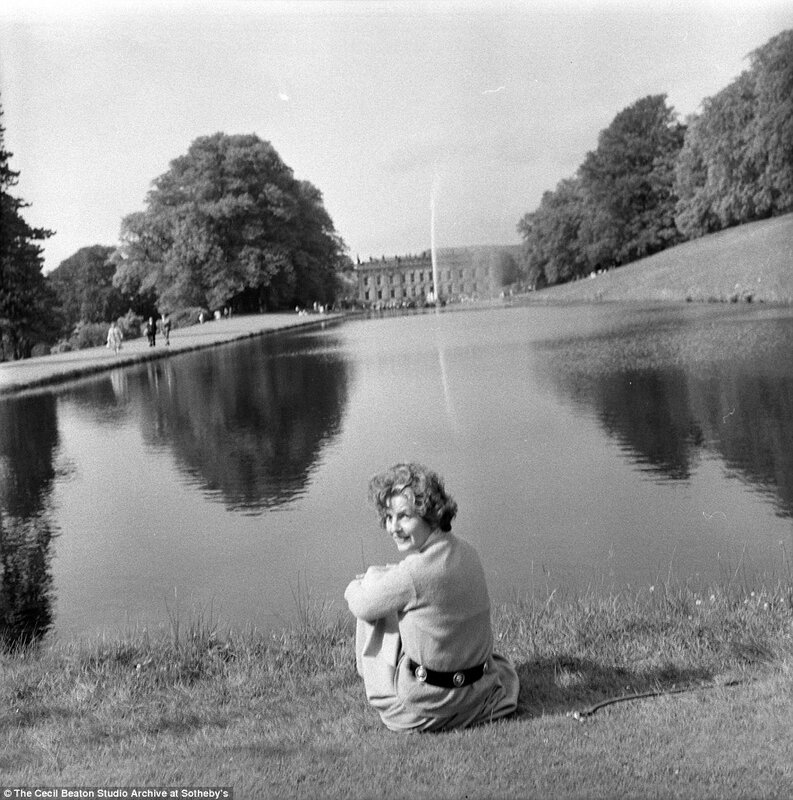 The Duchess relaxing in the grounds of her beloved Chatsworth in 1960, a year after the family moved into the Derbyshire stately pile. ©The Cecil Beaton Studio Archive
Actress Adele Astaire married Lord Charles Cavendish (the second son of the 9th Duke of Devonshire) in 1932 at the height of her fame. Above, Adele and Cecil Beaton in New York in 1931 ©The Cecil Beaton Studio Archive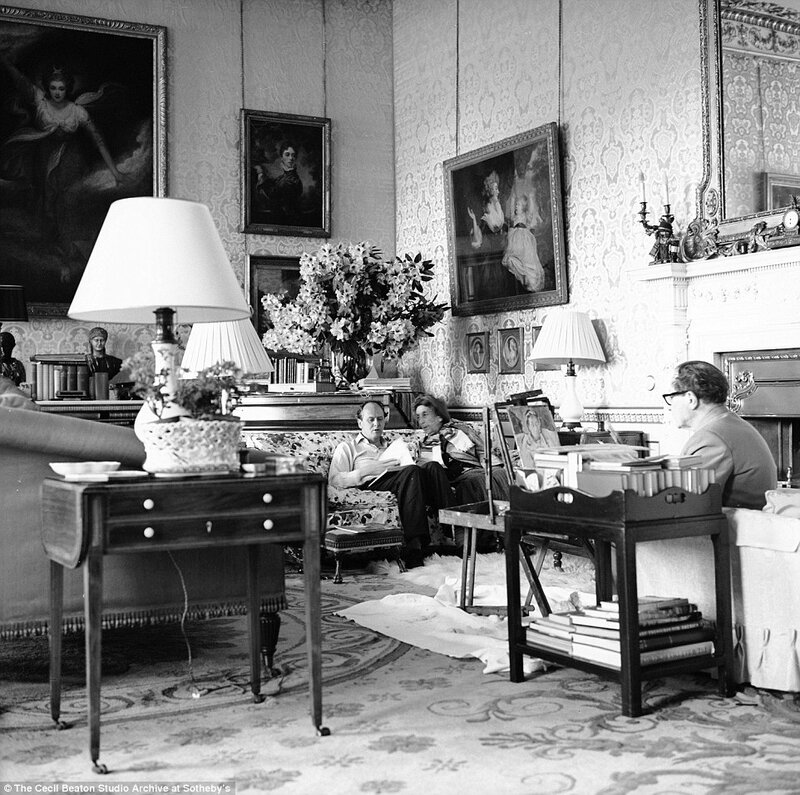 Life at Chatsworth: The Duke of Devonshire is pictured in the drawing room at Chatsworth. Sitting on the sofa next to him is close family friend Violet Hammersley, known affectionately as 'Mrs Ham', as artist Duncan Grant paints her portrait from an armchair opposite. ©The Cecil Beaton Studio Archive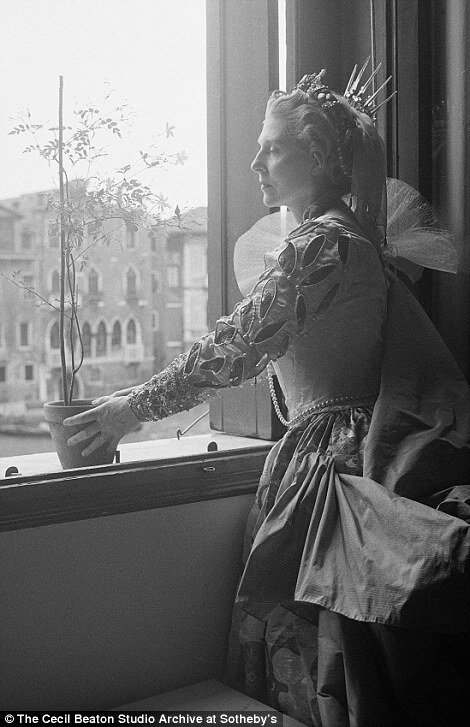 Society's most fascinating figures appear in the collection of 65 images including Lady Diana Cooper, Viscountess Norwich. ©The Cecil Beaton Studio Archive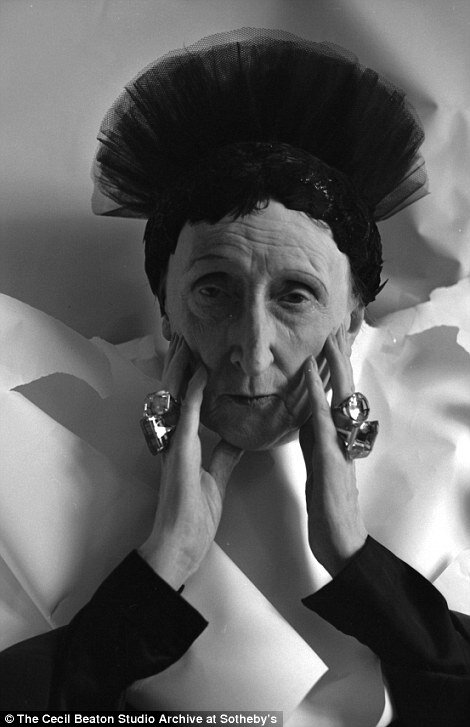 Dame Edith Sitwell, poet, critic and renowned eccentric, would dine with the Devonshires in a full-length fur coat. ©The Cecil Beaton Studio Archive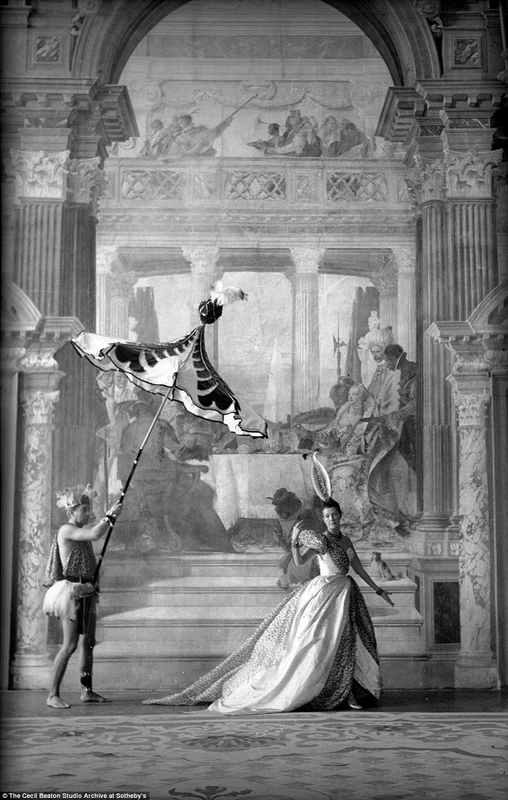 Society girl Daisy Fellowes, right, took a more exotic approach to the Beistegui Ball in Venice, dressing as the Queen of Africa as depicted by Tiepolo in his frescoes at Wurzburg. She's pictured alongside Jefferson Caffery, an American diplomat. ©The Cecil Beaton Studio Archive
Cow pat: When the Duchess sat for artist Lucian Freud, pictured above centre, she wrote him a note afterwards saying that her hair had looked like a 'cow pat' on her head. ©The Cecil Beaton Studio Archive