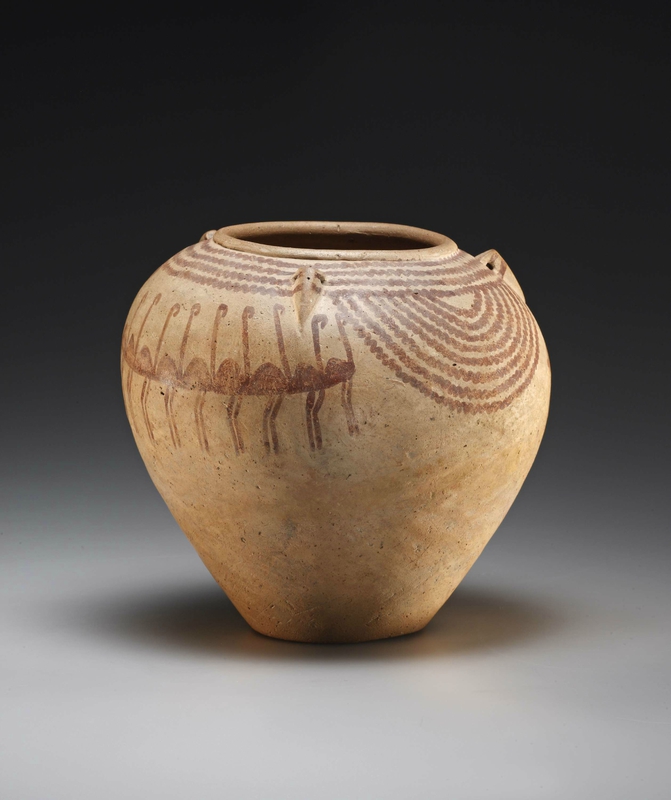 Lug-handled jar with flamingoes. Egypt, Predynastic Period, Naqada II, ca. 3500-3300 B.C. H. 19.1 cm. Cahn International AG at TEFAF 2016. © TEFAF Maastricht, 2015
Clay, reddish glaze. Conically tapered jar with three pierced lug handles on the shoulder, decorated on both sides with a group of nine stylized flamingoes, marching one behind the other to the right. Arranged concentrically around the moulded rim are four zigzag lines, while a further seven hang down in concentric semicircles on two sides of the shoulder
Provenance: Formerly Galerie Maspero, acquired from Galerie Le Veel, Paris, in 1960. Thereafter Nomis Gallery.
A silver skyphos with repoussé decoration, Roman, Late 1st cent. B.C.-1st half 1st cent. A.D. H. 8.7 cm. Cahn International AG at TEFAF 2016. © TEFAF Maastricht, 2015
Silver. Body decorated with opulent arabesque motifs in the form of spiralling acanthus plants, some of them arranged symmetrically, with various species of bird perched on them. The individual motifs were raised from the inside out (repoussé) and the inside then plated with a fine layer of silver to produce a smooth surface. The floral ornaments are typical of the decorative taste and style of the early Imperial Era.
Provenance: Formerly Coll. Farman Emani Nejad, Zurich, 1988.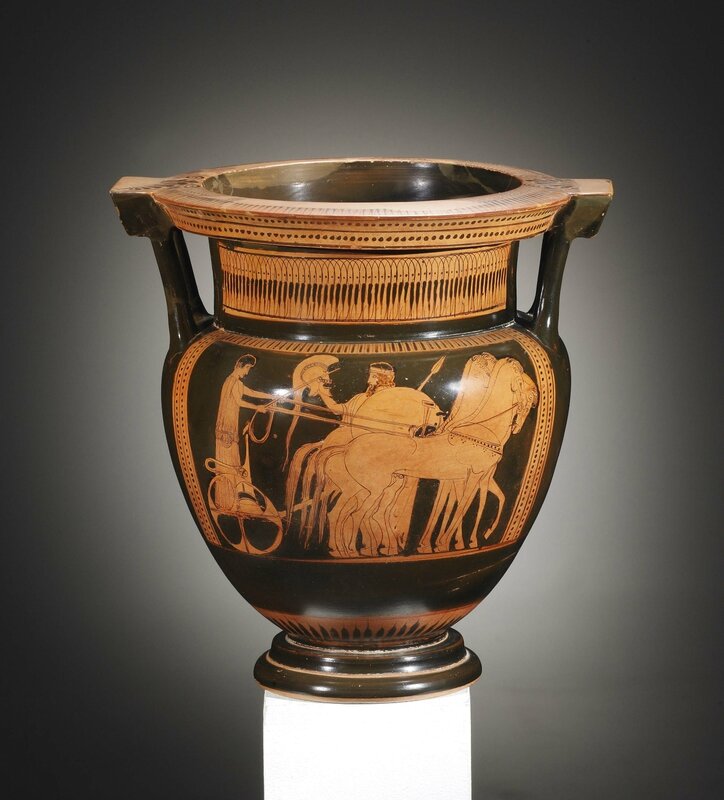 A red-figure column-krater. Clay, Height 37.5 cm, Attic, 2nd half of 5th century BC. Cahn International AG at TEFAF 2016. © TEFAF Maastricht, 2015
A: Quadriga facing right; standing inside the chariot box is a young man clad in a long chiton, holding the reins of four horses. Behind these stands a bearded man wearing a cloak, his hair tucked into a head band, with a Corinthian helmet in one hand and in the other shield, sword and lance. B: Woman wearing cloak, depicted frontally but facing right. On either side is a youth wearing a head band.
Provenance: Private collection, South Germany, formed in the 1960s-1980s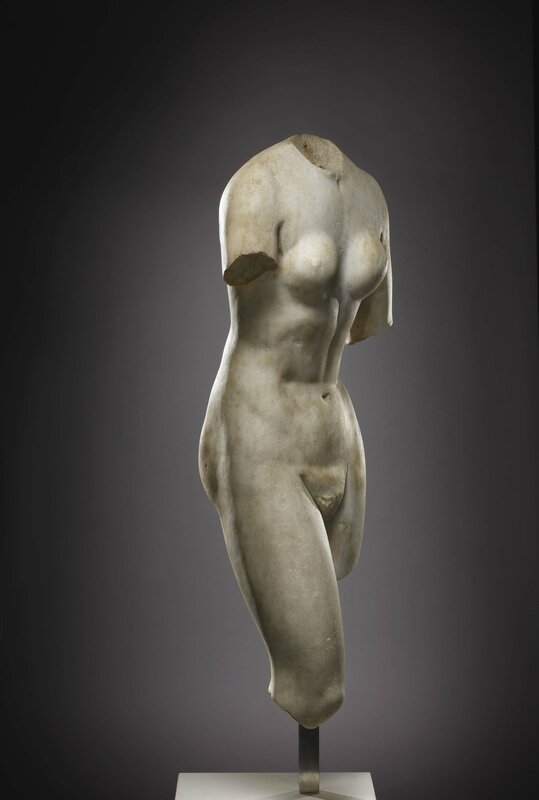 Torso of Venus Pudica. Marble, Height 88 cm, Roman, 1st-2nd century AD. Cahn International AG at TEFAF 2016. © TEFAF Maastricht, 2015
Slightly under-life-size rendering of the nude love goddess as Venus Pudica. Altogether slim proportions make the body of the goddess seem exceptionally youthful. The Pudica motif, which can be understood as a Hellenistic reworking of the famous Aphrodite of Knidos by the Athenian sculptor Praxiteles (4th cent. B.C.), is known to us in several different statue types, e.g. the Capitoline Venus and the Medici Venus.
Provenance: Graham Geddes, Australia, 1984; Private collection, Australia
Cahn International AG (stand 422). Director: Jean-David Cahn
The firm specialises in classical antiquities including vases, bronzes, jewellery and sculpture from Greece, Etruria, Egypt and Rome. Jean-David Cahn is a classical archaeologist and was JRF at Wolfson College, Oxford. Two archaeologists and an art historian complete the team of in-house experts.
Contact: Münchstrasse 30
4142 Münchenstein
Switzerland
T +41 (0)61 271 67 55
F +41 (0)61 271 57 33
www.cahn.ch
mail@cahn.ch