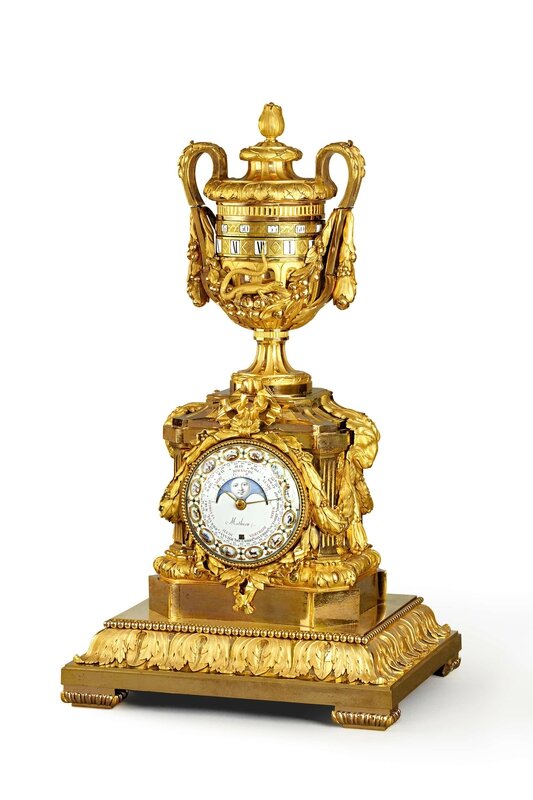 Astronomical vase-clock à cercles tournants, 59 × 34 × 30 cm. Signed 'Mathieu fecit' 'Coteau le 1. juillet 1778' for the clockmaker Claude Mathieu and 'peintre-émailleur du roi' Joseph Coteau, Paris. Kunsthandel Peter Mühlbauer at TEFAF 2016. © TEFAF Maastricht, 2015
The neo-classical ormolu case by the bronzier Pierre Delacroix, Paris. The enamel disc with rolling moon phase, outer concentric rings for the days of the week and months of the year with their number of days, date aperture with silvered ring, outer zodiac ring painted in gilt-framed roundels with green enamel jewelling by Joseph Coteau (1740-1812), the finest enameller at that time.
A nearly identical clock was delivered to Emperor Paul I St.Petersburg in 1798 and is today at the Kremlin Palace, Moscow.
Literature: J.D.Augarde, Les Ouvriers du Temps, Geneva, 1996, p. 205
Kunsthandel Peter Mühlbauer (stand 264) - Director: Peter Mühlbauer
Peter Mühlbauer has secured a steady place in the field of fine furniture, European crafts and old master paintings from the early 16th to the early 19th century for nearly four decades. Since 1990 Schloss Schönburg offers with its elegant spacers an appropiate and historical atmosphere for these works of art. With his outstanding taste for quality, Peter Mühlbauer can always present significant acquisitions, especially 17th- and 18th-century German furniture. The clients include museums and private collectors as well as dealers worldwide.
Contact: Schloss Schönburg
94060 Pocking
Germany
T +49 85 31 18 15
M +49 171 620 3220
F +49 85 31 13 300
www.kunsthandel-muehlbauer.com
petermuehlbauer@t-online.de