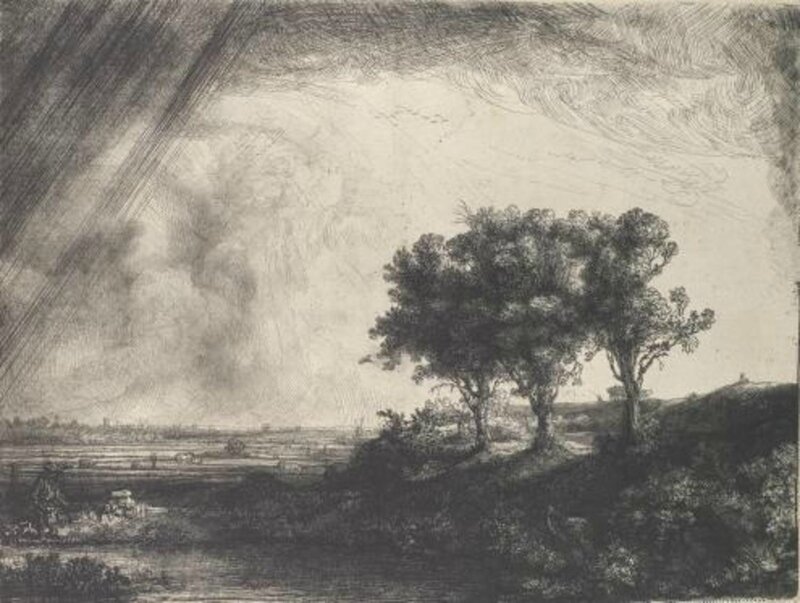 Rembrandt (Rembrandt van Rijn) (Dutch, Leiden 1606–1669 Amsterdam) The Three Trees, 1643. Etching with drypoint and engraving. Plate: 8 3/8 x 10 15/16 in. (21.3 x 27.8 cm) sheet: 8 3/8 x 11 1/8 in. (21.3 x 28.3 cm) mount: 14 1/4 x 19 1/4 in. (36.2 x 48.9 cm). The Metropolitan Museum of Art, H. O. Havemeyer Collection, Bequest of Mrs. H. O. Havemeyer, 1929 (29.107.31). Image: © The Metropolitan Museum of Art, New York.
EW YORK, NY.- The history of the Metropolitan Museum's collection of works of art on paper—now one of the most important and most comprehensive in the world—began 100 years ago with the unlikely and astonishing story of its first two curators, neither of whom was trained as an art historian. Together, they challenged convention, engaged the public, and revolutionized the study of these works. Organized to commemorate the department's centennial, the exhibition The Power of Prints: The Legacy of William M. Ivins and A. Hyatt Mayor sheds light on the fascinating careers of its founding curators and reveals how, from the very beginning, they artfully composed the print collection as a visual library: a corpus of works of art on paper—from the exceptional to the everyday. The story of this great American collection is told through prints by Andrea Mantegna, Albrecht Dürer, Marcantonio Raimondi, Jacques Callot, Rembrandt van Rijn, Francisco de Goya y Lucientes, Honoré Daumier, James McNeill Whistler, Henri de Toulouse-Lautrec, Mary Cassatt, Edward Penfield, and Edward Hopper, among others.
Albrecht Dürer (German, Nuremberg 1471–1528 Nuremberg), Adam and Eve, 1504. Engraving, 9 7/8 x 7 7/8in. (25.1 x 20cm). The Metropolitan Museum of Art, Fletcher Fund, 1919 (19.73.1). Image: © The Metropolitan Museum of Art, New York
In 1916, William Mills Ivins (1881–1961) abandoned a successful law career to accept the job of founding curator of the Met's Department of Prints. Although he was hired specifically to acquire the works of well-known 19th-century artists and old masters, Ivins set out instead to amass examples of technical, social, and historical interest as well. Notably, he championed the works of Goya, whose challenging and sometimes gruesome imagery was not appreciated in America at that time. Ivins first encountered these works as a student in Paris; the brutal images of war affected him profoundly and, in time, changed the course of his life. Almost all of the Met's collection of nearly 300 Goya prints—one of the largest anywhere—was acquired by Ivins.

Before joining the Museum in 1932, Alpheus Hyatt Mayor (1901–1980) had studied modern languages, literature, and poetry, and worked as an arts critic, teacher, and occasional actor. Like Ivins, he was also an avid bibliophile with wide-ranging interests, a voracity for knowledge, and passion for social history. Brought on to assist Ivins and, eventually, to continue his legacy, Mayor expanded on Ivins's foundational work by adding a new focus on lithography and popular prints. Pushing the boundaries of what had traditionally been collected as printed matter, he acquired for the Museum some of the most renowned American collections of popular prints. To Mayor, these items had value, because of the information they contained about all aspects of culture. He also recognized their future potential for research in diverse fields, from anthropology to urban planning.