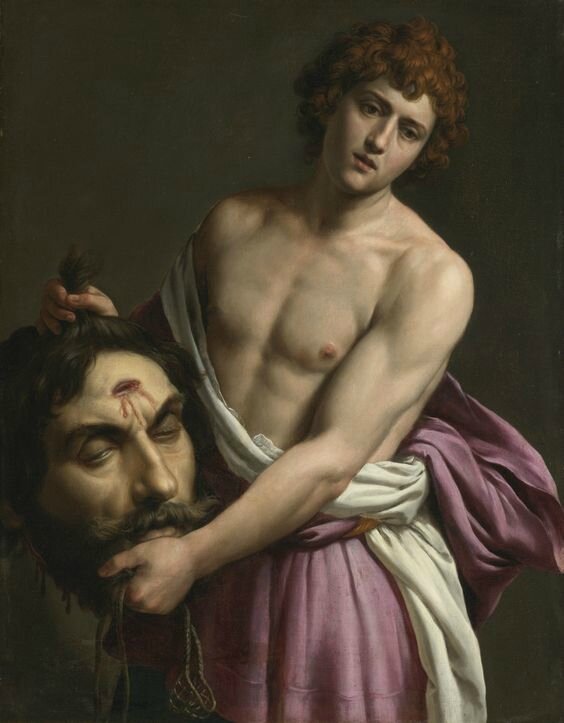 Alessandro Turchi, called Orbetto (Verona 1578 - 1649 Rome), David with the head of Goliath, oil on canvas, 49 by 37 1/2 in.; 124.5 by 95.4 cm. Estimate 100,000 — 150,000 USD. Photo Sotheby's
Provenance: Anonymous sale, "Property of a Nobleman", New York, Sotheby's, 28 May 1999, lot 46.
Notes: Alessandro Turchi's David with the head of Goliath is a commanding and highly impressive image. In an earlier treatment of the subject, now in a private collection, Turchi painted David in a crouched position beside a tent, its ropes pinned behind him, his sword at his feet, and his drapery billowing dramatically at his shoulder.1 Here, in contrast, the figure is shown against a dark background with no accoutrements, other than the sling hanging from David's left hand. The intense chiaroscuro effect instead provides the drama, bathing David in white light from left and creating a scene that is stark and imposing, yet simple.
The beautifully painted torso and arms are powerful and mature, yet through his treatment of David's face, Turchi betrays the hero's youth. David's expression, though determined, is humble rather than victorious. The tension in his shoulders and the musculature of the upper arm convincingly convey the weight of the giant's head in his grasp as he leans backward in order to counter its burden. The drapery too is superb, the violet tunic and white undershirt, coiled so beautifully around the rope belt, fall in naturalistic folds that balance the composition at right. The thickness of the fabric and painterly treatment of the highlighted folds are almost reminiscent of Guercino.
Born in Verona, Turchi received his initial training in the studio of Felice Brusasorci before moving to Rome circa 1614. In many early documents, the artist is recorded as "Orbetto", meaning "little blind one". The moniker likely dated back to Turchi's youth, when he would guide his blind father, Silvestro, who had lost his sight in an accident at work. By 1619 Turchi had settled permanently in Rome, becoming a member of the Accademia of San Luca of which he would be elected Principe in 1637, testament to his high standing among his contemporaries and almost certainly indicative of his affiliation with the powerful Barberini family.
1. D. Scaglietti Kelescian, Alessandro Turchi, dello l'Orbetto, 1578 - 1649, exhibition catalogue, Milan 1999, p. 25, reproduced fig. 25.
Sotheby's. Master Paintings & Sculpture Day Sale, New York, 29 janv. 2016, 10:00 AM