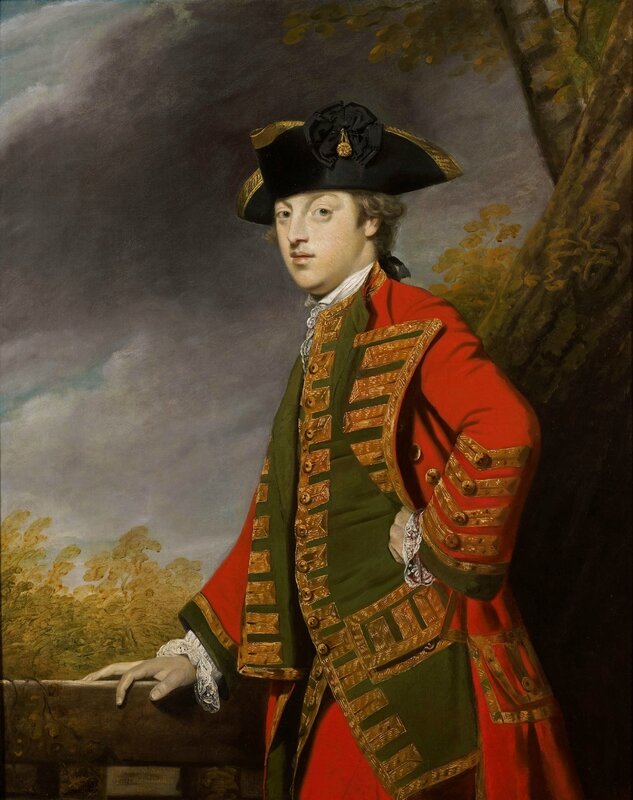 Sir Joshua Reynolds, P.R.A (Plympton 1723-1792 London), Portrait of Sir Gerard Napier, 6th Bt. (1739-1765), three-quarter-length, in the uniform of the Dorsetshire Militia, in a landscape, his hand resting on a balustrade. Oil on canvas, 127.5 x 101.5 cm. Agnew's at TEFAF 2016 © TEFAF Maastricht, 2015
Sir Gerard Napier, 6th Bt. was a soldier, and the son of Sir Gerard Napier, 5th Bt. (d.1759), and his wife Bridget, daughter of Edward Phelips of Montacute, and a descendant of the prominent royalist of the same name. This picture is one of two versions of the sitter by Reynolds, which Napier and his wife sat for in 1762. Joshua Reynolds is widely regarded as one of the greatest portraitists of the 18th century. Celebrated for capturing the leading figures of society of his day, he also helped establish a distinctive British school of painting. Reynolds's portraits not only depicted the colourful society in which he lived, but were often the product of a collaborative relationship between artist and sitter, drawing on their biographies to personalise their portraits. In his attempt to raise the status of portraiture, he created the 'Grand Manner' which borrowed from classical antiquity and the Old Masters to fill his portraits with moral and heroic symbolism. An incredible socialite, social climber and self-promoter, Reynolds used his contacts to advance himself. Appointed President of the newly established Royal Academy in 1768, his annual lectures - or Discourses on Art - had a lasting impact on the contemporary theory of art and practice.
Provenance: Phelips of Montacute; sale, 29 Nov 1929, lot 45; Vicars Bros. 1936
Literature: D. Mannings and M.Postle, Sir Joshua Reynolds, A Complete Catalogue of his Paintings, New Haven and London, 2000, no.1329, as untraced
Exhibitions: London, 1932, no.1364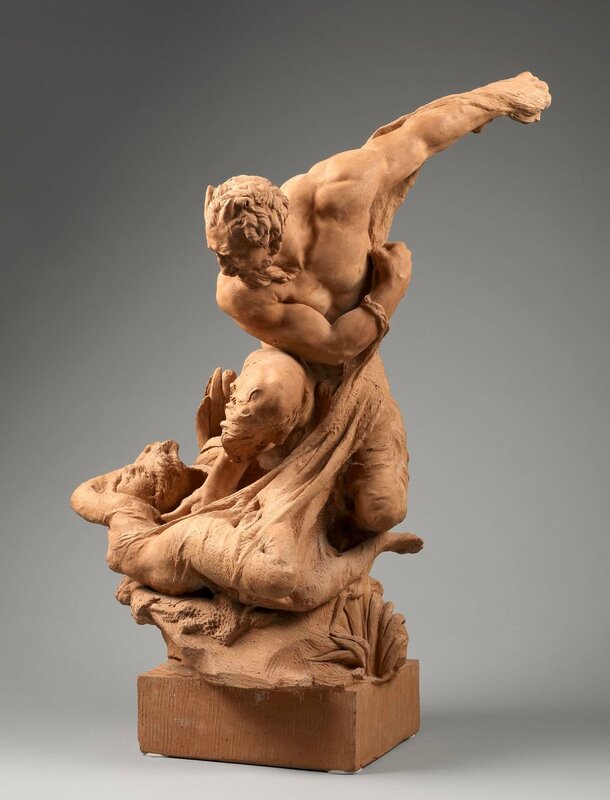 Jules Desbois, A satyr and a nymph. Terracotta worked in the round. Height 71cm. Signed and dated to the reverse 'DESBOIS. 1886'. Agnew's at TEFAF 2016 © TEFAF Maastricht, 2015
Provenance: Private collection, Rhineland
Jean Pierre Granger (1779-1840), Portrait of a Lady. Oil on canvas, 65 x 45 cm. Agnew's at TEFAF 2016 © TEFAF Maastricht, 2015
Agnew's (stand 369) - Director: Anthony Crichton-Stuart
Thomas Agnew & Sons was established by Thomas Agnew in Manchester in 1817, and opened its London gallery in 1860, where the firm soon established itself as one of Mayfair's leading dealerships. Since then Agnew's has held a pre-eminent position in the world of Old Master paintings, and was instrumental in promoting contemporary British art in the late 19th century.
Over generations, Agnew's has acted as principal agents and advisors to some of the most important collectors of their time, including Edward Cecil Guinness, 1st Earl of Iveagh, Alfred Beit, Alfred and Ferdinand de Rothschild and more recently Paul Mellon, Norton Simon and the Samuel Kress Foundation. Agnew's also often served as agent for the National Gallery, London in the auction rooms and has been involved in placing masterpieces in major museums around the world. The gallery has handled works by, amongst others, Caravaggio, Van Dyck, El Greco, Frans Hals, Poussin, Rembrandt, Rubens, Vermeer, Titian, Turner and Velázquez, including the latter's Rokeby Venus in the National Gallery, London.
In 2013, after nearly two centuries of family ownership, Agnew's was purchased privately and is now run by Lord Anthony Crichton-Stuart, a former head of Christie's Old Master paintings department, New York.
Contact: 6 St. James's Place
London
London, SW1A 1NP
United Kingdom
T 0044 (0)20 7491 9219
M 0044 (0)778 468 4416
www.agnewsgallery.com
anna.cunningham@agnewsgallery.co.uk