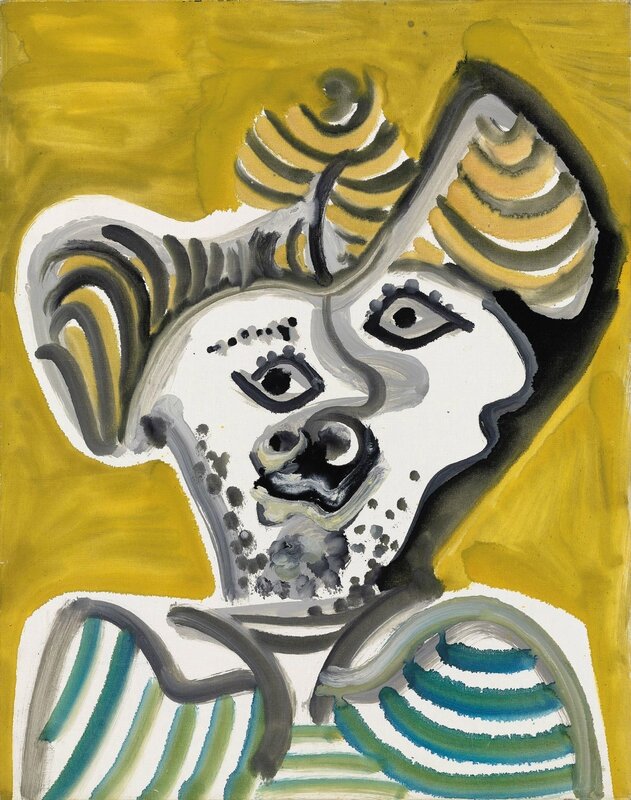 Pablo Picasso (Málaga 1881-1973 Mougins), Tête d'homme (Man's head), 1972. Oil on canvas, 92 x 73 cm. Inscribed verso upper left in red '19.1.72. III'. Galerie Bastian at TEFAF 2016 © TEFAF Maastricht, 2015
Provenance: The artist's estate; Galerie Boulakia, Paris, 1984; Habsburg, Impressionst and Modern Paintings, Drawings, Sculpture, Geneva, 12 Nov. 1989, lot 85; Private collection, France; Loudmer, Importants Tableaux et Sculptures Modernes, Paris, 13 June 1994, lot 69
Literature: Tent. cat., Pablo Picasso 1970-1972, Avignon, 1973, cat.157, ill. p.182; Rafael Alberti, Picasso, Le rayon ininterrompu, Paris, 1974, cat. 94, ill. n.p.; Christian Zervos, Pablo Picasso, Œuvres de 1971-1972, vol. 33, Paris, 1978, cat. 280, ill. p.97; Tent. cat., Picasso 1963-1973, Su última decada, Mexico City, 1984, cat.35, ill. p.28; Alan Wofsy (ed.), The Picasso P...
Exhibitions: Avignon, Palais des Papes, Pablo Picasso, 1970-1972, 1973; Mexico City, Museo Rufino Tamayo, Picasso 1963-1973, Su última decada, 1984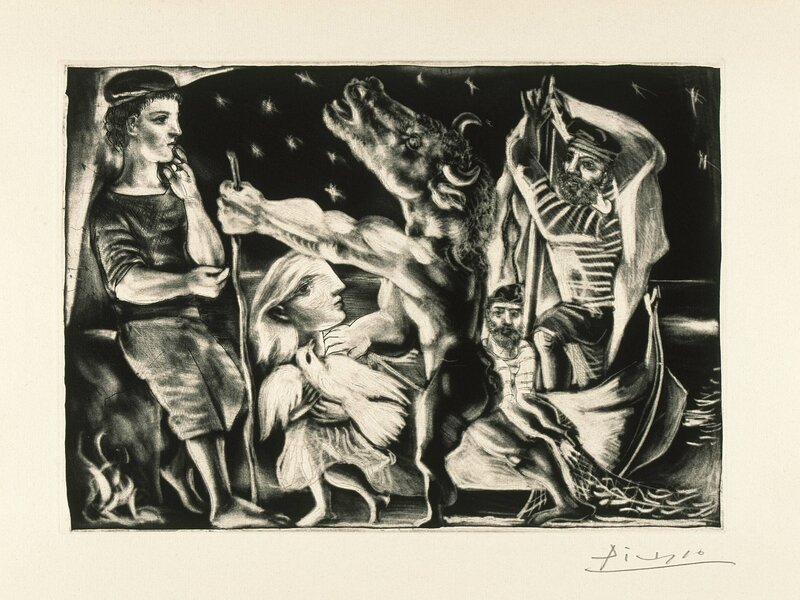 Pablo Picasso (Málaga 1881-1973 Mougins), Minotaure aveugle guidé par une fillette dans la nuit(Blind Minotaur Led by a Little Girl in the Night), circa 1934-35. Aquatint worked with scraper to resemble mezzotint, drypoint and burin engraving, 24.7 x 34.5 cm. Inscribed recto lower right in pencil 'Picasso'. Galerie Bastian at TEFAF 2016 © TEFAF Maastricht, 2015
Provenance: Ambroise Vollard, Paris; Henri Petiet, Paris
Literature: Brigitte Baer and Bernhard Geiser, Picasso peintre-graveur, catalogue raisonné de l'oeuvre gravé et lithographié et des monotypes, vol. IV, Bern, 1986-1992, cat. nr. 437; Georges Bloch, Pablo Picasso, katalog des graphischen Werkes 1904-1967, vol. I, Bern, 1975, cat. no. 225
Exhibitions: Chemnitz, Kunstsammlungen, Pablo Picasso, Suite Vollard, 2012
Galerie Bastian (stand 529) - Directors: Dr Aeneas Bastian, Heiner Bastian
Located in a building facing museum island in the historical city centre of Berlin, Galerie Bastian focuses on post-war European and American artists such as Joseph Beuys, Anselm Kiefer, Cy Twombly, Andy Warhol as well as works by Pablo Picasso.