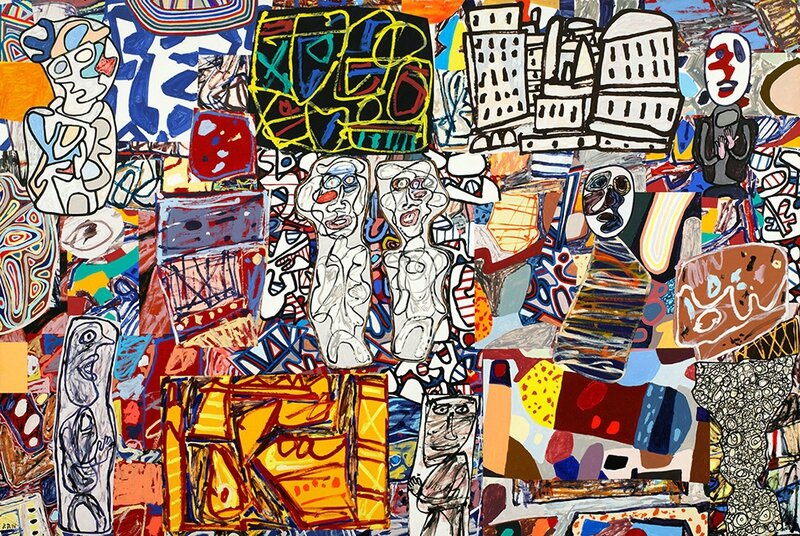 Jean Dubuffet, Mêle moments, 1976, Acryle sur papier entoilé, Private Collection, Courtesy Pace Gallery, © 2015, ProLitteris, Zurich.
BASEL.- The Fondation Beyeler will open the year 2016 with the first retrospective of Jean Dubuffet's multifaceted, imaginative and brightly colored oeuvre to be held in Switzerland in the 21st century. The exhibition "Jean Dubuffet – Metamorphoses of Landscape", which will run from 31 January to 8 May 2016, will feature around 100 works by the French painter and sculptor, who, as a master of experimentation, imparted new impulses to the art scene in the second half of the 20th century. The works on show will include the spectacular multimedia work Coucou Bazar , a space-encompassing installation with partly animated costumes.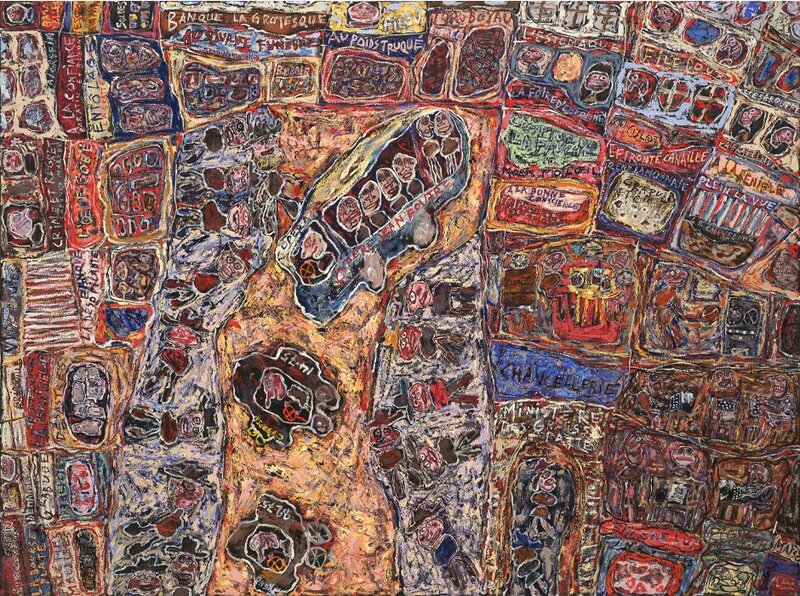 Jean Dubuffet, Le commerce prospère, 1961, Huile sur toile, The Museum of Modern Art, NY, Mrs. Simon Guggenheim Fund, Foto: © 2015. Digital image, MoMa © 2015, ProLitteris, Zurich.
Jean Dubuffet (1901–1985) is one of the defining artists of the second half of the 20th century. Stimulated by the work of artists on the margins of the cultural scene, Dubuffet succeeded in liberating himself from traditions and in reinventing art. Dubuffet's influence can still be felt today in contemporary art and street art, for example in the work of David Hockney, Jean-Michel Basquiat and Keith Haring.
Jean Dubuffet, Paysage aux argus, 1955, Collage d'ailes de papillons, 20.5 x 28.5 cm, Collection Fondation Dubuffet, Paris, Foto: © Pro Litteris, Zurich.
In the first large-scale Jean Dubuffet retrospective in Switzerland this century, the Fondation Beyeler presents the artist's richly faceted, complex and multilayered oeuvre on the basis of some 100 works. The exhibition focuses on Dubuffet's fascinating idea of landscape, which in his hands can transform itself into a body, a face or an object. The artist experimented in his works with new techniques and materials, such as sand, butterfly wings, sponges and slag, thereby creating a wholly individual and unique visual universe.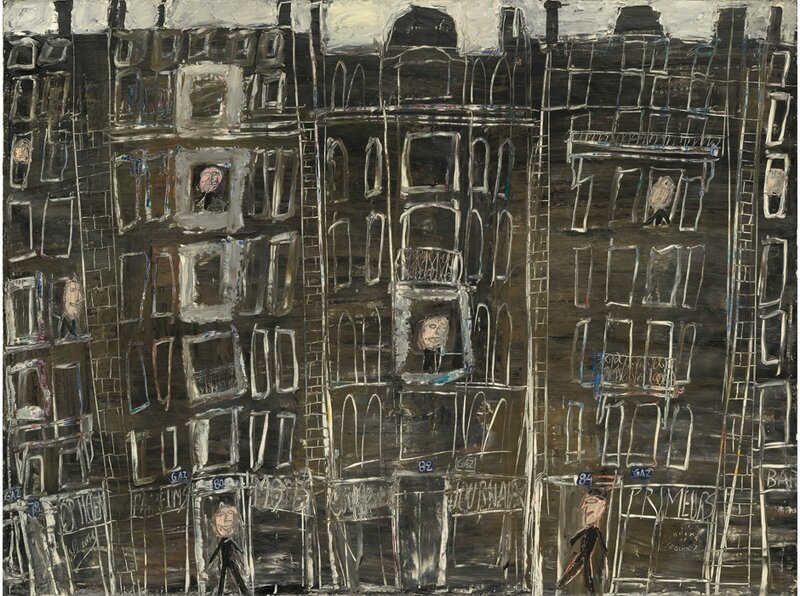 Jean Dubuffet, Façades d'immeubles, 1946, Huile sur toile, National Gallery of Art, Washington, Gift of the Stephen Hahn Family Collection, 1995.
Alongside important paintings and sculptures from all the major phases of the artist's oeuvre, the exhibition is also showing Dubuffet's spectacular Coucou Bazar , a multimedia work of art combining painting, sculpture, theatre, dance and music.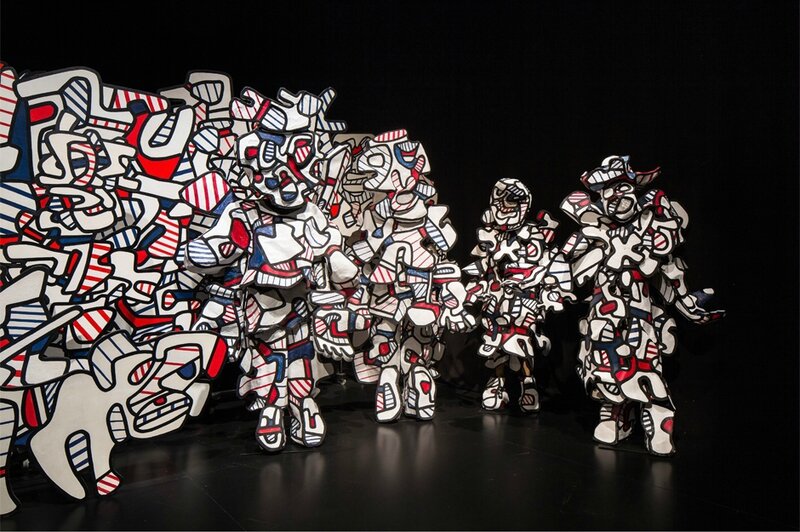 Jean Dubuffet, Coucou Bazar (Detail), 1972-1973, Installationsansicht, Collection Fondation Dubuffet, Paris, Foto: Les Arts Décoratifs, Paris/Luc Boegly, © 2015, ProLitteris, Zurich.
The exhibition will be showing works from important international museums and private collections. It is generously supported by the Fondation Dubuffet in Paris. Amongst many others, significant exhibits come from the Guggenheim in New York; the Centre Pompidou, the Fondation Louis Vuitton and the Musée d'Art Moderne de la Ville de Paris in Paris; the National Gallery, the Hirshhorn Museum and Sculpture Garden in Washington; the Detroit Institute of Arts; the Moderna Museet in Stockholm; the Museum Ludwig in Cologne; the Staatliche Kunsthalle Karlsruhe; the Kunsthaus Zürich and many more.
Jean Dubuffet, Vache la belle fessue, 1954, Huile sur toile, Collection of Samuel and Ronnie Heyman – Palm Beach, FL.
Jean Dubuffet (1901–1985) fait partie des artistes qui ont profondément marqué la seconde moitié du XXe siècle. Stimulé par les travaux d'artistes en marge des circuits culturels, Dubuffet a réussi à s'affranchir des traditions et à réinventer l'art. Son influence se fait encore sentir dans l'art contemporain et dans le Street Art, notamment dans les travaux de David Hockney, Jean-Michel Basquiat et Keith Haring.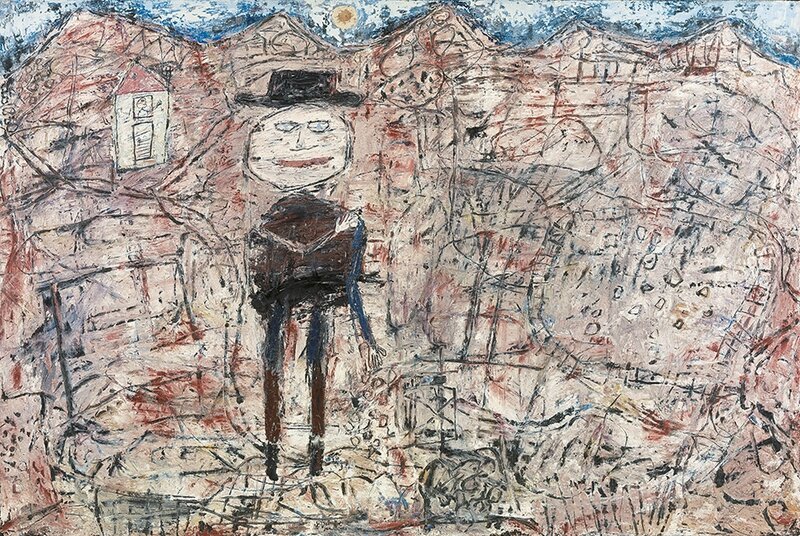 Jean Dubuffet, Le Voyageur égaré, 1950, Huile et sable sur toile, Fondation Beyeler, Riehen/Basel, Sammlung Beyeler, Foto: Cantz Medienmanagement, Ostfildern.
Dans la première grande rétrospective montée en Suisse au XXIe siècle, la Fondation Beyeler présente à travers une centaine d'œuvres la création riche en facettes et très diversifiée de Jean Dubuffet. Cette exposition prend pour point de départ sa représentation fascinante du paysage, susceptible de se transformer en corps, en visage et en objet. Dans ses œuvres, l'artiste avide d'expériences a utilisé des techniques inédites et des matériaux nouveaux, tels que le sable, les ailes de papillons, les éponges et le mâchefer, créant ainsi un univers pictural tout à fait singulier et d'une grande originalité.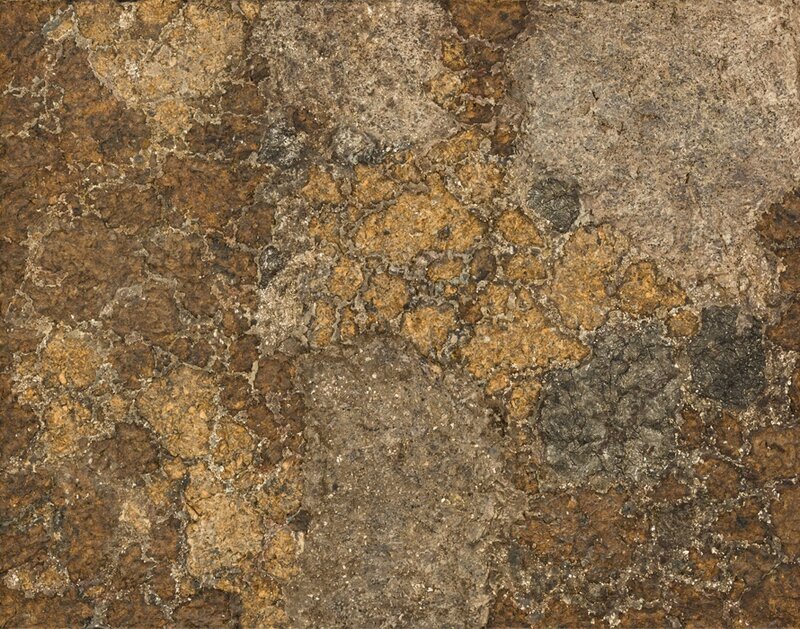 Jean Dubuffet, Le cadastre, 1960, Silber- und Goldfolie, Pappmaché, Sand und Kunststoff auf Hartfaserplatte, Collection Van Abbemuseum, Eindhoven, NL, Foto: Peter Cox, Eindhoven, NL.
Ernst Beyeler ayant été très impressionné par l'art de Dubuffet, une étroite collaboration s'est nouée entre les deux hommes, conduisant à un contrat d'exclusivité entre le galeriste et l'artiste. Au fil des décennies, ce sont plus de 750 œuvres de Dubuffet qui ont été vendues par l'intermédiaire de la Galerie Beyeler. L'intérêt d'Ernst Beyeler pour la création de Dubuffet se reflète aussi largement dans la Collection de la Fondation Beyeler, qui contient de nombreux chefs-d'œuvre de cet artiste.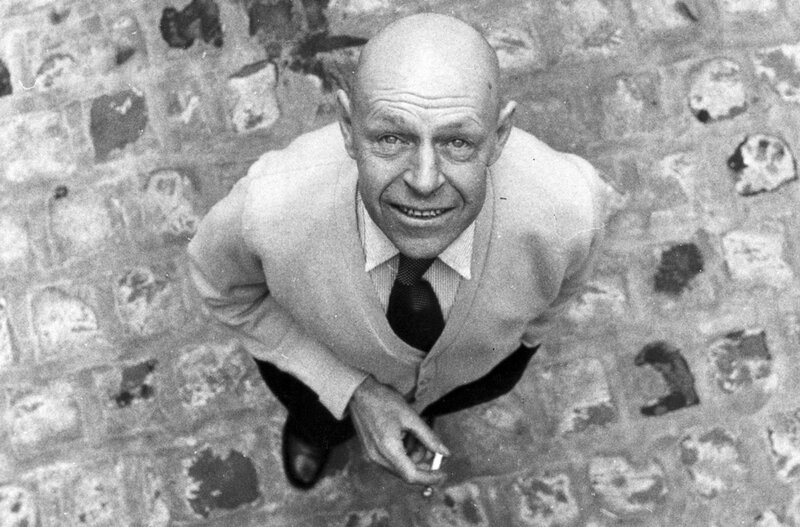 Jean Dubuffet, 1959 © Foto: John Craven / Archives Fondation Dubuffet, Paris
Parallèlement à des peintures et des sculptures issues de toutes les phases de création majeures de Dubuffet, cette exposition présente sa spectaculaire œuvre totale intitulée Coucou Bazar, associant peinture, sculpture, théâtre, danse et musique.
Cette exposition a été rendue possible par des prêts de musées internationaux et de grandes collections particulières ainsi que de la Fondation Dubuffet de Paris et généreusement soutenu par Dr. Christoph M. et Sibylla M. Müller.
Le commissaire de l'exposition est Raphaël Bouvier.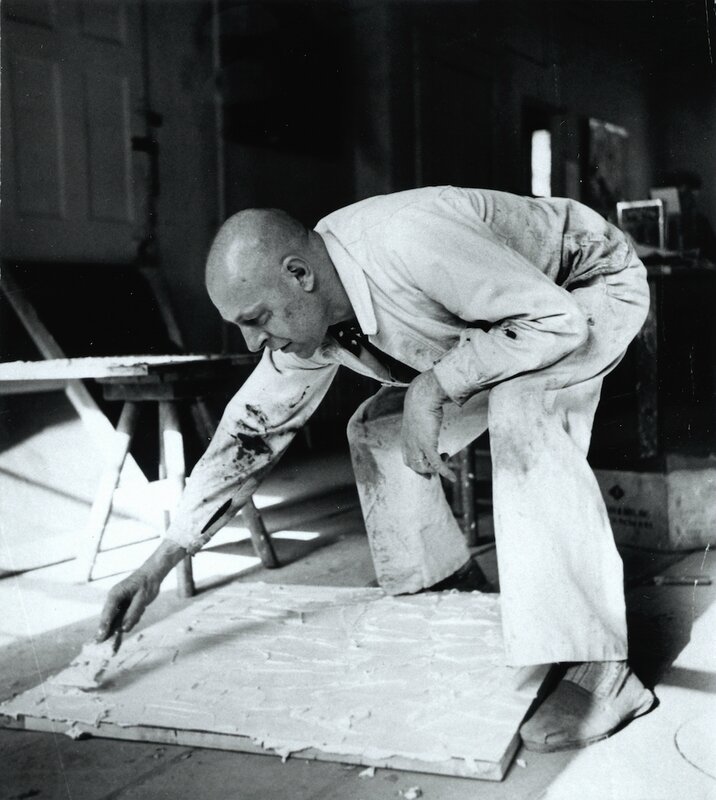 Jean Dubuffet, preparing a canvas, New York, 1951/1952 © Photograph: Kay Bell / Archives Fondation Dubuffet, Paris.