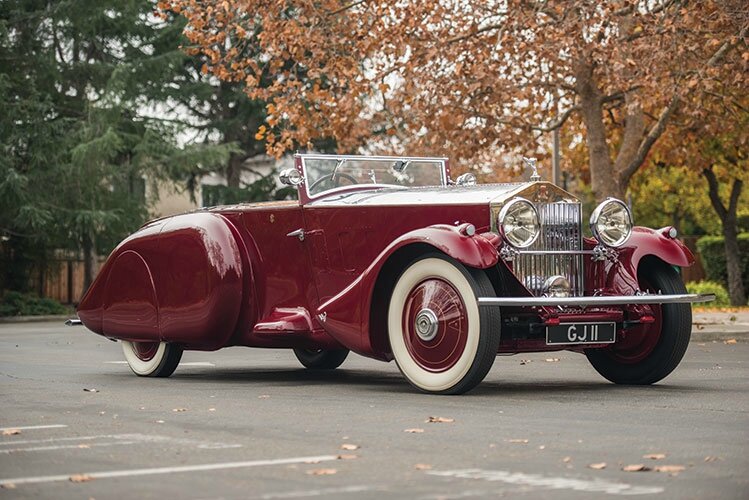 1930 Rolls-Royce Phantom II Torpedo Sports by Barker. Estimate $2,500,000 - $3,500,000. Unsold. Courtesy of RM Sotheby's
Chassis no. 179 XJ - Engine no. YJ45 - Registration no. GJ 11
120 bhp, 7,668 cc inline six-cylinder engine, four-speed manual transmission, front and rear semi-elliptical leaf-spring suspension, and four-wheel power-assisted drum brakes. Wheelbase: 150 in.
An incredibly advanced and detailed early streamlined design
Believed to have been originally delivered to Maharaja Gulab Singh of Rewa
Formerly of the Vojta Mashek and Dr. Samuel Scher collections
Perhaps the most sporting and dramatic Phantom II ever built
Most famous as the longstanding coachbuilder to British royalty and a favorite of Rolls-Royce Ltd., Barker frequently produced coachwork of fine quality and conservative mien. Occasionally they would throw off their razor edges and build something that was really dramatic and spectacular, most prominently for London Motor Show exhibits. The 1930 show introduced a two-passenger Phantom II, chassis number 92 GY, wearing a body that would have looked advanced 10 years in the future. By 1930 standards, it was a tremendous leap ahead and an exceptionally beautiful and interesting one as well.

Chassis number 179 XJ was subsequently ordered as a Barker two-seater sports "for Continental touring" on behalf of Andre Mertzanoff, a New York resident and chief engineer of the American Radiator Company. This car borrowed the Motor Show's design, including rear fenders that sweep forward to hide side-mounted spares, deliciously curved pontoon-style front fenders with built-in storage compartments, and a top that disappeared smoothly under a tapered rear deck. The deck itself on the Mertzanoff car would be of plank hardwood, sanded and varnished until it gleamed like the bow of a speedboat. Echoing the body's nautical intentions, both of the artfully designed door handles incorporated lights, as in the port and starboard markers on a yacht!

While Mertzanoff is the name recorded on the Phantom II's build sheet, indications are that he did not take delivery of the finished project. In a letter written by the car's second owner, A. Fillingham, and published in the October 1958 issue of Motorsport magazine, Fillingham notes that the car "was first registered 12/5/30, GJ 11…It first belonged to a foreign, titled man, and was taken in part exchange by Messrs. H.R. Owen Ltd. of 17, Berkeley Street, London, W.1." Persistent rumor indicates that the "foreign titled man" was Gulab Singh, the Maharaja of Rewa, one of the many Indian royals who were devoted Rolls-Royce clients at the time.

Fillingham indicated to Motorsport that he became the second owner, via H.R. Owen, in 1932, and that at the time of writing in 1958, he still owned the car. "I have touched 87 m.p.h. and had quite a bit in hand," he remarked, "so that 94 m.p.h. is quite a possibility given suitable circumstances. It is in wonderful condition and has not yet done 50,000 miles. As a 'Fondling,' it is a bit on the big side, yet it has always had and still gets lots of 'cosseting.'"

Presumably the letter to Motorsport attracted the attention of the famous British old car dealer David "Bunty" Scott-Moncrief, who acquired the car in time to drive it on the Veteran & Vintage Rally at Beaulieu in 1958. Two years later, the Phantom II made its way to the United States in the hands of the well-known early U.S. enthusiast and collector of coachbuilt European automobiles Vojta F. Mashek. Importantly, Mashek's daughter, Lyssa, also remembers the car as having been attributed to the Maharaja.

In 1962, Mashek brought his prize to the Rolls-Royce Owners Club meet at Dearborn, Michigan. The car was not entered for judging, but it attracted considerable attention, including that of Alex Tremulis. The well-known designer, most famous as the man responsible for the 1948 Tucker and for his work at Auburn Automobile Company, was at the time a Ford Advanced Design employee, creating numerous wild and advanced concepts. The Mashek Phantom II decidedly caught his fancy, to the point that he had Ford staff photograph the car extensively for further study!

Chief judge of the 1962 RROC meet in Dearborn was Dr. Samuel Scher, at the time New York City's foremost plastic surgeon and probably the most famous East Coast car collector of his time. Undoubtedly, the car must have turned Dr. Scher's head as well, as he purchased it from Mr. Mashek in 1965. It passed in 1969 to Harry Resnick, owner of the Ellenville Motor Museum in upstate New York, known for his superb stable of coachbuilt Rolls-Royces (including at least one of every Phantom built). Mr. Resnick, in turn, sold the car in 1972 to Samuel Schwartz of Long Island.

In 1981, the car was purchased by Michael Wilkinson of Rancho Santa Fe, California, in whose ownership it continued to be exhibited in RROC activities, now refinished in white. It was eventually passed through Russell Jackson to the well-known Michigan collectors Richard and Linda Kughn, who at the time had the largest collection of vintage Rolls-Royces in the world. It speaks highly of the car that, with so many Phantoms at hand, it was this car that the Kughns brought to the Rolls-Royce Experience at Hickory Corners, Michigan, in 1988.

Acquired for its current owner's collection in the early 1990s, the car has been restored in a brilliant scarlet, accentuated by the magnificent and authentic plank decking of the rear deck and a tan leather interior. It retains the original "GJ 11" British registration plates and its authentic original features, such as the concealed "dickey seat" that swings up out of the rear deck, the beautifully detailed fender lamps and lighted door handles, and those spectacular flowing fenders.

The car is offered with copies of its original build and historical information from the Rolls-Royce Foundation, as well as additional research performed into its ownership history. It is featured in Automobile Quarterly, volume 27, number 2 (p.192), and in the well-known reference work of Lawrence Dalton, The Derby Phantoms (p. 204).

Phantom IIs are all unique automobiles, and many aspired to reach beyond the elegant to the sporty. Few succeeded as well as this absolutely dashing motor car, a dramatic conveyance for two or four that dramatically announces the arrival of the streamlined age—in silence.
RM Sotheby's, ARIZONA, 28-29 January 2016