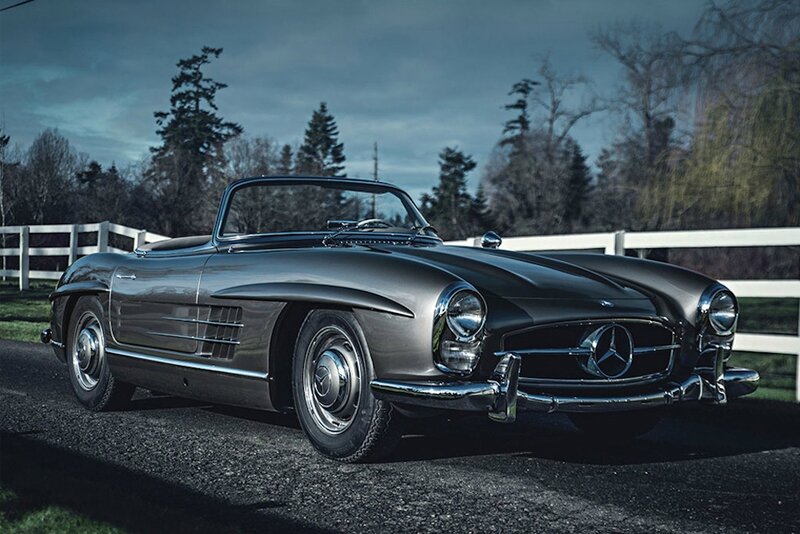 1958 Mercedes-Benz 300 SL Roadster. Sold for $1,265,000. Courtesy of RM Sotheby's
Chassis no. 198.042.8500154 - Engine no. 198.980.8500131 - Body no. 198.042.8500153
215 bhp (DIN), 240 hp (SAE), 2,996 cc overhead-cam inline six-cylinder engine, four-speed manual transmission, coil-spring independent front suspension and coil-spring single-point swing-axle rear suspension, and servo-assisted drum brakes. Wheelbase: 94.5 in.
Recently restored by renowned marque specialists Rudi & Company
Desirable and beautiful color combination; includes matching luggage
Original matching-numbers engine
An exquisitely presented 300 SL Roadster
To say that the Mercedes-Benz 300 SL was ahead of its time would be an understatement. The 300 SL heralded a new era for Mercedes-Benz road cars; it utilized an innovative space-frame chassis coupled with a race-bred, fuel-injected engine, the first of its kind fitted to a production car, and was clothed in breathtaking bodywork.

It was conceived by American Mercedes-Benz importer Max Hoffman, who believed that a road-legal version of the successful W194 racer would be profitable in the United States and that the power and styling of such a car would appeal to the American market. Mercedes-Benz took Hoffman up on his idea, and it was only natural that the new 300 SL would premiere at the New York Auto Show in 1954. The 300 SL coupe quickly earned the nickname "Gullwing" for its distinctive roof-hinged doors, and the public fell in love with the car, not only for its breathtaking design but also for its earth-shattering performance.

Of course, the best way to keep customers coming back to Mercedes-Benz was to create a drop-top version of the 300 SL. A prototype model of a convertible 300 SL was first spotted by the German magazine Auto, Motor und Sport in 1956, and the production version would first be shown at the Geneva Motor Show one year later. By the end of 1957, the final Gullwings had left the production line, and production began on the 300 SL Roadster.

The roadster offered a host of improvements over its gull-winged predecessor. In an effort to improve entrance and egress, Mercedes-Benz lowered the central section of its space-frame, crafted smaller sills, and fitted larger doors to the car. Strength was maintained, nonetheless, with the addition of diagonal struts, which braced the lowered side sections to the rear tubular members. Engineers also revised the suspension to create a more comfortable ride and improve handling. At the rear, the spare tire was repositioned below the trunk floor, necessitating a smaller fuel tank but also maintaining reasonable luggage space. These revisions to the roadster added some 250 pounds to the total weight of the car, mostly due to the convertible top. However, the car remained quite quick nevertheless and boasted a factory-claimed top speed of 137 mph.

Following the lead of the coupe, the 300 SL roadster proved to be just as popular with the well-to-do as its predecessor. Ownership of a 300 SL implied an exquisite taste in engineering and aesthetics, and it was the ultimate automotive statement. Naturally, many found homes in the garages of celebrities, racing drivers, and other successful individuals with an appreciation for fine automobiles. At an $11,000 list price, it was worth every penny.

CHASSIS NUMBER 198.042.8500154

According to its Mercedes-Benz build sheet, a copy of which is on file, chassis number 198.042.8500154 was originally ordered through the U.K. distributor in London, England, finished in a dramatic combination of Light Blue (DB 334) with Red leather interior. Owned in the U.K. as late as 1981, it later made its way to the United States, where it was acquired by Arizona resident John Wenaas and subsequently by communications entrepreneur and renowned collector Jim Rogers of Las Vegas, Nevada. Mr. Rogers had the car re-trimmed in white leather with whitewall tires, and it became known among roadster cognoscenti as "Liberace," for obvious reasons! It remained a favorite within the Rogers Collection for several years.

In 2013, the car underwent mechanical work by the famed Richardson Restoration and Machine Werks in Phoenix, Arizona. Engine work included a new gasket valve over, intake and exhaust guides, and new cam bearings. More recently, the car received a sympathetic cosmetic restoration by the famed West Coast 300 SL restoration facility Rudi & Company of British Columbia. As part of the complete restoration, its color scheme was changed to the more subtle Anthracite with Grey interior, which is a rare combination and very desirable in 300 SL roadster circles, and it received all-new chrome and glass in addition to its new interior and bare-metal repaint. The car retains its original U.S.-specification sealed-beam headlights, windshield washers, and Becker Mexico radio with automatic antenna and dual speakers, all of which are mentioned on the build sheet, as well as an optional Talbot mirror on the driver's side.

An attractive and elegant 300 SL roadster, with interesting history and in one of the best imaginable liveries, this car would take pride of place in any collection of modern sports cars. It is certain to be as thrilling to drive as it is to look at!
RM Sotheby's, ARIZONA, 28-29 January 2016