Photo: Sotheby's.
HONG KONG.- Sotheby's Hong Kong will present the first single-owner collection of contemporary ink art at auction worldwide – The Origo Collection – on 4 April 2016 during the Spring Sales series. Offering 83 lots, the sale represents a major selection from the Collection, epitomising the diversity of contemporary ink art works in scale, concept and stylistic approach. Significant works, most of them fresh to the auction market, by artists including Gao Xingjian, Gu Wenda, Li Huayi, Li Jin, Liu Dan, Liu Guosong, Qiu Deshu, Wang Dongling, Xu Bing, Xu Lei, Zeng Xiaojun, Yang Jiechang and Zhang Yu, will be featured. The sale will see a total estimate in excess of HK$35 million / US$4.6 million.

Henry Howard-Sneyd, Chairman of Asian Art, Sotheby's Europe and Americas, says, "We are very excited to present the first single-owner auction of contemporary ink art this April. Given the diversity and exceptional quality of the works on offer, we cannot find a better place than Hong Kong to showcase The Origo Collection, which commands a truly international taste."

Mee-Seen Loong, Vice Chairman, Chinese Art, Sotheby's New York and Head of Contemporary Ink Art Worldwide, says, "As an innovator in the field of contemporary ink art, Sotheby's has been staging related auctions worldwide since the 1980's to meet the demands of a growing international audience. Three years ago, we introduced this genre in our Hong Kong saleroom which has since gained strong interest and momentum. This April, we are thrilled to be able to bring this category to the next level by presenting a collection of such calibre."

Michael Macaulay, Head of Evening Sales, Contemporary Art, comments, "The Origo Collection surveys some of the most perceptive, sensitive and intelligent artists to have been working in recent decades. These works are fundamentally contemporary, and as such should resonate with and appeal to collectors interested in today's most important artistic innovators."

Katherine Don, Head of Contemporary Ink Art, Sotheby's Hong Kong, adds, "The Origo Collection at auction was meticulously handpicked to highlight the quality, diversity and range of the ink art genre in this one sale. The trailblazing vision of The Origo Collection encompasses the varied and expressive artistic styles and artists in the collection take the classic ink medium in expansive and exhilarating directions. As such, this sale presents a rare and exciting opportunity for both collectors familiar with the field of contemporary art in China and those around the world who are newly introduced to this vibrant medium."
The Origo Collection
Assembled with a pioneering vision, the world-class collection provides a diversity that illustrates the vibrant potential of a genre that is, first and foremost, contemporary. Ranging from ink and acrylic on paper to video and multimedia by internationally acclaimed artists, The Origo Collection represents a significant survey of contemporary ink works that are diverse in styles, offering a contemporary expression of Chinese culture today with crossover international appeal. Sometimes monumental in scale and intellectually daring in approach, the works of The Origo Collection represent more than three decades of artistic innovation, capturing the full range and evolution of styles of ink art practices from the late 20th century through the present.
Contemporary Ink Art
Contemporary ink art represents a truly innovative and revolutionary sector of the arts in today's international market. The genre is not defined by the medium of ink alone; in fact, artists, especially those in Asia, create varied stylistic approaches and have consistently been cultivating, experimenting and innovating their art in the ink medium. Although rooted in Chinese culture and history, ink art expresses an aesthetic that transcends cultural differences. While ink art is typically associated as being "Chinese", it has expanded to encompass a broad range of inspirations and traditions, and thus appeal to collectors across categories.
ICONIC WORKS
The Origo Collection presents a significant range of iconic works by established artists such as Gao Xingjian, Li Huayi, Li Jin, Liu Dan, Liu Guosong, Wucius Wong and Xu Lei. Many are considered pioneers of their generation for innovation in composition, technique, use of media, or a combination of all, that are distinguished from, but evoke a link with the ink painting tradition.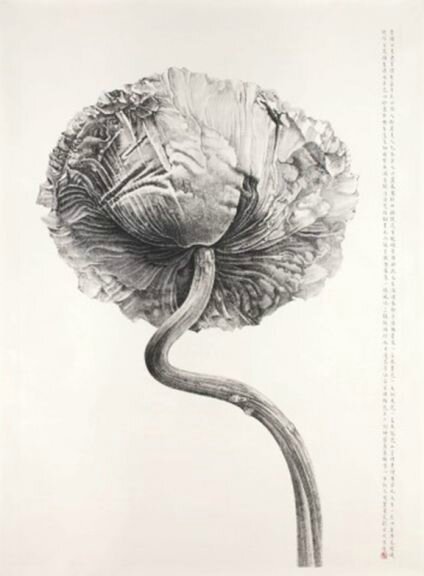 Liu Dan (b.1953), Poppy, 2008. Ink on paper, framed 212 x 148 cm. Est.: HK$2.5 – 4 million / US$323,000 – 520,000. Photo: Sotheby's.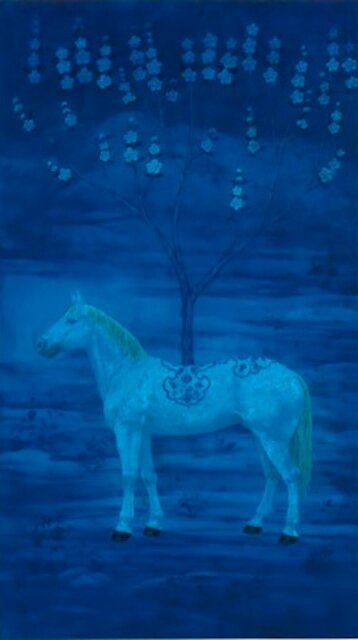 Xu Lei (b.1963), Tree of Blue Underglaze, 2008. Ink and colour on paper, framed 211 x 120 cm. Est.: HK$3 – 5 million / US$387,000 – 645,000. Photo: Sotheby's.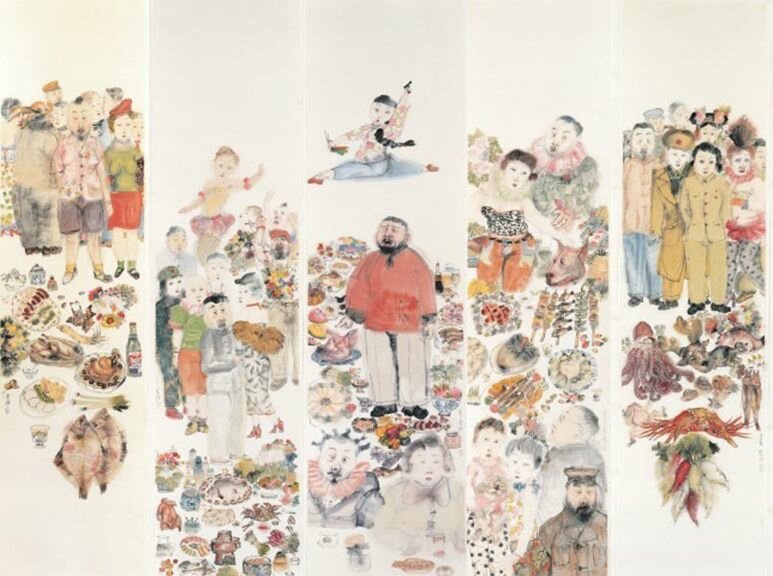 Li Jin (b.1958), Feast (set of five), 2007. Ink and colour on paper, hanging scrolls, 215 x 52.5 cm each. Est.HK$1.5 – 2 million / US$194,000 – 258,000. Photo: Sotheby's.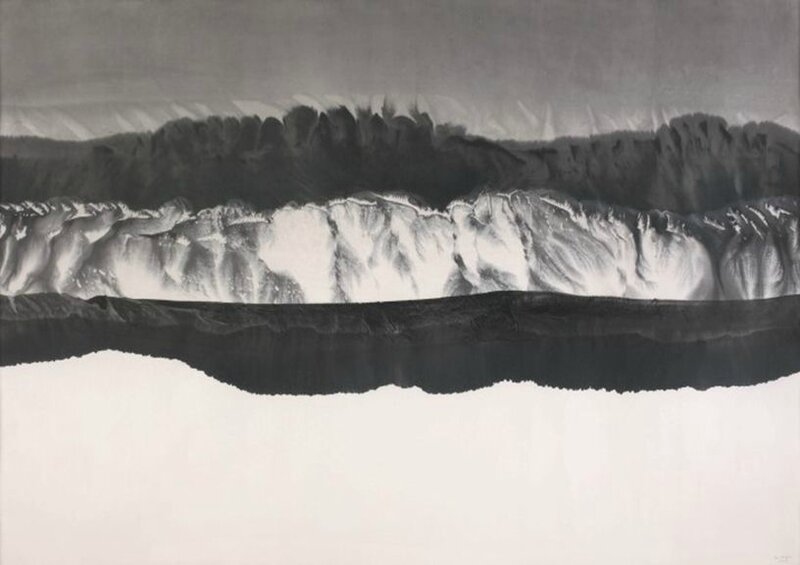 Gao Xingjian (b.1940), Dream Mountain (La Montagne de Rêve) 2005 Ink on paper, framed, 146 x 207 cm Est.: HK$250,000 – 350,000 / US$32,300 – 45,200. Photo: Sotheby's.
MONUMENTAL IN SCALE
The Origo Collection at auction consists of nearly one third of works that are monumental in scale, measuring close to 3 metres or more in height or length. The physical presence of these works demands the attention of their audience. While not all artists work in this scale regularly, it is not uncommon to encounter works of such significant dimensions that aim to create impact both in the power of the image and medium.

Qiu Deshu (b.1948), Mountainscape (set of five), 2005. Ink, acrylic and paper on canvas, framed, 210 x 125.5 cm each. Est.: HK$1 – 1.5 million / US$ 129,000 – 194,000. Photo: Sotheby's.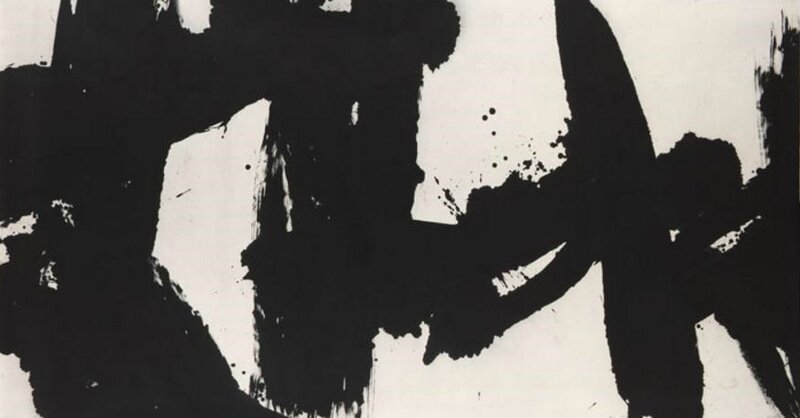 Wang Dongling (b.1945) Harmonious Opposition, 2006. Ink on paper, framed 146 x 273.5 cm. Est.: HK$250,000 – 350,000 / US$32,300 – 45,200. Photo: Sotheby's.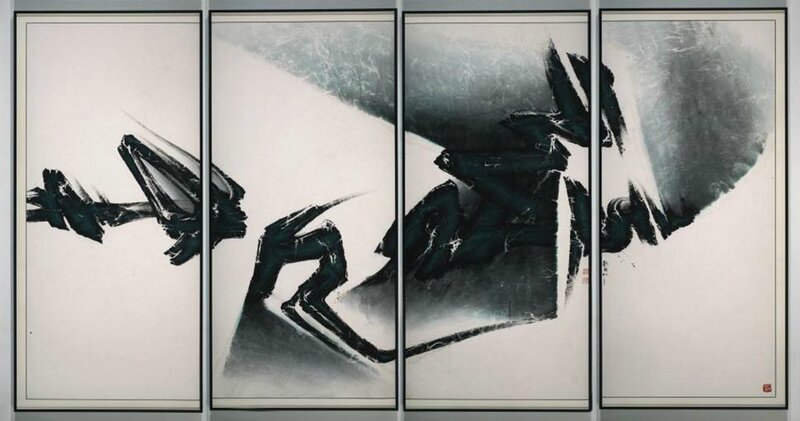 Liu Guosong (Liu Kuo-Sung) (b.1932), Universe is My Heart #4 (Quadriptych), 1998. Ink and colour on paper, framed Overall 182 x 349.7cm. Est.:HK$4 – 6 million / US$520,000 – 775,000. Photo: Sotheby's.
EXPERIMENTAL TECHNIQUES
Contemporary artists use acrylic and oil on paper, film, ink rubbing, printmaking, pen and pencil in provocative and dynamic dialogue with tradition that challenges viewers' expectation about the nature of ink painting.
Liu Wei (b.1965), Flowers, 2006. Oil on paper, 94 x 57.2 cm. Est.: HK$400,000 – 600,000 / US$52,000 – 77,500. Photo: Sotheby's.

Wang Tiande (b.1960), Digital No. 08 - MH51, 2008. Ink and burn marks on paper, framed, (i) 180 x 35 cm, (ii) 47 x 12 cm. Est.: HK$150,000 – 300,000 / US$19,400 – 38,700. Photo: Sotheby's.
• Qiu Anxiong (b.1972) Minguo Landscape Executed in 2007 This work is edition AP2 of a total edition of 10 plus 2AP one DVD and one Standard Digital Betacam tape, 14 minutes and 33 seconds Est.: HK$70,000 – 100,000 / US$9,050 – 12,900
• Liang Quan (b.1948) A White Horse Is Not A Horse 2007 Ink, colour and collage on paper 83 x 119 cm Est.: HK$250,000 – 350,000 / US$32,300 – 45,200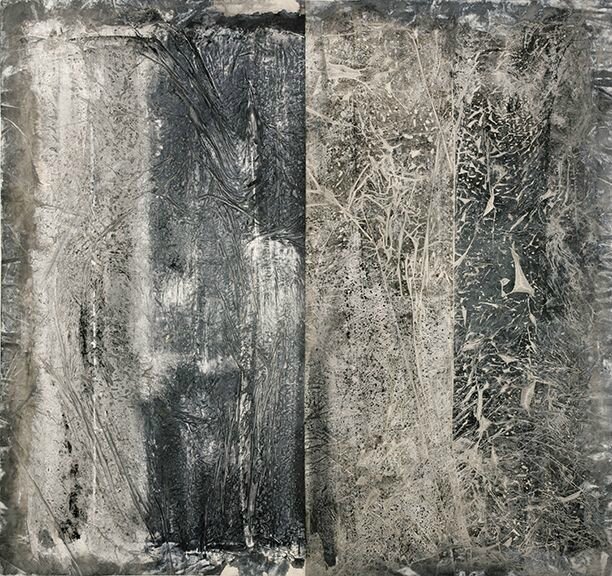 Zheng Chongbin (b.1961), Four Definitions 001, 2011. Ink and acrylic on paper, framed 177.8 x 190.5 cm. Est.: HK$300,000 – 400,000 / US$38,700 – 52,000. Photo: Sotheby's.