Pieter Bruegel the Elder, Christ and the woman taken in adultery, 1565, Oil on panel, 24.1 x 34.4cm. © The Samuel Courtauld Trust
ONDON.- This focused exhibition brings together for the first time Pieter Bruegel the Elder's only three known grisaille paintings and examines their sources, function and reception. The presentation of these three exquisite masterpieces can only take place at The Courtauld Galleryas their own panel, Christ and the Woman Taken in Adultery, is barred from travel. It will be joined by The Death of the Virgin from Upton House in Warwickshire (National Trust) and Three Soldiers from the Frick Collection in New York.
Despite his status as the seminal Netherlandish painter of the sixteenth century, Pieter Bruegel the Elder (c. 1525-1569) remains a mysterious artist of: fewer than forty paintings are ascribed to him. While he is most often associated with scenes of peasants drinking and fantastical creatures, his three small grisaille paintings, in contrast, display a refinement not found in the rest of his oeuvre.
Pieter Bruegel the Elder, The Three Soldiers, 1558, 20.3 x 17.8 cm. © The Frick Collection
Monochrome painting in shades of grey was a mainstay of Netherlandish art from the early fifteenth century, most often present on the wings of altarpieces and preparatory sketches for engravings. In contrast, Bruegel's panels constitute one of the earliest and rare examples of independent cabinet pictures in grisaille, created for private contemplation and enjoyment. This seemingly austere type of painting has often been imbued with religious or political significance. On a purely artistic level, it enabled the painter to showcase their skill by limiting the palette.
Pieter Bruegel the Elder, The visit to the tenant farmer, 28.5 × 42.7 cm. © Fondation Custodia, Frits Lugt Collection, Paris
The three panels will be complemented by comparative material, including prints and contemporary replicas, as well by other independent grisailles in order to shed light on the development of this genre in Northern Europe. Of special interest will be two copies of Christ and the Woman Taken in Adultery: one is ascribed to Pieter's son, Jan, and the other is said to have been painted in Italy at the request of Cardinal Federico Borromeo, based in Milan. The display, Bruegel, Not Bruegel, will also provide the opportunity to confront an additional grisaille genre scene, The Visit to the Peasants (Lugt Collection, Paris), whose attribution has oscillated between Pieter and Jan for the past century. A small publication which will include a technical investigation, accompanies the display.

This focus on Bruegel's grisailles is a continuation of The Courtauld 's long-standing commitment to organising exhibitions that use a masterpiece from its collection to illuminate a specific aspect of Western art.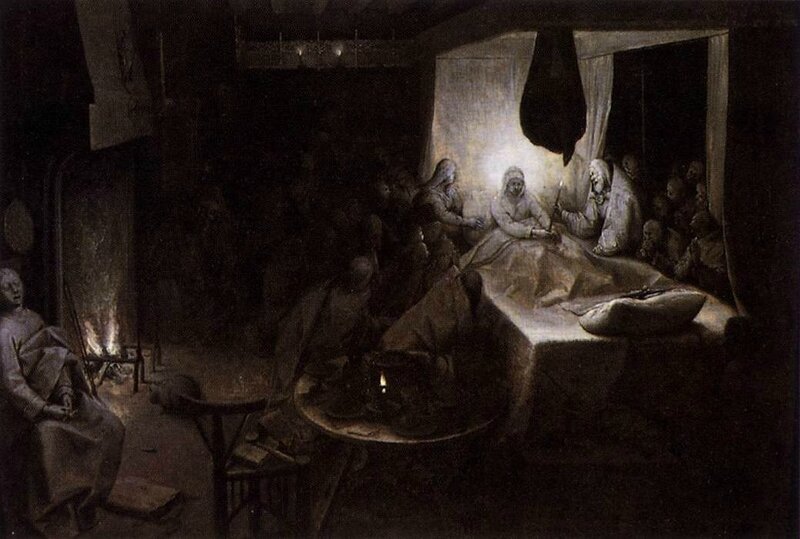 Pieter Bruegel the Elder, The Death of the Virgin, c.1564, 36 x 55 cm. © Upton House, Warwickshire, UK