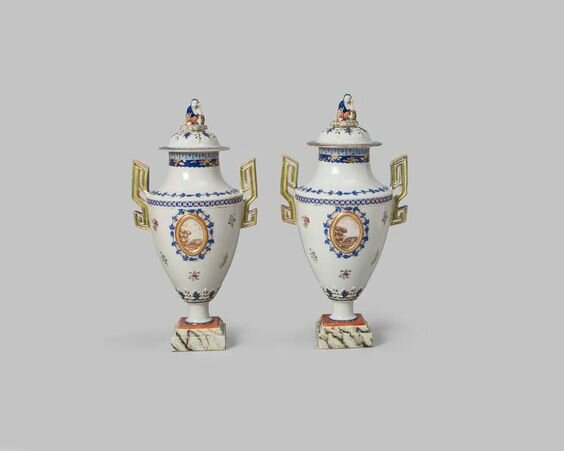 Pair of urns and covers, Qing dynasty, Jiaqing period (1796-1820), circa 1800-1820. Porcelain decorated in overglaze polychrome enamels and gold, 47.5 x 23 cm. © Jorge Welsh Works of Art
Urns were produced in various shapes and decorative themes for the export market during the late 18th and early 19th century. It is clear that many were ordered privately, as they often incorporate initials, inscriptions or coats of arms. This striking pair of urns was probably modelled on a European silver prototype. The finial in the form of a robed lady, sitting cross-legged holding a tea bowl in one hand and leaning on a barrel, is most unusual. Interestingly, finials depicting similar figures also appear on a number of contemporary 'black basalt' teapots in the Wedgwood style. Two pairs of comparable urns, but painted with different decorative motifs to the present example, are in the Philadelphia Museum of Art, Pennsylvania.
Provenance: The James E. Sowell Collection
Jorge Welsh Works of Art (stand 210). TEFAF 2016, 11-20 march, Maastricht
Directors: Jorge Welsh, Luísa Vinhais
Jorge Welsh Works of Art was founded by Jorge Welsh and Luísa Vinhais. Our expertise is in Chinese porcelain - with an emphasis on export porcelain - and cross-cultural works of art from Africa, India, China and Japan. The works of art range from the 15th to the 18th century.

With galleries in London and Lisbon, Jorge Welsh Works of Art exhibits regularly at reputed art fairs and events such as TEFAF Maastricht, La Biennale des Antiquaires de Paris, Masterpiece London and Asian Art in London.

Our works of art are acquired by collectors and museums worldwide and regularly lent for their temporary exhibitions.

Jorge Welsh Research & Publishing has published twenty one scholarly catalogues and books. Together with our in-house research team and independent international scholars, our aim is to contribute to furthering knowledge in our chosen areas of expertise.
Contact: Jorge Welsh
Rua da Misericórdia, 41-47
1200-270 Lisbon
Portugal
T +351 21 395 33 75
F +351 21 393 07 03
pt@jorgewelsh.com

Jorge Welsh
116 Kensington Church Street
London, W8 4BH
United Kingdom
T +44 20 72 29 21 40
F +44 20 77 92 35 35
uk@jorgewelsh.com