1955 Porsche 550 Spyder by Wendler. Chassis no. 550-0068. Sold for €2.744.000. Courtesy RM Sotheby's/Rémi Dargegen.
PARIS.- RM Sotheby's, the world's largest collector car auction house for investment-quality automobiles, returned to Place Vauban for its third annual Paris sale. A highlight of the world-famous Rétromobile week, the auction achieved €19,035,550* ($20,843,927 US) before a standing-room-only crowd. With active bidding from global collectors representing 24 countries, the result was a successful sell-through of 79 percent. Highlighting the evening sale was the 1955 Porsche 550 Spyder, which realized a strong €2.744.000 to lead a group of seven automobiles that achieved individual million-euro-plus results.

The top-selling Porsche 550 Spyder was undoubtedly the star of the auction preview, with enthusiasts flocking to Place Vauban to glimpse the rare competition sports racing car. The featured example was significant for being the 1955 Frankfurt Motor Show car and one of just 75 factory-built 'customer' 550 Spyders, with period U.S. racing history that includes 3rd in class at the 1956 Sebring 12 Hours. Supremely eligible for vintage tours, rallies and racing, it represented a rare and highly coveted prize for collectors, and deserved excellent price it achieved on the night.

Max Girardo, Managing Director of RM Sotheby's Europe said: "We had some great lots on offer in Paris and the Porsche 550 Spyder, in particular, represented everything that we wish to bring to market. It's a car with great history, rarity and huge desirability; it simply ticks all the boxes."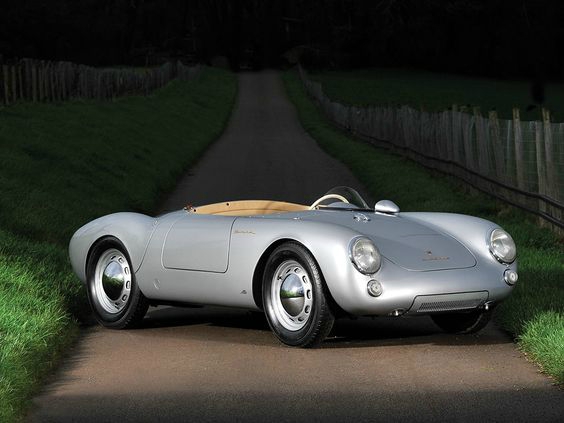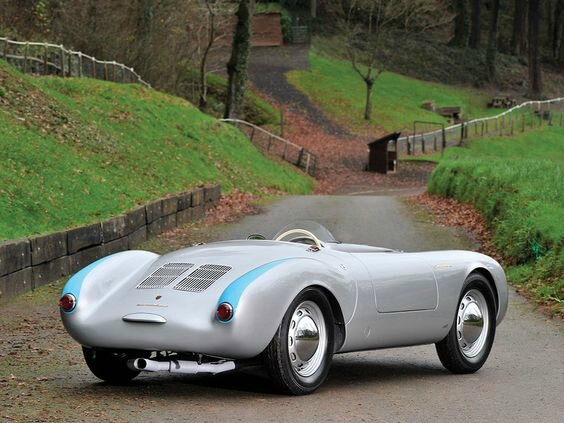 1955 Porsche 550 Spyder by Wendler. Chassis no. 550-0068. Sold for €2.744.000. Courtesy RM Sotheby's/Rémi Dargegen.
110 bhp, 1,488 cc DOHC air-cooled horizontally opposed four-cylinder engine with dual Weber downdraft carburettors, four-speed manual transmission, independent front and rear suspension, and four-wheel drum brakes. Wheelbase: 2,100 mm
The 1955 Frankfurt Motor Show car

One of just 75 factory-built 'customer' 550 Spyders

Period US racing history with Mike Marshall, including 1956 Sebring 12 Hours

Freshly serviced by renowned Porsche specialist Prill Porsche Classics

Highly eligible for vintage tours and rallies, including the Mille Miglia, Tour Auto, Le Mans Classic, Goodwood Revival, Monterey Historics, and Monaco Historic Grand Prix!
'Design is not simply art, it is elegance of function' – Ferdinand Porsche
THE GIANT KILLER

The 550 Spyder put Porsche firmly on the map as a serious competitor on the world's racing tracks; indeed, the diminutive mid-engined roadster generated the nickname 'Giant Killer' for its ability to defeat much more powerful rivals. Introduced at the 1953 Paris Auto Show, the 550 and its second iteration, the 550A, remained in production through February of 1959, and a total of 130 chassis were constructed before the 718 RSK Spyders appeared. A large proportion of 550 production was destined for the United States.

Built on a frame of seamless mild steel tubing, the 550 utilised a front suspension of double trailing arms and transverse-leaf torsion bars. After the first few examples, the rear suspension was redesigned from leading control arms to trailing arms with swing axles and tubular transverse torsion bars. Porsche's engineers had planned an all-new engine to power the Spyder at the gruelling Carrera Panamericana, but early testing determined that Dr Ernst Fuhrmann's Type 547 advanced 1.5-litre air-cooled four-cylinder Boxer engine was not quite ready. Thus, the first few chassis were fitted with conventional pushrod Porsche engines. Soon, however, reliability was ensured and the new 'Four-Cam' would be installed in all the 550s, 550As, RSKs, 356 Carreras, and 904s that were to follow.

This marvellous but complex engine, called the 'Drawer motor' because its engineering drawings were quickly hidden in Fuhrmann's desk whenever Dr Porsche walked into his office, was an all-alloy unit displacing 1,498 cubic centimetres. Its camshafts were driven off the Hirth-patent built-up roller-bearing crankshaft by a series of shafts and crown wheels. Cam timing took dozens of man-hours to properly establish, but once all the clearances were correctly set, the high-revving motor was very reliable. It featured dry-sump lubrication and two spark plugs per cylinder. With compression of 9.5:1 and breathing through a pair of Weber downdraft carburettors, this engine produced a strong 110 brake horsepower. In a chassis that weighed barely 590 kilograms, 550s were capable of top speeds approaching 210 km/h (140 mph), dependent on gearing. Because these little roadsters were ostensibly required to be street driven, they were fitted with a token canvas tonneau that met the letter of the rulebook but were otherwise better left folded away in the garage.

CHASSIS NUMBER 550-0068

This beautiful 550 Spyder left the factory at Zuffenhausen on 19 September 1955, to be eventually delivered to an American customer, but first, there would be an intermediate stop: Porsche's stand at the 1955 Frankfurt Motor Show. There, it shared the company's display with a 356 Speedster, a coupé, and a cabriolet. Chassis number 550-0068 was shown in semi-racing form; that is, there was a small racing windscreen to protect the driver and an alloy half tonneau covering the passenger side of the cockpit. Suggesting, perhaps, that this was a dual-purpose sports car, it was also fitted with moon hubcaps, which were standard fitment to cars delivered in street trim. Adding to the sporting impression that Porsche wanted to convey, the rear fenders were topped with painted 'darts', or flashes. Today 0068 has been restored to its original silver paint with light blue darts, a very attractive combination.

The factory build sheet specifies that 0068 was to be shipped to '1 kunde/customer USA' following the Frankfurt show. That customer was a gentleman named Mike Marshall, a Porsche/Volkswagen dealer and amateur racer of Miami, Florida. Mr Marshall wasted no time in putting his new 550 to the task for which it was intended. Just two months after the car starred on Porsche's display at Frankfurt, Marshall gave the new Spyder a victory in its first outing, an SCCA race at Waterboro, South Carolina. Next up was December Speed Week at Nassau in the Bahamas, where Marshall finished 6th in the preliminaries, dropped out of both the Governor's Cup and All-Porsche contests, but came back to score a respectable 4th place in the Under-Two-Litre Production race. In February 1956, Marshall won a pair of SCCA Regional races at Punta Gorda, Florida; a 1st and 2nd at Waterboro; and then, sharing the wheel with Porsche's racing chief and occasional driver Huschke von Hanstein, managed a creditable 14th overall and 3rd in class at the Sebring 12 Hours. Von Hanstein was quite familiar with 0068; he had posed with it at the Frankfurt Motor Show.

Through the remainder of 1956 and early 1957, Marshall ran numerous other amateur races including Elkhart Lake, Wisconsin; Montgomery, Alabama; Chester, Carolina; Gainesville, Florida; the 1956 Nassau Speed Week; and then a race weekend at the very difficult 2.4-mile circuit at New Smyrna Beach, Florida. Unfortunately, in a preliminary event, Marshall had an off, side-lining the Spyder for the weekend. Fifteen months later, 0068 was sold to Joe Sheppard, a very talented amateur who'd picked up the nickname 'The Tampa Hotshoe' and who drove the car at Chester and Gainesville. The car's racing history then lists Sheppard's friend Duncan Forlong, who borrowed the car for two races at Dunnellon Park, Florida.

It is believed that 0068 then remained in Florida. When recently quizzed about the car, Joe Sheppard could not recall exactly when it was sold; it was a deal put together by his father. The new owner is believed to have been Bob Ross, who made a regular appearance at the Sebring track with racing friends in his new Spyder. In the mid- to late-1980s, the Porsche was bought by Lynn Larson, who almost immediately sold it on to his friend Phil Bagley, who then sold the car to its new owner who shipped it to Italy.

The car was inspected on 12 November 1989, by a Mr Parigi, prior to issuance of FIVA license number 0120620 by the Automotoclub Storico Italiano. That registration process was not completed until 21 April 1997. Italian registration number BG-B67015 was assigned 28 August 1997 in the name of Pierluigi Bartoli of Riva di Solto, who had acquired the car in July of 1993, per the Estratto Chronologico, copies of which are included in the car's history file. In 1999, the current owner, an Italian businessman and enthusiast, purchased this historic racer.

Today, 550-0068 is offered having been maintained regardless of cost and ready to be used in any of the many events for which it is eligible, including the Mille Miglia, Tour Auto, Le Mans Classic, Goodwood Revival, Monterey Classics, and Monaco Historic Grand Prix, amongst others.

Simply put, no comprehensive collection of vintage Porsches is complete without a 550 Spyder, and this example would surely be one of the most enjoyable.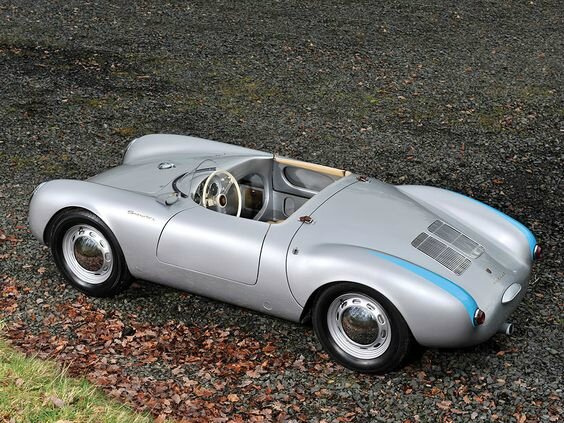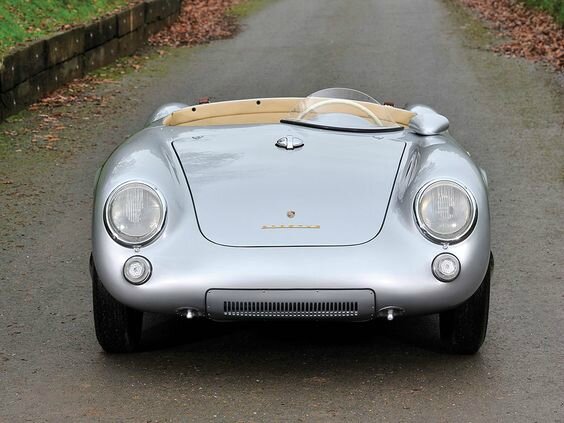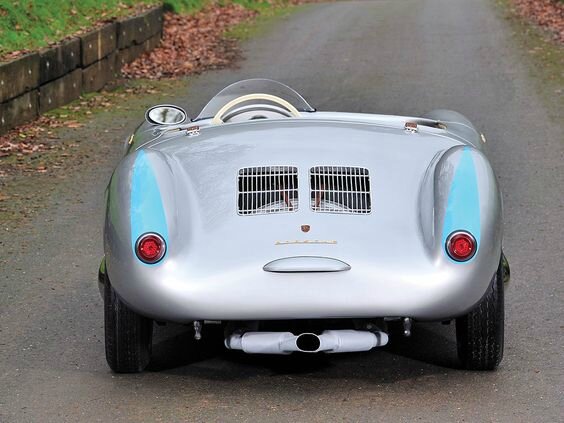 1955 Porsche 550 Spyder by Wendler. Chassis no. 550-0068. Sold for €2.744.000. Courtesy RM Sotheby's/Rémi Dargegen.
Moteur quatre cylindres opposés à plat refroidi par air à 2 ACT par banc, deux carburateurs Weber inversés, boîte manuelle à quatre rapports, suspensions avant et arrière indépendantes et quatre freins à tambour. Empattement : 2 100 mm
• La voiture du Salon de Francfort 1955
• Une des soixante-quinze 550 Spyder « compétition client »
• Historique en compétition aux Etats-Unis avec Mike Marshall dont les 12 Heures de Sebring
• Récemment révisée par le réputé spécialiste Porsche Prill Porsche Classics
• Parfaitement éligible dans les grandes épreuves historiques classiques dont les Mille Miglia, Tour Auto, Le Mans Classic, Goodwood Revival, Monterey Historics, et le Grand Prix Historique de Monaco
« La conception n'est pas seulement un art, mais la recherche de l'élégance dans la fonction » - Ferdinand Porsche

LA TUEUSE DE GÉANTS

La 550 Spyder installa définitivement Porsche parmi les plus sérieux compétiteurs sur les circuits mondiaux et les petits roadsters à moteur central reçurent bientôt le surnom de « tueuse de géants » pour leur capacité à vaincre des rivales beaucoup plus puissantes. Introduite au Salon de Paris 1953, la 550 et sa deuxième version, la 550 A, restèrent en production jusqu'en 1959 pour un total de 130 châssis construits avant l'arrivée des 718 Spyder RSK. Une grande partie de la production de la 550 fut exportée aux États-Unis.
Construite sur un châssis en échelle fait de tubes d'acier doux étiré (sans soudure), la 550 utilisait une suspension avant à doubles bras tirés et barres de torsion transversales à lames d'acier. Après quelques exemplaires, la suspension arrière fut redessinée, les bras de guidage poussés étant remplacés par des bras tirés contrôlant les demi-essieux oscillants suspendus par des barres de torsion transversales. Les ingénieurs de Porsche avaient prévu un tout nouveau moteur pour propulser la Spyder engagée dans la terrible Carrera Panamericana, mais les premiers essais montrèrent que le très moderne quatre-cylindres boxer refroidi par air Type 547 de 1,5 litre du Dr Ernst Führmann n'était pas tout à fait au point. C'est pourquoi les premiers châssis reçurent des moteurs Porsche à culbuteurs conventionnels. Mais très vite, la fiabilité fut obtenue et le nouveau « 4 arbres » équipait les 550, 550 A, RSK, 356 Carrera, et 904 qui allaient se succéder.

Ce magnifique mais complexe moteur – surnommé « le moteur du tiroir » car ses plans étaient vite dissimulés dans le tiroir de Führmann quand le Dr Porsche entrait dans son bureau – était un bloc en alliage léger de 1 498 cm3 de cylindrée. Ses arbres à cames étaient commandés depuis le vilebrequin Hirth démontable et sur rouleaux par une série d'arbres et de pignons. Le réglage parfait de la distribution demandait des heures de main d'œuvre, mais dès que tous les jeux étaient correctement réglés, ce moteur qui pouvait tourner très vite était très fiable. Son graissage était à carter sec et chaque cylindre comportait deux bougies. Avec un rapport volumétrique de 9,5 :1 et alimenté par deux carburateurs double corps Weber inversés, ce moteur délivrait 110 chevaux. Avec un châssis pesant à peine 590 kg, les 550 étaient capables de frôler 210 km/h selon leur rapport final. Du fait que ces petits roadsters devaient être utilisés normalement sur la route, ils furent équipés d'un petit couvre-tonneau symbolique pour respecter la lettre du règlement, mais cette toile restait généralement au garage.

LE CHÂSSIS N° 550-0068

Cette superbe 550 Spyder quitta l'usine de Zuffenhausen le 19 septembre 1955 pour être livrée à un client américain, mais elle fit escale auparavant sur le stand Porsche du Salon de Francfort 1955, stand qu'elle partagea avec des 356 Speedster, coupé et cabriolet. Le châssis 550-0068 y fut exposé dans une version semi compétition c'est-à-dire avec un petit pare-brise course pour protéger le pilote et un demi couvre-tonneau en aluminium au-dessus de la place passager. Sans doute pour suggérer qu'il s'agissait d'une voiture de sport polyvalente, elle était dotée de grands enjoliveurs de roue standard sur les voitures en finition « route ». Pour accentuer l'impression de voiture de sport que Porsche voulait créer, les ailes arrière étaient surmontées de « flammes » ou de flèches peintes. Actuellement, 0068 a été restaurée dans sa couleur argent d'origine avec des traits bleu pâle formant une combinaison très séduisante.

La fiche de fabrication de l'usine précise que 0068 devait être expédiée à « 1 client américain » après le Salon de Francfort. Ce client était un gentleman nommé Mike Marshall, distributeur Porsche/Volkswagen et pilote amateur de Miami (Floride). M. Marshall n'attendit pas longtemps pour confier à la 550 les tâches pour lesquelles elle avait été construite. Deux mois seulement après la présentation sur le stand Porsche à Francfort, Marshal donna à la nouvelle Spyder une victoire dès sa première sortie sur circuit, une course du SCCA à Waterboro en Caroline du Sud. La suivante eut lieu à la December Speed Week à Nassau aux Bahamas où Marshall finit sixième lors des épreuves préliminaires, abandonna dans les épreuves Governor's Cup et All-Porsche, mais revint pour signer une respectable quatrième place en catégorie « moins de 2 litres » dans la course pour voitures de production. En février 1956, Marshall remporta deux courses régionales du SCCA à Punta Gorda (Floride), une première et une deuxième places à Waterboro, puis, associé à Huschke von Hanstein, directeur des courses chez Porsche et pilote occasionnel, il signa une excellente 14e place au général et une 3e de catégorie aux 12 Heures de Sebring. Von Hanstein connaissait très bien 0068 avec laquelle il avait été beaucoup photographié au Salon de Francfort.

Au cours du restant de l'année 1956 et au début de 1957, Marshall disputa de nombreuses courses d'amateurs dont Elkhart Lake (Wisconsin), Montgomery (Albama), Chester (Caroline), Gainesville (Floride), la Nassau Speed Week 1956 et un week-end de courses sur le très difficile circuit de 3, 8 km de New Smyrna Beach (Floride). Malheureusement, lors d'une épreuve éliminatoire, Marshall sortit et la Spyder ne courut pas ce week-end-là. Quinze mois plus tard, 0068 fut vendue à Joe Sheppard, un talentueux amateur qui avait été surnommé « The Tampa Hotshoe » (la semelle de plomb de Tampa) et qui pilota la voiture à Chester et à Gainesville. L'historique en course de 0068 cite un ami de Sheppard, Duncan Forlong, qui emprunta la voiture pour deux courses à Dunnellon Park en Floride.

On pense que 0068 resta ensuite en Floride. Récemment interrogé à propos de la voiture, Joe Sheppard ne put se rappeler précisément la date de la vente qui fut en fait conclue par son père. Le nouveau propriétaire a dû être Bob Ross qui apparut régulièrement à Sebring avec des amis pilotes engagés sur sa nouvelle Spyder. Dans la seconde moitié des années 1980, la Porsche fut achetée par Lynn Larson qui le revendit très vite à son ami Phil Bagley, lequel la céda à un nouveau propriétaire qui l'expédia en Italie.
La voiture fut examinée le 12 novembre 1989 par un certain M. Parigi avant qu'elle ne reçoive sa licence FIVA n° 0120620 émise par l'Automotoclub Storico Italiano. Le processus d'immatriculation dura jusqu'au 21 avril 1997 . Le numéro italien BG-B64015 fut attribué le 28 août 1997 au nom de Pierluigi Bartoli de Riva di Solto qui avait acheté la voiture en juillet 1993 selon l'Estratto Chronologico dont des copies sont présentes dans le dossier historique de la voiture. Le propriétaire actuel, un industriel italien passionné, acheta cette Porsche de course en 1999.

Actuellement, 550-0068, offerte après avoir été entretenue sans considération de coût, est prête à disputer les nombreuses épreuves historiques pour lesquelles elle est éligible dont les Mille Miglia, Tour Auto, Le Mans Classic, Goodwood Revival, Monterey Historics, et le Grand Prix Historique de Monaco, entre autres.

Pour résumer, aucune collection de Porsche historiques digne de ce nom ne peut être complète sans une 550 Spyder et celle-ci est à coup sûr une des plus désirables.
Beyond the Porsche 550 Spyder, the German marques did well in Paris, proving that Italian exotics don't always dominate the market. The second highest seller on the night was the beautiful 1957 BMW 507 Roadster Series II. Only 252 examples of this rakish German V8 powered sports car were made, so it was not a surprise to see it sell for a very strong €2.016.000.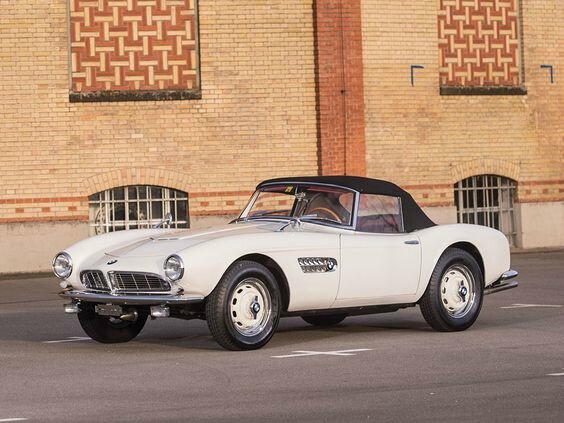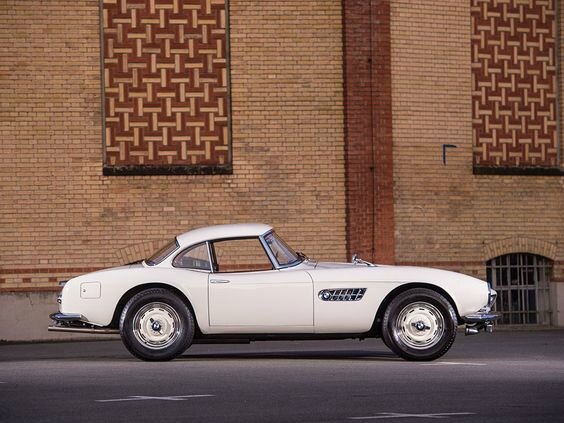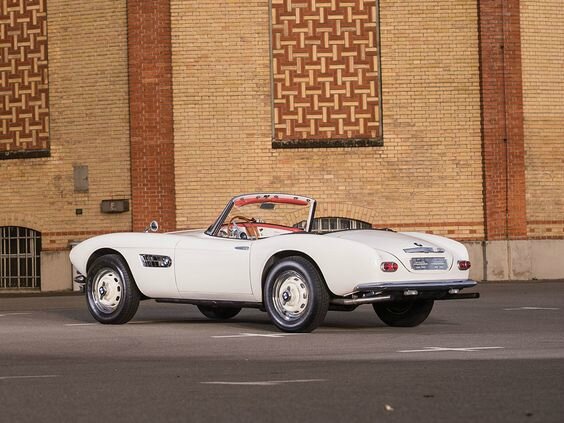 1957 BMW 507 Roadster Series II. Chassis no. 70131. Engine no. 40137. Body no. 1131. Sold for €2.016.000. Courtesy RM Sotheby's
148 bhp, 3,168 cc OHV V-8 engine with dual Zenith downdraught carburettors, five-speed manual transmission, independent front suspension with dual A-arms and torsion bars, live rear axle with torsion bars, and hydraulic front-disc and rear-drum brakes. Wheelbase: 2,480 mm
One of just 252 examples of this landmark design

European specification with tasteful upgrades

Fitted with original Rudge wheels; includes hardtop, books, and toolbox

Known history; extensive file of documentation

Eligible for the Mille Miglia and Tour Auto
Great art is created from vision, not necessity. Never was this truer than with the legendary BMW 507 roadster.

The company in the early 1950s bore little resemblance to today's manufacturer of the 'ultimate driving machine'. It had been caught in the turmoil of Germany's reconstruction, and as a result, its bread-and-butter sales came from the production of microcars. Plans were underway for a saloon car, and a V-8 engine had been designed for it, but the company needed a hit, a halo car that would restore the brand in public minds.

Help was a hand in the form of legendary New York car dealer Max Hoffman, who also instigated the Porsche Speedster and Mercedes-Benz 300 SL. The sole BMW importer for the United States wanted another European sports car to bridge the gap between his high-end machinery and more pragmatic MGs in his sales line-up. He had the Midas touch, so his request was swiftly granted, and development work got under way. The 507 would utilise components from the 502 and 503 series, particularly the 3.2-litre overhead-valve V-8 engine which featured an aluminium block and was uprated to feature twin carburettors to deliver a refined 148 brake horsepower (150 PS).

Designed by Count Albrecht von Goertz, a protégé of designer Raymond Loewy, his creation did not disappoint. The result was a truly breath-taking form that combined elegance and power. The long, sweeping lines of the 507 began at the front with the low, sensuous nose featuring a stylish version of the now trademark BMW 'twin kidney' grill and a narrow chrome bumper. The theme of feline grace continued along the front of the car with sculpted wings featuring 'shark gill' vents complete with the BMW emblem. An elegant chrome rear bumper and twin exhausts finish the masterpiece. Yet it remained a trophy car for only a very select few, as the price was more than $11,000, an extraordinary sum for a car at that time—double its target price. As a result, a mere 252 cars were made before production ended in 1959.

Offered here is a later Series II version that was built in 1957 in the Feder Weiss (feather white) colour scheme with Korallrot (coral red) interior with the correct and original Rudge wheels. It was delivered as new on 1 January 1958 to Mr Carlo Silvestrelli in Switzerland, a high-profile accountant who lived in Zurich. The car remained in his ownership for nearly a decade, though he only drove the car until 1964. He then sold it with 50,600 kilometres in 1967. A copy of the advert is included in the extensive file detailing the car's history. The second owner was Mr Pierre Struys of Montreux, who added 8,200 kilometres before having the original engine replaced with a correct-type spare by BMW Munich and properly re-stamped. Mr Struys sold it displaying 77,000 kilometres to the next long-term owner in 1969, a Mr Oskar Bloch, who ran a BMW workshop in Basel and had maintained the car during Mr Silvestrelli's tenure.

Once in his ownership, he drove it sparingly. Having previously cared for the 507, it is unsurprising that he made detailed notes of his trips and the work he did over the next 43 years of ownership. That note book is also included in the history file. Highly original throughout, including its original interior, Mr Bloch did have the car repainted once during the 1970s. He also made sympathetic upgrades to improve ease of use and to keep up with modern driving conditions, including a five-speed ZF gearbox, a stainless steel exhaust system, and an electrical fuel pump, though the original pump has been fitted back into the car. Sold to the consignor in Switzerland, it was serviced by specialists Kestenholz in March 2015. One delightful feature is the correct and original toolbox under the bonnet.

This example of the 507 is a fabulous and useable specimen of a rare and iconic design, one for the true automotive connoisseur.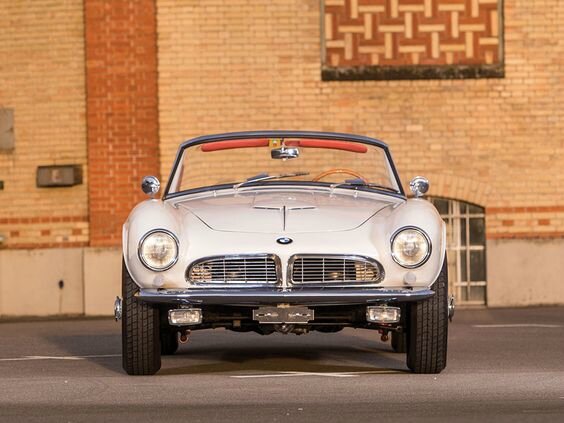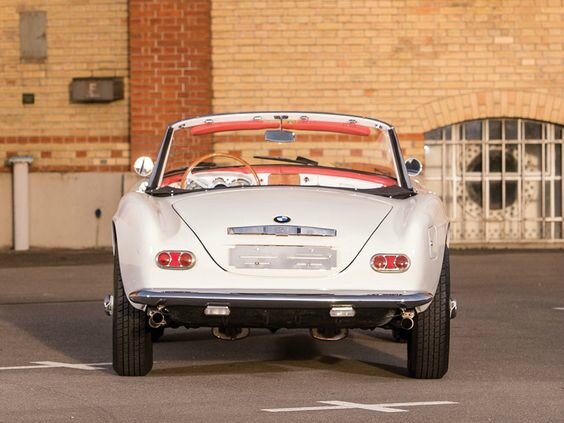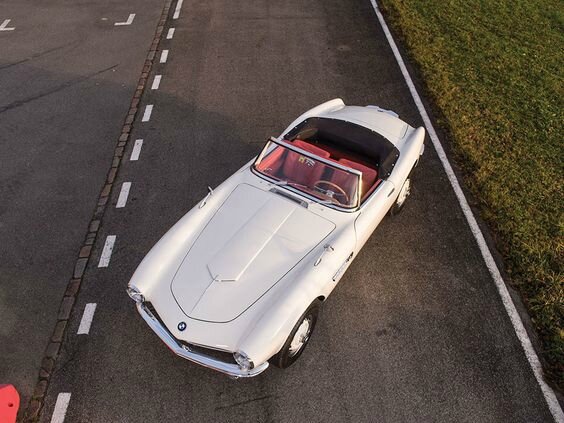 1957 BMW 507 Roadster Series II. Chassis no. 70131. Engine no. 40137. Body no. 1131. Sold for €2.016.000. Courtesy RM Sotheby's
Moteur V8 à soupapes en tête, 3 168 cm3, 148 (150) ch, deux carburateurs double corps Zénith inversés, boîte manuelle ZF à cinq rapports, suspension avant indépendante par triangles et barres de torsion, pont arrière oscillant et barres de torsion, freins avant à disque et arrière à tambour à commande hydraulique. Empattement : 2 480 mm
• Un des 252 exemplaires de ce modèle marquant
• Spécifications européennes avec améliorations utiles et appréciables
• Équipée d'origine de roues Rudge
• Avec son hard-top, ses manuels et son outillage
• Historique connu ; dossier documenté très complet
• Eligible aux Mille Migliaet au Tour Auto
La firme BMW n'était pas au début des années 1950 dans la forme que nous lui connaissons aujourd'hui. Prise dans les problèmes de la reconstruction de l'Allemagne à l'époque, l'essentiel de ses recettes provenait de la production de micro voitures. Une berline était à l'étude et un moteur V8 avait été conçu pour celle-ci, mais la firme avait besoin d'un succès, d'une voiture exceptionnelle capable de restaurer dans le public l'image de la marque.
Le secours vint du légendaire importateur d'automobiles de New York, Max Hofmann qui avait été à l'origine de la naissance de la Porsche Speedster et de la Mercedes-Benz 300 SL. L'unique importateur BMW aux états-Unis voulait une autre voiture de sport européenne capable de combler l'écart dans son offre entre ses hauts de gamme et les très abordables MG. Comme il avait la main de Midas, sa demande fut vite agréée et le développement de l'idée fut lancé. La 507 allait utiliser des composants des séries 502 et 503, notamment le moteur V8 culbuté qui bénéficiait d'un bloc en alliage léger et qui fut poussé avec deux carburateurs jusqu'à 148 (150) ch.
Dessinée par le comte Albrecht von Goertz, un protégé du styliste Raymond Loewy, sa création ne déçut personne. Le résultat donna une forme aussi élégante que sportive. Les lignes tendues et souples de la 507 commençaient à l'avant avec un nez surbaissé comportant une version élégante des deux grilles en haricot de BMW et un fin pare-chocs chromé. Le thème de la grâce féline se poursuivait sur les flancs sculptés qui comportait un extracteur d'air orné de l'emblème BMW. Un élégant pare-chocs arrière et deux sorties d'échappement chromés terminaient cette magnifique silhouette. La voiture ne fut pourtant que l'apanage de quelques rares privilégiés car un prix de plus de 11 000 dollars était une somme extraordinaire à l'époque pour une automobile et le double du prix envisagé au départ. Résultat : 252 exemplaires seulement furent construits avant l'arrêt de la production en 1989.
La 507 offerte ici est une Série II construite en 1957 et peinte en Feder Weiss, ou blanc duvet, avec intérieur Korallrot ou rouge corail et roues Rudge d'origine. Elle fut livrée neuve en Suisse le 1er janvier 1958 à M. Carlo Silvestrelli, important expert-comptable de Zürich. Il la conserva une dizaine d'année, mais ne l'utilisa que jusqu'en 1964. Il la céda en 1967 avec 50 600 km au compteur. Une copie de l'annonce de vente figure dans le dossier très complet de la voiture. Le deuxième propriétaire fut M. Pierre Struys de Montreux qui parcourut 8 200 km avant faire remplacer le moteur d'origine par un bloc de rechange correct par BMW Munich qui le refrappa le bon numéro. M. Struys la revendit avec 77 000 km au compteur à un autre propriétaire de longue durée, M. Oskar Bloch, qui dirigeait un garage BMW à Bâle et qui avait entretenu la voiture lorsqu'elle appartenait à M. Silvestrelli.
M. Bloch l'utilisa très peu. Ayant entretenu la 507 auparavant, il n'est pas étonnant qu'il ait conservé des notes détaillées de ses déplacements ainsi que le détail des travaux effectués au cours des 43 années où la voiture resta en sa possession. Ce recueil de notes figure dans le dossier. Dans son état d'origine, y compris l'intérieur, la voiture fut repeinte une fois dans les années 1970. M. Bloch la fit bénéficier de quelques améliorations afin d'en faciliter l'utilisation et pour l'adapter aux conditions actuelles de circulation : boîte ZF à cinq rapports, échappement en acier inox et pompe à'essence électrique bien que la pompe d'origine ait été réinstallée. Vendue au propriétaire actuel en Suisse, elle a été révisée par les spécialistes Kestenholz en mars 2015. Détail sympathique : la caisse à outil d'origine se trouve toujours sous le capot.
Cette 507 est un exemplaire fabuleux et très utilisable d'une modèle emblématique et rarissime, une véritable automobile pour connaisseur.
The 1955 Mercedes-Benz 300 SL Gullwing, presented beautifully in its wonderful white paintwork, is another true German icon of the classic car world. Offered in outstanding restored condition, it sold for a well-deserved €1.176.000 before the packed auction room. The other star lot of the sale, the beautiful 1962 Ferrari 400 Superamerica LWB, which came very close to its reserve price during the auction, was sold immediately after the sale for a final €2.950.000.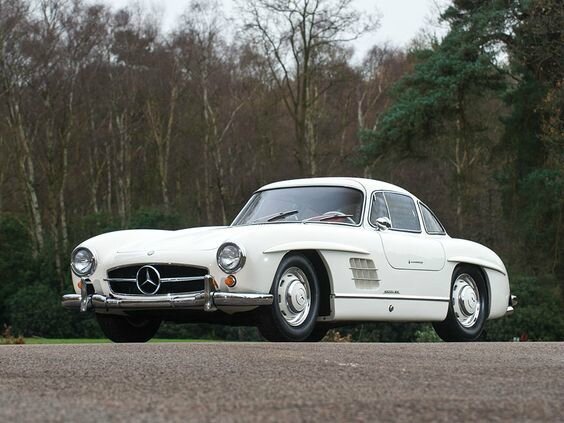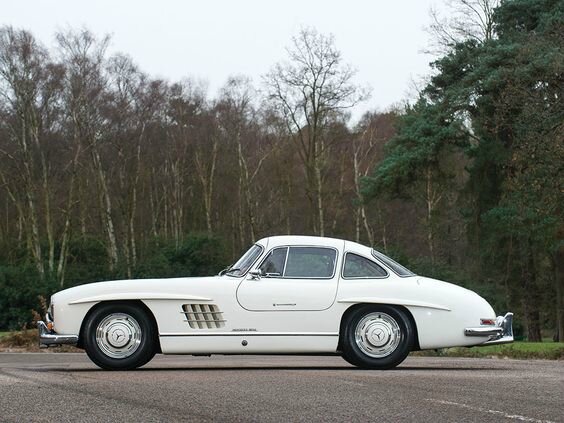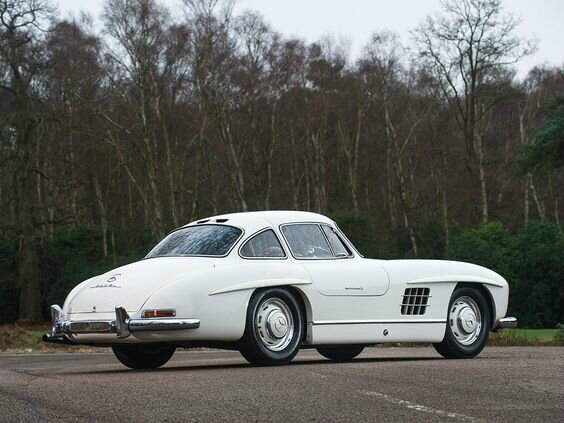 1955 Mercedes-Benz 300 SL Gullwing. Chassis no. 198.040.5500272. Engine no. 198.980.5500314. Sold for €1.176.000. Courtesy RM Sotheby's
215 hp (DIN), 240 hp (SAE), 2,992 cc SOHC six-cylinder engine with Bosch mechanical fuel injection, four-speed manual transmission, coil-spring independent front suspension, coil-spring and swing-axle rear suspension, and four-wheel hydraulic drum brakes. Wheelbase: 2,400 mm
Formerly owned by renowned enthusiast Ernest Stern

Multiple Mille Miglia Storica participant

Original matching-numbers engine

Recent full engine service and detailing
THE LEGENDARY GULLWING

Mercedes-Benz's 300 SL claimed 2nd in the Mille Miglia, 1-2-3 in the Sports Car Race in Berne, Switzerland, 1st and 2nd at Le Mans, 1-2-3-4 at the Nürburgring, and 1st and 2nd at La Carrera Panamericana. Yet more was to be desired. From his Frank Lloyd Wright–designed Park Avenue showroom, the company's U.S. distributor, Max Hoffman, said that there was a market in America for a fast, sensual Mercedes-Benz coupé, and a production version of the racing 300 SL, complete with the fascinating and now legendary "gullwing" doors necessitated by the unusual, tall "birdcage" frame design, would be it.

The "SL" moniker (translated to English as Sport Light) reflected the pioneering use of a welded, tubular-steel, ultra-light frame construction that weighed only 182 pounds. The car also featured fully independent suspension in addition to its fuel-injected, 3.0-litre (2,996 cubic centimetre), OHC straight-six with dry-sump lubrication, and the motor was inclined to the side in order to reduce the height of the front end. The power was rated at 215 brake horsepower at 5,800 rpm (DIN) and delivered through a four-speed manual gearbox. A 161-mph top speed and 0–60 acceleration of approximately eight seconds, depending on the rear-end ratio selected from five options, made the 300 SL the fastest production automobile of its time.

The 300 SL was also raced and piloted by the top drivers of the day, such as John Fitch, Olivier Gendebien, Paul O'Shea, Prince Metternich, and of course Sir Stirling Moss, who holds the "forever" course record for his famous Mille Miglia finish in 1955. It all added to the romance of a car that seemed destined to become a legend the moment production began. It had all of the right ingredients: incredible exclusivity, incredible speed, and an incredible price.

CHASSIS NUMBER 198.040.5500272

The Gullwing offered here is recorded in the Gull Wing Group Registry as having been originally delivered through Max Hoffman's famous New York dealership, finished in White (DB 50) over Red leather (1079) interior. The original owner was reportedly Henry A. Harrell of Long Beach, New York, with whom it is recorded in the Registry. Later, it was purchased from Mr Harrell by the well-known American collector and enthusiast Ernest Stern of Pittsburgh, Pennsylvania, whose stable it shared with many other outstanding automobiles, most prominently the ex–Shah of Iran Bugatti Type 57.

In the early 1990s, the car was sold out of the United States to an Italian collector who almost immediately passed the car to Mr Giordano Biragli. The car was then registered on Italian plates MI 8P6400. In early 1992, the car was acquired by the current seller who participated in the Mille Miglia Storica in 1993 and then again in 1999.

More recently, the car has undergone a complete engine service and general re-commissioning after a period of display in the previous owner's collection, as well as an overhaul of the brake system and proper detailing. It is offered with a set of reproduction books for the model and received its FIVA Passport in September 2015.

No collection is complete without this most legendary of modern sports cars.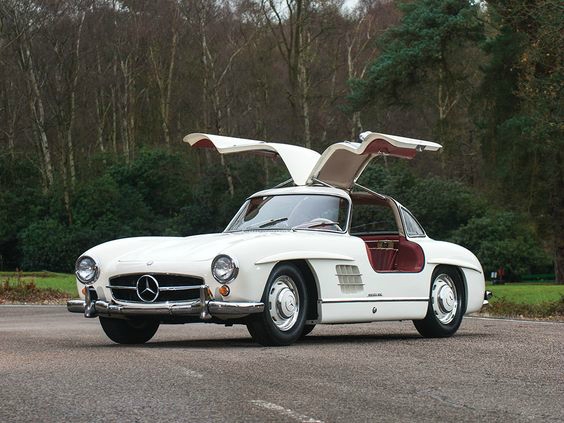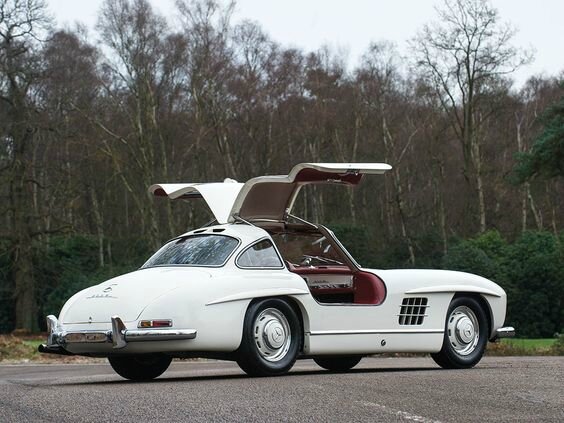 1955 Mercedes-Benz 300 SL Gullwing. Chassis no. 198.040.5500272. Engine no. 198.980.5500314. Sold for €1.176.000. Courtesy RM Sotheby's
Moteur six-cylindres en ligne, 2 992 cm3, 1 ACT, 215 ch DIN, 240 ch SAE, injection mécanique Bosch, transmission manuelle quatre rapports, suspension avant indépendante avec ressorts hélicoïdaux, suspension arrière à demi-essieux oscillants et ressorts hélicoïdaux, freins hydrauliques à tambours sur les quatre roues. Empattement 2 400 mm.
• Ancienne voiture d'Ernest Stern, collectionneur réputé
• Plusieurs participations au Mille Miglia Storica
• Moteur d'origine, numéros concordants
• Révision complète du moteur et finition récentes
La légendaire 300 SL Papillon

La Mercedes 300 SL a signé une deuxième place aux Mille Miglia, un triplé à la course d'endurance de Berne, en Suisse, un doublé aux 24 Heures du Mans, les quatre premières places au Nürburgring et un doublé à la Carrera Panamericana. Mais ce n'est pas tout. Depuis son magasin d'exposition de Park Avenue dessiné par Frank Lloyd Wright, l'importateur aux États-Unis Max Hoffman affirmait alors qu'un marché existait dans son pays pour un coupé Mercedes performant et sportif. Le constructeur répondait avec une version de série de la 300 SL de compétition, comportant elle aussi les légendaires portes à ouverture "papillon" rendues nécessaires par le châssis tubulaire.

Les lettres "SL" (dont la traduction littérale française serait "sport légère") reflétaient l'utilisation d'un châssis tubulaire ultra-léger qui ne pesait que 82 kg. La voiture présentait aussi une suspension complètement indépendante et un six-cylindres 3 litres doté d'un arbre à cames en tête, alimenté par injection et lubrifié par un système à carter sec. Il était incliné pour permettre d'abaisser le capot avant. La puissance atteignait 215 ch DIN à 5 800 tr/mn et la transmission était confiée à une boîte quatre rapports. Avec une vitesse de pointe de 260 km/h et une accélération de 0 à 100 km/h en 8 secondes environ (en fonction du rapport de pont dont il existait cinq options), la 300 SL était la voiture de série la plus rapide de son temps.

La 300 SL a d'ailleurs été utilisée par les meilleurs pilotes de son époque, comme John Fitch, Olivier Gendebien, Paul O'Shea, le prince Metternich et bien sûr Sir Stirling Moss, qui détient le record absolu des célèbres Mille Miglia, signé en 1955 au volant d'une 300 SLR. Ce palmarès s'est ajouté au prestige d'une voiture qui semblait destinée à devenir une légende dès le jour où les premiers exemplaires sont sortis d'usine. Elle détenait tous les ingrédients adéquats : exclusivité, performances et prix, tous les trois à un niveau exceptionnel.

Châssis n° 198.040.5500272

La 300 SL Papillon qui est proposée ici est enregistrée dans le "Gull Wing Group Registry" comme ayant été livrée neuve par le biais du magasin célèbre de Max Hoffman à New York, de teinte blanche (DB 50) avec sellerie rouge (1079). Le premier propriétaire était un M. Henry A. Harrell, de Long Beach, à New York, tel qu'il apparaît dans le Registry. La voiture était ensuite achetée à M. Harrell par Ernest Stern, de Pittsburgh (Pennsylvanie), collectionneur américain bien connu qui possédait de nombreuses automobiles exceptionnelles, comme par exemple une Bugatti Type 57 ayant appartenu au Shah d'Iran.

Dans les années 1990, cette 300 SL fut exportée des États-Unis et vendu à un collectionneur italien, par la suite la voiture fut vendu à Sig. Giordano Biragli et immatriculé MI 8P6400 En 1992 la voiture fut acheté par la propriétaire actuelle qui a pris part au Mille Miglia Storica en 1993 et également en 1999.

Plus récemment, elle a bénéficié d'une révision mécanique complète et d'une vérification générale, après une période d'exposition dans la collection du propriétaire précédent. Elle a également fait l'objet d'une remise en état du système de freinage et de soins apportés à la finition. Elle est vendue avec un ensemble de manuels réédités concernant le modèle et sa carte FIVA

Aucune collection ne saurait être complète sans la plus mythique des voitures de sport modernes.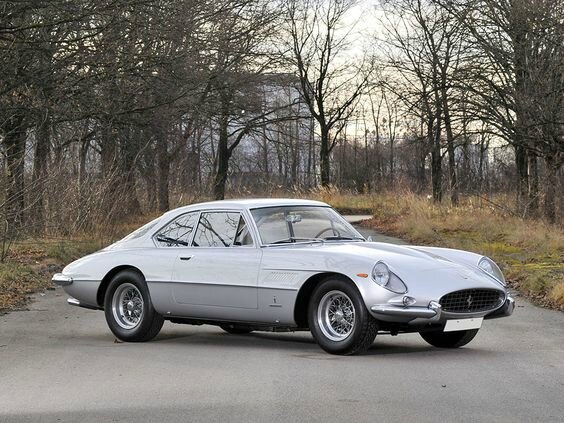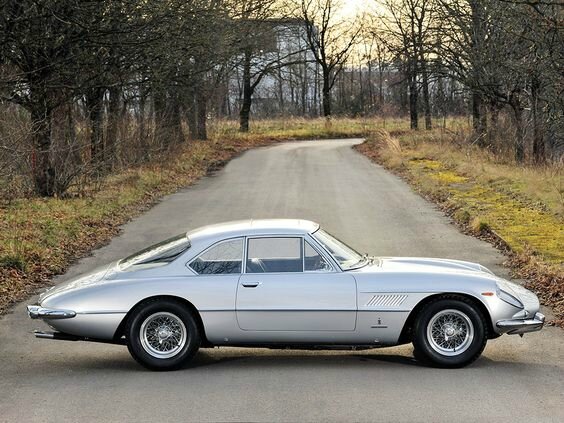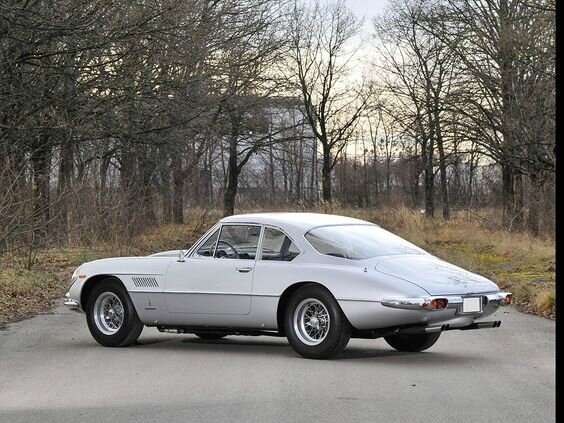 1962 Ferrari 400 Superamerica LWB Coupé Aerodinamico by Pininfarina. Chassis no. 3931 SA. Engine no. 3931. Sold for €2.950.000. Courtesy RM Sotheby's
340 bhp, 3,967 cc SOHC V-12 engine with three Weber 40 DCZ 6 carburettors, four-speed manual transmission with overdrive, independent front suspension with unequal-length A-arms and coil springs, live rear axle with semi-elliptical leaf springs and parallel trailing arms, and four-wheel hydraulic disc brakes. Wheelbase: 2,600 mm
1962 Earls Court and Chicago Motor Show car

The first of only 18 second-series long-wheelbase examples

Previously of the renowned Yoshiho Matsuda Collection

Fully restored in 2008 by Berlinetta Motors in St. Ingbert, Germany

Beautifully presented in its original colour combination of Grigio Argento over Nero

Matching-numbers example; a grand touring Ferrari par excellence
THE 400 SUPERAMERICA AERODINAMICO

By the 1950s, Ferrari had established itself not only as a world-class manufacturer of sports racing cars but also as a manufacturer of the world's best grand touring cars for the road. Enzo Ferrari had come to fully realise that, in order to continue the success of his racing program, he needed to be able to create, market, and sell equally exceptional road cars. Throughout the decade, the Ferrari GT car had evolved immensely into a top-shelf luxury touring car, namely the 342 America and the 410 Superamerica, which became the last word in sporting luxury. However, these cars were known as heavy and unforgiving to drive, and many believed that such a prestigious automobile should have more refined driving dynamics.

To address these changes, Ferrari introduced the 400 Superamerica at the Turin Motor Show in 1959. The 400 SA incorporated a number of changes from its predecessor, chief amongst which was a new Colombo short-block V-12 engine. The new powerplant was bored from its 250 GT dimensions of 3.0-litres to almost 4.0, and it was fitted with the outside-plug arrangement that had proven to be so effective in the Testa Rossa sports racers. This new Superamerica also benefitted from Dunlop disc brakes at all four corners, which replaced the drum brakes on the 410 Superamerica, and an overdrive that increased the top end ratio by 28 percent. These changes markedly improved the car's performance and road manners and brought its driving characteristics in line with the car's outstanding level of luxury.

The earliest 400 Superamericas were constructed on Ferrari's shorter, 2,420-millimetre wheelbase and clothed in open coachwork by Pinin Farina. When chassis 2207 SA, dubbed the Superfast II, was introduced at Turin in November 1960, it featured coachwork that had never before been seen on a Superamerica, and it stunned the crowd. The car's body featured a pointed open-mouth nose leading to a slippery roof and belt lines converging into a delicately swooped fastback tail that catered toward aerodynamics, helping the Superamerica cut through the air.

Two years later, at the London Motor Show in September 1962, Ferrari introduced a second-series 400 Superamerica. This car retained the distinctive Aerodinamico coachwork of its predecessors, but it now rode on the 250 GTE's 2,600-millimetre chassis, which eventually replaced the earlier and shorter-wheelbase chassis. Approximately 18 long-wheelbase Coupé Aerodinamicos were constructed when production came to a close in 1964, adding to a total of 35 Series II examples, which also included the earlier SWB Superamericas.

CHASSIS NUMBER 3931 SA

Chassis 3931 SA was built by Ferrari as the first Series II car with a longer wheelbase and was sent to the Pininfarina works on July 18, 1962. Pininfarina worked on the car for over two months, creating a truly beautiful body, and it was completed on September 29, 1962. This car was quickly taken to London where it was unveiled at the Earls Court Motor Show, with Ferrari also noting that it was then displayed at the Chicago Motor Show. Originally delivered in Grigio Argento with Nero interior, the same combination it is presented in today, 3931 SA was one of only 14 Series II LWB cars to feature the desirable covered headlamps.

Once its debut at the Earls Court Motor Show was over, chassis 3931 SA was exported to Luigi Chinetti Motors in New York for $13,017, where it was then shown at the Chicago Motor Show. During the 1970s, the car was owned by Gary Wasserman who resided in San Francisco. In 1975, the car also appeared in Stan Grayson's book Ferrari, The Man, The Machines.

In the early 1980s, the car was completely restored by Terry York Motor Cars before being sold to Yoshijuki Hayashi in Tokyo, where it was registered on Japanese license plate 72 45. On January 9, 1995, chassis 3931 SA became part of the renowned Yoshiho Matsuda Collection, and it was displayed at the 1995 Matsuda Ferrari Museum of Art. In the early 2000s, the car was imported back to the USA where it was used sparingly before returning to Europe. Subsequently, the car was completely restored from 2003 to 2008 by Berlinetta Motors in St. Ingbert, Germany.

The 400 Superamerica is often considered to be the grandest of Ferrari's grand touring automobiles, as it is utterly uncompromising in every sense. The Superamerica offered its owners nothing but the finest in terms of automotive technology, with cutting-edge design, performance, and luxury. This particular Ferrari is one of the most important examples constructed, and it is truly capable of anything its next owner desires.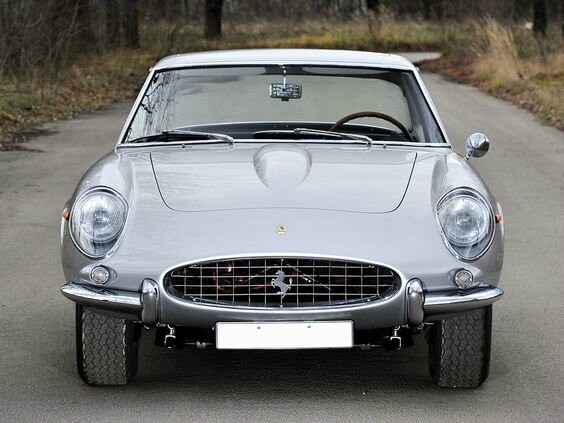 1962 Ferrari 400 Superamerica LWB Coupé Aerodinamico by Pininfarina. Chassis no. 3931 SA. Engine no. 3931. Sold for €2.950.000. Courtesy RM Sotheby's
Moteur V12, 3 967 cm3, 1 ACT par banc, 340 ch, trois carburateurs Weber 40 DCZ 6, transmission manuelle quatre rapports avec overdrive, suspension avant indépendante avec triangles inégaux et ressorts hélicoïdaux, essieu arrière rigide avec ressorts semi-elliptiques et bras tirés parallèles, freins hydrauliques à disques sur les quatre roues. Empattement 2 600 mm.
• Voiture exposée aux Salons de Londres et de Chicago 1962
• Premier des 18 exemplaires de deuxième série châssis long
• A fait partie de la célèbre collection Yoshiho Matsuda
• Magnifiquement présentée dans sa combinaison de teintes d'origine, "Grigio Argento" et "Nero"
• Numéros concordants ("matching numbers") ; "la" Ferrari de grand tourisme par excellence
La 400 Superamerica Aerodinamico

Au cours des années 1950, Ferrari a pris la place de constructeur non seulement de voitures de course de niveau international, mais aussi des meilleures automobiles de grand tourisme du monde. Enzo Ferrari avait fini par comprendre que, pour poursuivre avec succès son programme de compétition, il avait besoin de créer, promouvoir et vendre des voitures de route tout aussi exceptionnelles. Tout au long de la décennie, la référence en matière de Ferrari GT a évolué de façon très importante jusqu'à devenir une machine de route extrêmement luxueuse, à savoir la 342 America et la 410 Superamerica, le summum en matière de luxe sportif. Cependant, ces voitures avaient la réputation d'être lourdes et délicates à conduire, et de nombreux connaisseurs considéraient qu'un modèle aussi prestigieux se devait de présenter des qualités routières plus raffinées.

Pour effacer ces défauts, Ferrari dévoilait en 1959, au Salon de Turin, la 400 Superamerica. Cette 400 SA adoptait un certain nombre de changements par rapport à sa devancière, à commencer par un nouveau moteur V12 Colombo. A partir de la cylindrée de 3 litres de la 250 GT, ce bloc se voyait réalésé pour passer à presque 4 litres, tout en étant équipé de bougies à l'extérieur du V selon une configuration qui avait donné de bons résultats sur les Testa Rossa de compétition. La nouvelle Superamerica bénéficiait aussi de nouveaux freins à disques sur les quatre roues, au lieu des tambours de la 410 Superamerica, et d'un overdrive qui modifiait de 28% le rapport final. Ces modifications permettaient d'améliorer les performances et le comportement routier de la voiture de façon très significative, en parfaite cohérence avec le niveau de luxe exceptionnel qu'elle présentait.

Les premières 400 Superamerica étaient fabriquées sur le châssis Ferrari plus court, de 2 420 mm d'empattement, habillé d'une carrosserie cabriolet signée Pininfarina. Lorsque la voiture correspondant au châssis n° 2207 SA, dénommée Superfast II, a été présentée à Turin en novembre 1960, elle comportait une carrosserie qui n'avait encore jamais été vue sur une Superamerica et qui a immédiatement fasciné le public. Elle affichait à l'avant une calandre évoquant une bouche ouverte, qui menait à un toit effilé et à une ligne de ceinture caisse convergeant vers un arrière fastback délicatement galbé et profilé, favorisant la pénétration dans l'air de la Superamerica.

Deux ans plus tard, au Salon de Londres de septembre 1962, Ferrari dévoilait la 400 Superamerica de deuxième série. Elle conservait la forme de carrosserie aérodynamique particulière de ses devancières, mais ici sur un châssis de 250 GTE de 2 600 mm d'empattement, à la place de la précédente plateforme, plus courte. Quelque 18 exemplaires de coupés Aerodinamico ont été produits avant que la production de s'arrête en 1964, portant le nombre total de Superamerica Série II à 35 exemplaires, dont font partie les précédentes versions châssis court.

400 Superamerica Châssis n° 3931 SA

Le châssis n° 3931 SA a été fabriqué par Ferrari comme le premier de la Série II sur châssis long, et il a été envoyé chez Pininfarina le 18 juillet 1962. Le carrossier a travaillé sur la voiture pendant plus de deux mois, donnant le jour à une carrosserie de toute beauté qu'il terminait le 29 septembre 1962. Cette voiture était rapidement envoyée à Londres où elle était dévoilée au Salon de Londres, à Earls Court. Ferrari notait de l'exposer aussi au Salon de Chicago. Livrée à l'origine dans la teinte "Grigio Argento" avec sellerie "Nero", combinaison qui est encore la sienne aujourd'hui, 3931 SA fait partie des 14 exemplaires de Série II châssis long dotés des désirables phares sous cache profilé.

Après son séjour au Salon de Londres, la voiture était exportée chez Luigi Chinetti Motors, à New York, pour la somme de 13 017 $, et de là elle était emmenée au Salon de Chicago pour y être exposée. Au cours des années 1970, cette Superamerica appartenait à Gary Wasserman, qui résidait à San Francisco et, en 1975, elle faisait une apparition dans l'ouvrage de Stan Grayson, Ferrari, The Man, The Machines.

Au début des années 1980, la voiture était complètement restaurée par Terry York Motor Cars avant d'être vendue à Yoshijuki Hayashi, à Tokyo, où elle recevait l'immatriculation japonaise 72 45. Le 9 janvier 1995, châssis 3931 SA intégrait la collection réputée de Yoshiho Matsuda, et elle était exposée en 1995 au "Matsuda Ferrari Museum of Art". Au début des années 2000, elle repartait aux États-Unis où elle était utilisée avec parcimonie avant de revenir en Europe.

La 400 Superamerica est souvent considérée comme la plus prestigieuse des Ferrari grand tourisme, car c'est une voiture conçue sans laisser de place au compromis. La Superamerica offrait à ses propriétaires le meilleur en matière de technologie automobile, avec un style, des performances et un luxe de très haut niveau. La présente Ferrari est un des exemplaires produits les plus importants, et elle est vraiment capable de répondre à tous les souhaits de son prochain propriétaire.
Additional highlights of the evening included the 2004 Ferrari Enzo, one of the newest cars in the sale and certainly one of the greatest of all the modern hypercars to emerge in recent years, which made €1.568.000, while the 1992 Lancia Delta HF Integrale Evo 1 'Martini 6', which attracted much pre-sale interest, sold for £134.400—a world-record price for the model at public auction.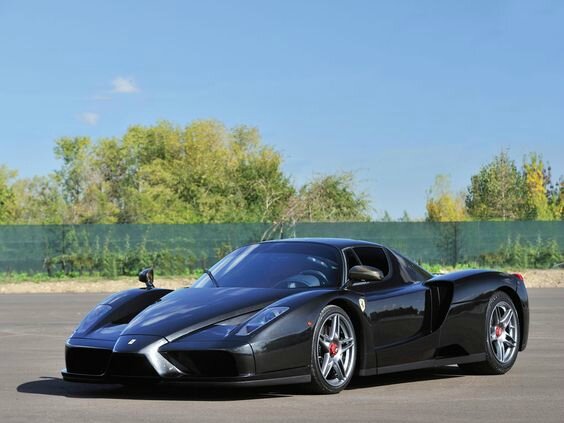 2004 Ferrari Enzo. Chassis no. ZFFCZ56B000135564. Engine no. 080164. Assembly no. 52696. Sold for €1.568.000. Courtesy RM Sotheby's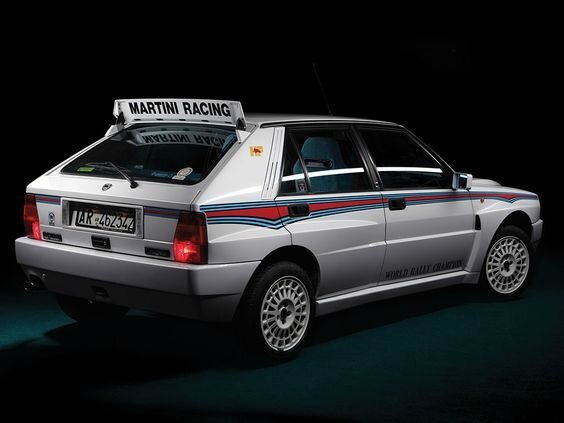 1992 Lancia Delta HF Integrale Evoluzione 1 'Martini 6'. Chassis no. ZLA31AB000580642. Serial no. 184. Sold for €134.400. Courtesy RM Sotheby's