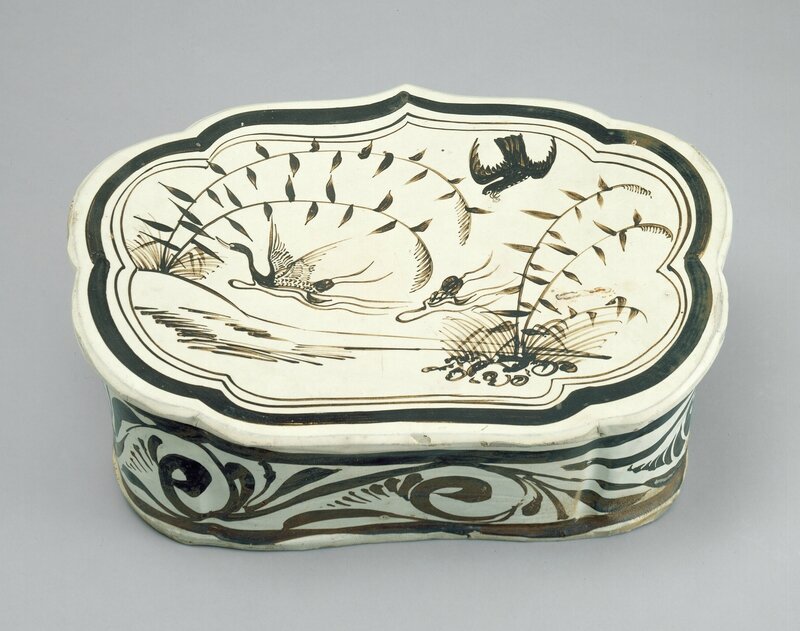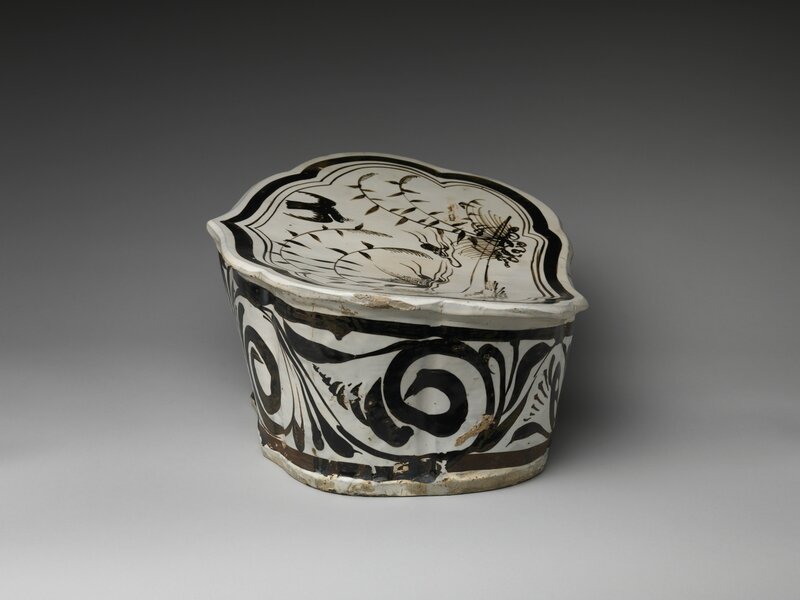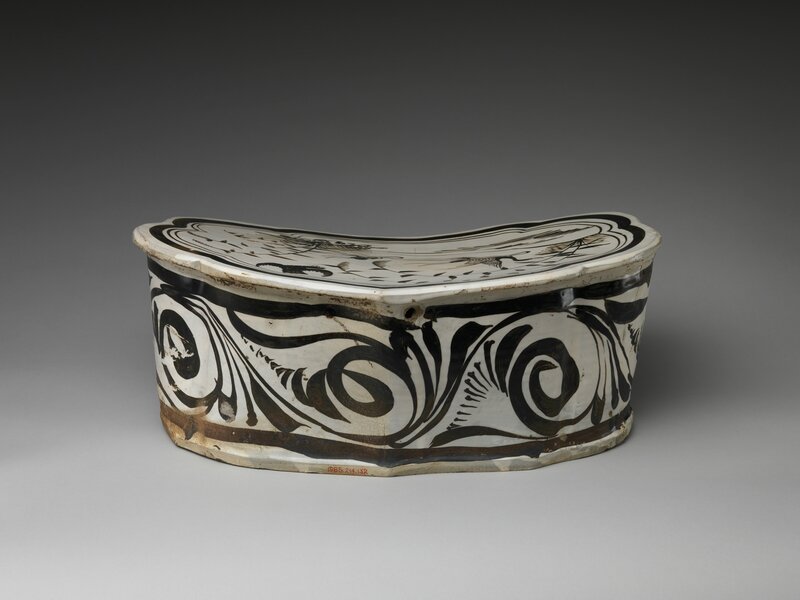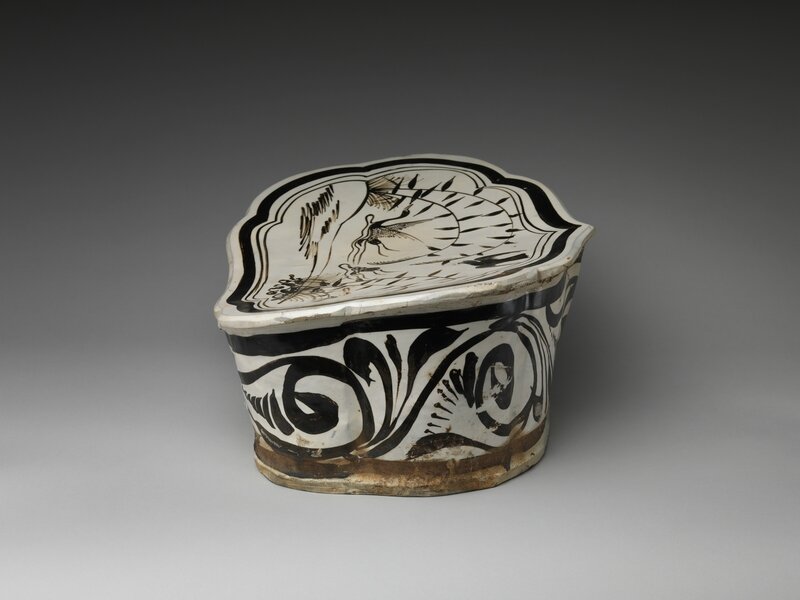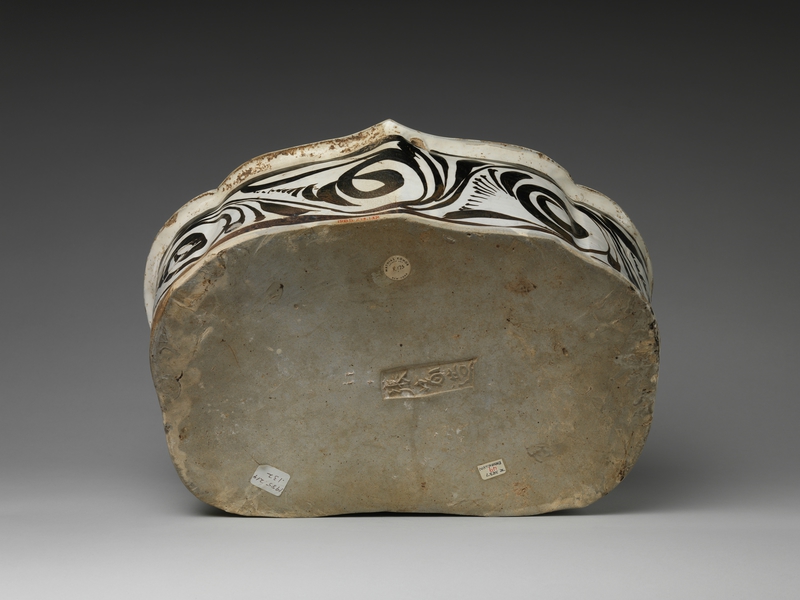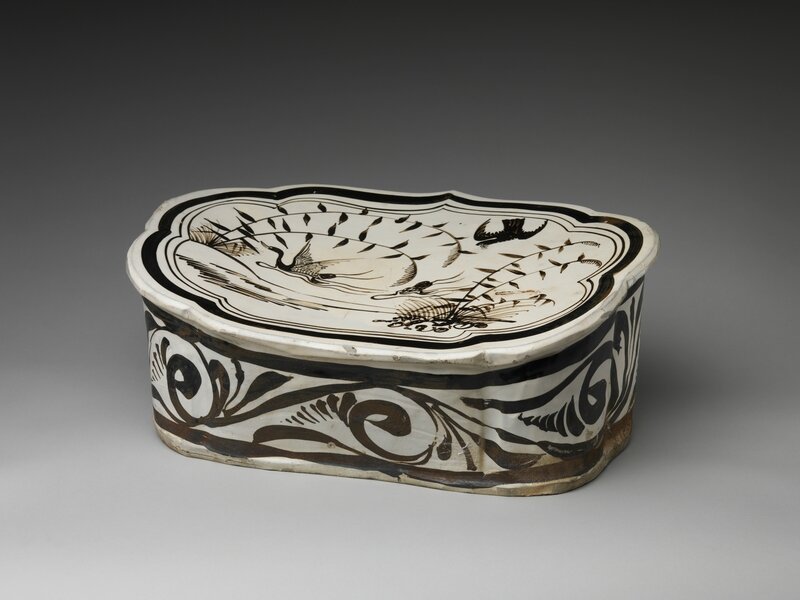 Pillow with hawk hunting a swan (spring hunt), Zhang Family Workshop, 12th–13th century, Jin dynasty (1115–1234). Stoneware painted with brown and black pigment on white slip under transparent glaze (Cizhou ware); L. 16 1/8 in. (41 cm). H. 6 1/8 in. (15.5 cm); D. 11 3/4 in. (29.8 cm). Gift of Ernest Erickson Foundation, 1985 (1985.214.132). © 2000–2016 The Metropolitan Museum of Art
The spring hunt and a related autumnal event were integral to the yearly cycle of the Jurchen, a nomadic people from the northeast who controlled much of northern China as the Jin dynasty. The motif of a tiny hawk capturing a much larger swan (or goose) was found in jade, textiles, and ceramics produced during their rule.
The decoration on this impressive stoneware pillow is painted in brownish black pigment on a background of heavy white slip. This type of pottery is known as Cizhou ware, after an area in Hebei Province in northern China where it was made. Characteristic of Cizhou ware is the bold decoration that demands attention: on the pillow's cloud-shaped top is a design of waterfowl in marsh grasses fleeing from a predatory bird; the lobed sides are ornamented with a distinctive conventionalized leaf-scroll motif. A mark, Zhang jia zao ("made by the Zhang family"), has been impressed on the base. Notable features of this pillow are its unusually large size and the spontaneity and freedom of the painting. Several types of pillows bear the Zhang-family mark; pillows of this particular kind are among the finest and most skillfully painted of them all.
Inasmuch as a very similar pillow was excavated from a tomb in Hebei Province that can be dated to the late Northern Song or the Jin period, the Museum's example may be dated to the same time. Shards of pillows with almost identical decoration, and other shards bearing the Zhang family mark, have been found at the Dongaikou Zun kilns in Cixian, Hebei Province, suggesting a provenance for our pillow.