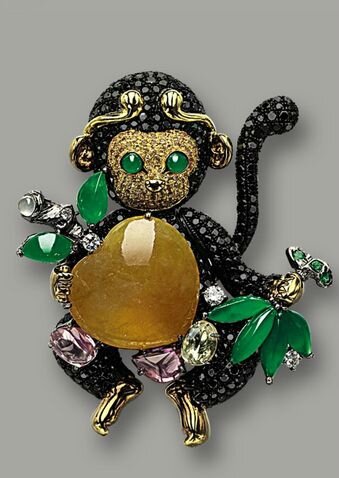 Multi-colour jadeite, coloured sapphire and diamond 'Monkey' brooch, Mason Tsai. Photo Sotheby's
Modelled as a whimsical monkey holding a peach, set to the centre with a heart-shaped yellow jadeite, embellished by a jadeite plaque of emerald green colour, the head set with circular-cut yellow sapphires accented by eyes set with jadeite cabochon of emerald green colour, the limbs set with black diamonds, decorated by oval sapphires and diamonds, the diamonds together weighing approximately 7.29 carats, mounted in 18 karat blackened and yellow gold, with pendant loop fitting, signed.
Yellow jadeite 'heart' approximately 17.76 x 18.73 x 3.83mm.
Accompanied by Hong Kong Jade & Stone Laboratory certificate numbered KJ 84119, dated 27 January 2014, stating that the jadeite is natural, known in the trade as "A jade".
Sotheby's, Magnificent Jewels and Jadeite, Hong Kong, 07 Apr 2014