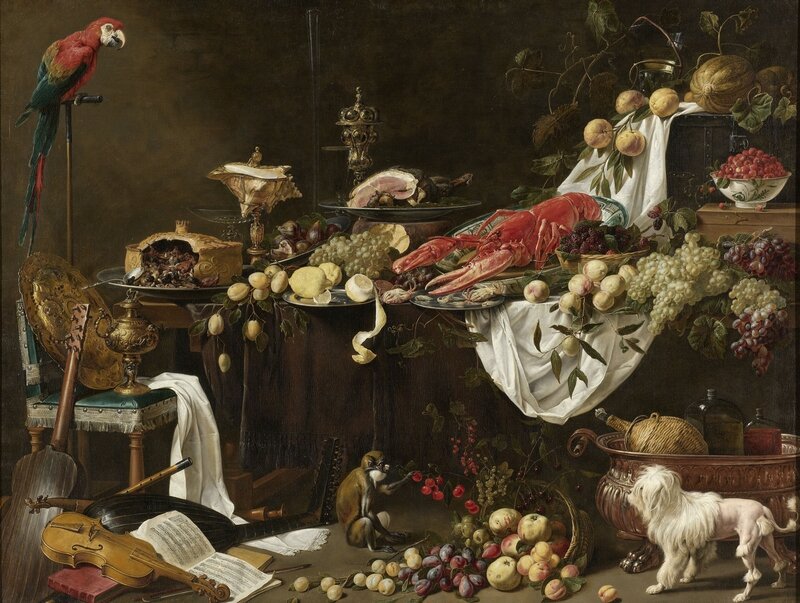 Adriaen van Utrecht, Pronk Still Life, 1644, oil on canvas, 185cm × h b 242,5cm. On loan from the City of Amsterdam (bequest A. van der Hoop), 1885 - SK-C-301. Rijksmuseum, Amsterdam.
Still life. A large table with a pie, bowls of fruit (grapes, lemons, peaches, plums, figs and blackberries). In the middle a lobster and some crabs, a plate with ham and a decorative jar, a tazza, some glasses and a large shell on a pedestal. Right a bowl with strawberries, gourd and vines with a Roemer. In the foreground is a dog with a wine cooler and a monkey with an overturned basket of fruit. Left a chair with musical instruments (cello, violin, lute, flute) and a song book and a parrot on a stick.
The Fleming Adriaen van Utrecht showed here that he really could paint everything: expensive crockery, glass, fruits, a huge lobster on a Chinese scale, a raised pie and more.Given the remarkably low position will be referred to the large painting were to hang over a fireplace.