Gerhard Richter, Abstraktes Bild, 1992; Museum Frieder Burda, Baden-Baden © Gerhard Richter, 2016; Photo: Volker Naumann, Schönaich.
BADEN-BADEN.- The exhibition in Museum Frieder Burda shows abstract works by Gerhard Richter. At the centre is one of the main works by the artist, the four-part, abstract, deeply moving piece entitled "Birkenau" (WZ 937 1-4), which was created in 2014. In this work, Gerhard Richter refers to photographs taken by the Jewish Sonderkommando at Birkenau Concentration Camp in 1944. These photographic documents provide the basis for the first layer of his painting, which is followed by further, reworking painting processes.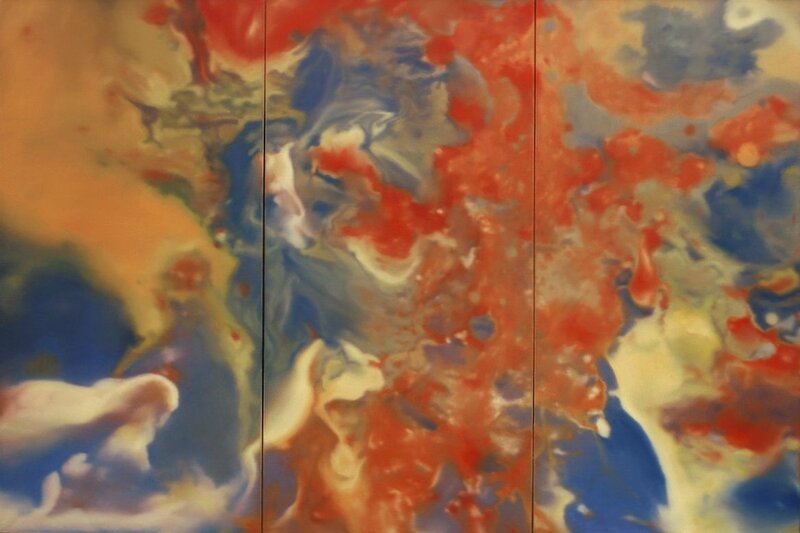 Gerhard Richter, Ausschnitt, 1971; Böckmann Collection, New Museum in Nuremberg © Gerhard Richter, 2016; Photo: Neues Museum in Nuremberg (Annette Kradisch)
Photographs of the victims of the Holocaust and National Socialist terror are to be found since the mid 1960s at various junctures in Gerhard Richter's "Atlas", a collection of photos, newspaper cuttings and sketches compiled by the artist from 1962 to this day. In Baden-Baden, corresponding placards from the "Atlas" are placed in reference to large-scale Birkenau works. Richter collected a great many photographs just for the foyer of the Bundestag in Berlin and began to paint pictures by them. All early efforts failed, however, so that the artist first succeeded in finding a painting solution with the "Birkenau pictures". That Richter's treatment of this major theme does not end with the act of painting itself is illustrated by the reproduction of the painting in photographs of the same size and 93 photographic details from his oeuvre.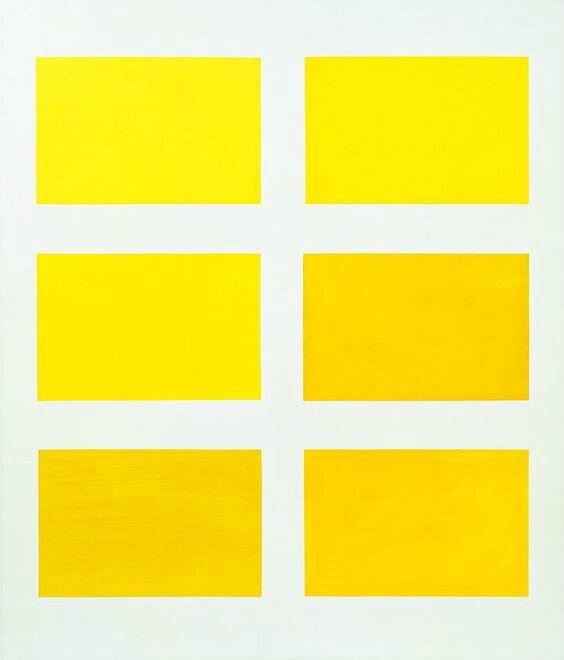 Gerhard Richter, Sechs Gelb (Six Yellow), 1966; Museum Frieder Burda, Baden-Baden © Gerhard Richter, 2016; Photo: Volker Naumann, Schönaich
Richter occasionally used this method of observing detail. The process is evident in the exhibited work "Halifax", from 1978, in which he redesigned 128 sections of his painting "Abstraktes Bild" (earlier title "Halifax", WVZ 432-5) in black and white to portray structure. Another extremely impressive element is the series "War Cut", also on show, which addresses the news of the beginning of the Iraq War. Gerhard Richter assigned 216 coloured details from "Abstraktes Bild", 1987 (WVZ 648-2) to the corresponding text publications in the Frankfurter Allgemeine Zeitung of 20 and 21 March 2003, the first days of the Iraq War. He adopted a strictly formal approach and yet achieved astonishing references to the content of the texts with his abstract images.

Gerhard Richter, Birkenau, 2014; Private Collection © Gerhard Richter, 2016
The starting point of Gerhard Richter's painting strategy, which always contains a clear reference to what is depicted despite the abstraction, is made clear in the context of works by other renowned artists. Most of these come from Galerie Konrad Fischer and associates, with which Richter enjoyed a lively exchange in the 1960s.
Gerhard Richter, Birkenau Photo Version, 2014; Private Collection © Gerhard Richter, 2015
The exhibition shows abstract masterpieces by Carl Andre, Sol LeWitt, Blinky Palermo, Imi Knoebel or Sigmar Polke. But works by Andy Warhol and the Abstract Expressionists Clyfford Still, Adolph Gottlieb and Willem de Kooning also testify to how contemporary artists can use abstraction to illustrate the indescribable or unportrayable.
The works, which include impressive wall and floor installations (Sol LeWitt, Carl Andre), demonstrate the artist's different approaches and the great potential of abstraction to portray reality or to reject all forms of objectivity. The show also addresses our perception and emotions, which in themselves can trigger forms and colours – beyond a portrayal of real objects.
Prestigious loans from international collections and museums and private collections complement the numerous exhibits from the Collection Frieder Burda.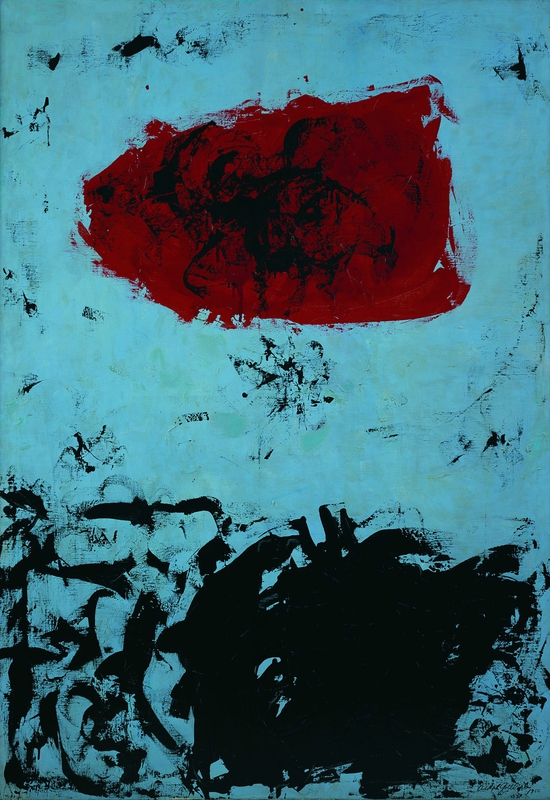 Adolph Gottlieb, Black, Blue, Red, 1956; Museum Frieder Burda, Baden-Baden © VG Bild-Kunst, Bonn 2016; Photo: Ellen Page Wilson, Courtesy Pace Wildenstein.
Sigmar Polke, Mit gelben Quadraten, 1968; Neues Museum in Nuremberg, loan collection block © The Estate of Sigmar Polke / VG Bild-Kunst, Bonn 2016; Photo: Neues Museum in Nuremberg (Annette Kradisch)
Willem de Kooning, Untitled XV, 1982; Museum Frieder Burda, Baden-Baden © VG Bild-Kunst, Bonn 2016; Photo: Volker Naumann, Schönaich