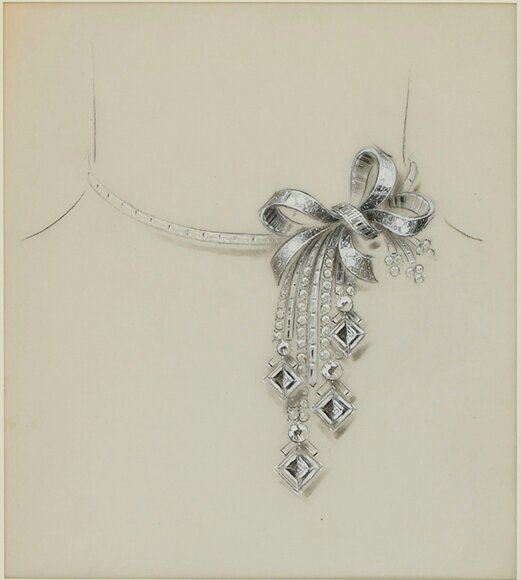 Van Cleef & Arpels - Attributed to René-Sim Lacaze, Study for an important necklace, 1935-41
.
© Sotheby's
LONDON- From 18th February to 8th March 2016, Sotheby's London is set to stage an exhibition that shines a spotlight on an aspect of jewellery which is little known, yet one that is absolutely critical to the production of all the greatest designs: the drawing preceding the jewel, which is very often a work of art in itself.
The exhibition, entitled "Masters of Design", will consist of hundreds of previously unseen drawings from one of the greatest collections of jewellery and silver designs in private hands. The drawings, many of which relate to styles seen in widely exhibited and celebrated jewels, will be presented together with magnificent jewels from Sotheby's Geneva May sale and stunning vintage clothes handpicked by fashion expert William Banks-Blaney* in order to recreate key aesthetic movements of the last two centuries, from 19th century and Belle Epoque to Art Deco and 1950s glamour.
David Bennett, Worldwide Chairman of Sotheby's International Jewellery Division said: "Sotheby's is very excited to host an exhibition of jewellery designs and drawings from this prestigious and comprehensive private collection. It is a collection I have followed for over 20 years in private. Now that it will have its first public exhibition it will, I am sure, prove to be of immense interest to all who are admirers of the very best of 20th century jewellery creation."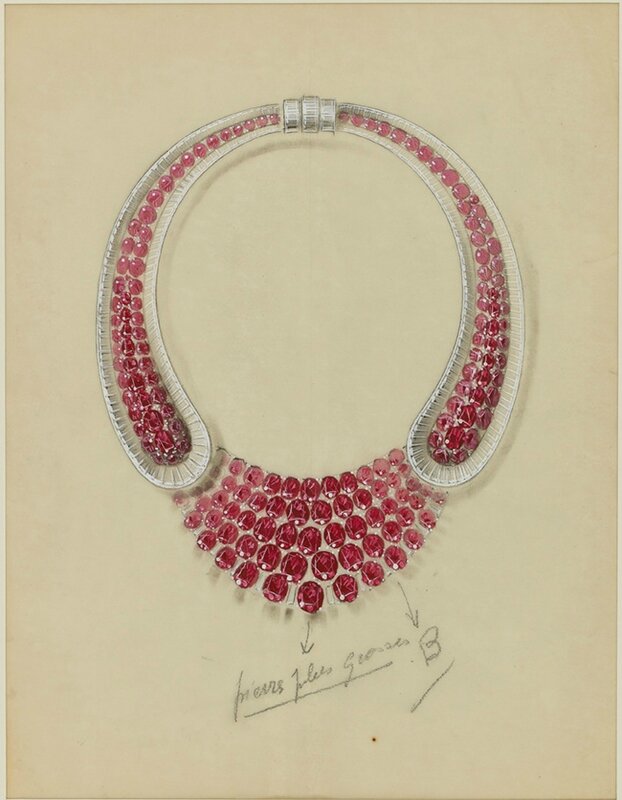 Van Cleef & Arpels & René-Sim Lacaze, Study for an important necklace, 1939. © Sotheby's
Assembled over decades by a European private collector, the collection includes over 3,000 drawings signed by the world's most prestigious "maisons", including Cartier, Van Cleef & Arpels, Bolin, Boucheron, Rubel and Verdura. Charting almost a century of jewellery and silver design (1890-1960), this remarkable ensemble sheds light on the influence of major artistic movements, social and political changes on the evolution of jewellery.
At the heart of this group are preparatory works for important commissions from Cartier, such as brooches made for A. Vanderbilt, a 1911 hair comb designed for K. Pulitzer, a Belle Epoque tiara designed for Princess Marie Bonaparte, Duchess of Camastra and a garland style tiara commissioned by the Comte Orloff.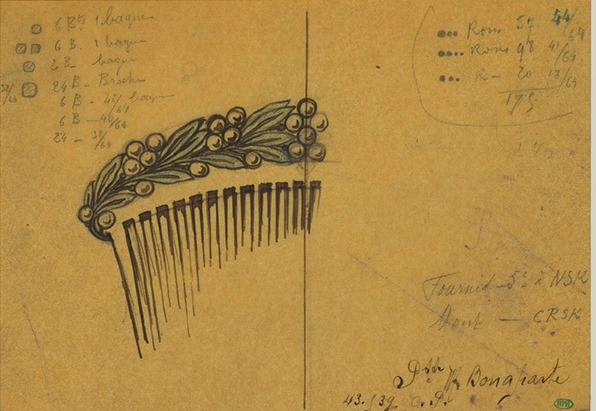 CARTIER. Study for an Hair comb for Princess Marie Bonaparte, Belle Epoque. © Sotheby's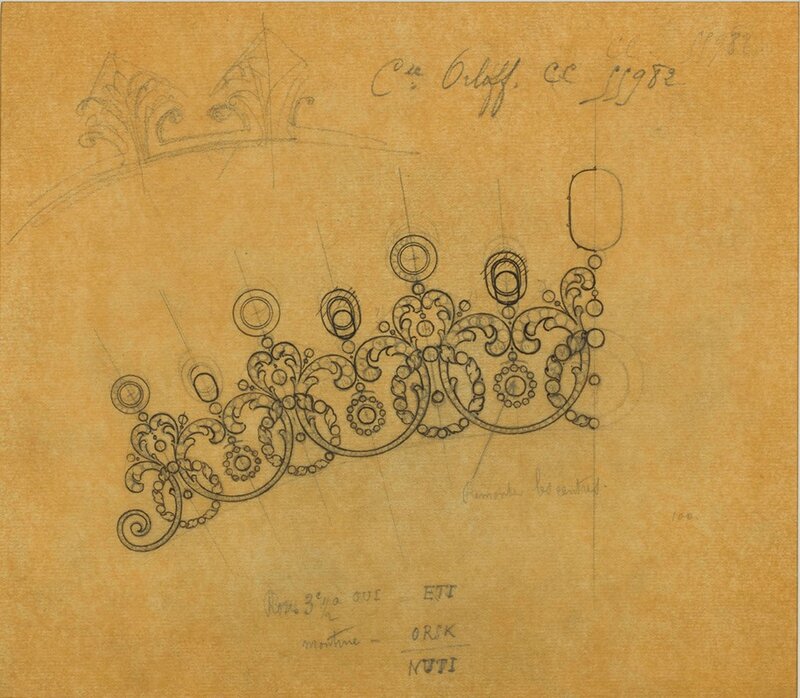 CARTIER. Study for a Tiara for Count Orloff. © Sotheby's
The collection also features very rare jewellery and silver drawings from C.E. Bolin and W.A. Bolin, court jewellers in St. Petersburg, Moscow and Stockholm. These include studies for precious objects engraved with the Russian Imperial Crown and the Swedish royal insignia.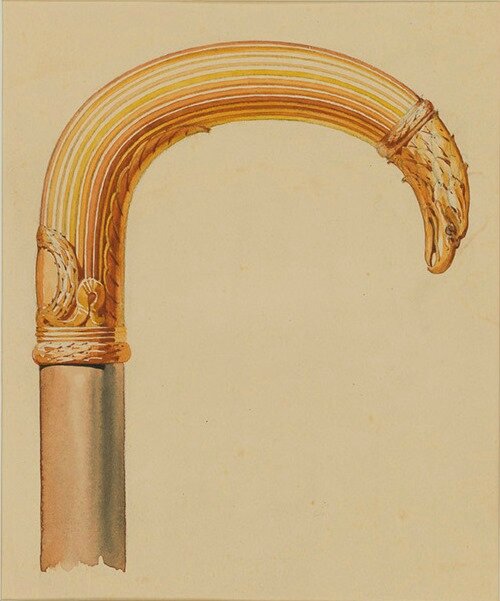 BOLIN. Study for a gold walking stick handle by Russian Court jeweller Bolin, Late 19th century - 1900. © Sotheby's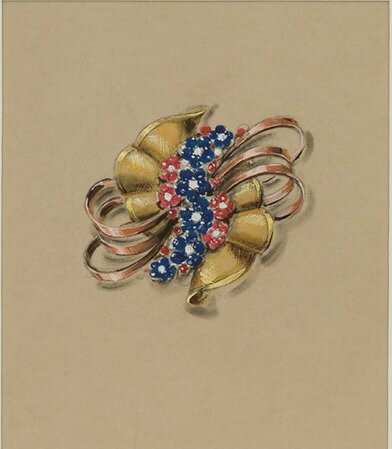 BOLIN. Study for a precious stones, red, yellow gold flower brooch, 1938-48. © Sotheby's
The exhibition, which will also feature studies for iconic designs, such as Cartier's Tutti Frutti jewels and Van Cleef & Arpels' Art Deco creations, will tell the story of the 'unsung' heroes of jewellery design, without whom some of the greatest jewels would never have happened, but whose work remains largely anonymous.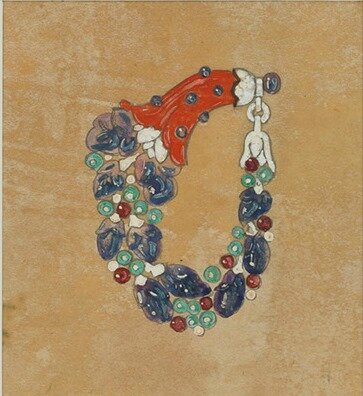 CARTIER. Study for a Tutti Frutti brooch, Art Deco. © Sotheby's
CARTIER. Study for an important tiara, Garland style. © Sotheby's
CARTIER. Study for a Pendent, Egyptian style, Art Deco. © Sotheby's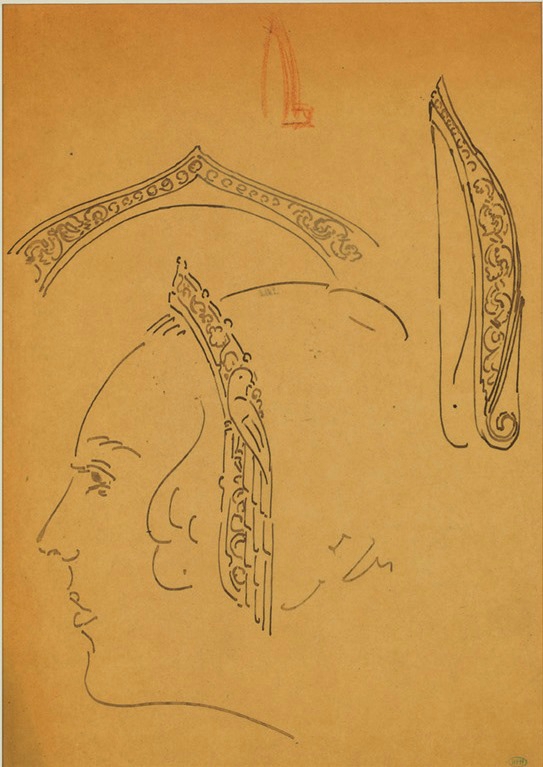 CARTIER. Study for an Important hairband - Art Deco. © Sotheby's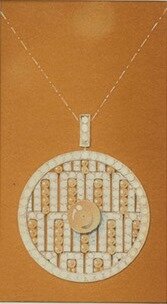 CARTIER. Study for a Pendant, Modern Style. © Sotheby's

CARTIER. Study for an important Art Deco tiara, Modern Style. © Sotheby's
CARTIER. Study for a Turtle Brooch, 1940 style. © Sotheby's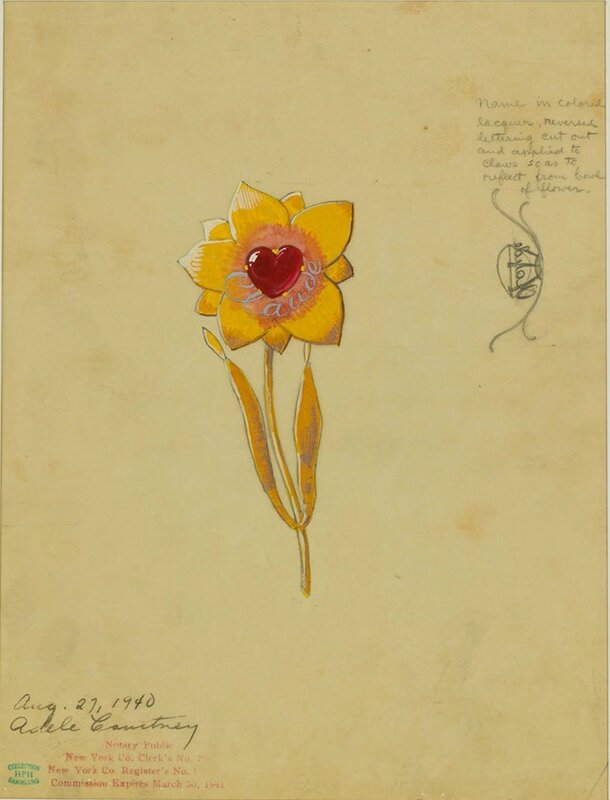 CARTIER. Study for Flower Brooch - 1940 Style. © Sotheby's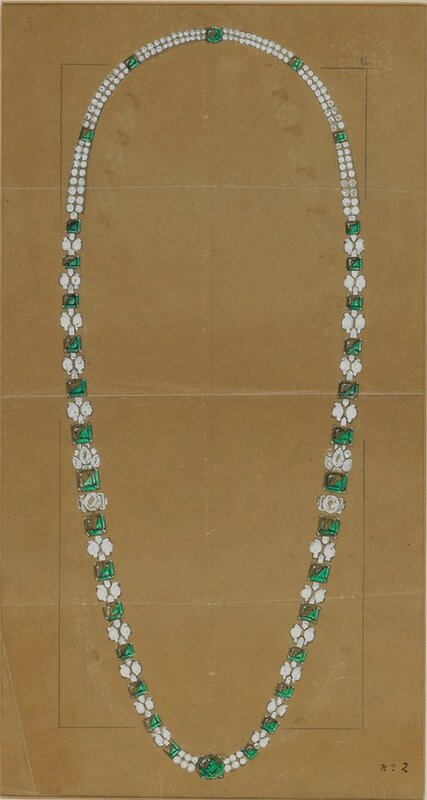 CARTIER. Study for and Important Emerald & diamond necklace, Modern style. © Sotheby's
CARTIER. Study for an important tiara - Garland style. © Sotheby's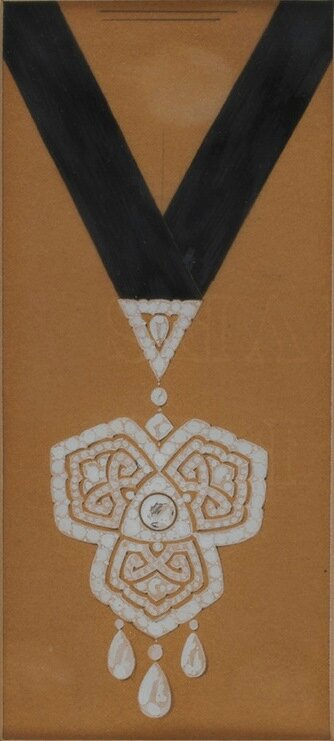 CARTIER. Study for a very important pendant, Garland style. © Sotheby's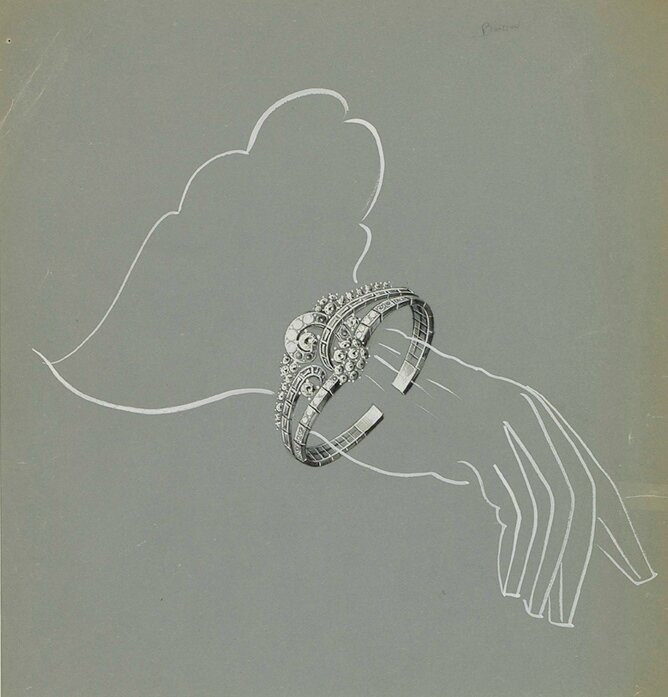 Boucheron. Study for a bracelet, 1940-45. © Sotheby's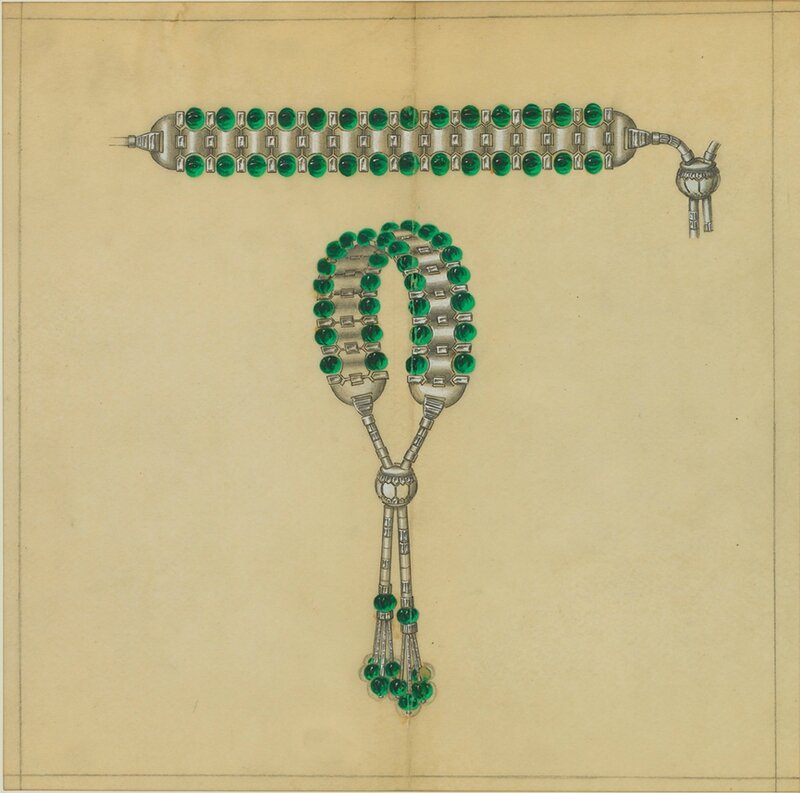 Van Cleef & Arpels. Study for an important Art Deco Bracelet, 1920-1930. © Sotheby's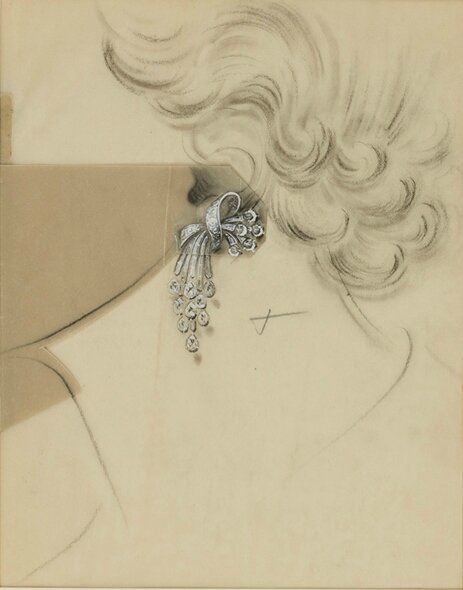 Van Cleef & Arpels. Attributed to René-Sim Lacaze. Study for Ear Pendants, 1935-41. © Sotheby's
Van Cleef & Arpels. Study for an important Art Deco bracelet, 1920-30. © Sotheby's