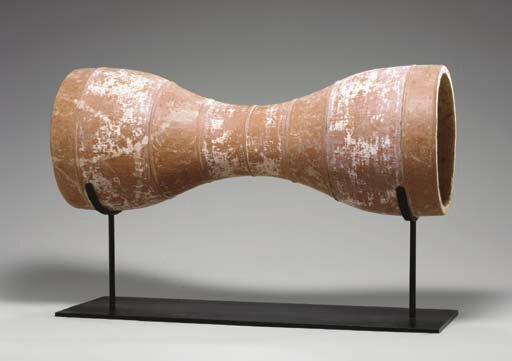 A rare large red pottery drum, Tang dynasty (618-907). © Christie's Image 2003
Hollow modelled with thick walls in an hourglass shape encircled by seven single ribs, with traces of white, red and green pigment - 23¾in. (60.5cm.) long, metal stand - Lot 212. Estimate $10,000 - $15,000. Price Realized $9,560
Notes: Ceramic drums of Tang dynasty date are very rare, and most of the published examples are glazed. A stoneware drum of similar shape and size covered with a phosphatic-splashed glaze, Huangdao ware, is illustrated in Sekai toji zenshu, Tokyo, 1976, vol. 11, p. 118, pl. 97. Another smaller sancai-glazed pottery drum (38cm.) is illustrated in Treasures of the Shosoin, Tokyo, 1965, pl. 10.
A drum of large size is shown being played by a female musician in a stone carving from the outer coffin of Li Shou (died 630), illustrated in Zhongguo diaosu yishushi, Beijing, 1988, vol. 2, no. 537. Another stone carving from the Five Dynasties (10th century) tomb of Wang Jian, Sichuan, shows another female musician with a large drum supported on her lap. Taut cords are stretched lengthwise to secure coverings at either end, and the shape of the drum seen through the cords is the same as that of the present drum, showing how these drums were actually played.
The result of Oxford thermoluminescence test no. 766x33 is consistent with the dating of this lot.
CHRISTIE'S. FINE CHINESE CERAMICS AND WORKS OF ART, 18 September 2003, New York, Rockefeller Plaza