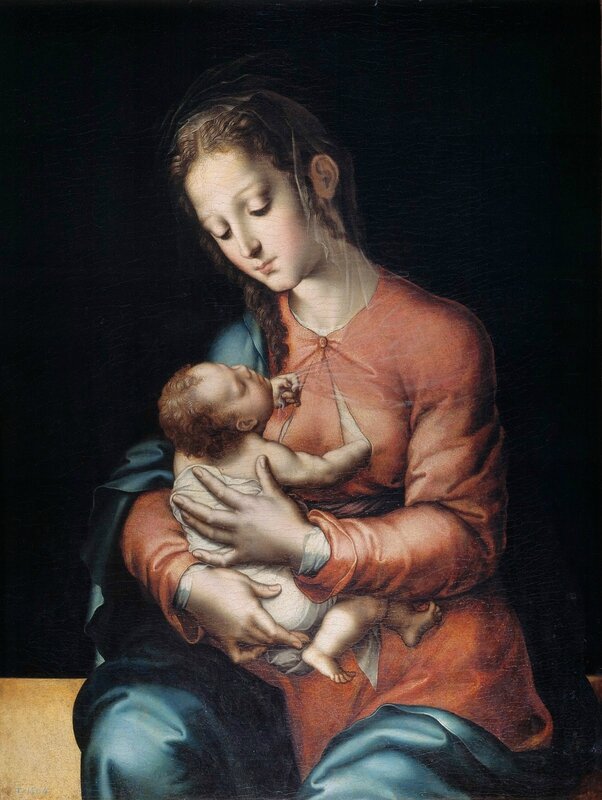 Luis de Morales, Nursing Virgin, Oil on chestnut panel, 84 x 64 cm, c. 1565. Museo Nacional del Prado, Madrid.
BILBAO.- Organized in tandem with the National Museum of the Prado, where it premiered last autumn, and the National Museum of Art of Catalonia in Barcelona, where it will be shown after its sojourn in Bilbao, this exhibition explores the work of the Master Luis de Morales (1510/1511-1586). Largely based on works by Morales and his studio workshop that are now in the Prado collection, the exhibition also features a number of major loans.

Almost a century after the Prado staged the first exhibition devoted exclusively to the artist's work, this latest offering is designed to update what we know today about Morales's work and his life, by taking a close look at some of his most characteristic paintings and, in particular, the devotional works that focus on the image of Christ. Although his most representative paintings were made popular by the replicas his followers painted, this new show includes a careful selection of works that showcase the true standards of quality in Morales's extraordinary painting technique.
Luis de Morales, The Annuncation, ca. 1565. Oil on panel, 109 x 83 cm. Museo Nacional del Prado, Madrid.
Leticia Ruiz Gómez, head of the Prado's Department of Spanish Renaissance Painting, has chosen 22 works from the Madrid Museum's collection, including Calvary and The Resurrection donated by Plácido Arango in 2015. She adds a further 32 from Spanish and international museums, private collectors and religious institutions. Loans include Madonna and the Bird from the parish church of St. Augustine in Madrid, Madonna with the Child and the Young Saint John from Salamanca's New Cathedral, Ecce Homo from the National Museum of Old Master Art in Lisbon and the signed version of Pietà from theBilbao Fine Arts Museum. Also featured is a sculpture by Alonso Berruguete (c. 1489-1561), from the National Sculpture Museum, Valladolid, to emphasize the similarities to be found in works by both Masters when portraying episodes from Christ's Passion: the pained, sorrowful spirituality Berruguete expresses in his Ecce Homo and the almost sculptural presence of Morales's characters.

A towering figure in Spanish Renaissance painting, Luis de Morales is one of the most original and recognizable of artists working in the second half of the 16th century. His highly personal style, discussed and praised in contemporary and later writings on art, ensured that his works would find their way into many Spanish and foreign collections. Despite his artistic career being exclusively confined to Extremadura, Andalusia and Portugal, his most representative works became very popular thanks to his prolific and hugely successful workshop. Only El Greco, from around 1585 on, would match the phenomenal commercial and artistic success Morales achieved.
Luis de Morales, The Birth of the Virgin, Oil on walnut panel, 69.2 x 93.2 cm, c. 1562-67. Museo Nacional del Prado, Madrid.
In his own time, Morales's ability to establish a standard model of devotion, at once both veracious and sacred, earned him the soubriquet "the Divine", which has stayed with him to the present day. Apart from the originality of his style, Morales deployed a technique attentive to detail, accurate drawing and a kind of light-laden smoothness that made him such an outstanding figure in contemporary Mannerist production.

Most of the works chosen are small and feature the archetypal half-length figures of his professional repertoire: the Madonna with Child, of the kind seen in the popular Nursing Madonna from the Prado, Christ with the Crown of Thorns in Christ, Man of Sorrows also from the Prado and Christ tied to the column, bearing the Cross or dead in His mother's arms, as in the Pietà from the Museum of the Royal San Fernando Fine Arts Academy in Madrid. A brief, if select, catalogue of images, often painted against dark backgrounds and with a bare minimum of temporal or spatial features, that make an irresistible invitation to religious contemplation.
Luis de Morales, The Adoration of the Shepherds, 1565 - 1570. Oil on panel, 100 x 167.1 cm. Museo Nacional del Prado, Madrid.
The Divine Morales is the end result of an exhaustive examination of the artist's work, the conclusions of which are included in the catalogue accompanying the exhibition. The catalogue contains detailed technical files on all selected works (even though not all will be on display at the three exhibition venues), written by 19 art historians, who add their personal vision of the works and the artist in a themed sequence that runs from the birth of the Madonna to the Passion and death of Christ.

Also included in the catalogue is an essay by exhibition curator Leticia Ruiz that pieces together Morales's life and artistic career, another by professor Felipe Pereda on the iconography and spirituality of some of the painter's best known works and a third essay,entrusted to the Prado's Technical Documentation Office, on the technique and media used by Morales.
Luis de Morales, The Adoration of the Magi, 1565 - 1570. Oil on panel, 98.9 x 166.6 cm. Museo Nacional del Prado, Madrid.
"The Divine Morales"
Luis de Morales was born in either 1510 or 1511 and probably died in 1586, perhaps in Alcántara (Cáceres), where he is known to have been living in 1585. While his place of birth remains a mystery, we do know he lived and painted in Extremadura. For more than fifty years Morales was the most prolific and important painter at work in that vast region, where he produced altarpieces and paintings, eventually extending his client-base to Portugal, particularly the towns of Évora and Elvas, both fairly close to Badajoz. He set up in Badajoz in 1539, after having spent time working in and around Plasencia, where the combination of artists and influences from Flanders and Castile explain an essential facet of Luis de Morales's body of work. His knowledge of works by other artists, in particular Alonso Berruguete and Sebastiano del Piombo, helped to shape his style, and Morales soon became famous for his small religious panels. A keen commercial instinct led him to provide visually effective panels and altarpieces for his clientele, mostly members of the bourgeois nobility and the clergy.

What he offered was a painstakingly executed devotional product that had much in common with Flemish traditions of the late 1400s and early 1500s, although his output is also tinged with Italianate features and models. Simply composed and instantly recognizable, his religious images subtly conveyed the spiritual atmosphere of his time. Suffused with an almost palpable spiritual charge, often dramatic and tormented, his devotional works greatly appealed to the emotions of believers and clients alike.

The exhibition provides a careful account of the work of the 'Divine' Morales. Writing in the eighteenth century, painter and essayist Antonio Palomino explained the origin of the artist's rather exalted nickname: "He was given the cognomen of the Divine, because all he painted were sacred things, and because he made heads of Christ with such exquisiteness and subtlety in the hair, that it causes those interested in art to want to blow on it so that it might move, because the hair appears as subtle as natural locks".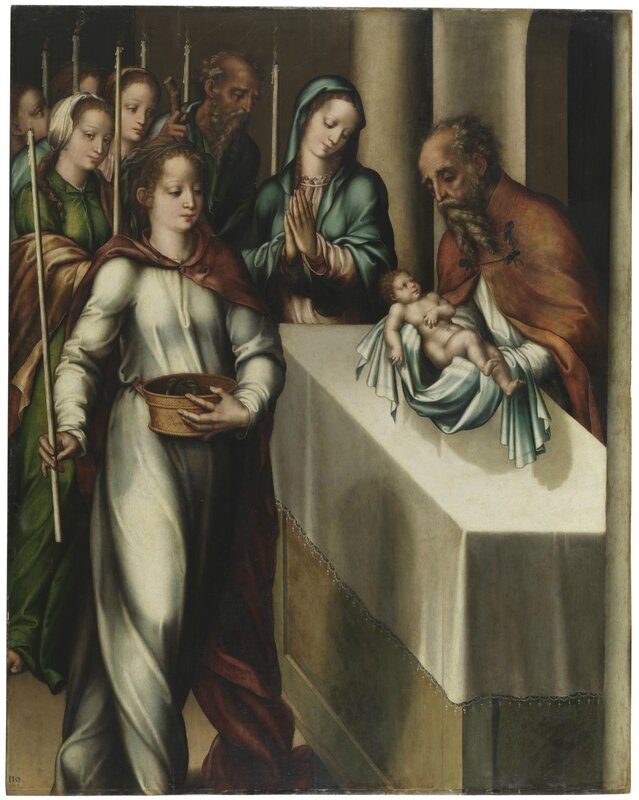 Luis de Morales, The Purification of the Virgin or The Presentation in the Temple, ca. 1562. Oil on panel, 146.5 x 116 cm. Museo Nacional del Prado, Madrid.
I.- Enduring icons
The section provides the visitor with an introduction to the painter's best known iconographic works. Most are fairly small, featuring bust or half-length figures seen against black backgrounds and illuminated by contrasting light that seems to bring them closer to the viewer. Conceived for oratories and private chapels, these paintings underscore the complex artistic affinities of Luis de Morales, particularly his links with Italian painting and with some Flemish and northern European artists.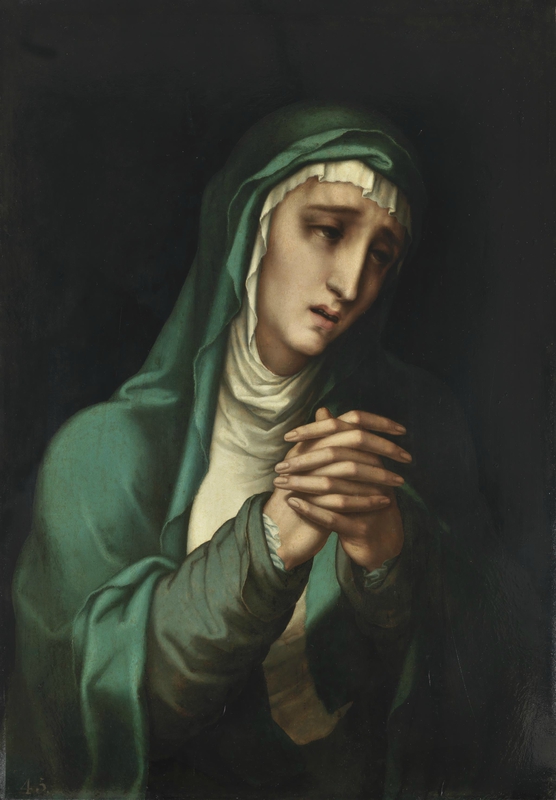 Luis de Morales, The Virgin Dolorosa. Oil on panel, 73 x 50.5 cm, 1560 - 1570. Madrid, Museo Nacional del Prado.
II.- On the Madonna and Child
Marked, like all Morales's production, by a spirituality that stresses several Passion-related aspects of Christ's childhood, the artist reworked some iconographies that were by then well established in Christian European art. These re-imaginings found great favour with the clientele of the time. Particularly well received was his take on the Madonna and Child in the small panels on wood; such images were primordially intended to be used for private prayer and meditation.

His main creations centred on the Gypsy Madonna (also known as the Pilgrim Virgin and Madonna with Hat), where Mary sports a flamboyant wide-brimmed hat, and on what is usually referred to as the Madonna with spindle, a type of portrayal where the Child holds the instrument used for spinning yarn in a highly suggestive imitation of the Cross. A careful selection of variations on these two themes attests to Morales's ability to create delicately constructed works with an effective emotional charge. In striking counterpoint, the section also includes three masterpieces from the work Morales produced in a much larger scale.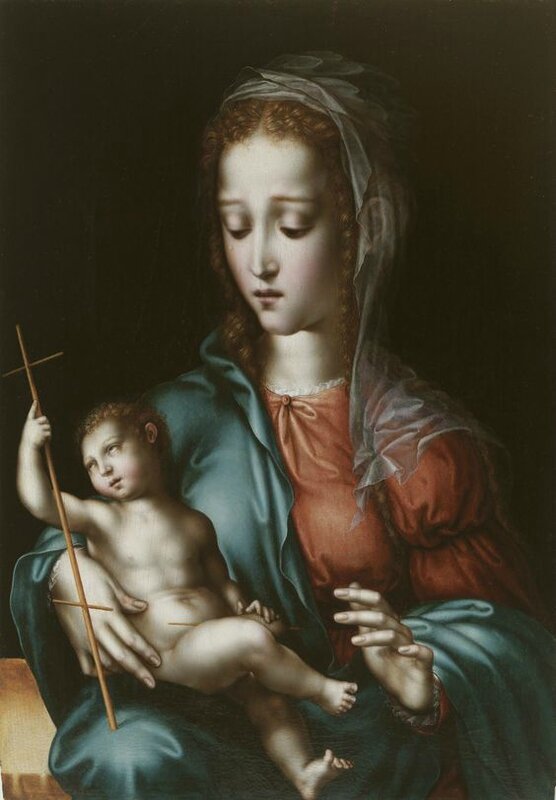 Luis de Morales, The Virgin and Child with a Spindle. Oil on chestnut panel, 64.5 x 45 cm, 1566. Madrid, Museo Nacional del Prado.
Luis de Morales, The Virgin and Child with the Infant Saint John the Baptist. Oil on panel, 73 x 55 cm, Ca. 1570. Madrid, Museo Nacional del Prado.
III.- Complex narratives: the altarpieces
Like most 16th-century Spanish painters, Luis de Morales produced a number of altarpieces (nearly twenty in all) on which he usually worked with assistants from his workshop. Archive documents in fact reveal that Morales produced in abundance the kind of altarpieces that featured so prominently in the art of his age. Unfortunately, conflicts with Portugal in the 17th century and later the Peninsular War (known to the Spanish as the War of Independence) in the 19th century and then the Spanish Civil War in the twentieth, led to the disappearance of most of these altarpieces.

Several high-quality works that have been recovered for the exhibition give an insight into a facet of the artist's work that completes our vision of his complex career. Also presented in this section, given the theme involved, are the only two known surviving drawings attributed to Morales: Lamentation for the Death of Christ and Noli me tangere, both in the National Museum of Old Master Art, Lisbon.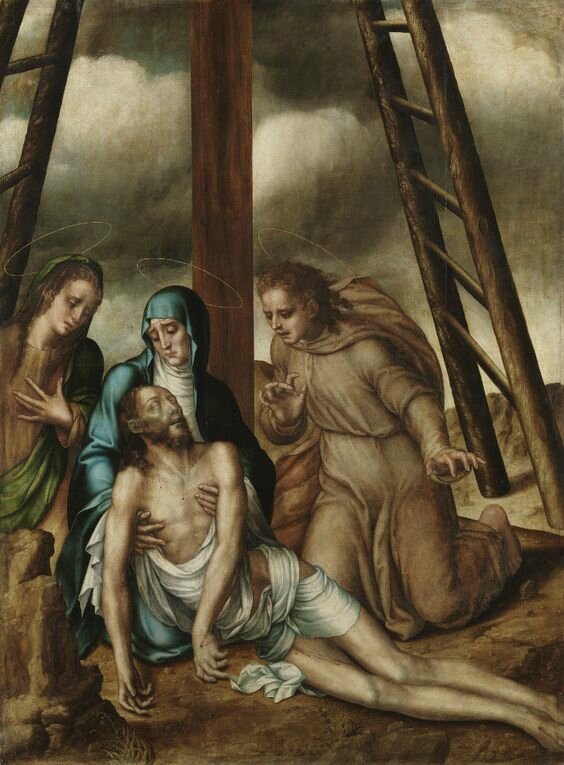 Luis de Morales, Lamentation over the Dead Christ. Oil on oak panel, 167.5 x 125 cm, c. 1566. Salamanca, Museo de Salamanca. Ministerio de Educación, Cultura y Deporte.
Luis de Morales, The Agony in the Garden, ca. 1545. Oil on panel, 85 x 65.5 cm. Madrid, Museo Nacional del Prado.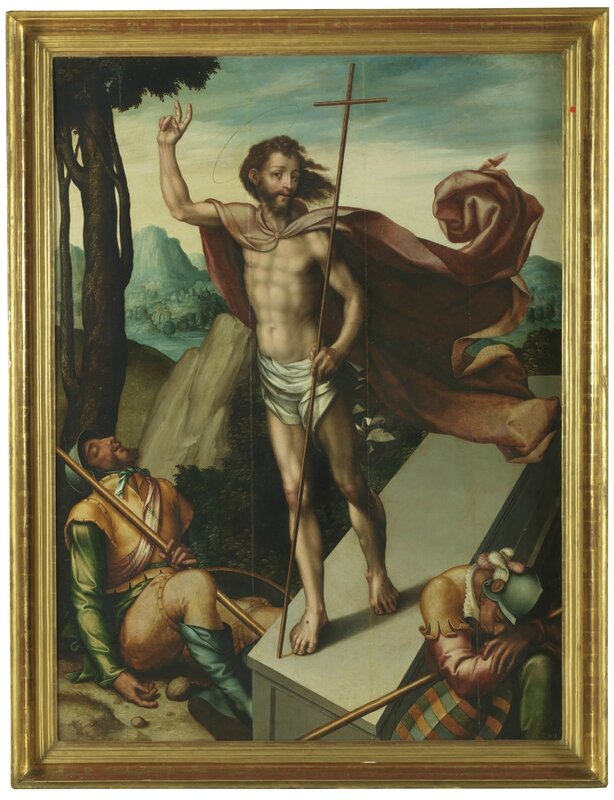 Luis de Morales, The Resurrection, ca. 1566. Oil on panel, 167.7 x 125.4 cm. Madrid, Museo Nacional del Prado.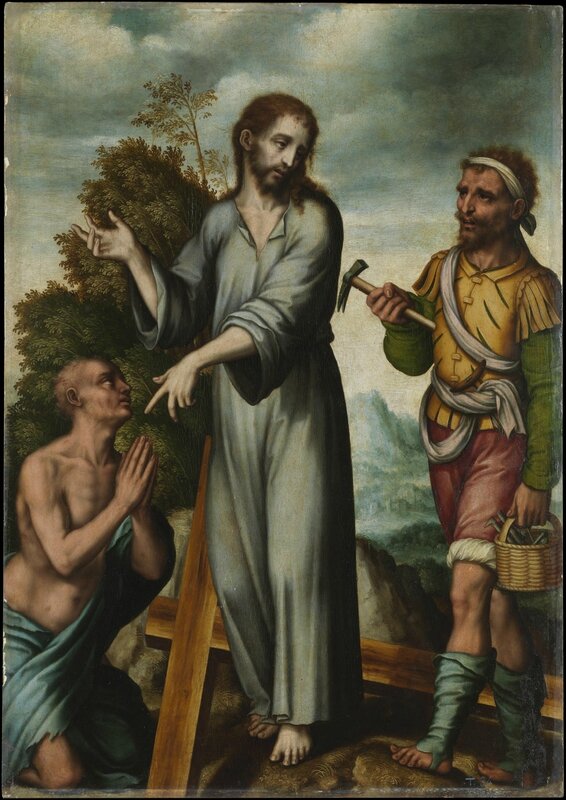 Luis de Morales, Christ Justifying his Passion, ca. 1565. Oil on panel, 71 x 49 cm. Madrid, Museo Nacional del Prado.
IV.- Up close: Images of Passion and Redemption
For contemporary society the Passion of Christ was a key motif for meditation and emulation. The small panels of Christ suffering, set against intense black backgrounds, are almost sculptural in their portrayals (usually bust or half-length) of Christ enduring the redeeming Passion. From the sheer number of versions we know made after the master's originals, these works clearly impacted on mid-16th century society with an extraordinary force of conviction.

This group revolves around the full-length Ecce Homo from the National Museum of Old Master Art in Lisbon, and a sculpture in polychrome wood by Alonso Berruguete, from Valladolid's National Museum of Sculpture, as an iconographic touchstone that also suggests the undeniable aesthetic bond between the works of Luis de Morales and sculpture.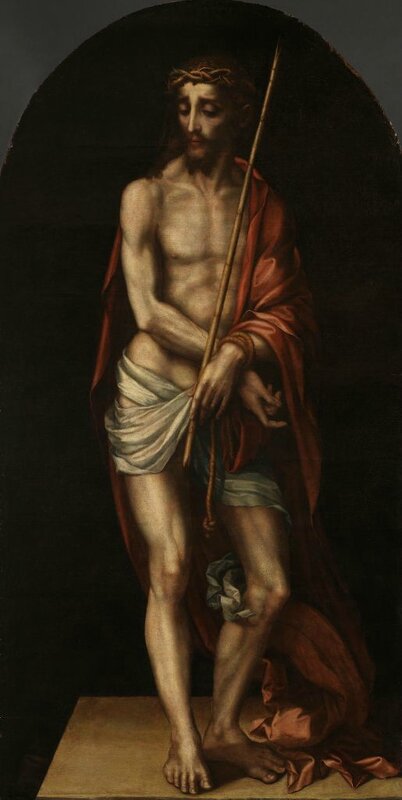 Luis de Morales, Ecce Homo. Oil on oak panel, 182 x 94 cm, c. 1565. Lisbon, Museu Nacional de Arte Antiga
V.- Saint Juan de Ribera and Counter-Reformation spirituality
Saint Juan de Ribera was without doubt the leading light of a group of prelates assigned to Badajoz. His family background, intellectual attainments and the spiritual environment of his tenure in Extremadura (1562-1569) make Ribera something of a yardstick in the life and paintings of Luis de Morales, so much so that Morales came to be considered the prelate's court painter. The key work in this last section is the altarpiece with the Triptych of the Judgement of the Soul of Saint Juan de Ribera, from the Royal Seminar College of Corpus Christi, Valencia–Museum of the Patriarch.
Luis de Morales, Saint Juan de Ribera, ca. 1566. Oil, Tempera on panel, 40 x 28 cm. Madrid, Museo Nacional del Prado.
Luis de Morales, Saint John the Baptist, ca. 1566. Oil on panel, 47 x 34 cm. Madrid, Museo Nacional del Prado.
Luis de Morales, Saint Stephen, Ca. 1575. Oil on panel, 67 x 50 cm. Madrid, Museo Nacional del Prado.