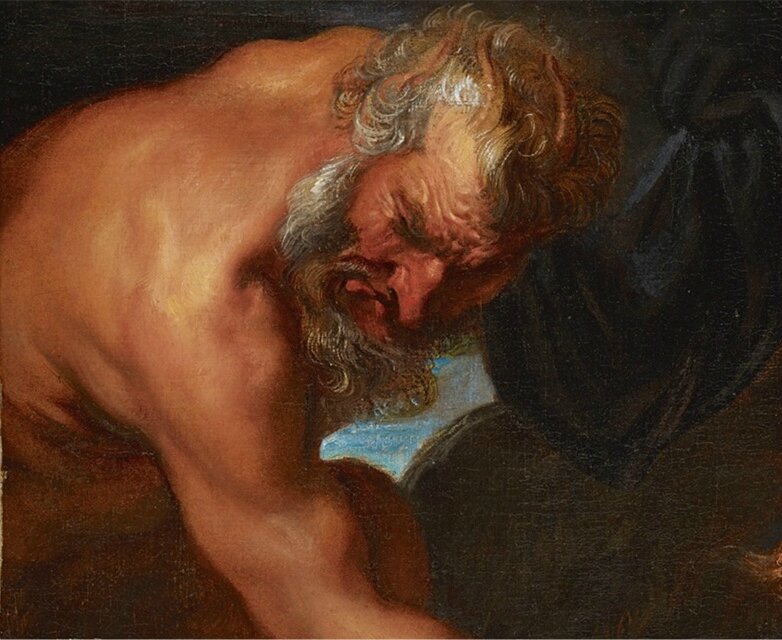 Sir Anthony Van Dyck (1599 – 1641), Fragment from Jupiter and Antiope, Oil on canvas: 21 ½ x 17 ½ in. (54.6 x 44.5 cm). © The Weiss Gallery
LONDON.- Following a successful 2015, The Weiss Gallery - leading dealer in Tudor, Stuart and Northern European Old Master portraiture - returns to TEFAF Maastricht (11-20 March 2016) with several new exciting discoveries. Amongst this year's highlights is an extremely fine portrait by Paulus Moreelse depicting a lady from one of seventeenth-century Utrecht's most noble families. Dressed in a richly embroidered gold and black dress, in the highest fashion of the day, Emerentia de la Kethulle, nee van Ravenswaay (1593 – 1634) is a remarkable costume piece, as well as a finely observed portrait.

True to The Weiss Gallery's roots, there will be exceptional examples of Tudor & Stuart portraiture at TEFAF. These include depictions of Sir Francis Drake's brother Thomas, the controversial Earl of Essex and various members of the landed gentry by the likes of Hieronimo Custodis, Marcus Gheeraerts and William Larkin.

The gallery will bring further fine examples of Dutch and Flemish masters, including works by the Pourbus family, George Geldorp and notably a recently discovered fragment by Sir Anthony van Dyck. The piece represents the head of Jupiter from one of the artist's most celebrated, and early, mythological subjects, Jupiter and Antiope. Intriguingly, this work is thought to have once belonged to his master Sir Peter Paul Rubens and demonstrates Van Dyck's instinctive brushwork.

Celebrating the gallery's 30th anniversary, owner Mark Weiss is "proud to bring a selection of museum-quality masterpieces to TEFAF." The Weiss Gallery has made many notable sales that now grace distinguished private and public collections around the world, including Tate Britain, The National Portrait Gallery in London, and the National Gallery of Australia.
Paulus Moreelse (1571-1638), Emerentia de la Kethulle, née van Ravenswaay (1593-1634). Oil on panel: 123.5 x 89 cm. Monogrammed and dated upper right 'AEtat suae 31 / PM 1625'. Painted 1625. © The Weiss Gallery
Provenance: By family descent to Johanna Barbara Walraven van Arkel of Ammersoyen, née de la Kethulle (1622 – 1686); thence by descent to Baron Arthur de Woelmont (1826 – 1911), Castle Ammersoyen;
Sale, Christie's London, 27 July 1927, lot 183;
with Hibbard Art Gallery, London; sold to Dr. H. Schieffer, Amsterdam;
Walter M. N. Reid (1867 – 1933), Germains, Chesham, Bucks;
his sale Christie's London, 16 September 1934, lot 149 (as 'Portrait of Catharina van Arkel');
with Hugh Burton-Jones, London 1936; sold to Dr. Johannes Adriaan van Dongen (1888 – 1972), Amsterdam 1938;
Sale, Frederik Muller & Co., Amsterdam, 25 – 31 January 1944, lot 637;
Sotheby's London, 12 April 1978, lot 17 (as 'Anne van Arkel Countess de Renesse');
Private collection, England, until 2015.
Literature: Probably Willem Steenhoff, Iconographia Batava; beredeneerde lijst van geschilderde en gebeeldhouwde portretten van Noord-Nederlanders in vorige eeuwen, Frederick Muller & Co., Amsterdam 1905, no. 6194.
Caroline Henriette de Jonge, Paulus Moreelse, 1938. p.29. Cat. No. 81.
Eric Domela Nieuwenhuis Nyegaard, Paulus Moreelse (1571 – 1638), PhD Dissertation, Leiden University 2001, p. 459 – 460, no. 87.
Exhibitions: Centraal Museum, Utrecht, Paintings and Drawings by Paulus Moreelse, on the occasion of the 300th anniversary of his death, April to May 1938, no. 21.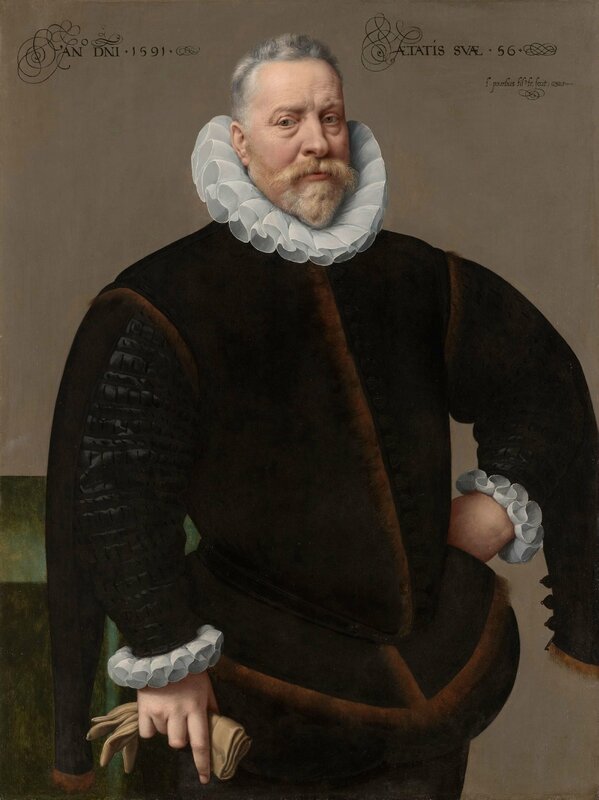 Frans Pourbus the Younger (1569-1622), An Unknown Man, aged 56. Oil on panel, 119 × 96.5 cm. Inscribed upper left 'AN DNI.1591.' and upper right 'AETATIS SUAE. 56/f.pourbus fil.fr.fecit', 1591. © The Weiss Gallery
Provenance: Elector Lothar Franz von Schönborn (1655-1729), Schloß Weissenstein, Pommersfelden, Germany;
thence by descent to Count Erwein Friedrich von Schönborn (1842-1903);
His sale, 'Tableaux Anciens...du Château de Pommersfelden', Paris, C. Pillet, 17-18 May 1867, lot 201;
where likely acquired by Alfred-Louis LeBoeuf de Montgermont (1841-1918);
Sale, Galerie Charpentier, Paris, 15 December 1959, lot 27;
with Heim Gallery, Paris, 1962;
Private Collection, Belgium from 1963-2014;
Sale, Hôtel des ventes d'Enghien, Paris, 23 November 2014, lot 331
Literature: J.R. Bys, Fürtrefflicher Gemähld-und Bilder-Schatz, So In denen Gallerie und Zimmern, des Churfürstl. Pommersfeldischen neu-erbauten fürtrefflichen Privat-Schloß zu finden ist, Bamberg, 1719, reprinted by Bott, Weimar, 1997, p. 29; Joseph Heller, Die graflich Schönborn'sche Gemälde-Sammlang zu Schlos Weisenstein in Pommersfelden, Bamberg, 1845, p.22; F.E. Thein, Katalog der Graflich von Schoenborn'schen Bilder-Gallerie zu Pommersfelden, Würzburg, 1857, p.75; Gustav Parthey, Deutscher Bildersaal: Verzeichniss in Deutschland der Maler vorhandenen Oelbilder verstorbener go Schule, Berlin, 1864, vol. II, p.279, no. 8; Ludwig Burchard, Pourbus, Ulrich Thieme & Felix Becker, 'Allgemeines Lexikon der Bildenden Künstler', Leipzig, 1933, vol. XXVII;
Blaise Ducos, Frans Pourbus the Younger (1569-1622), Dijon, 2011, P.A.4 as 'localisation inconnue', pp.33-35 & pp.185-186, ill., & detail fig. 9; The Weiss Gallery, From Merchants to Monarchs: Frans Pourbus the Younger, 2015, no. 2