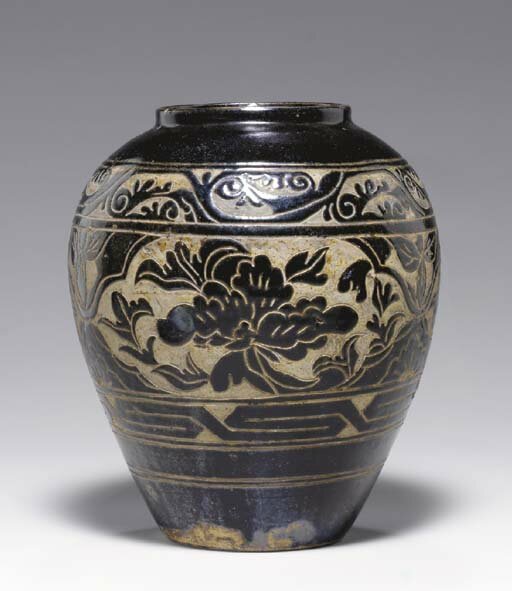 Lot 244. A Cizhou cut-glazed ovoid jar, Jin dynasty (1115-1234), possibly Xixia kingdom, 12th-early 13th century. Estimate $8,000 - $12,000. Price Realized $11,950. © Christie's Image 2003
Carved through the dark brown glaze with three large peony sprigs in shaped cartouches forming a central frieze between a key-pattern band below and a band of foliate scroll above, all within bowstring borders - 11 3/8in. (28.8cm.) high.
Notes: The technique used to decorate this handsome jar, which involved fully glazing the vessel and then cutting away or incising the design through the glaze before firing, was employed at several kilns producing Cizhou style ceramics in Henan and Shanxi provinces. However, stonewares decorated using the same technique were also made at the kilns to the northwest of Ningxia Hui Autonomous Region. The highpoint of ceramic production in this region was under the Xi Xia or Western Xia (AD 1038-1227), a Tibetan-related people greatly influenced by Chinese culture who allied with the Liao to prevent Song incursion into the their territory. Despite numerous attacks by the Song armies, the Xia Xia remained undefeated until conquered by the invading Mongols in AD 1227.
Compare several jars of this date decorated in this techinque illustrated by R. Mowry, Hare's Fur, Tortoiseshell, and Partridge Feather, Cambridge, Massachusetts, 1996, nos. 66-69 and 73-75. See, also, a jar of this type of slightly broader proportions from the Edward T. Chow Collection sold at Sotheby Parke Bernet, London, 16 December 1980, lot 233.
CHRISTIE'S. FINE CHINESE CERAMICS AND WORKS OF ART, 18 September 2003, New York, Rockefeller Plaza