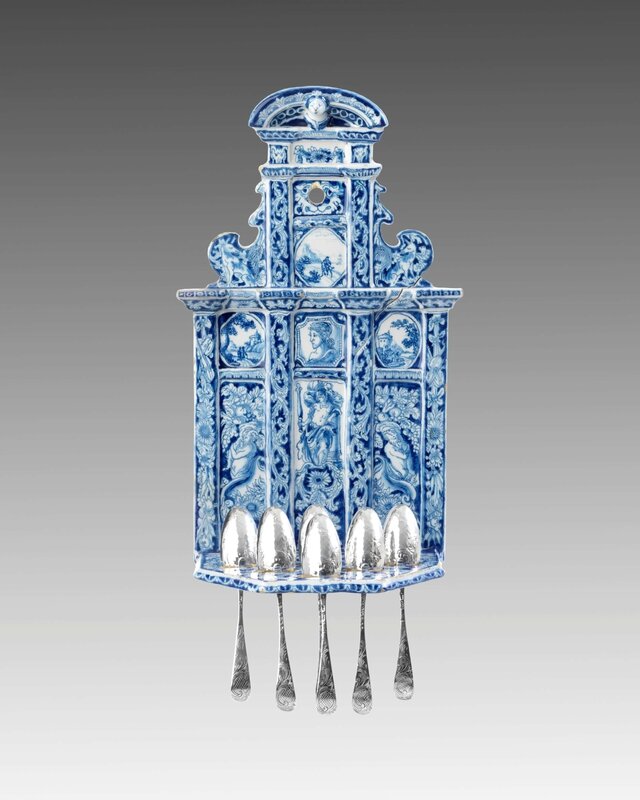 Lambertus van Eenhoorn, Delft spoon rack, circa 1710. Tin-glazed earthenware, 40 x 24 x 16 cm. Marked 'LVE' for Lambertus van Eenhoorn, The Metaale Pot Factory, (active between 1691-1721) © Salomon Stodel Antiquités
It may be regarded as a technical marvel that the rear plate and spoon rack are not broken during firing or afterwards.
A thick fire crack shows the struggle to get a perfect product. Spoon racks in wood, pewter, and even in miniature silver are known, but this is the only known copy in Duch Delft pottery so far. .This unique object in Delftware is made as a spoon rack.The back has the shape of a seventeenth century Duch canal house with landscapes and mythological figures painted between pilastersThe crowing with a woman's head is typical for the rich ornamentation where especially the Metaale Pot was known for.Even for one of the most important factories of Delftware, The Metaale Pot, this must have been a special purpose given the size and the shape.
Provenance: Mathieu Hart, Amsterdam; Private collection, New York
Literature: Exhibition catalogue "Uit de Kunst" number 50, page 77-78. Apeldoorn 2011.
Exhibitions: Apeldoorn, Museum Paleis Het Loo, 100 Year VHOK anniversary exhibition, 2011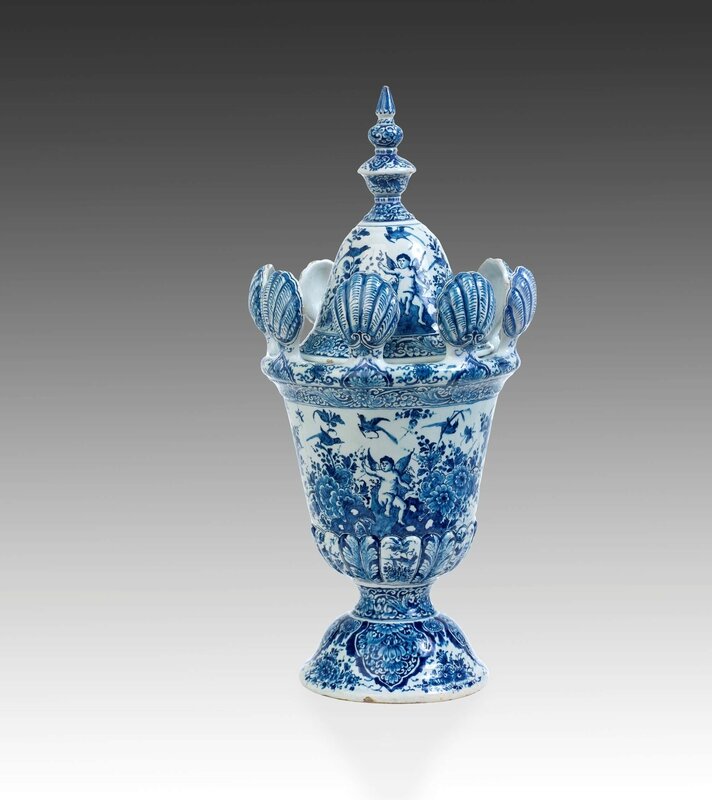 Attributed to Adriaen Kocks, Delft vase and cover, The Netherlands, 1686-1701. Delftware, tin glazed earthenware. The tapered cylindrical sides painted with a frieze of a cherub seated amongs flowering shrubs and birds, above a gadroon moulded border painted with panels of birds in branches alternating with acanthus, the rim surmounted with eight moulded scallop shells, the high domed cover further painted with a cherub amongst flowers and birds benaeth a spire finial. Height 41 cm. Traces of signature 'AK' for Adriaen Kocks, The Greek A Factory. © Salomon Stodel Antiquités
Provenance: Private collection, The Netherlands.
Literature: Compare: Courts and Colonies. The William & Mary Style in Holland, England and America The Smithsonian Institution and Cooper - Hewitt Museum, 1988
Salomon Stodel Antiquités (stand 121) at TEFAF Maastrich 2016
Directors: J. Estié, S. Lilian-Stode
Contact: Rokin 70
1012 KW Amsterdam
Netherlands
T +31 20 623 16 92
M +31 6 53 93 15 19
F +31 20 620 27 84
Mon.-Fri. 10 am-5.30 pm and by appointment
www.salomonstodel.com
stodel@wxs.nl
spiegelgracht 11
1017 JP AMSTERDAM
Netherlands
T 00 31 20 6231692
M 00 31 653931519
F 00 31 20 6202784
10.30 - 17.30
www.salomonstodel.nl
stodel@wxs.nl