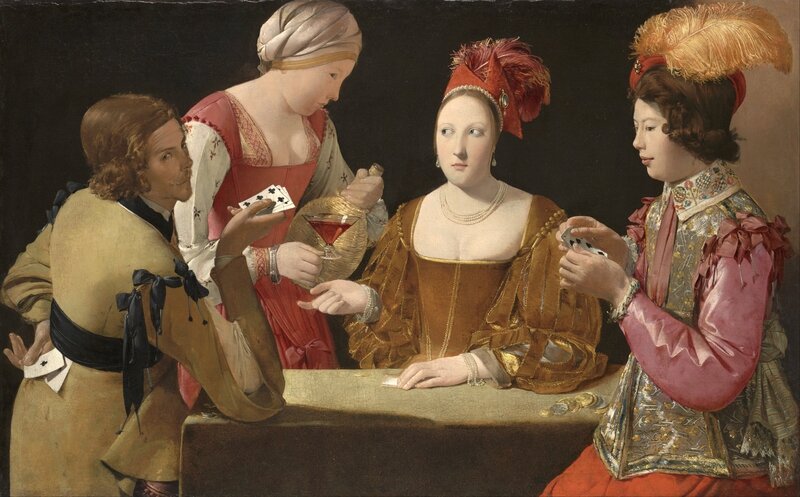 Georges de La Tour, The Cheat with the Ace of Clubs. Oil on canvas, 97.8 x 156.2 cm. Kimbell Art Museum, Fort Worth, Texas.
MADRID.- On 23 February, the Museo del Prado will be opening the exhibition Georges de La Tour. 1593-1652, on display in Room C of its Jerónimos Building. The exhibition will allow visitors to discover La Tour's artistic personality, expressed through both his realist treatment of humble figures and his refined religious scenes.

A century after the rediscovery of the artist with the publication of the art historian Hermann Voss's article in the German publication Archiv für Kunstgeschichte, the Museo del Prado has brought together thirty-one of the forty known works by this painter from Lorraine. Prior to his rediscovery in 1915, La Tour's works were attributed to other northern painters (particularly his night scenes) and to Spanish artists, principally Zurbarán, Ribera and Velázquez. Saint Jerome reading a Letter in the Prado, for example, has an inscription on the reverse reading "Zurbaran", to whom it was undoubtedly attributed and which probably explains its presence in a Spanish collection.

The present exhibition offers a chronological survey of La Tour's career, which was directly associated with historical events of his time.

Georges de La Tour has only recently been discovered in terms of his artistic personality. Little is known of his early training in the Catholic city of Vic-sur-Seille in Lorraine (France), which he must have completed around 1610 when he was aged about 17. Subsequent documentation reveals him as a financially successful painter with a brusque personality but professionally renowned. At the end of his career La Tour was appointed painter to Louis XIII.

La Tour lived at a crucial period for the history of Lorraine, which culminated with the loss of the duchy's political independence. Within this context the artist evolved a painting of surprising lyricism, particularly in his nocturnal scenes, nearly all of them religious. These are almost monochrome works with monumental forms, filled with solitude and silence.
The early years
Despite doubts about the chronology of La Tour's paintings, it has always been considered that the most realist ones are the earliest, which must have been produced at the end of the second decade of the 17th century. During this period the artist painted biblical and religious figures of humble appearance, such as those to be seen in the Albi Apostle series, of which four are included in this exhibition; ragged beggars, such as The Pea Eaters in Berlin; and poor, rowdy street musicians, as in The Musicians' Brawl (Los Angeles). Worthy of separate mention are An old Man and An old Woman from San Francisco, which are more refined in character, and The Money Lender (Lviv), the artist's first known nocturnal scene.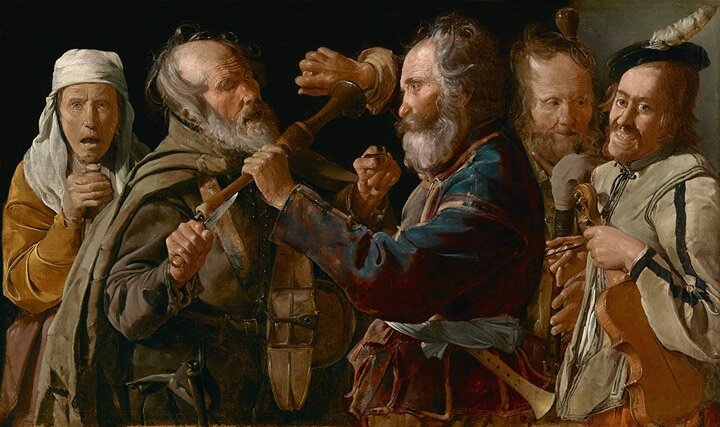 Georges de La Tour, The Musicians' Brawl.Oil on canvas, 85,7 x 141 cm. Los Ángeles, The J. Paul Getty Museum, 72.PA.28.
Replicas and series
In the third decade of the 17th century La Tour's technique evolved towards flatter, more watercolour-like brushstrokes resulting in more luminous paintings. At this date his originality and virtuosity reached their maximum expression in his daytime scenes. In addition, the physical types become less rough and the actions undertaken by the figures more serene and dignified. A surprisingly obsessive repetition of types is evident, as in The penitent Saint Jerome (Grenoble and Stockholm), or The Cardsharps (Fort Worth and Paris), in addition to the numerous versions of the hurdy-gurdy player and Mary Magdalene. In the first two cases the compositions are extremely similar, while the other two are original reinterpretations of the theme, to which the artist returned over the course of his career.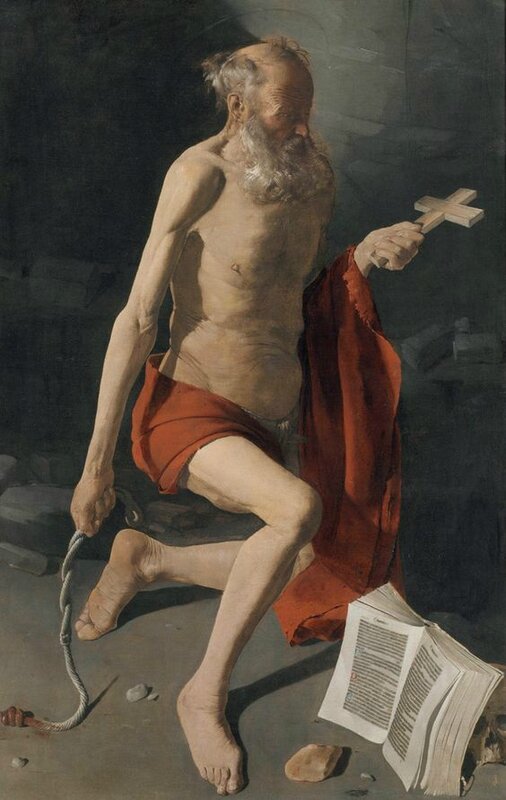 Georges de La Tour, Penitent Saint Jerome. Oil on canvas, 157 x 100 cm. Grenoble, Musée de Grenoble. Saisie de l'Etat Inventorié en 1797.
The final years
No convincing reason has been offered as to why, at the end of his career, La Tour focused on nocturnal religious paintings. His celebrated, seemingly simple night scenes with their silent, moving atmosphere, include figures that magically emerge from rooms filled with silence, painted in an almost monochrome palette and with geometrical forms. The complete absence of haloes or other religious attributes and the humble figure types explain why some nocturnal episodes such as The Adoration of the Shepherds (Musée du Louvre) and The newborn Child (Rennes) have been read in secular terms.

At the end of his life the artist is recorded as living in Lunéville as a respected member of the community with an enviable social and economic status.
Georges de La Tour, The Newborn Child. Oil on canvas, 76 x 91 cm. Rennes, Musée des Beaux Arts.
Georges de La Tour in the Museo del Prado
Following the acquisition of The blind Hurdy-gurdy Player in 1991 with funds from the Villaescusa Bequest, the artist's presence in the Museum was unexpectedly reinforced in 2005 with the deposit of Saint Jerome reading a Letter, a previously unpublished work discovered in the possession of the Ministry of Work by José Milicua, a member of the Prado's Royal Board of Trustees who died in 2013 and to whom this exhibition is dedicated.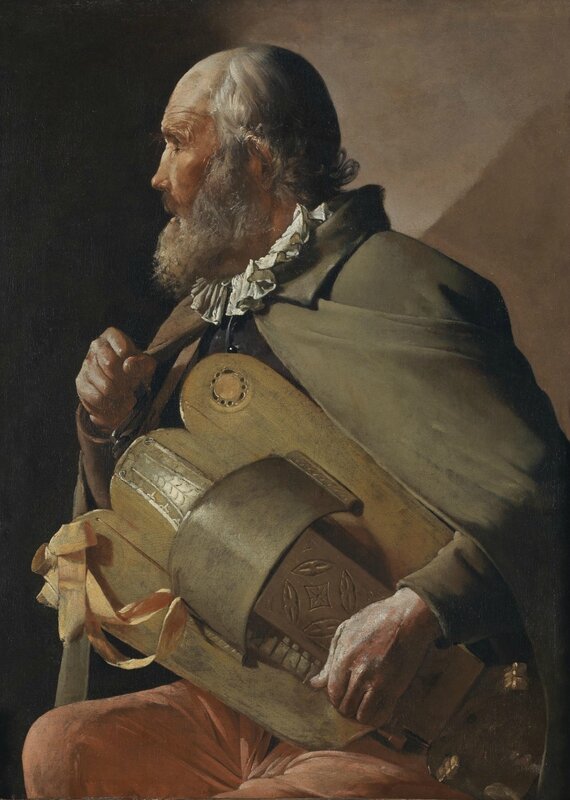 Georges de La Tour, A blind Hurdy-gurdy Player. Oil on canvas, 86 x 62,5 cm. Museo Nacional del Prado.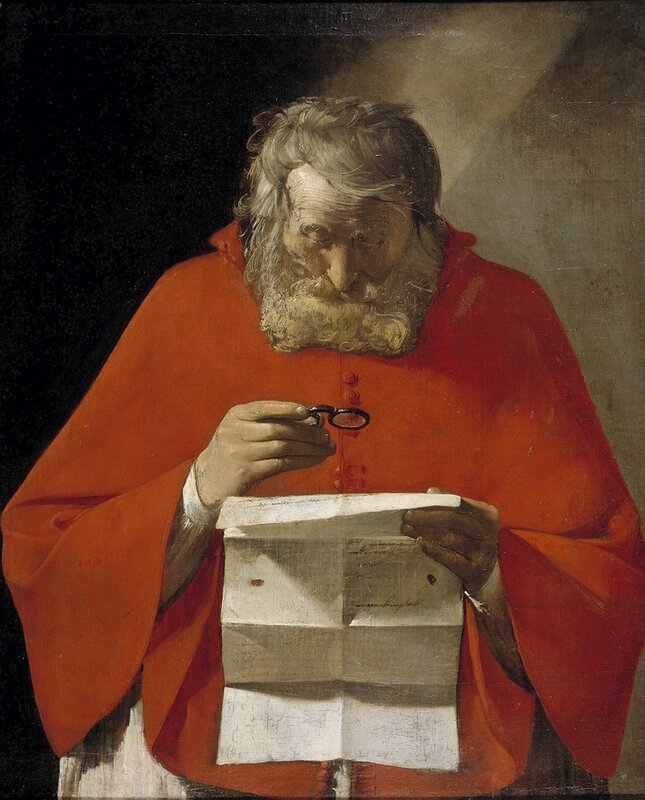 Georges de La Tour, Saint Jerome Reading a Letter. Oil on canvas, 73.5 x 59.5 cm. Madrid, Museo Nacional del Prado. Depósito del Ministerio de Trabajo y Asuntos Sociales
Georges de La Tour
Vic-sur-Seille, Lorraine, 1593 – Lunéville, Lorraine, 1652
La Tour was a French painter celebrated in his own day and subsequently completely forgotten until his rediscovery in the 20th century, firstly by Hermann Voss in 1915. From the time of the exhibition Painters of Reality (1934), La Tour regained a leading position within French painting, which was confirmed by the important acquisition in 1960 of The Fortune Teller by the Metropolitan Museum of Art in New York and by two monographic exhibitions on the artist in 1972 and 1997, both in Paris.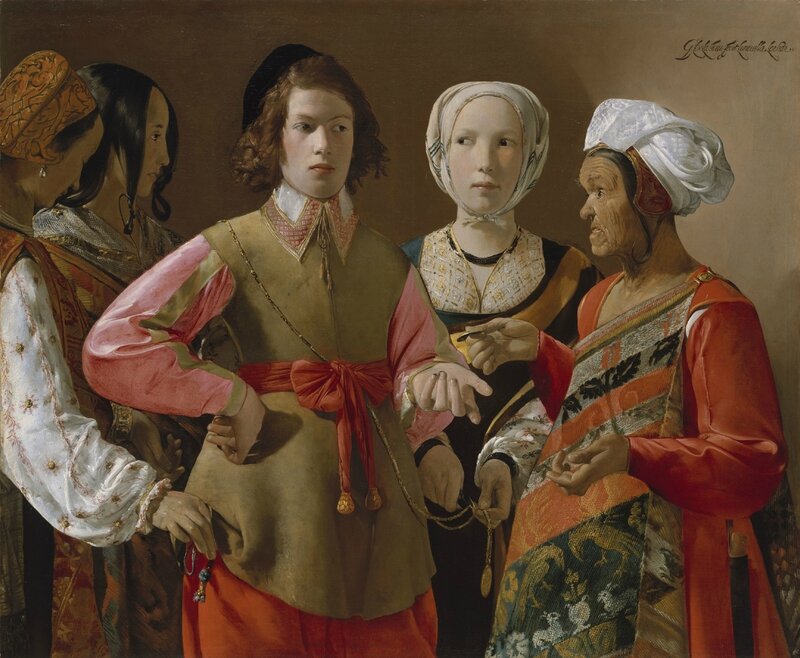 Georges de La Tour, The Fortune Teller. Oil on canvas, 102 x 123 cm. New York, Lent by The Metropolitan Museum of Art, Rogers Fund, 1960 (60.30).
La Tour was born in a town in Lorraine to an old and relatively prosperous family of craftsmen and property owners. Little or nothing is known of his youth and training nor of a possible trip to Italy of the type undertaken by many painters at this period in order to complete their artistic training. Whatever the case, in 1616 La Tour was already a fully trained painter. The following year he married Diana Le Nerf, who was from a wealthy family, and in 1618 he moved to Lunéville.

By 1620, La Tour was a resident of the city, leading the life of a prosperous local gentleman. The fame that he soon acquired due to the purchases of his work by the Duke of Lorraine in 1623-1624 was confirmed during the French occupancy of the duchy. La Tour went to Paris in 1639 and was made Painter in Ordinary to the King. Every year he executed a painting for the governor of Lorraine, the maréchal de La Ferté. Other celebrated collectors such as Richelieu, the superintendent of finances Claude de Bullion, the architect Le Nôtre and even Louis XIII possessed works by his hand.

La Tour died in 1652, probably during an outbreak of an epidemic, a few days after his wife. Facts and figures: more than 40 paintings are more or less unanimously considered to be autograph works, while 28 canvases and prints are copies of lost originals. In other words, there are more than 70 known compositions, of which only 4 are dated and only 18 signed. With La Tour's works, the composition is pared down to its essential details with no anecdotal elements, architecture or landscape, and even the accessories are reduced to the absolutely necessary: his saints usually lack haloes while his angels have no wings. Only two of La Tour's paintings have a legible date (Saint Peter repentant, 1645, Cleveland Museum of Art, and The Denial of Saint Peter, 1650, Musée des Beaux-Arts, Nantes), for which reason the chronology of his oeuvre continues to be widely debated.
La Tour painted both daytime and nocturnal scenes, which he approached differently. The former are characterised by their cool, clear light and the sharpness of the brushstroke and precision in the portrayal of the figures, with their wrinkles and rags recorded with the tip of the brush. In the nocturnal scenes, almost always lit by a candle, the limited colour range is often reduced to a dialogue between grey-brown tones and vermillion, while the volumes are pared down to a few simple planes. In La Tour's final period this economy of means gives rise to the creation of highly meditative works with an illumination that could be described as metaphysical and which increasingly moves the models away from reality. No gesture or movement disturbs the introspection of the figures, turned in on themselves, self-absorbed and reflexive.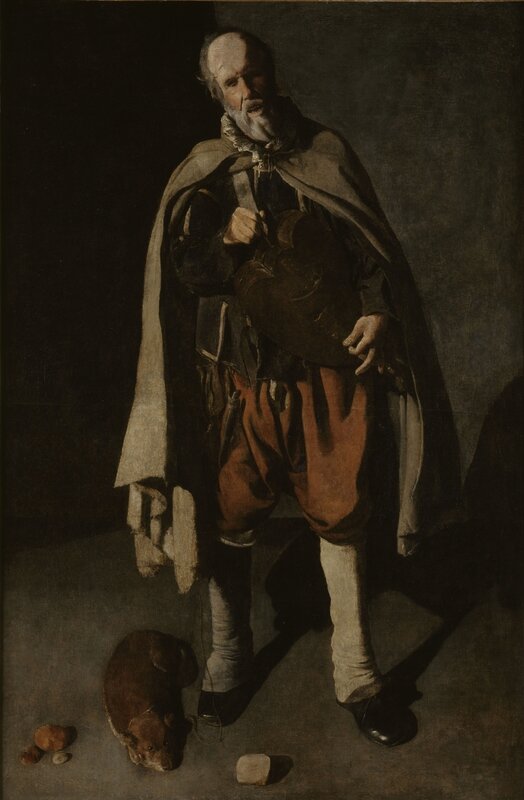 Georges de La Tour, Hurdy-Gurdy Player with a Dog. Oil on canvas, 186 x 120 cm Bergues, Musée du Mont-de-piète-Ville de Bergues.
Georges de La Tour, The Flea Catcher. Oil on canvas, 120 x 90 cm. Nancy, Collection Palais des ducs de Lorraine – Musée Lorrain.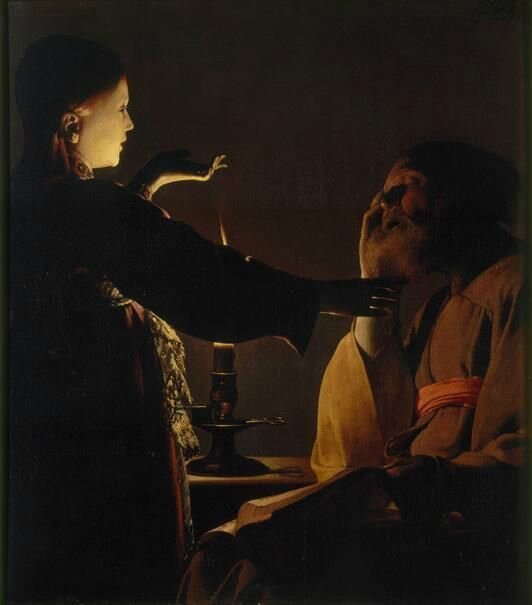 Georges de La Tour, The Angel Appears to Saint Joseph. Oil on canvas, 93 x 81 cm. Nantes, Musée des Beaux-Arts de Nantes.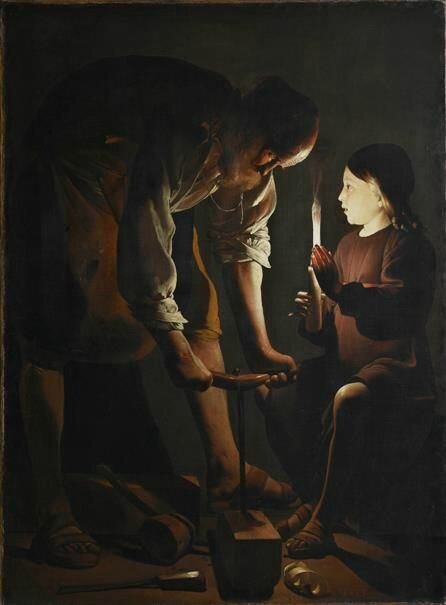 Georges de La Tour, Saint Joseph the Carpenter. Oil on canvas, 137 x 102 cm. Paris, Musée du Louvre, Département des Peintures. Donation Percy Moore Turner, 1948.
Georges de La Tour, The Repentant Magdalene. Oil on canvas, 113 x 92.7 cm. Washington D. C., National Gallery of Art, Washington. Alisa Mellon Bruce Fund.
Image of the exhibition galleries. © Museo Nacional del Prado.
Image of the exhibition galleries. © Museo Nacional del Prado.
Image of the exhibition galleries. © Museo Nacional del Prado.