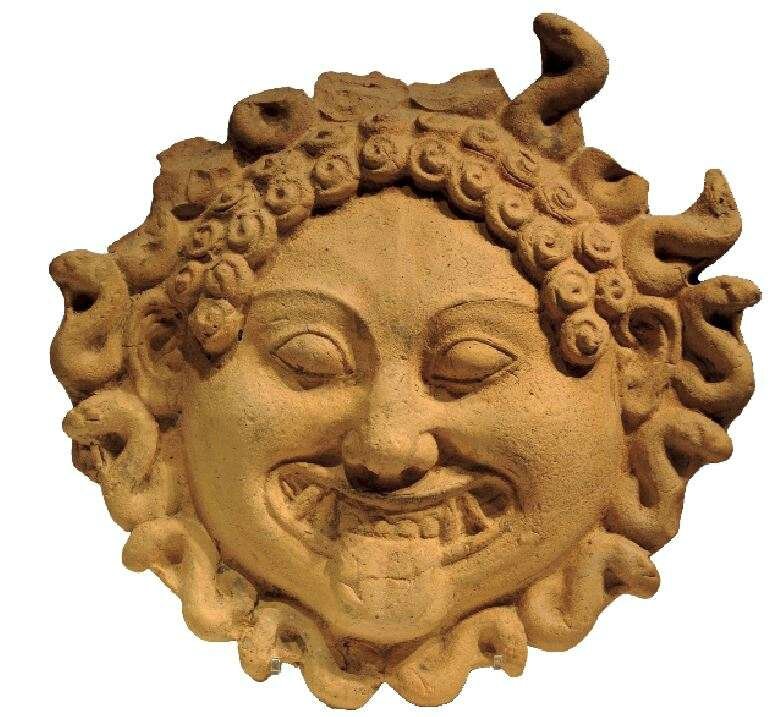 Gorgoneion antefix, Greek, Taras, circa 500 BC. Terracotta with traces of red polychrome on lips, tongue and hair, black on serpents. Height 24.5 cm © Galerie Rhéa
Provenance: Private collection, Switzerland, bought at MuM, Basel, 11.01.1953, no. 299
Literature: Schefold, exh. cat. Meisterwerke griechischer Kunst 1960, no. 275 and Solothurn, 1967, no. 334; Cf. From the same matrix: Mollard-Besques 1, no. B 522, pl. 47; Naples, Museo Nationale, room 86; Reggio Calabrai, Museo Nationale, inv. 2390C; University of Catania, collection Libertini; Brindisi Museum, coll. Gorga; C. Laviosa, Arch Cl 6, 1954, p. 217ff.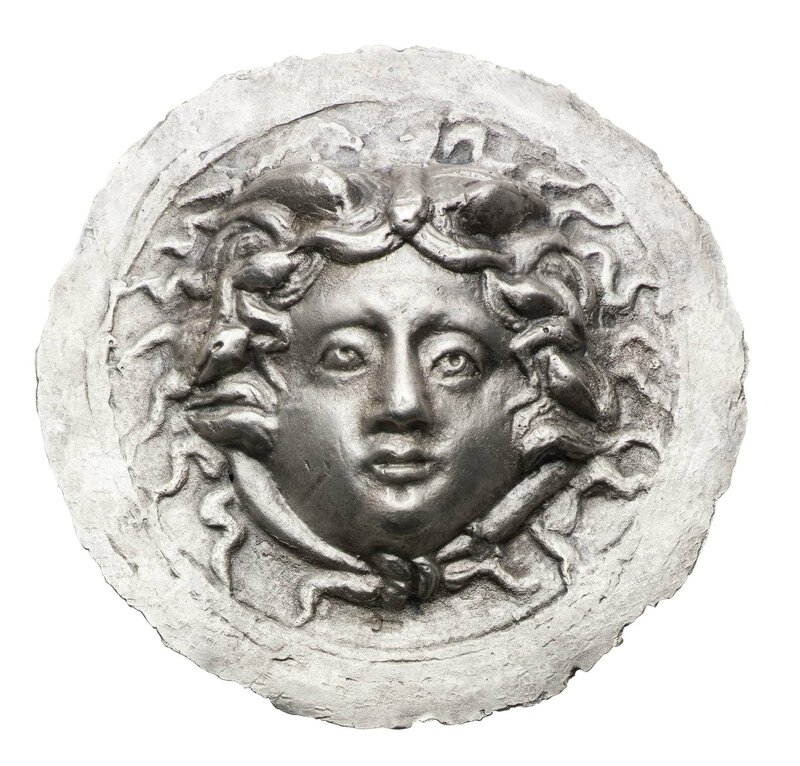 Medusa head phalera, Roman, late 2nd century AD. Silver. Diameter 12 cm. Weight 108 gr. © Galerie Rhéa
Provenance: The dissolving of the Higgins Armory Museum, Worcester, Massachusetts (1931-2004). Inventory no. 238.78. The Phalera was bought by John Woodman Higgins from the legendary antiquarian Sumner Healey, Bordeaux and New York, on May 1st, 1929
Galerie Rhéa (stand 436) at TEFAF Maastrich 2016. 11-20 march 2016.
The gallery is open by appointment only at customers´ convenience any day of the week inclusive the weekends. When buying or selling fine antiquities from the ancient Mediterranean cultures we strive to serve our customers, be they experienced collectors or beginners, by adhering to strict ethical and archaeological criteria. The authenticity of all items sold is unconditionally guaranteed. Discretion is a matter of course. Our prices vary from low hundreds to high thousands.
Director: Michael G. Petropoulos
Contact: Spiegelgasse 13, 8001 Zurich, Switzerland. T +41 44 252 06 20 - M +41 79 407 38 00 - www.rheagallery.com - rhea@swissonline.ch