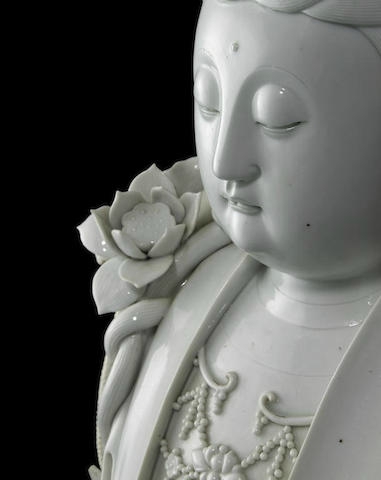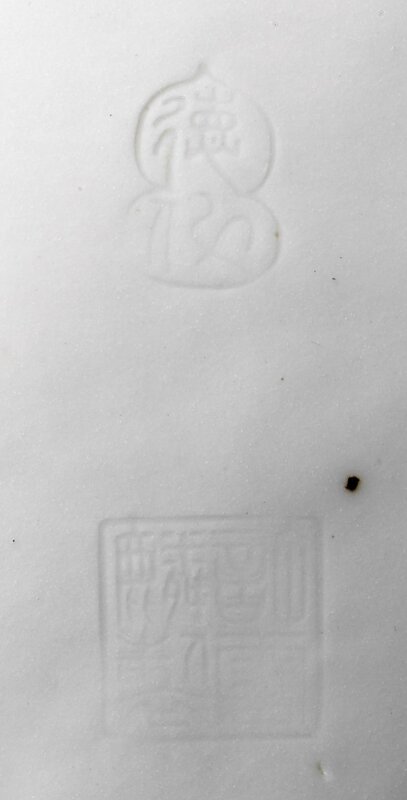 Lot 8076. A large blanc de chine figure of Guanyin, 19th-early 20th century, two Xu Yunlin seal marks and one Dehua seal mark. Estimate US$ 50,000 - 80,000 (€45,000 - 73,000). Photo: Bonhams.
The impressive figure modeled with a calm face and downcast eyes, the hair simply parted and tied in knots falling over the shoulders, the right hand clasping a long-stemmed lotus with crisply modeled petals and the left holding out a scroll in front of the chest embellished with delicate strands of Buddhist jewelry, the long robe gathered at the waist and flowing down to reveal one foot standing on a lotus blossom above swirling waves mingled with lotus stems and leaves, the back impressed with two Xu Yunlin seals and one Dehuaseal within a double gourd. 32in (81.3cm) high
Provenance: The Joanna Lau Sullivan Trust
Notes: The present lot is a remarkable feat of craftsmanship, imposing in scale and meticulous in presentation. Bearing the mark of the potter Xu Yunlin, the piece exhibits the typical characteristics attributed by P. J. Donnelly to the Xu family, namely "great elaboration of detail, light construction, uniform milk-white glaze": see P. J. Donnelly,Blanc de Chine: The Porcelain of Tehua in Fukien, New York, 1969, pp. 280-1. The author also notes the preference of Xu Yunlin to use the Dehua kiln mark on figures.

A related figure of Guanyin is illustrated by Donnelly, ibid., Fig. 157, although the present lot is nearly twice as tall as the published example, and is more elaborately bejeweled and robed, befitting such an ambitious commission.

Although he was considered by Donnelly to be a late 18th century potter, Xu Yunlin's works have subsequently been revised as dating from the late Qing to early 20th century by J. Ayers: see Blanc de Chine: Divine Images in Porcelain, New York, 2002.

A pair of large blanc de chine figures, with Xu Yunlin marks, riding a lion and an elephant sold at Sotheby's Hong Kong, 8 April 2013, sale HK0461, lot 3196.
Bonhams. CHINESE WORKS OF ART, 11:00 EDT - NEW YORK