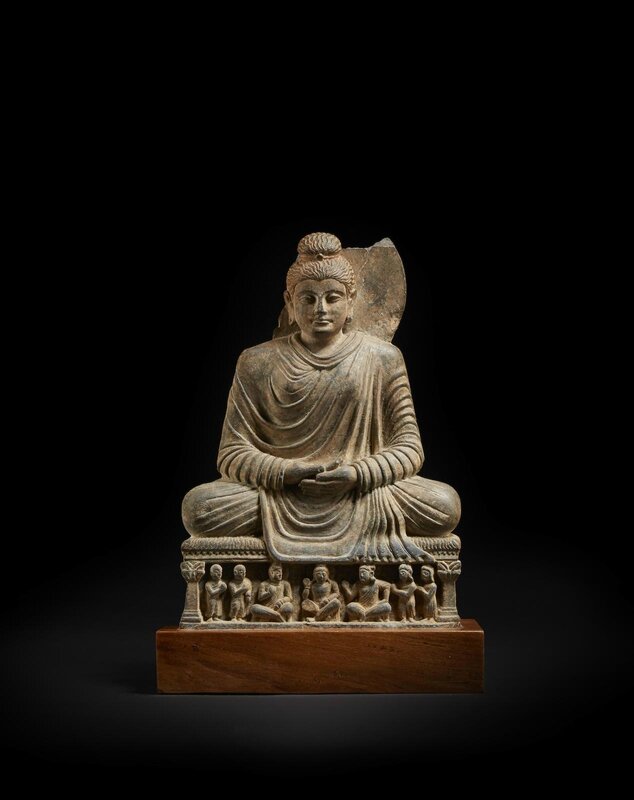 Lot 64. A schist figure of Buddha, Ancient region of Gandhara, 3rd-4th century. Estimate US$ 60,000 - 80,000 (€54,000 - 73,000). Photo: Bonhams.
Seated on kusha grass, Buddha meditates, his expression confident and approachable. 19 in. (48.2 cm) high
Notes: In keeping with the Gandharan style's evolution towards abstraction as the 4th century approached, this figure exhibits the sculptor's strong preference for precision and geometry. His wavy locks are carved impeccably into neat lines that spread out like sunrays from his enlightened mind. They are neatly tied into a plush bun by a single twisted chord with circular medallion.

With the acute transition from his shoulders to arms, his body forms a robust triangle, further emphasized by the abstracted linear spread of his robe's hem over the plinth. The plinth depicts a tripartite debate, likely between bodhisattvas and a royal figure, with approaching monastic and laypersons listening on either side. It also anchors the diagonal registers. As opposed to rounded muscles and billowing robes, the sculptor has imbued a sense of strength and fortitude through rigid geometry and a frontal display. For a closely related example in the British Museum see Zwalf, Gandharan Sculpture, Vol. II, especially the treatment of the robes see p. 26, no. 31.
Provenance: Private German Collection, acquired 1960's
Sotheby's, New York, 24 March 2010, lot 4
Private American Collection
Bonham's. INDIAN, HIMALAYAN & SOUTHEAST ASIAN ART, 16:00 EDT - NEW YORK