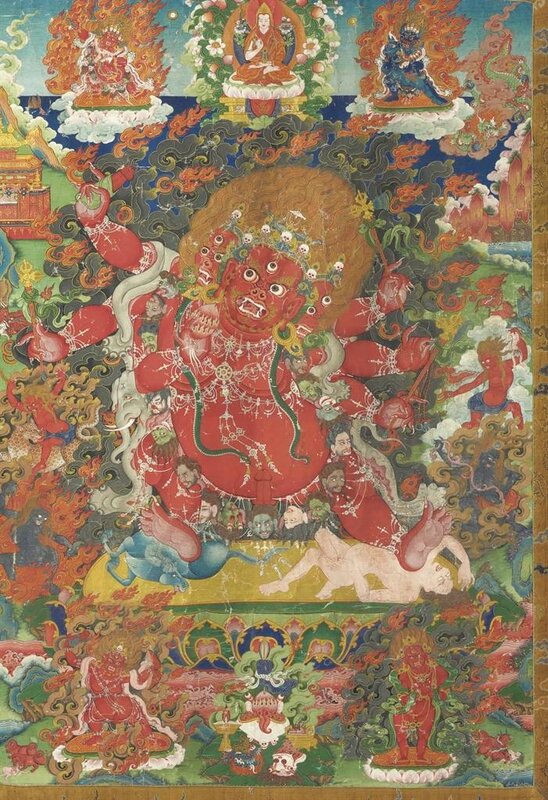 Lot 109. An important and fine painting of Chamsing Begtse Chen, Tibet, 19th century. Estimate $500,000 – $700,000. Photo Christie's Image Ltd 2016
Beautifully painted with the red-skinned deity trampling over a horse and prone figure on a sun disc over a lotus base, holding various implements in his six hands, adorned with bone ornaments, a garland of freshly severed heads, a green snake and elephant skin, each of his three faces with a skull tiara, surrounded by smoke and flames, with protector deities above and below - 37 3/8 x 26 in. (95 x 66 cm.)
Provenance: The Van Der Wee Collection, Belgium, acquired in Brussels, 12 January 1969
Literature: Lamaistische Kunst, 1975, cat.130
J. Eracle, Om Mani Padme Hum, 1980, cat.55
L. and P. Van der Wee, A Tale of Thangkas: Living with a Collection, 1995, pp.104-107, fig.51
Himalayan Art Resources (himalayanart.org), item no.100640
Exhibited: Lamaistische Kunst, General Bank, Brussels, 15 May - 30 June 1975
Om Mani Padme Hum, Musee Royal de Mariemont, 25 April - 5 October 1980
De Taal van de Thangka, Ethnographic Museum, Antwerp, 1995
Notes: At the top of the brocade mount, on the verso, is an inscription which reads g.yas bshi pa lcam sring gsang sgrub, translating to "left four, Brother and Sister, Secret Accomplishment." Based on this inscription, iconography and corresponding texts, the deity is identified as "Chamsing Secret Accomplishment," or a secret form of the wrathful Begtse Chen. "Left four" is the placement instructions for hanging this painting within the larger set.
Chamsing is wrathful in appearance and ithyphallic. In his right hands, he holds a heart, an ax and a red phallus. In his left hands he holds a hook, lasso and hammer. The figures on which he tramples are identical to those found in the iconography of the non-secret form of Begste Chen. He is flanked by his four red and blue attendants, the one at upper left riding a leopard. At top center is Lama Tsongkhapa seated on a lion throne, with red Hayagriva at left and blue Heruka Vajrabhairava embracing Vajravetali at upper right. Hayagriva also appears in Begtse Chen's iconography. At bottom left is a wrathful red male figure, also holding a phallus aloft, a shield in his other hand, and wearing a human skin. At bottom right is a wrathful red female figure, with hands at her heart, wearing a green scarf and gold ornaments. Again, these two figures are similar to the two attendants of Begtse Chen.
Chamsing also bears a strong resemblance to Lha Chenpo, the tantric Buddhist form of the Hindu god, Shiva. Both figures are depicted red in color, nude, ithyphallic and hold phalluses in their upraised right hands.
In A Tale of Thangkas (p.105), the Van der Wees identified only one other painting that may belong to this remarkable painting set – a painting of Tsiu Marpon from the Zimmerman Family Collection which that they saw in Dieux et démons de l'Himâlaya, the prestigious exhibition in Paris (1977, pp.197-198,201, cat.no.224 and HAR item no.85150). It is of identical measurements, with identical brocades, and "with colors and shades that referred to the hand of one and the same artist." Indeed, the strands of hair, red curlicues of wisdom flames and quality of line in the beard and other facial hair of the two central figures are remarkably similar. The wrathful figures at the top of both paintings are also similarly rendered, and stand on the same type of red-and-gold disc over their lotus bases. The animals are also nearly identical; compare the pink beasts in the lower left quadrant of the Zimmerman painting with the red beasts in the bottom left corner of the present painting. These and other similarities support the Van der Wees instinct that these two superlative works are from the same paintings set. The quality of the line, rich palette and large size indicate these two paintings were part of a very important commission.
Christie's. THE VAN DER WEE COLLECTION OF HIMALAYAN PAINTINGS, 15 March 2016, New York, Rockefeller Plaza