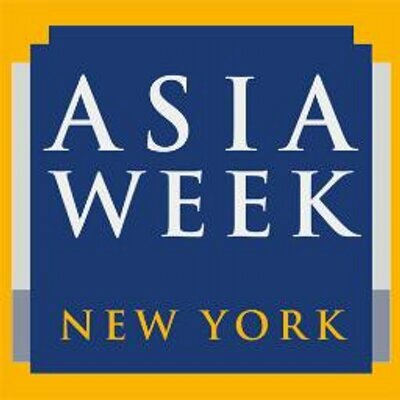 NEW YORK, NY.- March 10th kicks off Asia Week New York, the extraordinary ten-day extravaganza that animates New York with a glorious array of prized Asian works of art.
Originating from every corner of the Asian continent, the artworks will be shown throughout Manhattan by international Asian art specialists starting March 10 through March 19. In the museum-quality presentations by 45 galleries, art lovers can take in the rarest and finest examples of painting, sculpture, bronzes, ceramics, jewelry, jade, textiles, prints and photographs from all over Asia.
"Each year at this time, just as the flavor of spring arrives in the air, another phenomenon electrifies the atmosphere of New York: Asia Week!" exclaims Lark Mason, Chairman of Asia Week New York 2016 and owner and founder of iGavel Auctions. "And each year, in-the-know aficionados look forward to this 10-day event with great expectation. And why shouldn't they? Asia Week is now celebrating its seventh anniversary, and it's now more exciting than ever."
View a roundup of the not-to-be-missed exhibitions by the participating galleries here.
The 2016 edition of Asia Week New York offers an overflowing schedule of gallery open houses; auctions at Bonhams, Christie's, Doyle, iGavel and Sotheby's; exhibitions, lectures, symposia and special events. To celebrate the Asia Week festivities, a private invitation-only reception, jointly hosted with the Department of Asian Art of The Metropolitan Museum of Art, will take place there on March 14.
A comprehensive guide with maps will be available at participating galleries, auction houses and cultural institutions, and online at asiaweekny.com.
Gallery exhibition highlights shown include:
Gallery exhibition highlights shown include:
JOAN B. MIRVISS, LTD.: Ono Hakuko, an artist who lived from 1915 to 1996, created Kinrande, a floral-patterned covered porcelain water jar around 1985. Hakuko paved the path for Japanese women ceramists with her mastery of gold leaf on porcelain. It is only one masterpiece among nearly fifty vessels by over thirty artists included in A Palette for Genius: Japanese Water Jars for the Tea Ceremony, 39 East 78th Street, 4th Floor.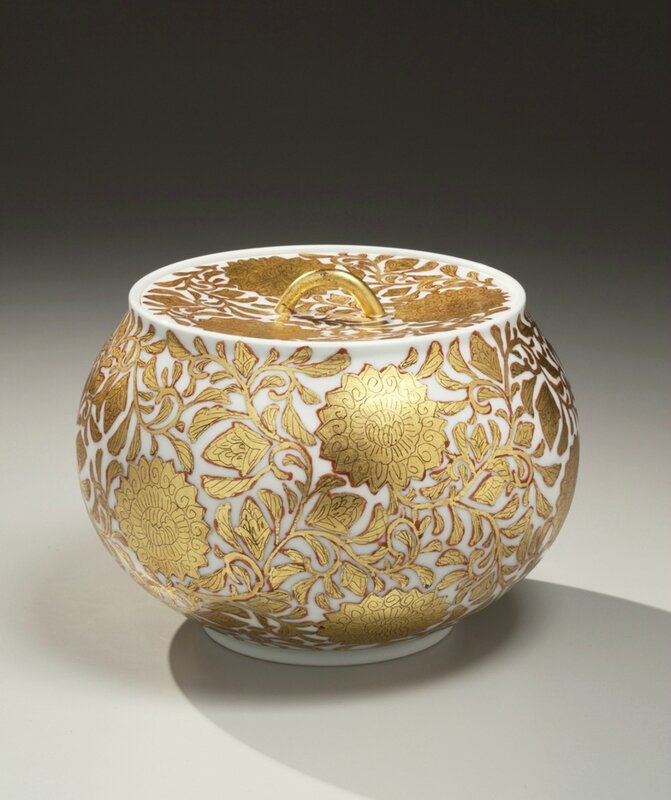 Ono Hakuko (1915-1996), Kinrande floral-patterned covered porcelain water jar, Japan, ca. 1985, 5 3/8 x 7 3/8 in. Image Courtesy of Joan B Mirviss LTD. Photography by Richard Goodbody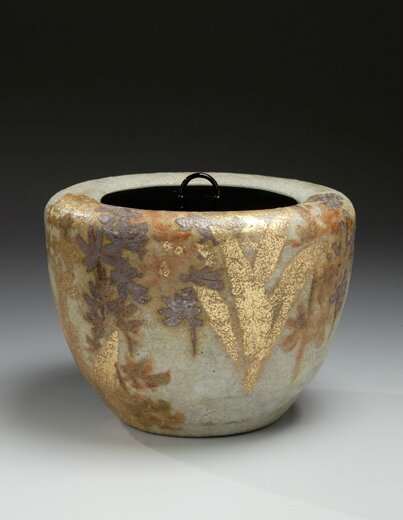 Kiyomizu Rokubei VI (1901-1980). Mizusashi (water jar) with floral patterning of an ebine (calanthe orchid) and lacquer lid. Japan, circa 1978. Kokisai-glazed stoneware with gold and silver. 6.38 x 8.5 inches (16.2 x 21.6 cm). Image Courtesy of Joan B Mirviss LTD.
Utagawa Hiroshige (1797-1858). Cranes in Flight; 100 Views of Edo. Minowa. 1856 7th. Oban tate-e. Image Courtesy of Joan B Mirviss LTD.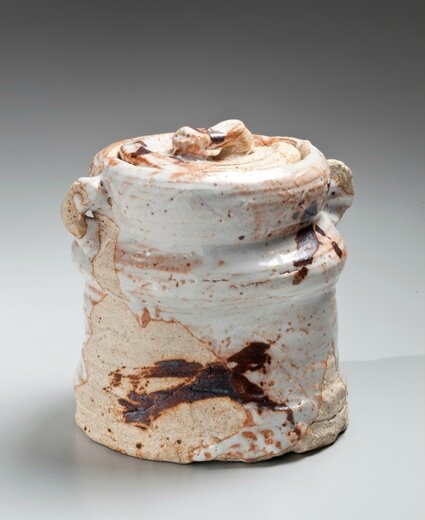 Katō Tōkurō. Rounded, shino-glazed mizusashi (water jar) with two ears and splash decoration in iron glaze. 1973. Glazed stoneware. 8 3/8 x 8 x 7 5/8 inches. Image Courtesy of Joan B Mirviss LTD.
GIUSEPPE PIVA JAPANESE ART: The pine tree (matsu) occurs frequently in Japanese art and is symbolic of longevity and stability of character. It is also thought of as a good omen and is associated with fidelity and loyalty in friendship. A beautiful writing box decorated with a moon behind a pine tree from the 19th century steals the show as part of Japanese Art and Antiques at Adam Williams Fine Art Ltd, 24 East 80th Street.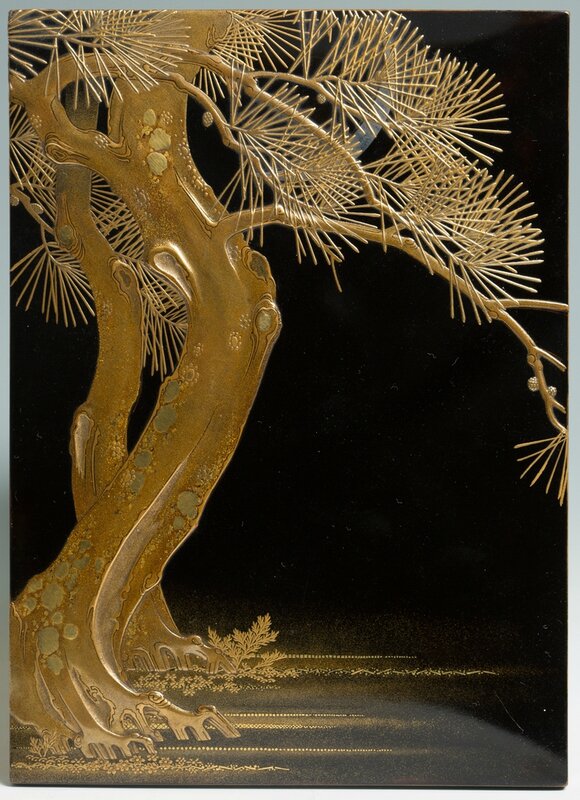 Suzuribako, Writing Box decorated with a moon behind a pine tree, 19th century. Takamaki-e lacquer on roiro ground; details in gold and silver hiramaki-e, uchikomi, kirikane, ohirame, kimpun and mura nashiji; Rims in fundame; silver and shakudo mizuire in the shape of a mussel shell with clams. 17.6 x 12.9 x 2.2 cm. Image Courtesy of Giuseppe Piva Japanese Art.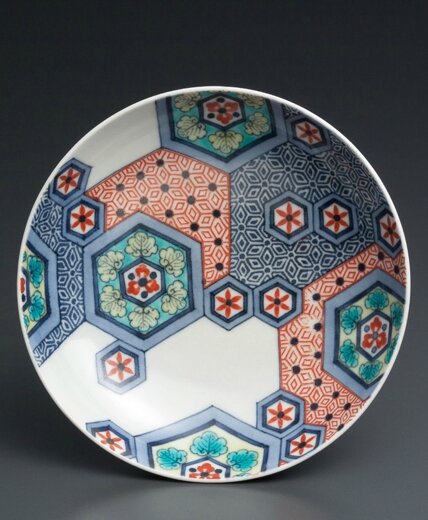 Hizen, Nabeshima official kiln. Dish with Geometric Design. Japan, circa 1670-1700. Porcelain decorated with cobalt blu underglaze and polychrome enamels on glaze. Diameter: 15 cm. Image Courtesy of Giuseppe Piva Japanese Art.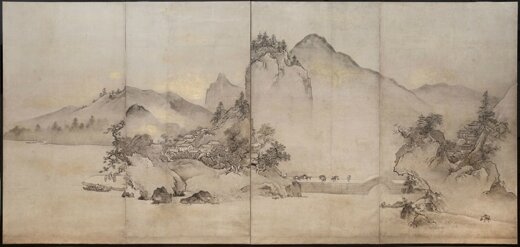 Kanō Kōi (1569-1636). Landscape with Mountains on a Lake. A set of four panels, previously sliding door (fusuma). Ink on paper, signed with seals. 176.5 x 372 cm. Image Courtesy of Giuseppe Piva Japanese Art.
ANDREW KAHANE, LTD.: A rare early Chinese gilt bronze figure of a striding dragon from the late Six Dynasties-early Tang Dynasty, 6th-7th century, from a prominent New York collection, is included in Chinese Ceramics and Works of Art at The Mark Hotel, 25 East 77th Street. It is possible that the dragon was created for the Daoist tou longjian ceremony, but the two pierced scroll elements to be used for attachment make it more likely that it was a vessel support.
An Early Chinese Gilt Bronze Figure of a Striding Dragon, Late Six Dynasties-early Tang Dynasty, 6th-7th century, 6 1/2 inches (16.5 cm) long. Image Courtesy of Andrew Kahane, Ltd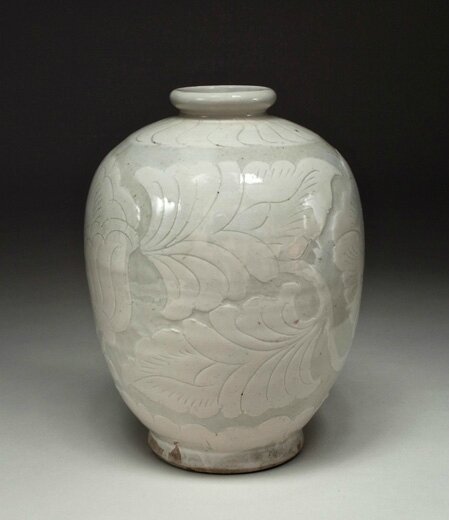 A Cizhou Carved Oviform Meiping. China, Northern Song Dynasty, 12th century. Height: 7 inches (17.9 cm). Image Courtesy of Andrew Kahane, Ltd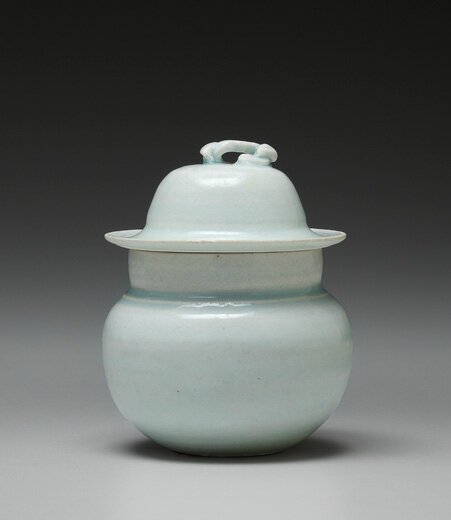 A Small Qingbai Globular Jar and Cover. China, Northern Song Dynasty, 11th-early 12th century. Hutian-type. Height: 3 1/4 inches (8.2 cm). Image Courtesy of Andrew Kahane, Ltd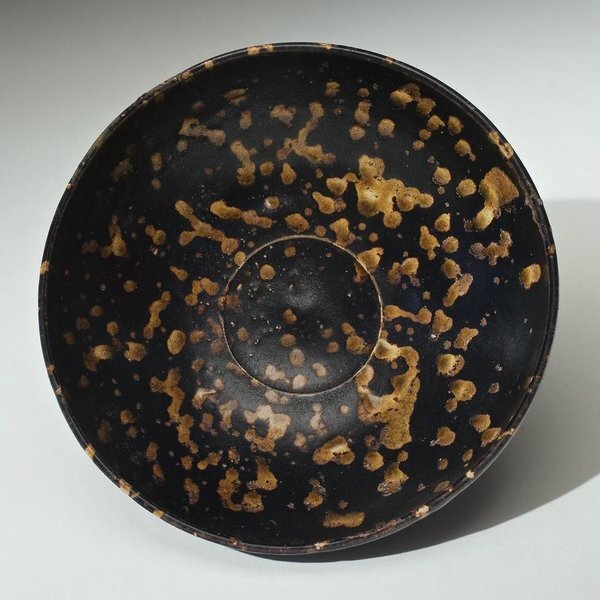 A Jizhou 'Tortoiseshell' Glazed Bowl. China, Jiangxi Province, Southern Song Dynasty, late 12th-13th century. Yonghe kilns. Diameter: 6 1/8 inches (15.5 cm). Image Courtesy of Andrew Kahane, Ltd