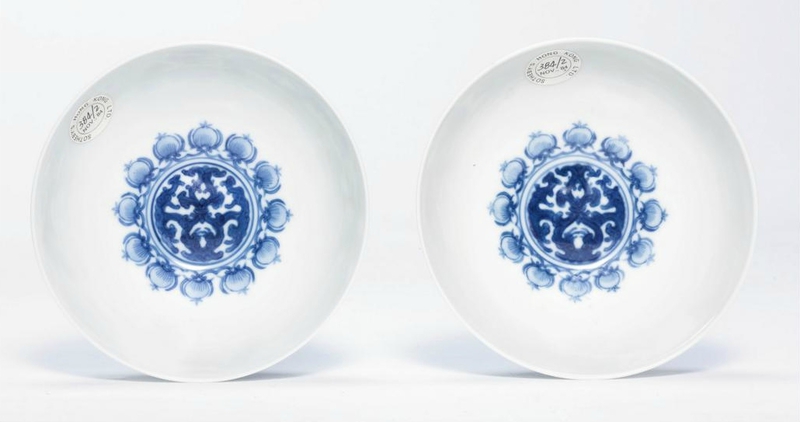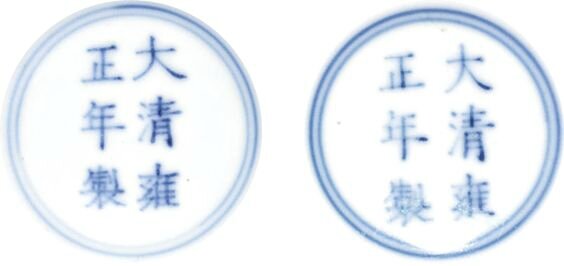 Lot 300, A fine pair of blue and white 'mantouxin' bowls, Yongzheng Marks And Period. Estimate 100,000 — 150,000 USD. Photo: Sotheby's.
each finely potted with rounded sides supported on a recessed base, the exteriors deftly painted with four circular lotus medallions, the convex center of the interior with a further medallion framed by a pomegranate border, the bases inscribed with six-character marks in underglaze blue within a double circle (2). Diameter 4 5/8 in., 11.6 cm
Provenance: Sotheby's Hong Kong, 20th November 1984, lot 384.
Collection of William and Jennifer Shaw.
Notes: The leafy roundels on this pair of bowls evidence the Yongzheng emperor's taste for classic designs that were reinterpreted to result in highly innovative and contemporary pieces. While floral roundels against an undecorated white ground are reminiscent of Chenghua porcelain wares, the motif of interlocking foliate scrolls appears to be a Yongzheng period innovation influenced by Western scroll designs. Similar motifs were more commonly employed as secondary patterns during the Yongzheng reign and placed between roundels that often depicted flowers.

A closely related bowl was sold at Christie's Hong Kong, 30th October 1995, lot 776. Compare three bowls of this type, but with the design rendered in pencilled lines, sold at Christie's Hong Kong, one, 20th March 1990, lot 768, and a pair, 3rd November 1996, lot 762. This motif is also found on Yongzheng mark and period mantou bowls decorated in the doucaipalette, such as a bowl sold at Christie's London, 15th June 1999, lot 85.

For Yongzheng mark and period bowls of this form, painted with composite floral medallions, see two sold in our Hong Kong rooms, one, 19th May 1982, lot 255, and the other, 8th October 2010, lot 2774.
Sotheby's, Important Chinese Art, New York, 16 mars 2016, 10:00 AM