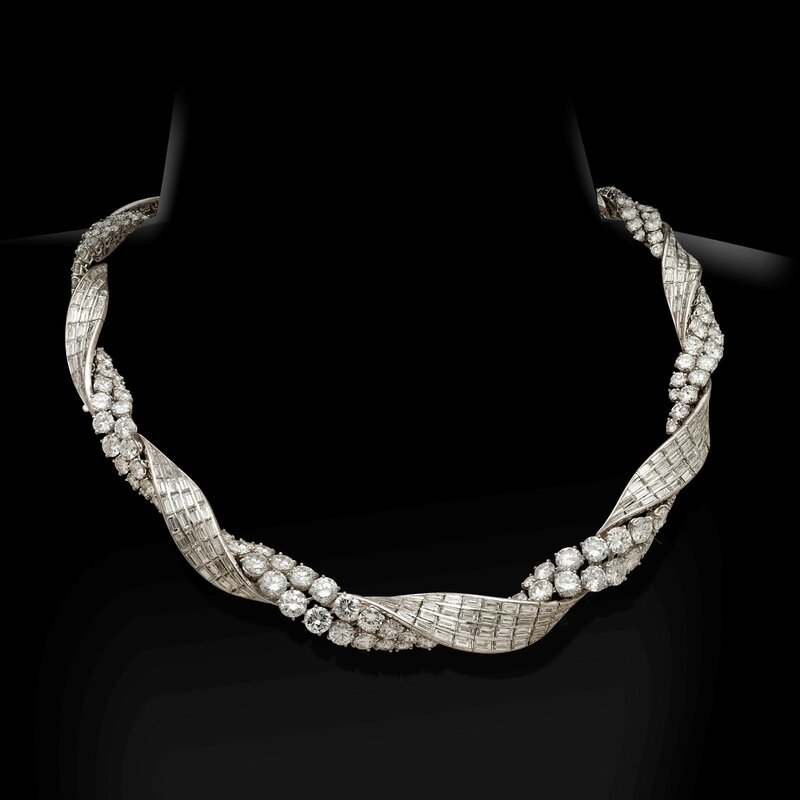 Pierre Sterlé (1905–1978), Necklace, Paris, 1950s. Hancocks © TEFAF Maastricht, 2016
Diamonds in platinum. Length 45 cm.
The highly articulated necklace designed as a graduated double row ribbon twist encircling the neck with contrasting strands of sparkling round brilliant and icy baguette cut diamonds all set in platinum, it evokes suppleness and movement in its every curve and cleverly separates into two bracelets of different widths as well as a bandeau or tiara making it a wonderfully versatile piece suitable for wear on endless occasions.
Literature: Please see Viviane Jutheau, Sterlé, Joaillier Paris, 1990 for a photo of a very similar necklace with which Sterlé won the DeBeers Diamond Award.
The larger of the two bracelets featured in a stylish 1958 advertisement for Sterlé jewellery in a French magazine.
René Lalique (Ay 1860-1945 Paris), Art Nouveau pendant, Paris, circa 1905. Hancocks © TEFAF Maastricht, 2016
Gold, enamel and natural pearl. Pendant length 6 cm. Chain length 53.5 cm. Natural pearl 1.25 x 0.85 cm.
Literature: Please see Rene Lalique by Sigrid Barten p360-363 for several similarly designed pendants.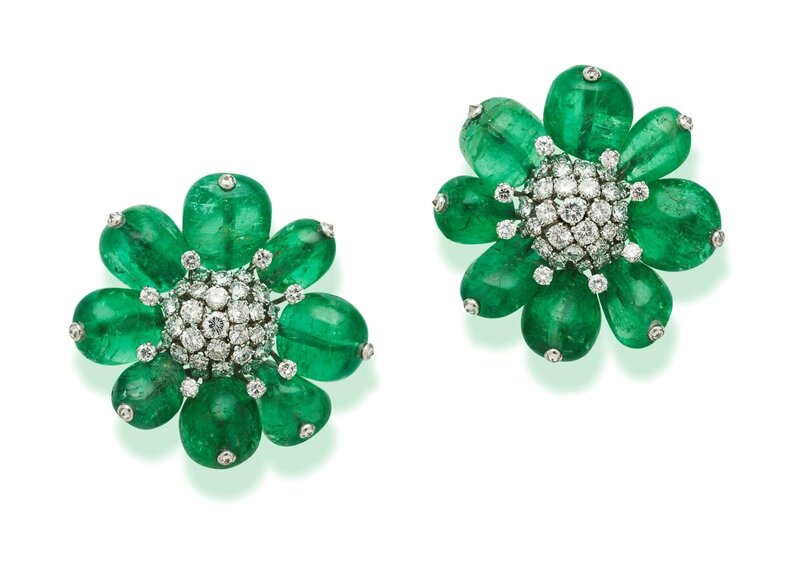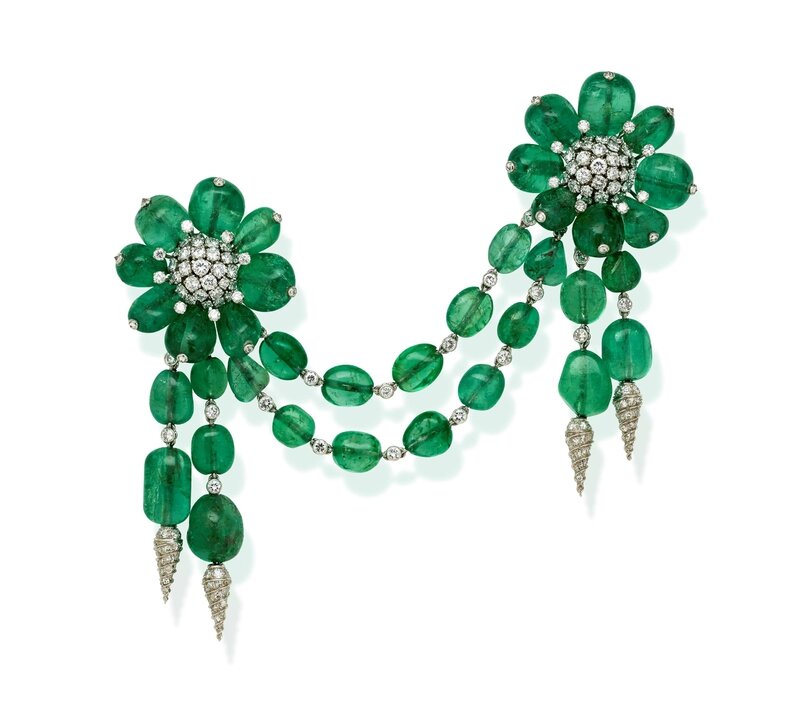 Fulco di Verdura (1898-1978), Les ferrets de la Reine, Paris, 1958. Hancocks © TEFAF Maastricht, 2016
Devant de corsage with emerald beads, diamonds and platinhumand in 18t white gold. Overall width 16 cm. Drop 10.5 cm. Signed 'Fulco di Verdura'.
Verdura called it Les Ferrets de la Reine (the Queen's studs) after the diamond jewels in Dumas' The Three Musketeers. Fulco di Verdura was born in Palermo into an aristocratic and somewhat eccentric family whose artistic sensibilities would later reveal themselves in his creative designs. A childhood love of art and nature would go on to inspire and inform his work which is infused with colour, an unmistakable joie de vivre and bold glamour. He was a great believer in a personal approach to jewelery and really embraced the notion of bespoke designs made to flatter the individual wearer; therefore many of his pieces were completely unique, as is the case here. This fact greatly enhances the desirability of his jewels which are highly sought after by today's collectors and discerning jewelery lovers, as keen as ever to adorn themselves with a piece of Verdura's style.
Provenance: This piece was commissioned from Fulco di Verdura by Baron Alain de Rothschild for his wife Mary and was purchased in Paris on 21st April 1958, it is accompanied by a copy of the original bill of sale. It remained in the Baroness's possession until sold at auction in 2015
Literature: Please see 'Verdura' by Patricia Corbett p178 for a description of this jewel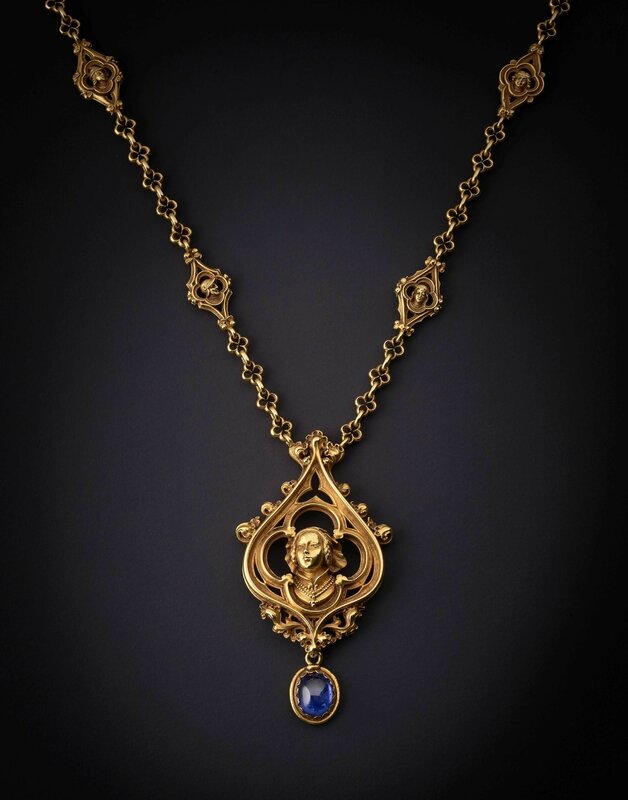 Jules Wiese, Gothic revival long necklace with cabochon sapphire pendant, Circa 1870. Hancocks © TEFAF Maastricht, 2016
Medieval ladies head sculpted in gold in the pendant set with sapphire drop suspended from a quatrefoil-link chain with six individual medieval head spacers, 18ct yellow gold with French assay marks and maker's marks. Pendant 8.3 x 5.2 cm. Chain length 62 cm
Literature
For similar examples; Hugh Tait, The Art of the Jeweller - A catalogue of the Hull Grundy Gift to the British Museum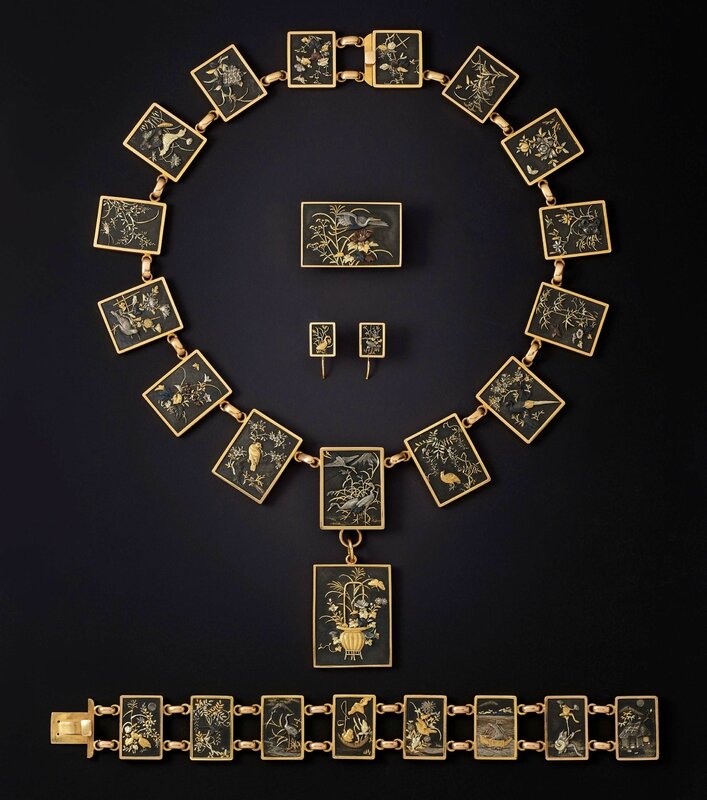 A Shakudo parure, Japan, Meiji period, circa 1880. Hancocks © TEFAF Maastricht, 2016
Comprising of a necklace set with rectangular panels depicting birds amongst foliage, a bracelet, a brooch and a pair of earrings. Each plaque inlaid with gold, silver & copper shakudo-work, within 18ct yellow gold borders. In black lacquer fitted box with foliate decoration
Shakudo is an finely made alloy of gold and copper, treated to resemble black lacquer. It is admired for its bronze-like sheen, the inventiveness of the method and the subtlety of the decorative effects that can be achieved by selective burnishing. The technique was wholly unfamiliar in the West until the middle of the 19th century.
Hancocks (stand 243) at TEFAF Maastricht 2016.
Directors: Stephen Burton, Janie Burton, Guy Burton
Hancocks, founded in 1849 and still family owned, is one of London's oldest and finest specialist dealers buying and selling rare and collectable jewels.
Contact: 52 & 53 Burlington Arcade, London, W1J 0HH, United Kingdom. T +44 20 74 93 89 04 - M +44 7850 555 555 - F +44 20 74 93 89 05