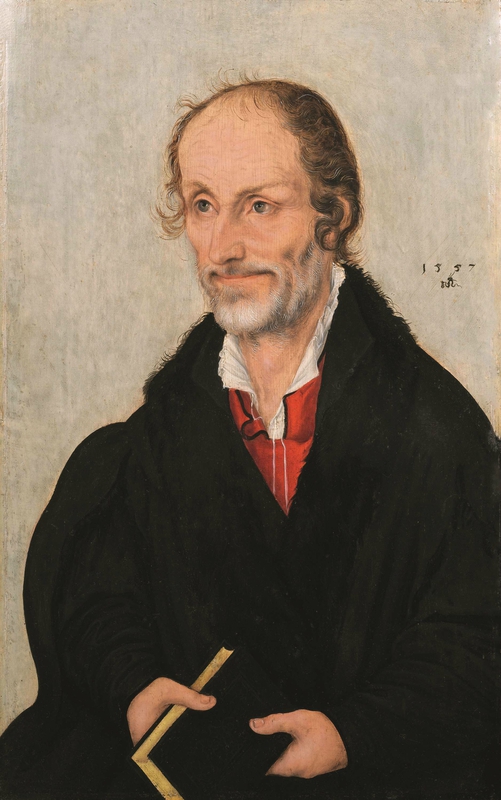 Lucas Cranach the Younger (1515-Lutherstadt Wittenberg-1586), Portraits of Martin Luther and of Philippe Melanchthon. Oil on panel, 35 x 22.5 and 35 x 23.2 cm. De Jonckheere © TEFAF Maastricht, 2016
Portrait of Melanchthon signed with the dragon and dated '1557'
Provenance: Kolb collection, formerly Gut Pritzlow; Art trade in Hamburg in 1966; Private collection, Berlin.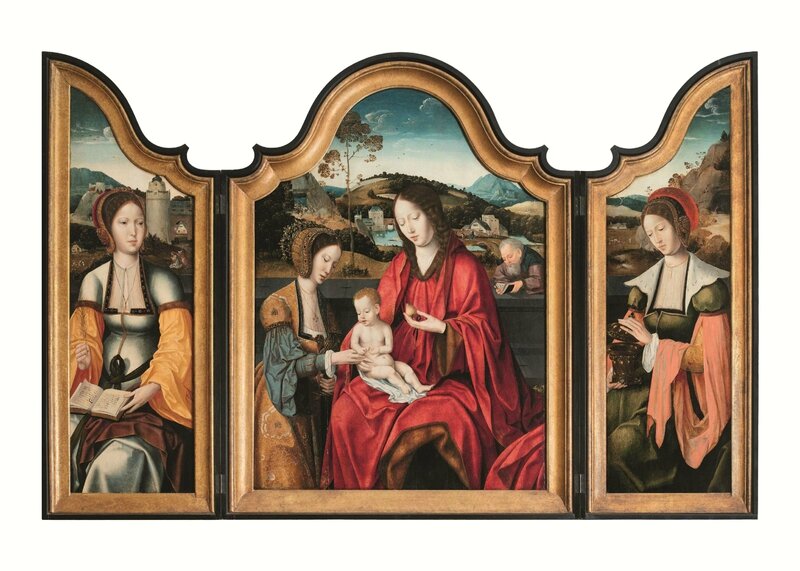 Master of the Holy Blood (circa 1520), Triptych with Mystical Marriage of Saint Catherine (central panel) and Saint Barbara and Saint Mary Magdalena (wings). Oil on panel, 113.5 x 170.2 cm, Circa 1520. De Jonckheere © TEFAF Maastricht, 2016
Provenance: Collection Sir George Donaldson, London, Great Britain; Sotheby's, London, 03.07.1929, lot 31; Private collection James Mann, Glasgow, Scotland, 1929; Christie's, London, 01.04.1960, lot 29; Private collection Cornelis Johannes Karel van Aalst, Hoevelaken, The Netherlands, 1960; Robert Fink 1964/5; Galerie De Jonckheere, Brussels/ Paris, 2002; Private collection, Italy
Literature: M.J. Friedländer, Early Netherlandisch Painting, vol. IV, Leiden, 1969, p. 105, vol. VII, Leiden, 1967, p. 41, vol. IXB, Leiden, 1973, pp. 96-98, 118-120, 131, 191-207
De Jonckheere (stand 342) at TEFAF Maastricht 2016
Directors: François De Jonckheere, Georges F. De Jonckheere
Flemish and Dutch schools. It is considered the premiere gallery of reference in this field.

The Paris gallery was opened in 1984 at 100 rue du Faubourg Saint Honoré. Just a stone's throw from the Elysée Palace, collectors and connoisseurs from around the globe pass through its doors.

And now (2011) de Jonckheere Gallery is also located in a brand new space in the heart of the historical part of Geneva, the gallery offers a presentation of a selection of hitherto unseen works.

Represented at the major international fine arts fairs, including the "Biennale des Antiquaires" in Paris, "TEFAF" in Maastricht, "Frieze Masters" in London, the gallery brings its collection to art lovers several times a year.

From its very beginnings, Flemish painting has aroused universal interest and is showcased in the top museums throughout the world. The De Jonckheere Gallery's reputation has been built on the rigorous standards by which the paintings are selected and for the past 40 years, the collection has been documented in one annual catalogue.
In this way, we have had a hand in the acquisition of a significant number of the greatest works from this period of painting.

Over the past 10 years, we have broadened our scope to include the Masters of the Italian Veduti of the eighteenth century, on which we advise numerous collectors.
In addition, Georges and François De Jonckheere may be consulted by art lovers on the purchase and sale of any painting requiring their expertise.
Georges and François De Jonckheere are members of the French National Antique Dealers' Syndicate.
Contact: 100 rue du Faubourg Saint-Honoré, 75008 Paris, France. T +33 1 42 66 69 49 - F +33 1 42 66 13 42 - www.dejonckheere-gallery.com - paris@dejonckheere-gallery.com
7, rue de L'Hôtel de Ville, 1204 Geneva, Switzerland. T +41 22 310 8080 - F +41 22 310 8081 - www.dejonckheere-gallery.com - geneve@dejonckheere-gallery.com