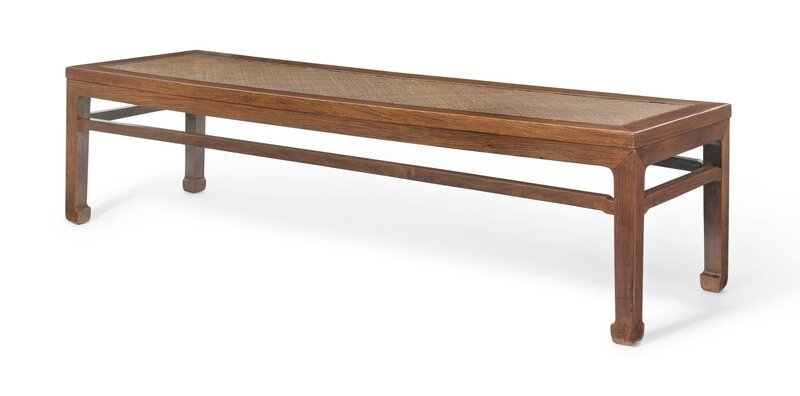 Lot 227, A Huanghuali Waistless Daybed (Ta), 17th-18th century. Estimate 300,000 — 500,000 USD. Photo Sotheby's
the molded frame of standard miter, mortise and tenon construction enclosing a soft mat platform with five bowed stretchers underneath, above square-section corner legs ending in inward turning hoof feet and joined by humpback stretchers. Height 21 1/8 in., 53.7 cm; Width 84 in., 213.3 cm; Depth 24 3/4 in., 62.9 cm
Property from the collection of David and Nayda Utterberg
Provenance: Ming Furniture, Ltd., New York, 1991.
Bibliography: Sarah Handler, 'Outstanding Pieces in Private Rooms: Chinese Classical Furniture in New American Collections', Orientations, January 1993, fig. 4.
Sarah Handler, Ming Furniture in the Light of Chinese Architecture, Berkeley, 2005, p. 101.
Notes: The raised platform is the oldest and most fundamental of furniture forms. As early as the Shang dynasty, bronze platforms were used not simply to support rare and precious bronze ritual vessels but also to emphasize their importance by raising them up above the ground. By the Han dynasty examples of ta in ceramic and stone have been found in tombs indicating that the form was in regular use and that it indicated social status as illustrated in numerous banquet scenes where only the most significant figures are shown seated on raised platforms.
It is rare to find a waistless example of this form. Similar examples are illustrated in the Catalogue, Nicholas Grindley, London, 2000, cat. no. 10 and a slightly more elaborate expression in Grace Wu Bruce, Dreams of Chu Tan Chamber and Romance with Huanghuali Wood: The Dr. S.Y. Yip Collection of Classic Chinese Furniture, Hong Kong, 1991, cat. no. 52. A miniature of this form was found among other models of furniture in the Ming dynasty tomb of Pan Yuan Zheng (1589) now in the Shanghai Museum and illustrated in Wang Shixiang, Connoisseurship of Chinese Art, vol 1. Hong Kong, 1990, pl. 1.3a. For further discussion on the form see Sarah Handler, Austere Luminosity of Chinese Classical Furniture, Hong Kong, 2001, pp. 105-158.
Sotheby's. Important Chinese Art, New York, 16 mars 2016, 10:00 AM