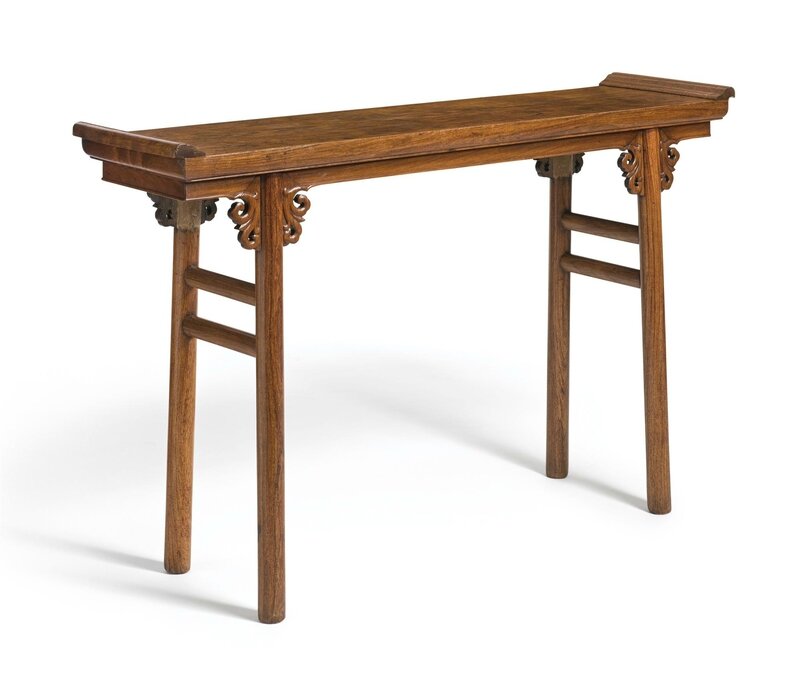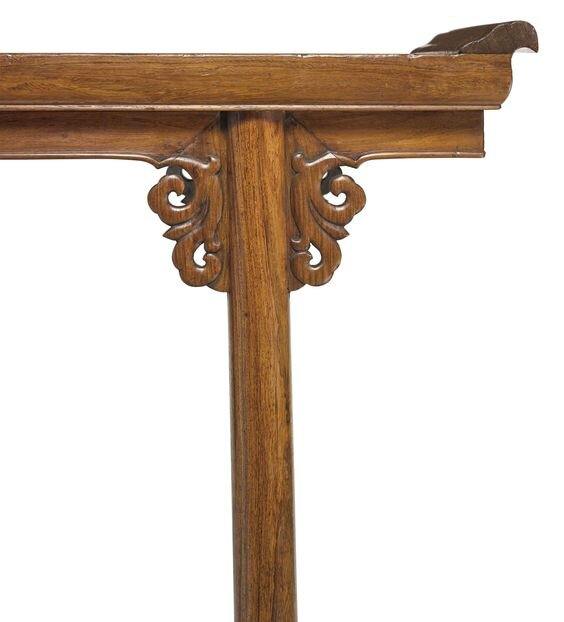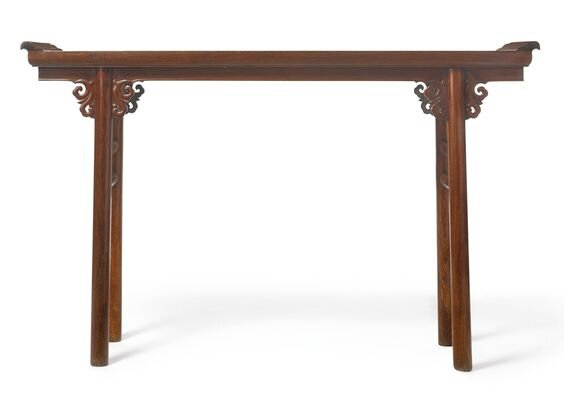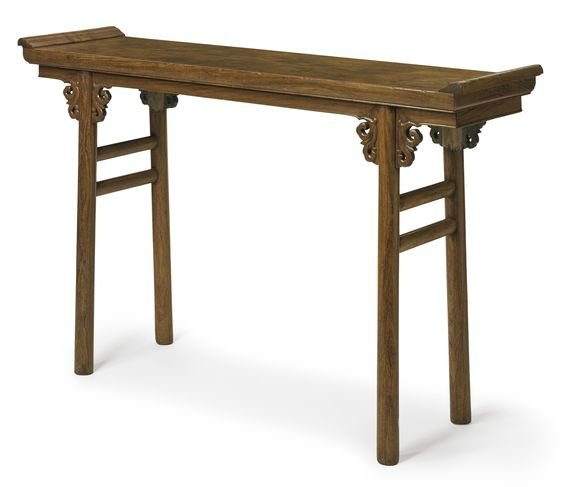 Lot 229, A Huanghuali Recessed-leg Table (Qiaotouan), 17th-18th century. Estimate 200,000 — 300,000 USD. Photo Sotheby's
the thick single plank top set to either end with delicately shaped everted ends tongue and grooved into the inside edge, all supported on four splayed, cylindrical legs joined by a continuous beaded apron with stylized foliate openwork spandrels and a pair of rounded stretchers to either side. Height 34 1/4 in., 87 cm; Width 54 1/4 in., 137.8 cm; Depth 13 3/4 in., 34.9 cm
Property from the collection of David and Nayda Utterberg
Provenance: Eskenazi Ltd., London, 1988.
Notes: Tables of this design with everted flanges are generally called qiaotouan or 'raised end tables'. According to Craig Clunas in Chinese Furniture, London, 1988, p. 51, such tables were employed in secular contexts, set against walls as surfaces on which to display antiques or art objects. A 1616 edition of a woodblock illustration from the novel Jin ping mei (The Golden Lotus) shows a qiaotouan of this type placed against a screen and used for displaying a single flower vase and other artifacts.

Recessed-leg tables with shaped spandrels and double stretchers were produced with raised and straight ends and of varying lengths from small highly mobile side tables, such as the present example to ample surfaces for painting and viewing long handscrolls. It is the success of the basic design with its pleasing proportions and balance of the rectilinear and curvilinear elements that allow for such wide adaptation. The present table is notable for its single plank top rather than a framed floating panel and its lively openwork leaf-form spandrels rather than the more typical cloud-scroll. For related examples with cloud-scroll spandrels and floating panel tops see one from the Victoria and Albert Museum, illustrated op. cit., pls. 38-9, and another illustrated in Grace Wu Bruce, Dreams of Chu Tan Chamber and Romance with Huanghuali Wood: The Dr. S.Y. Yip Collection of Classic Chinese Furniture, Hong Kong, 1991, cat. no. 18. An example of the related form with a single plank top is illustrated in Grace Wu Bruce, Living with Ming - the Lu Ming Shi Collection, 2000, Hong Kong, pl. 34. The scrolled, tapering openwork spandrels on the present table are rare and add a subtle delicacy to the form. A small waistless corner-leg table with similar spandrels is illustrated in Robert D. Jacobsen and Nicholas Grindley, Classical Chinese Furniture in the Minneapolis Institute of Arts, Minneapolis, 1999, pl. 34 where the authors describe the spandrels as stylized phoenix birds.
A related table with a floating panel top sold in these rooms 17th March 2015, lot 212; and a similar table of larger size with a framed panel top sold in our London rooms 11th November 2015, lot 22.
Sotheby's. Important Chinese Art, New York, 16 mars 2016, 10:00 AM