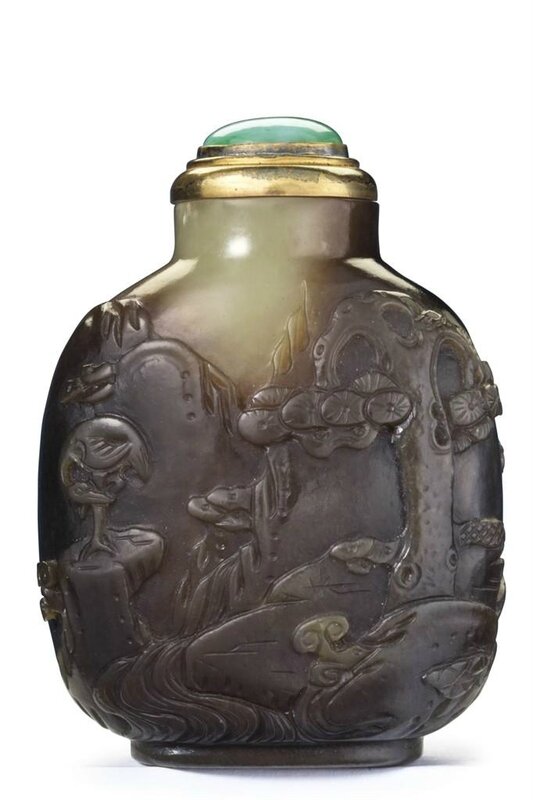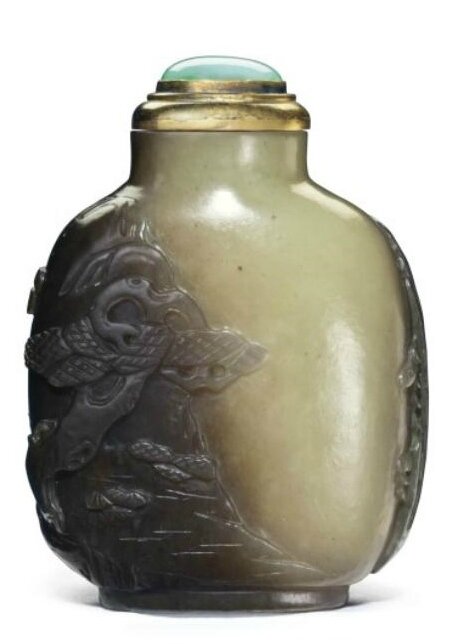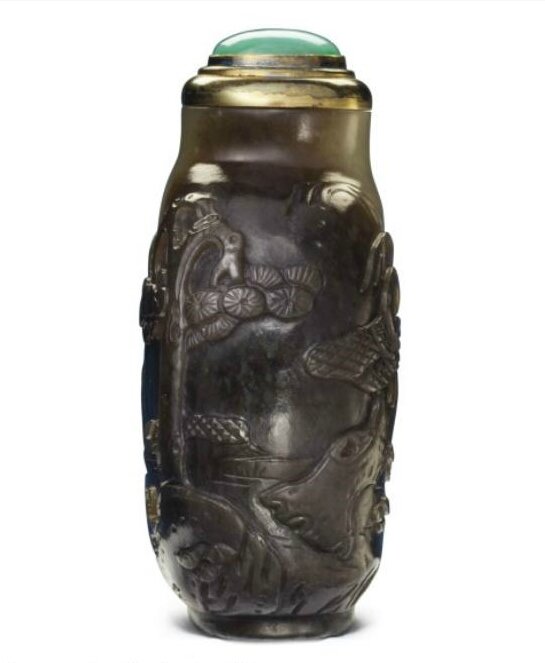 Lot 423, A carved yellowish-green and brown jade snuff bottle, Master of the Rocks School, 1740-1850. Estimate $8,000 – $10,000. Photo Christie's Iùage Ltd 2016.
The bottle is carved on one side with a lush foliate scene of aged pine trees, centered by a waterfall emerging from between two mountains and passing by a crane that stands atop a precipice above lingzhi fungus growing below. The scene is thoughtfully carved using the brown skin of the stone for the landscape and yellow stone for the sky. 2 ¼ in. (5.7 cm.) high, jadeite and metal stopper
Provenance: Hugh Moss (HK) Ltd., Hong Kong, 2004.
Ruth and Carl Barron Collection, Belmont, Massachusetts, no. 4067.
Notes: The Master of the Rocks School seems to have specialized in carvings from this distinctive material. The School's main output was bottles carved with landscape designs, but many other subjects are recorded, including a few with chidragon designs, which may have been partly produced for the Court. The quality of carving and the use of material of the present bottle are typical of this School.

A comparable example of the same size and similar use of a large area of dark skin from the Ruth and Carl Barron Collection Part I, was sold at Christie's New York, 16 September 2015, lot 204, and another from the Blanche B. Exstein Collection was sold at Christie's New York, 21 March 2002, lot 158. For other examples of snuff bottles from the Master of the Rocks School, see Moss, Graham, Tsang, A Treasury of Chinese Snuff Bottles, the Mary and George Bloch Collection, Vol. 1, pp. 350-369, nos. 136-141.
Christie's. THE RUTH AND CARL BARRON COLLECTION OF FINE CHINESE SNUFF BOTTLES: PART II, 16 March 2016, New York, Rockefeller Plaza