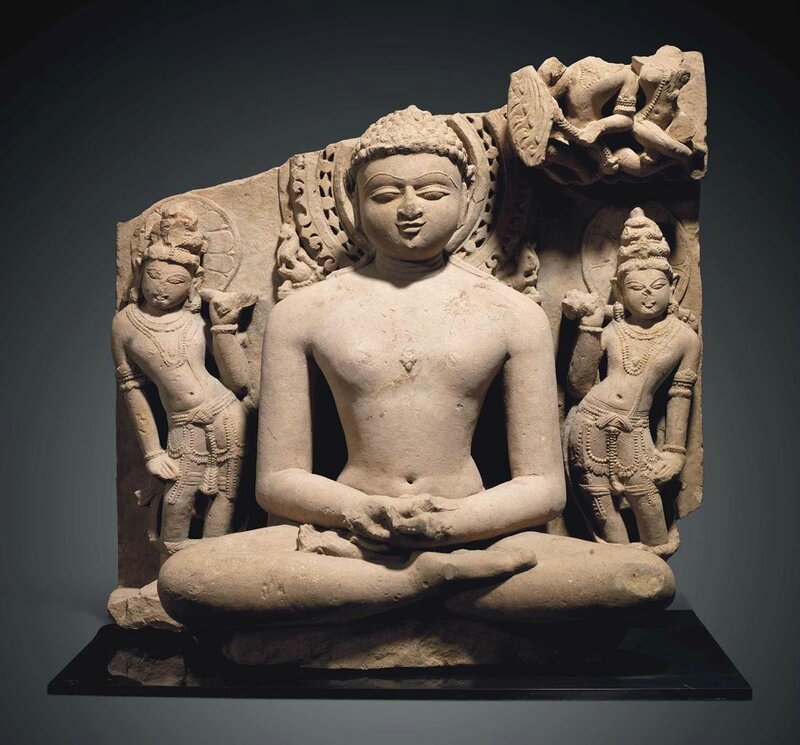 A Buff Sandstone Stele of Rishabhanata, Indian, Rajasthan or Madhya Pradesh, 10th century. Estimate USD 100,000 ~ 150,000. Seized by US special agents as stolen Indian statue. Photo Christie's Image Ltd 2016
NEW YORK (AFP).- New York kicks off its annual week of Asian art sales Tuesday, red-faced after stolen Indian statues were impounded from Christie's and testing the market in the face of a Chinese economic slowdown.

US special agents seized the sandstone statues, dating back to the eighth and 10th centuries, from Christie's auction house following an international investigation with assistance from India and Interpol, US officials said.

Both objects had been valued at $150,000 and $300,000, and were listed in Christie's sale of Indian and Himalayan art on Tuesday.

"We have withdrawn the lots and we are fully cooperating with the authorities on their investigation," a spokesperson for the auction house said.

US agents said both artifacts came from a specific smuggler, and Manhattan District Attorney Cyrus Vance warned art dealers and auction houses to do everything possible to avoid selling stolen cultural heritage.

Christie's said the auction house would never knowingly offer art for sale when there were valid concerns over its provenance and said the evidence uncovered in this case had not been publicly available and "therefore could not have been accessed by Christie's for vetting purposes."
'First really big test' -
While eclipsed by the sales of contemporary Asian art in Hong Kong each April, insiders say the importance of New York's annual celebration and promotion of Asian ceramics, paintings and sculpture grows every year.

Last year raked in record sales of $360 million, nearly 50 percent more than the $250 million collected in 2011. Asian art week was introduced in 2009.

Last year, the Chinese stock markets imploded and the economy has slowed further in 2016, which could dampen the appetite of once cash-rich collectors.

"It's the first really big test of the year," said Henry Howard-Sneyd, chairman of Asian art at Sotheby's.

To intice buyers, Sotheby's is offering pieces that have not been available at auction for decades, Howard-Sneyd said.

Their standout lot is an untitled piece by Indian abstract painter V.S. Gaitonde, estimated by Sotheby's to be worth $2.5 million to $3.5 million, a year after New York's famed Guggenheim Museum gave the late artist a retrospective.

Other Sotheby's highlights are four Chinese 18th century silk landscapes valued at $600,000 to $800,000, and a rare yellow and green dish from the Yongzheng period also valued at $600,000 to $800,000.
In a nod to the economic slowdown, Michael Bass, international director of Chinese ceramics and works of art at Christie's, conceded that people would be "looking to see what will happen."

Bass said Christie's offerings were rich and diverse. "These are unique pieces," he said.

"You're not just investing in something that's just a piece of paper, this is actually a beautiful object that you can own."

Christie's highlights include an 18th century painting of the Buddhist deity Vaisravana, valued at $550,000 to $750,000, and an imperial carved Zitan dragon throne valued at $800,000 to $1.2 million. The Asia sales conclude Saturday. © 1994-2016 Agence France-Presse.
A large and highly important buff sandstone panel depicting Revanta and his entourage, Central India, Pratihara period, 8th century. Estimate USD 200,000 ~ 300,000. Seized by US special agents as stolen Indian statue. Photo Christie's Image Ltd 2016