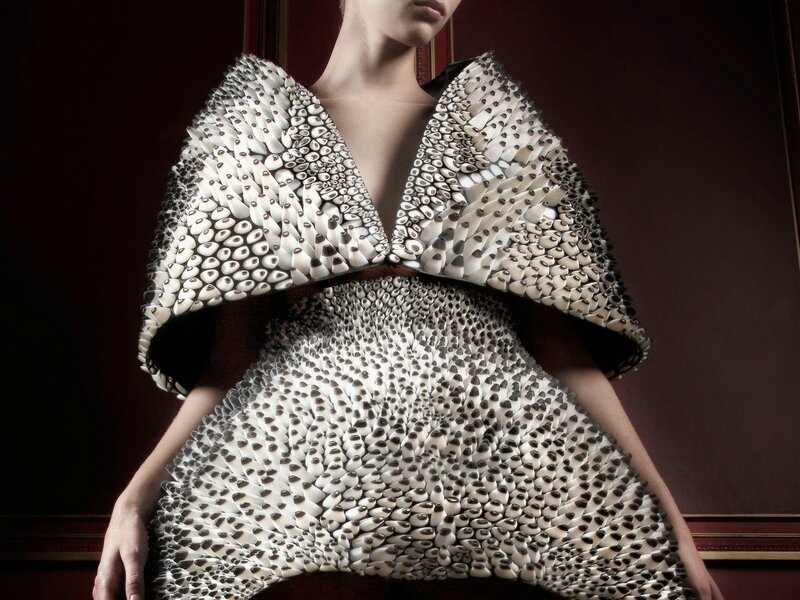 Designed by Iris van Herpen and Neri Oxman, printed by Stratasys, Anthozoa Cape and Skirt, Voltage Haute Couture Collection, 2013. Object Connex multiple-materials; 3-D printed. Museum purchase with funds donated by the Fashion Council. © M. Zoeter x Iris van Herpen. Photography by Ronald Stoops.
BOSTON, MA — Clothes that respond to the environment, fabrics patterned by lasers and ready-to-wear garments that come off a 3D printer—all of these innovations are poised to have a profound impact on the future of fashion. Designers have embraced these developments, and the exhibition #techstyle, on view March 6–July 10, 2016, organized by the Museum of Fine Arts, Boston (MFA), examines how the synergy between fashion and technology is not only changing design and manufacturing, but also the way people interact with their clothes. Many of the new methods are practiced by designers in Boston, a longtime hub of innovation. Presenting 33 emerging and established designers from around the world, including Alexander McQueen, VIKTOR&ROLF Haute Couture, Iris van Herpen, Ralph Lauren and Francis Bitonti, #techstyle features more than 60 works of art, from fashion and accessories to photography and video, on view in the Henry and Lois Foster Gallery. The exhibition focuses on the latest cutting-edge, high-tech fashion—developed both locally and internationally—with five commissions created by Hussein Chalayan, Kate Goldsworthy, London-based CuteCircuit, Francis Bitonti and Somerville-based Nervous System.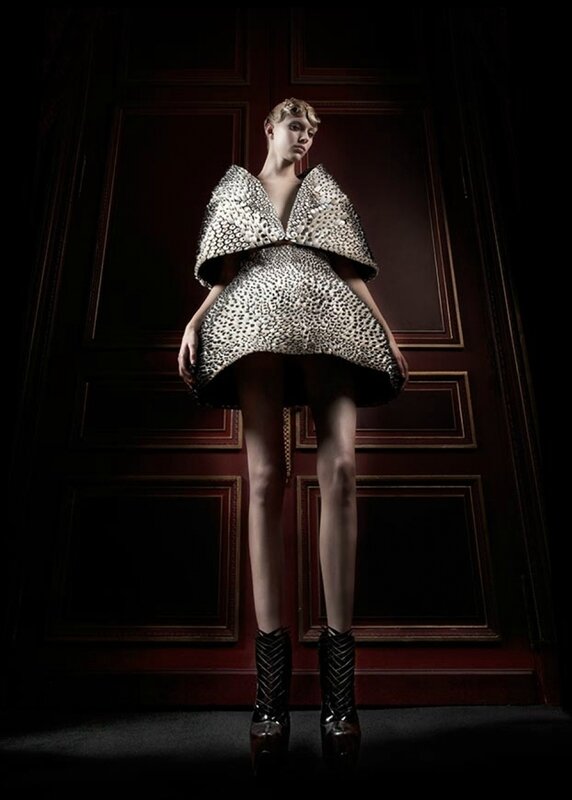 Designed by Iris van Herpen and Neri Oxman, printed by Stratasys, Anthozoa Cape and Skirt, Voltage Haute Couture Collection, 2013. Object Connex multiple-materials; 3-D printed. Museum purchase with funds donated by the Fashion Council. © M. Zoeter x Iris van Herpen. Photography by Ronald Stoops.
#techstyle is jointly curated by Pamela Parmal, Chair of the MFA's David and Roberta Logie Department of Textile and Fashion Arts; Michelle Finamore, Penny Vinik Curator of Fashion Arts; and Lauren Whitley, Senior Curator of Textile and Fashion Arts. Highlights range from the "Ricky Bag with Light," Ralph Lauren's commercially available hand bag that can charge a cell phone, to "The Spike," British bionic pop artist and MIT Media Lab fellow Viktoria Modesta's high-tech artificial leg. The exhibition also features multimedia installations capturing live fashion shows, the 3D printing process and striking visuals of the garments in action—from the ballet to the runway—underscoring the importance of digital media in today's world. In conjunction with the opening of #techstyle, the MFA celebrates the 10th anniversary of its Fashion Council, a group of Museum supporters with an interest in the intellectual, cultural and artistic aspects of fashion.
"#techstyle is a fascinating survey of the current synergy between fashion and science," said Parmal. "Many of today's designers actively seek out collaborations with scientists and engineers to apply new technologies in digital media, sustainability and even biotech to their work. At the same time, scientists and engineers have embraced fashion pushing the boundaries of manufacturing and design. It's fitting that #techstyle is on view here in Boston, a crucible for technology and research."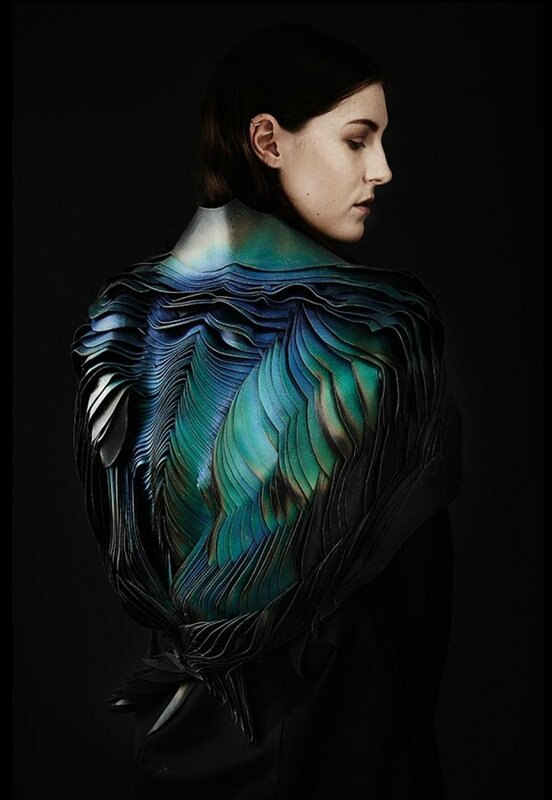 Bowker, AIR Collection - The Bird, 2014. Leather with environment responsive die. Courtesy of The Unseen. © The Unseen 2015 AIR Collection.
The exhibition explores how established designers such as Chalayan, McQueen, Issey Miyake and Rei Kawakubo have been at the forefront of incorporating technology into their collections. The designers' work is complemented by video and photography, revealing how technology is changing the way fashion is created, functions, and is disseminated to the world through new media. The rest of the show is organized into two themes, Production and Performance, and draws on the MFA's collection of contemporary fashion and accessories and key loans from innovators in the field. Multimedia displays introducing the exhibition include Marcus Tomlinson's 2010 Airplane Dress video featuring Chalayan's remote control operated dress.
"We hope that #techstyle will show visitors that now, more than ever, fashion is transcending its more conventional function and becoming an active interface between the body and innovative new technologies," said Finamore.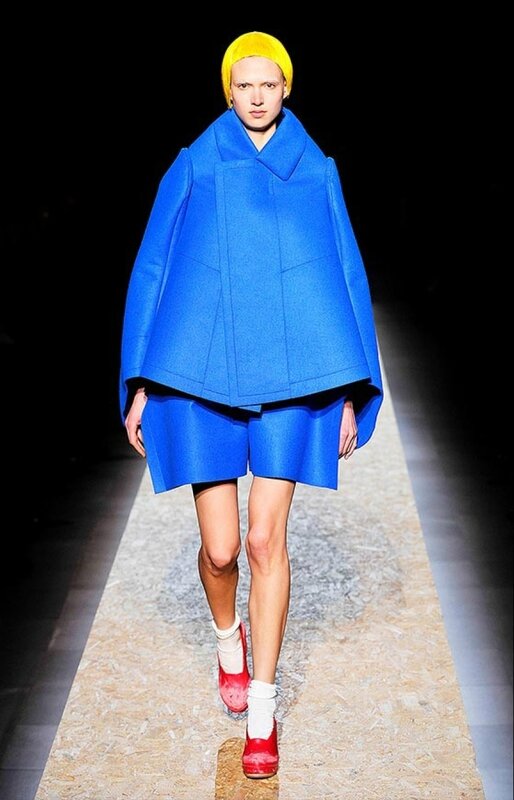 Comme des Garçons, Jacket and shorts, Autumn-Winter 2012. Polyester felt. Collection Cynthea J. Bogel. Courtesy of Comme des Garçons.
Today, clothing can act as a video monitor, mood detector, medical monitoring device, or even give a hug when needed. New technologies have also been harnessed to develop garments and accessories that enhance performance on the battlefront, athletic field and stage. ThePerformance section of the exhibition features interactive "wearables" and clothing that exploits technology for function and visual effect—from dresses that move independent of the wearer through electronics, to leather capes that change with a spectrum of colors in response to light, heat and wind. The interactive CuteCircuit MFA Dress(2016) is the centerpiece of this section. CuteCircuit, led by the design team of Francesca Rosella and Ryan Genz, is at the forefront of developing interactive wearables and has designed a couture gown for singer Katy Perry and uniforms for the EasyJet airline. The duo used their "Magic Fabric" for the MFA commission, incorporating more than 10,000 MicroLEDs to create animations. Visitors can use an iPad to select images from the MFA's collection, including Hokusai's Great Wave and Ellsworth Kelly's Blue Green Yellow Orange Red to display on the dress.
Alexander McQueen, Plato's Atlantis Collection, dress, Spring-Summer 2010. Silk plain weave digitally printed, embroidered with enamel plaques. Museum purchase with funds donated by the Fashion Council and Arthur Mason Knapp Fund.
Also on view in the Performance section is van Herpen's Water Splash Crystallization dress (2013), made in conjunction with SHOWStudio—a progressive fashion film studio—and based on video stills of water being splashed on style icon Daphne Guinness's body. Additionally, a remotely controlled Possessed Dress (2015) designed by Chalayan is on view in conjunction with a video of the Sadler's Wells ballet for which it was developed, Gravity Fatigue, where the dress can be seen moving independently of the dancer. Two ink-coated leather capes created by T H E U N S E E N—founded by lead material alchemist, Lauren Bowker—change in a rainbow spectrum in response to heat, light and air flow, reverting back to black in stasis. Conceptual artist Ying Gao'sIncertitudes ensemble (2013) is a kinetic garment that reacts to its environment. When a voice is within proximity, electronic sensors activate the dressmaker pins covering the surface of the garment, causing them to move in waves. Visitors can interact with the work every Wednesday at 1-2 pm and 6-7 pm during the run of the exhibition.
Technologies such as 3D printing and computer-aided design have also opened up a new world of design possibilities for customizable artificial limbs. Viktoria Modesta makes a fashion statement with her "Spike Leg," featured in the music video Prototype, which can be seen in the exhibition and illustrates how her body is an extension of her performance and art.
"The performance section will highlight how clothes 'perform'—in both practical and conceptual ways," said Whitley. "Garments that move independently or change with unseen environmental conditions alter and expand our understanding of how clothes can function in the future."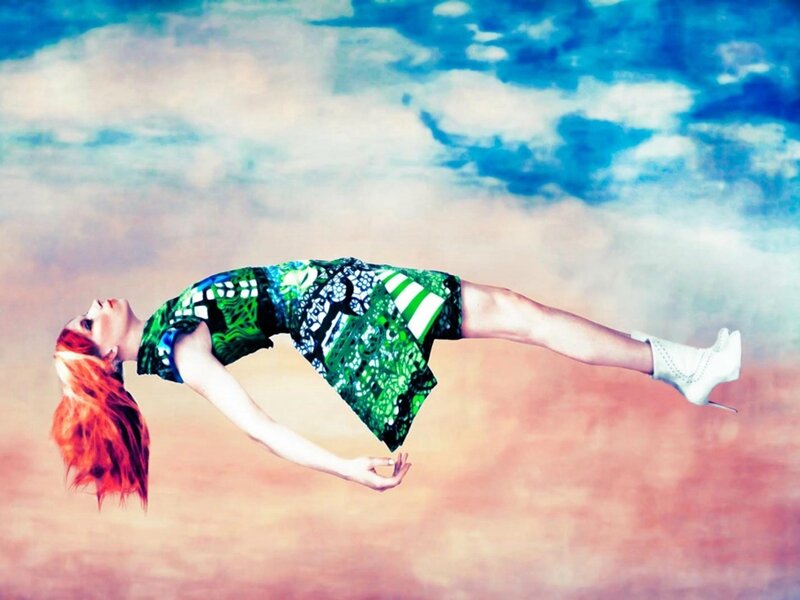 "Untitled'. Photograph of Mary Katrantzou's "Expandit" dress, Fall 2012. Erik Madigan Heck / Trunk Archive.
The Production section looks at how contemporary fashion designers have employed technology to revolutionize the way clothing is designed and constructed, including digital design, lasers, embedded electronics and sustainable manufacturing methods and materials. Mary Katrantzou—one of the first designers to successfully integrate digital imagery with garment construction—regularly sources images from the internet, building each print to fit the proportion of the garment. In the exhibition, her Expandit dress (2012) is accompanied by an image made in collaboration with photographer Erik Madigan Heck, which presents a surrealistic melding of Katrantzou's fashion with backgrounds that heighten the color saturation important to both artists' work.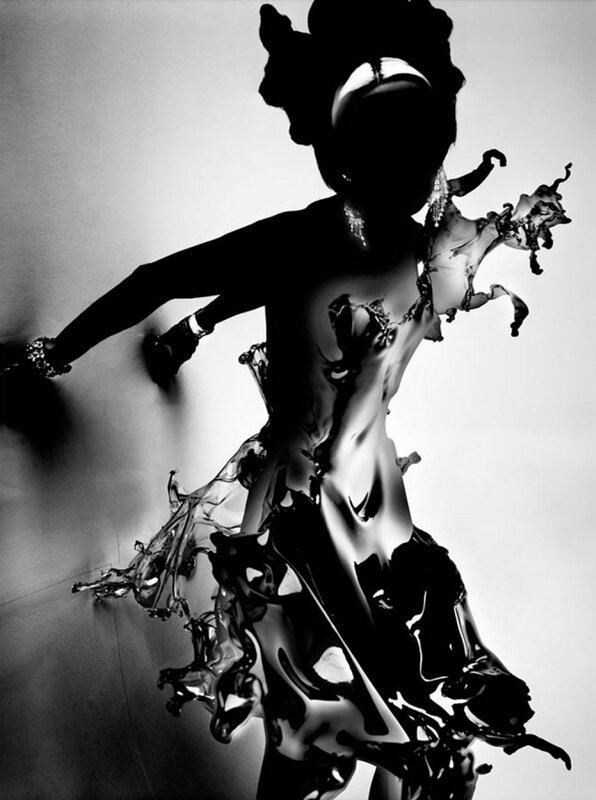 "Water Splash" Crystallization Dress, 2013. Plexiglass. In collaboration with Nick Knight and Daphne Guinness for ShowStudio. Image courtesy of Nick Knight and SHOWstudio.com.
Van Herpen and Noa Raviv are among several designers working with scientists and mathematicians to experiment with the potential of 3D printing and computer algorithms. While 3D-printed garments are still in the experimental stages, the technology reveals a future where clothes might be designed to one's own measurements and produced on one's own printer. Several 3D-printed dresses, along with video showing them being printed, demonstrate improvements in drape, fluidity and fit. Recently acquired by the MFA, the Anthazoa 3D Cape and Skirt, Voltage Collection (2013), was one of the first 3D-printed dresses to walk down a Paris runway. Conceptualized by Neri Oxman—an architect and designer from MIT Media Lab—and designed by van Herpen, the dress' parts were made in Israel by Stratasys. The 3D-printing company also collaborated with threeASFOUR on theHarmonograph Dress (2016), a garment that follows the geometry of the Fibonacci sequence and was recently unveiled at New York Fashion Week. The future is already here for 3D-printed shoes, which are represented in the exhibition by Bitonti's Molecule Shoes (2015) and United Nude's Highrise Shoes (2015).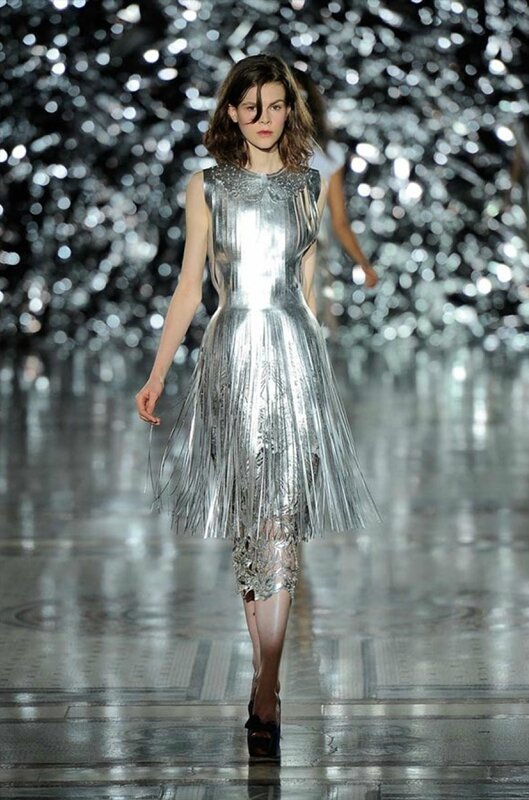 Deacon, Dress, Spring-Summer 2012. Laser-cut metallic leather with Swarovski crystals. Museum purchase with funds donated by the Fashion Council, Museum of Fine Arts, Boston. Photograph by Chris Moore Catwalking.com. Courtesy Giles Deacon.
New methods of creating sustainable textiles and manufacturing methods are also explored in this section of the exhibition. Traditional ways of processing natural fibers, weaving cloth and dyeing are among the world's most wasteful manufacturing processes, making sustainability an important goal for many designers and manufacturers. Those featured in the exhibition include G-Star Raw for the Oceans—a collaboration between musician and entrepreneur Pharrell Williams and Bionic Yarn, a company dedicated to repurposing ocean waste. This clothing line is made of denim created from recycled plastic bottles recovered from the oceans. Issey Miyake's 132 5 collection is made from PET, a polyester fiber developed by Teijin Limited. The manufacturing process does not use fossil fuels—fibers are created by pulverizing, melting and spinning threads out of recycled polyester. Designer Kate Goldsworthy is developing laser technology to both pattern and bond cloth in an effort to replace the chemically toxic process of dyeing, as seen in her Zero Waste Dress(2016). From Pauline van Dongen's "wearable solar" dresses that can charge a cell phone to Akris' tuxedo suit embedded with "e-broidery" of small LED lights, visitors can see how advances in production are changing the form and function of fashion.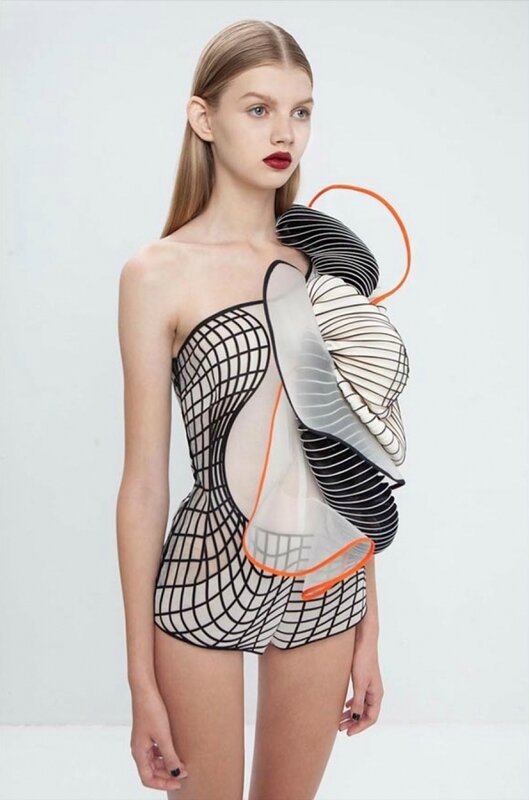 From Hard Copy Collection, 2014. Silk, polyester, tulle, cotton, and beads with laser cut appliqué. Photo by Ron Kedmi. © Ron Kedmi.