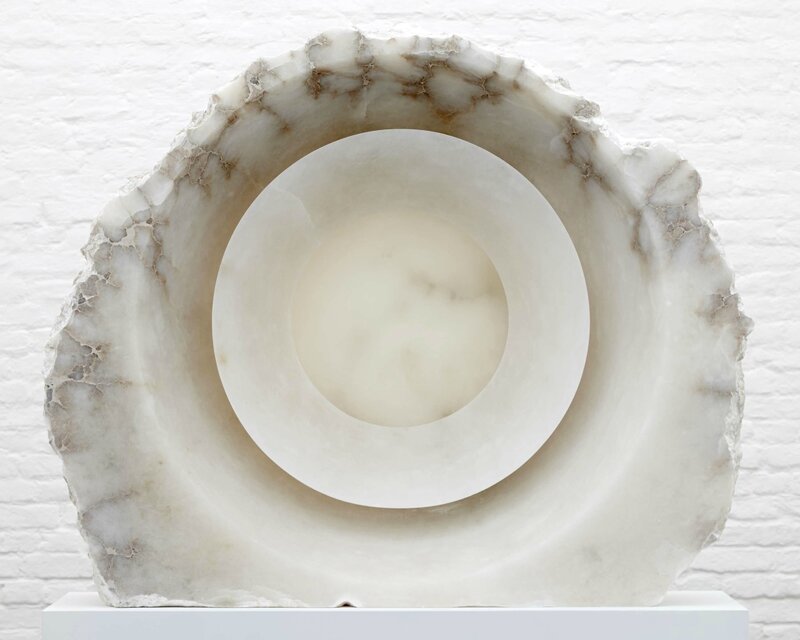 Anish Kapoor (Bombay, 1954), Untitled, 2013. Alabaster, 102 x 120 x 37 cm. Axel Vervoordt © TEFAF Maastricht, 2016
Otto Piene (Laasphe 1928-2014 Berlin), Lichtsirene, 1959-60. Acrylic paint on canvas, 110 x 110 cm. Signed, titled and dated on the overlap 'Piene 59-60 Lichtsirene'. Axel Vervoordt © TEFAF Maastricht, 2016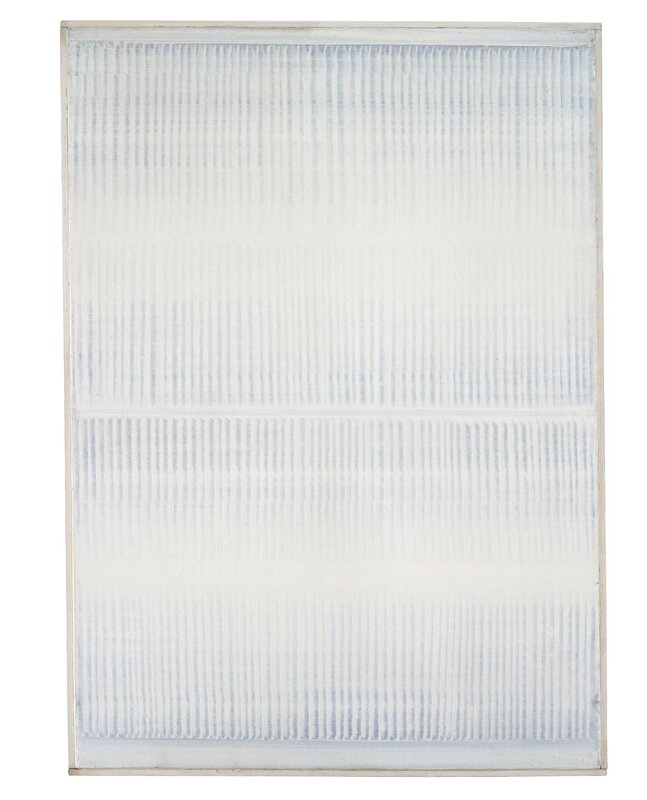 Heinz Mack (Lollar, 1931), Untitled, 1959-60. Oil on canvas, 106 x 75 cm. Signed and dated 'Mack 59/60'. Axel Vervoordt © TEFAF Maastricht, 2016
Jiro Yoshihara (Osaka 1905-1972 Ashiya), Work, 1971. Acrylic on canvas, framed, 45.60 x 53 cm. Signed in English and dated on reverse '71'. Axel Vervoordt © TEFAF Maastricht, 2016
Fragment of an over-life-size head of a woman or goddess, Greek, 4th century BC. White marble, 28 x 23 x 18 cm. Axel Vervoordt © TEFAF Maastricht, 2016
Provenance: Private collection M. K., France, acquired circa 1960.
Head of Eros, Roman, 1st century B.C.- 1st century AD. White marble. Height 23.5 cm.
Provenance: Collection Guérin, Paris, ca. 2000; Private collection René Withofs, Brussels, circa 1970-80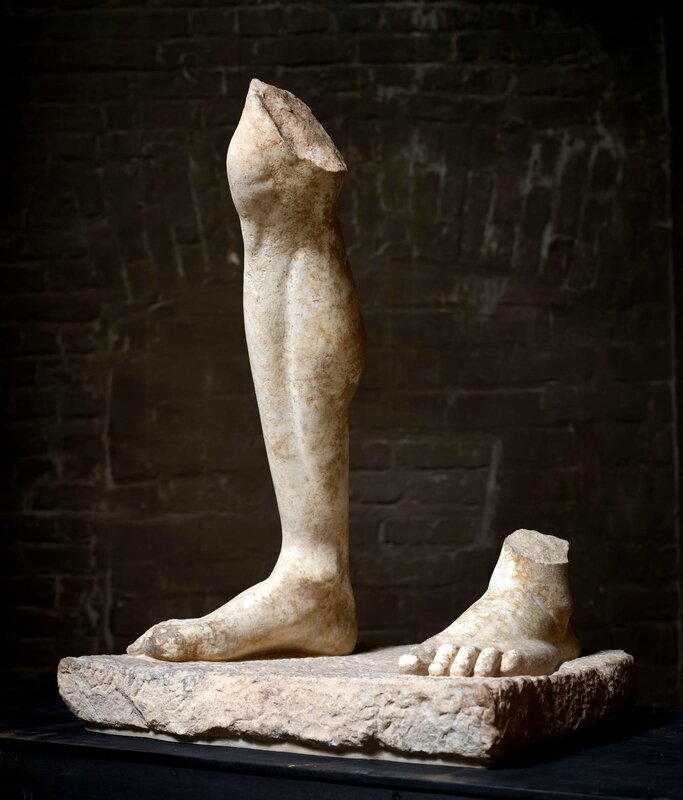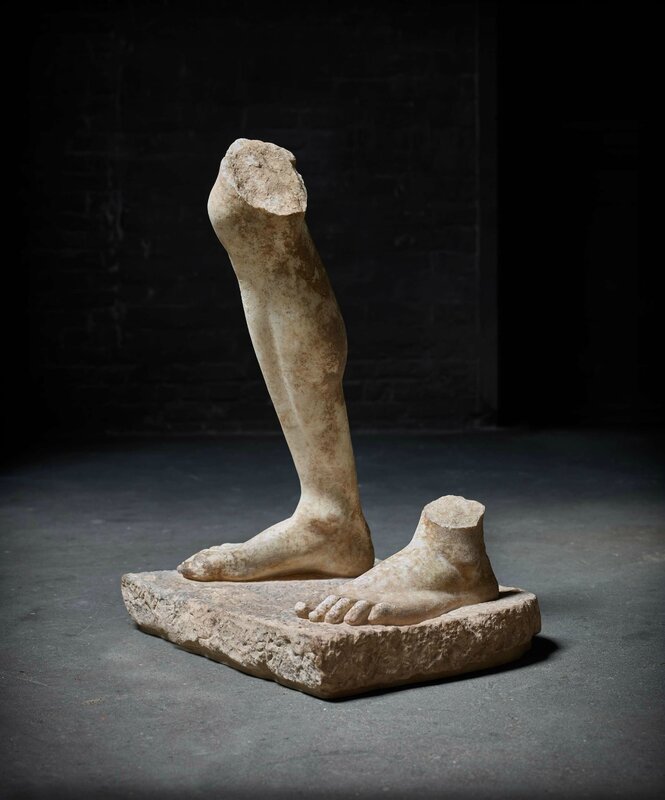 Monumental fragment from a standing male statue, Leg and Feet on base, 2nd Century AD. Marble. Axel Vervoordt © TEFAF Maastricht, 2016.
Provenance: Private collection T. Sarmas, London, early 1960s-2003; Private collection, Europe, prior to 1960
Kazuo Shiraga (Amagasaki 1924-2008), Choryo, 1990. Oil paint on canvas, 227 x 182 cm. Axel Vervoordt © TEFAF Maastricht, 2016.
Provenance: Collection Fujino Tadatoshi, Gendaikko Center, Miyazaki, Kyushu, Japan
Literature: A new perspective GUTAI through the eyes of Fujino Tadatoshi, Japan, 2011, illustrated p. 134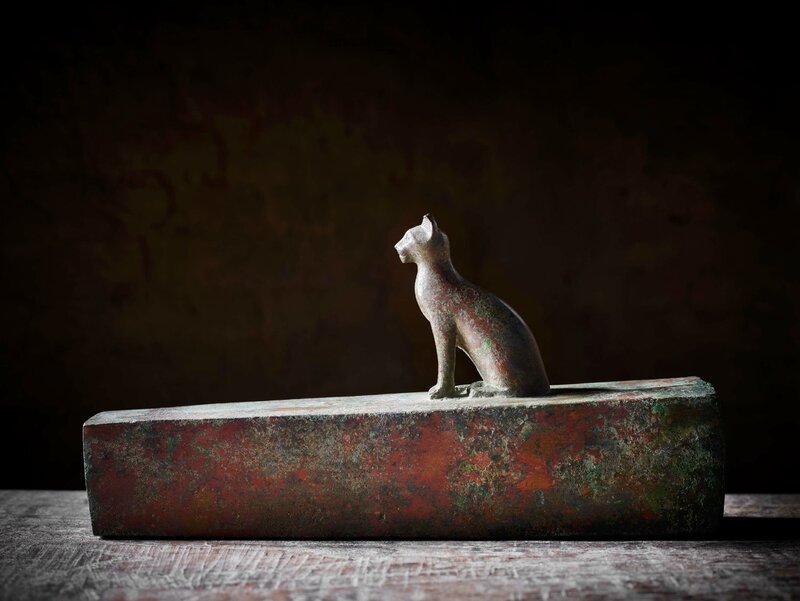 Bastet sarcophagus, Egypt, Late Period, 26th-30th Dynasty, 664-332 BC. Bronze, 20 x 39 cm. Axel Vervoordt © TEFAF Maastricht, 2016.
Provenance: Private collection, Europe, by descent to present owner; Acquired from N. Koutoulakis in the 1970s; Collection N. Koutoulakis, Geneva
Axel Vervoordt (stand 424) at TEFAF Maastricht 2016, 11-20 march.
Directors: Axel Vervoordt, Boris Vervoordt, Robert Lauwers, Philip Feyfer
Axel Vervoordt is the president of the Vervoordt Foundation and the founder of the eponymous company which over the past four decades has created a nonpareil approach to living with art. His first project in the early 1970s, the revitalization of an entire medieval street in the heart of Antwerp which emphasized not only the beauty of the buildings but also the beauty of the passing of time and its effect on them, led him to occupy a singular position in the arts world. Axel Vervoordt conducts his taste-broking from his own home, the castle of 's-Gravenwezel outside Antwerp, where a taste for the authentic results in a harmonious environment. In 'Kanaal', an industrial malt complex dating to the 1860s, antique objects dialogue with contemporary works of art in a minimalist context.
Since a few years, his son, Boris, assumed the management responsibilities of the Axel Vervoordt Company and he will further profile the business along its core values : quality, durability and harmony. In January 2011 he opened the Axel Vervoordt Gallery in the Vlaeykensgang, back to the roots, focusing on Gutai and ZERO and contemporary works in the same vein, it reflects Vervoordt's early interest in and commitment to these artists.
All objects, regardless of their origin and value, are infused with a timeless, universal beauty and an intrinsic purity that keep their contemporary relevance.
Contact: Kanaal, Stokerijstraat, 15-19, 2110 Wijnegem, Belgium. T +32 (0)3 355 33 00 - F +32 (0)3 355 33 01 - www.axel-vervoordt.com - info@axel-vervoordt.com
Axel Vervoordt Gallery, Vlaeykensgang, Oude Koornmarkt 16, 2000 Antwerpen, Belgium. T +32 477 88 80 60 - Wed- Sat 2-6 p.m. www.axelvervoordtgallery.com - info@axelvervoordtgallery.com