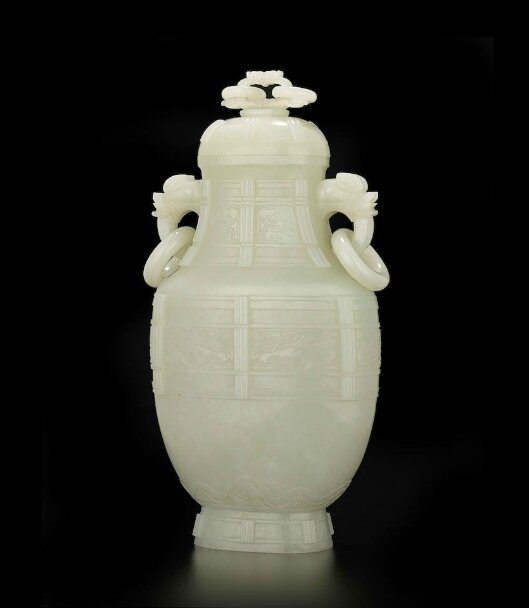 A fine very pale green jade archaistic vase and cover, Qianlong period. Estimate US$ 80,000 - 120,000 (€73,000 - 110,000). Sold for $1,025,000 (€906,197) inc. premium. Photo: Bonhams
NEW YORK, NY.- The four Asian art auctions at Bonhams during Asia Week New York achieved impressive results totaling U.S. $8.7 million. Bonhams' three distinguished Asian art departments presented tightly-curated sales of distinct items from important private collections, and saw a community of international collectors vying for choice pieces throughout the week.

"The Asia Week auction results at Bonhams are proof that the Chinese market is vibrant and thriving, demonstrating a stability and sophistication in the market," said Dessa Goddard, head of Asian art, Bonhams North America. "We are pleased to see the market remain robust and responsive at all price levels."

CHINESE WORKS OF ART
The two Chinese art auctions realized close to $3.6 million with a 15% increase in buyer registrations from last year. The auction saw a steady demand for jades. The top sale was a beautifully intricate and fine jade archaistic vase and cover from the Qianlong period that soared past its estimate and claimed $1,025,000, including premium, more than eight times its high estimate. The exceptionally pale green vase is a splendid example of the finest Qing jade production, and attracted competitive bidding from seven collectors.
(Cf. my post A fine very pale green jade archaistic vase and cover, Qianlong period)
While a number of similarly impressive archaistic jade vases are known in private and museum collections, this vase demonstrates the infinite variety within a strict tradition achieved by Qing craftsmen. Other top jade lots that performed well above their estimates include an 18th/19th century pale green jade ruyi scepter ($125,000, including premium) and a green jade "peach and bat" brushwasher from the 18th century ($46,250, including premium).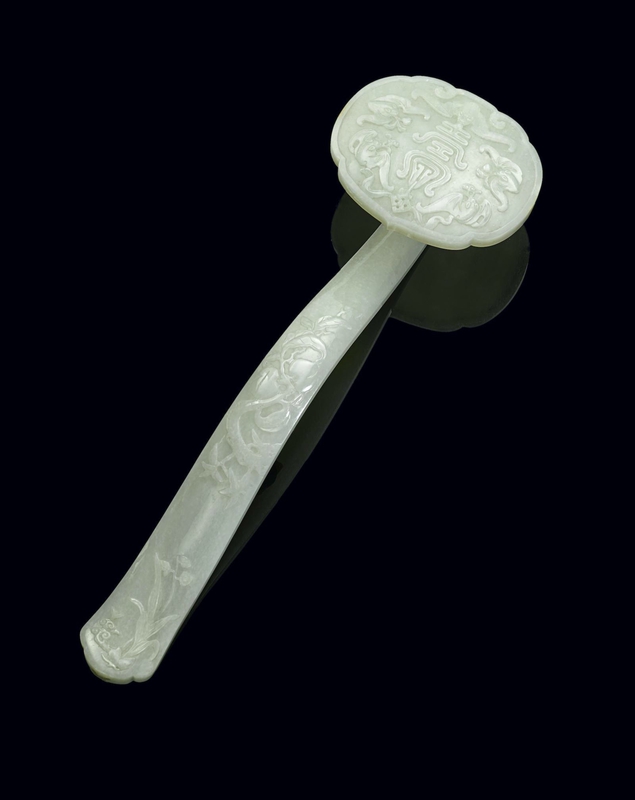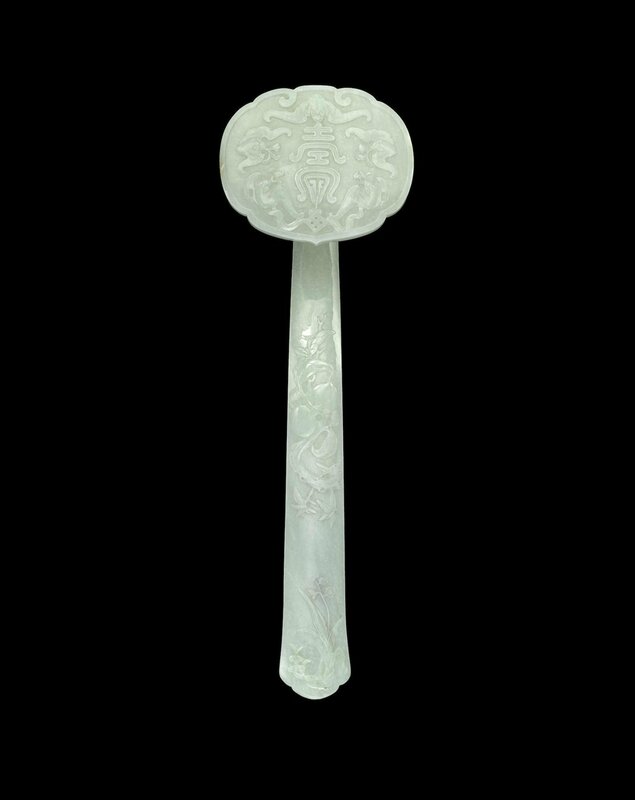 Lot 8062, A fine pale green jade ruyi scepter, 18th-19th century. Estimate US$ 10,000 ~ 15,000. Sold for US$ 125,000 (€110,511) inc. premium. Photo: Bonhams
Crisply carved from a single piece of even-toned pale green stone, the lobed head carved in low relief with five bats in flight, two biting a peach spray, two biting a lingzhi spray and the topmost suspending a tasseledshou character, the shaft elegantly curving and carved with rockwork issuing a spray of fruiting peach and a cluster of bamboo, the lobed end decorated with slender-leaved orchid and lingzhi fungus, the concave underside smoothly carved and all polished to a soft gleam. 14 3/4in (37.5cm) long
Provenance: The Joanna Lau Sullivan Trust
Notes: The generous size, exquisitely crisp carving and fine, even stone suggest that the present lot was a very lavish commission, intended to delight the most demanding of connoisseurs. Although a number of ruyi scepters of this type are published in museum and private collections, the present example appears to be highly unusual in is depiction of orchid and lingzhi fungus on the tip, and the imaginative details of the peach and lingzhi fungus held by the bats encircling the shou character. Such playfulness on a common theme and attention to detail suggest a high degree of skill and expenditure devoted to this ruyi scepter.

A related pale green jade ruyi scepter, dated to the 18th century and also with a shou character enclosed within a lobed cartouche as the head, is currently on display at The Metropolitan Museum of Art, New York, accession number 02.18.446, the gift of Heber R. Bishop in 1902. This ruyi scepter bears an inscription dedicating it to the Emperor with wishes for longevity from a servant, illustrating the court practice for wealthy courtiers to presentruyi scepters to the Emperor on his birthday, who was known to appreciate such symbols of long life.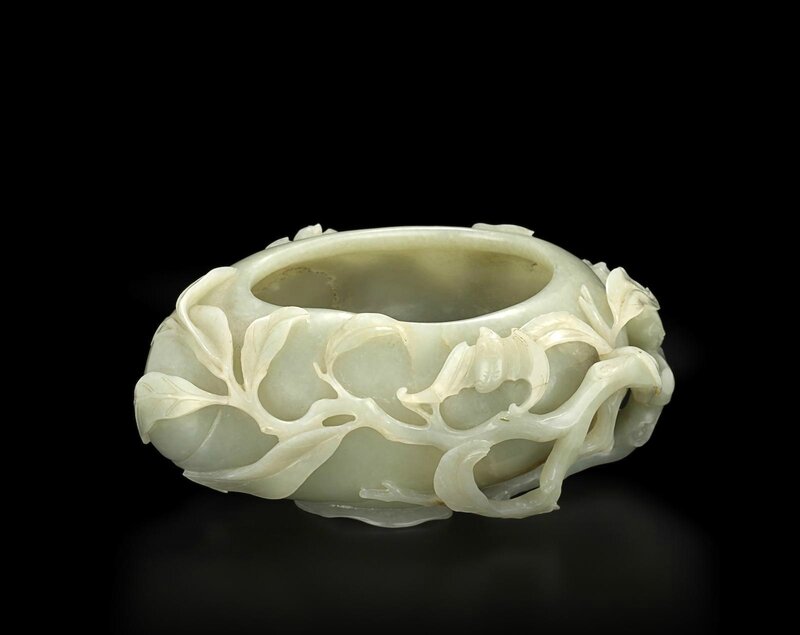 Lot 8047, A green jade 'peach and bat' brushwasher, 18th century. Estimate USD6,000 ~ 8,000. Sold for US$ 46,250 (€40,889) inc. premium. Photo: Bonhams
The grayish-green stone with bright russet patches formed as a rounded, hollowed fruit issuing from a crisply carved twisting branch with elaborately spreading, curling leaves supporting two bats with spreading wings, the smooth interior deeply hollowed, wood stand. 8 1/4in (21cm) long
Provenance: The Joanna Lau Sullivan Trust
Notes: Hollowed carvings of fruit, such as the Three Auspicious Fruit (peach, pomegranate, and finger citron) were popular objects for the scholar's desk in the late Ming and early Qing periods, providing both adornment and utility as an essential tool for theliteratus.

The present carving, formed as a peach, represents the wish for longevity, and the addition of the bat represents the wish for happiness and prosperity. Compare another carving made from similar green stone with russet inclusions, dated to the Ming dynasty but formed as the finger citron, another of the Three Auspicious Fruits, illustrated in Later Chinese Jades: Ming Dynasty to Early Twentieth Century, San Francisco, 2007, no. 334.
A rare archaic bronze ritual food vessel from the Shang dynasty did exceptionally well, achieving $329,000. Vessels like this one, with high quality casting and a pictogram, were extremely prized and reflect the importance of ancestral worship.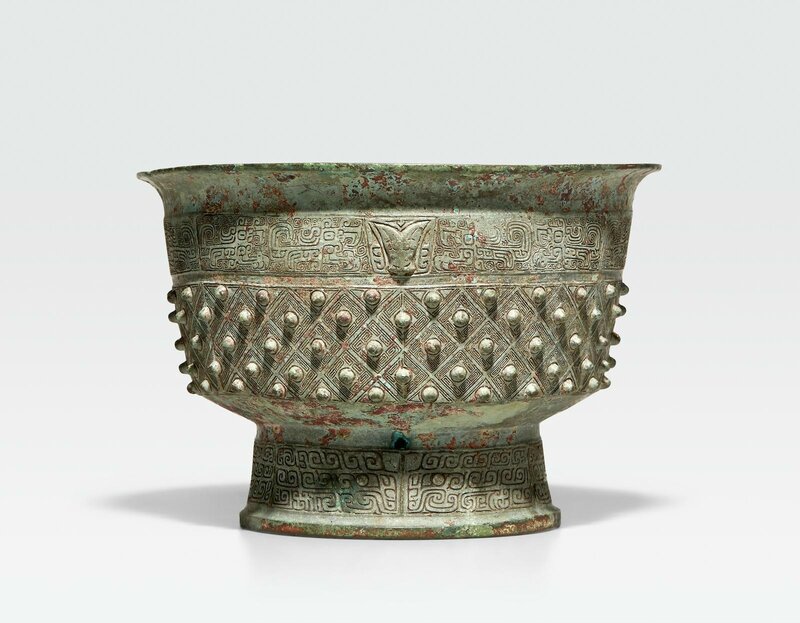 Lot 8094. A rare archaic bronze ritual food vessel, Shi yu, Late Shang dynasty. Estimate US$ 70,000 - 90,000 (€64,000 - 83,000). Sold for US$ 329,000 (€290,867) inc. premium. Photo Bonhams.
(Cf. my post A rare archaic bronze ritual food vessel, Shi yu, Late Shang dynasty)
Bonhams continues to be an industry leader in selling private collections of snuff bottles. Snuff bottles by one of China's leading artists of interior bottle-painting, Wang Xisan, were popular and brought in remarkable results. A rare inside-painted self-portrait crystal snuff bottle (1983) by Wang Xisan hammered down at $40,000 with premium, eight times its high estimate. The auction saw six snuff bottles painted by Wang Xisan in its top selling lots, accompanied by superb porcelain and fine jade ones — all achieving two to three times their high sale estimates.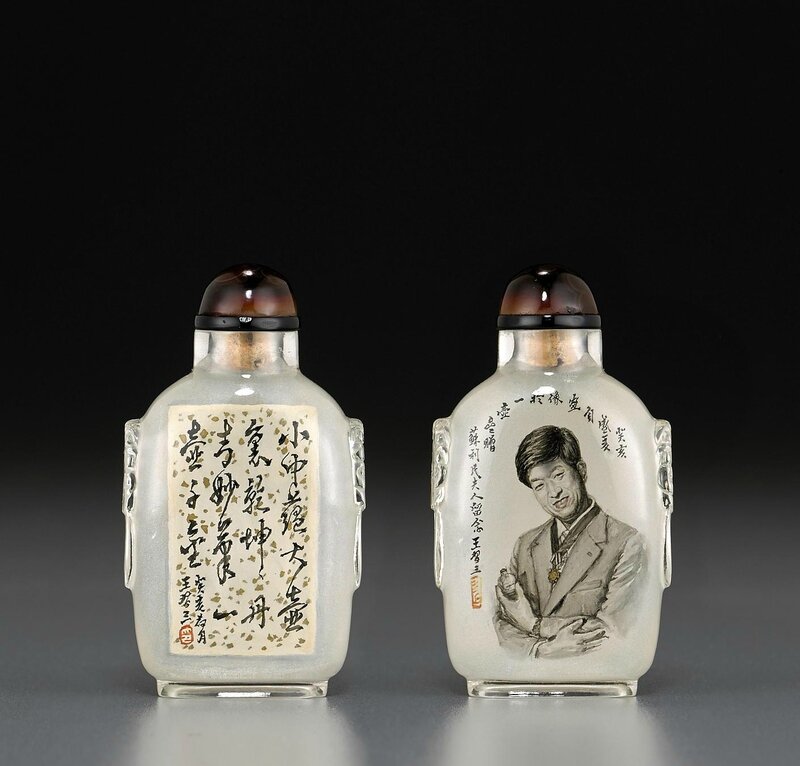 Lot 6063, A rare inside-painted self-portrait crystal snuff bottle, Wang Xisan, 1983. Estimate USD 3,000 ~ 5,000. Sold for US$ 40,000 (€35,363) inc. premium. Photo Bonhams.
Of compressed form, with a flat lip and sloping shoulders, fixed ring handles to the sides, supported by an oval foot rim, one side with a self-portrait of Wang Xisan dated guihai (1983), dedicated to Joanna Lau Sullivan and signed Wang Xisan with a painted seal, the reverse with a calligraphic passage in running script on a ground imitating gold-fleck paper, datedguihai and signed Wang Xisan with one painted seal. 2 3/8in (5.3cm) high
Provenance: The Joanna Lau Sullivan Trust
Illustrated and Published: The International Chinese Snuff Bottle Society, Journal, Winter 2007, p.17, figs.44-45.
Other significant lots include:
Lot 8037, A rare monumental bronze figure of Mahakasyapa, Ming dynasty. Estimate US$ 300,000 - 600,000 (€270,000 - 540,000). Sold for US$ 305,000 (€269,649) inc. premium. Photo: Bonhams.
(Cf. my post A rare monumental bronze figure of Mahakasyapa, Ming dynasty)
Lot 8082. A large and rare Longquan celadon-glazed dish with lobed rim, Yuan-early Ming Dynasty, 14th-15th Century. Estimate US$ 3,000 - 5,000 (€2,700 - 4,600). Sold for US$ 93,750 (€82,883) inc. premium. Photo: Bonhams.
(Cf. my post A large and rare Longquan celadon-glazed dish with lobed rim, Yuan-early Ming Dynasty, 14th-15th Century)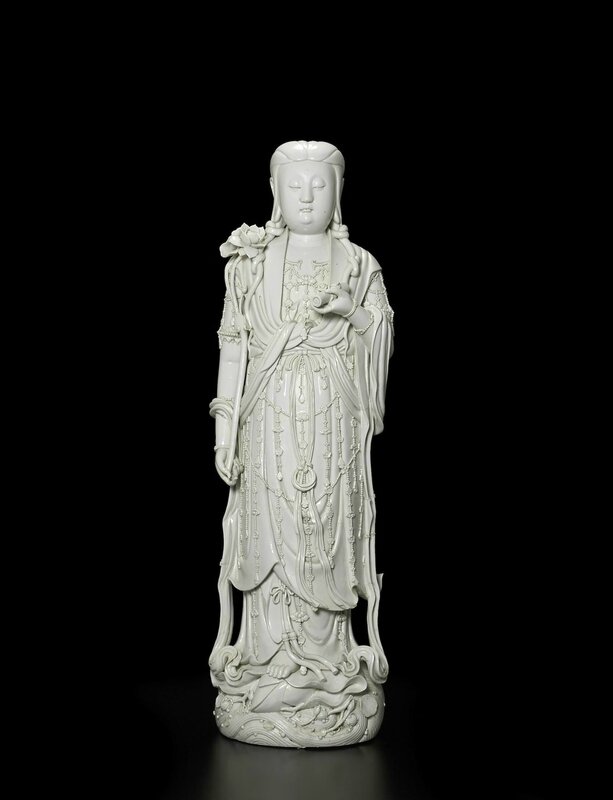 Lot 8076. A large blanc de chine figure of Guanyin, 19th-early 20th century, two Xu Yunlin seal marks and one Dehua seal mark. Estimate US$ 50,000 - 80,000 (€45,000 - 73,000). Sold for US$ 62,500 (€55,255) inc. premium. Photo: Bonhams.
(Cf. my post A large blanc de chine figure of Guanyin, 19th-early 20th century)
INDIAN, HIMALAYAN & SOUTHEAST ASIAN ART
Notable among the top lots sold were one of the main highlights – a thangka of Shakyamuni's Parinirvana School of Choying Dorje from late-17th century, which brought $389,000, including premium, as well as a magnificent gilt copper repoussé figure of a bodhisattva from 16th century Nepal, achieving $365,000 with premium.

The thangka depicts Buddha's final transition into blissful freedom from rebirth, surrounded by a crowd of mourners from all walks of life. It is painted with a studied naiveté distinguishing the Tenth Karmapa's style from the rest of Tibetan painting, which is a fresh approach to the subject matter. Parallels can be drawn with other trends in 17th-century Chinese painting that exhibit feelings of loss and displacement following the disintegration of the Ming dynasty. This enigmatic work gives Tibetan art history a rare opportunity to explore how an artist's life influenced his oeuvre.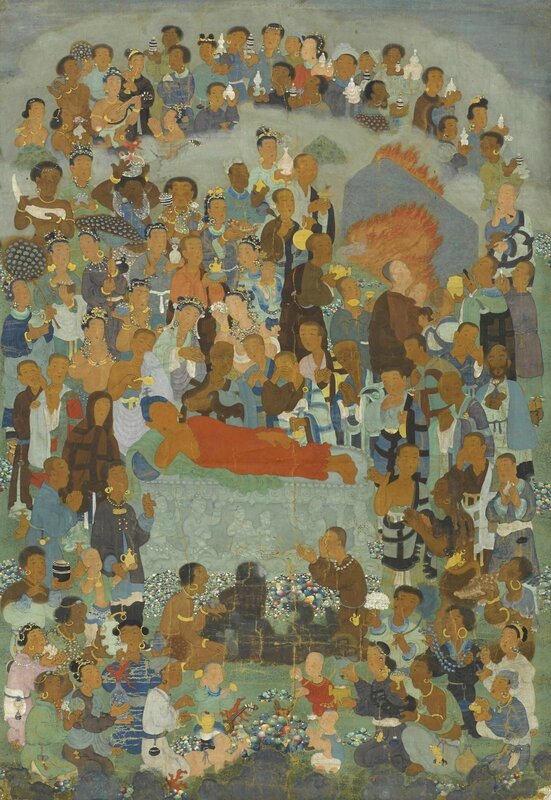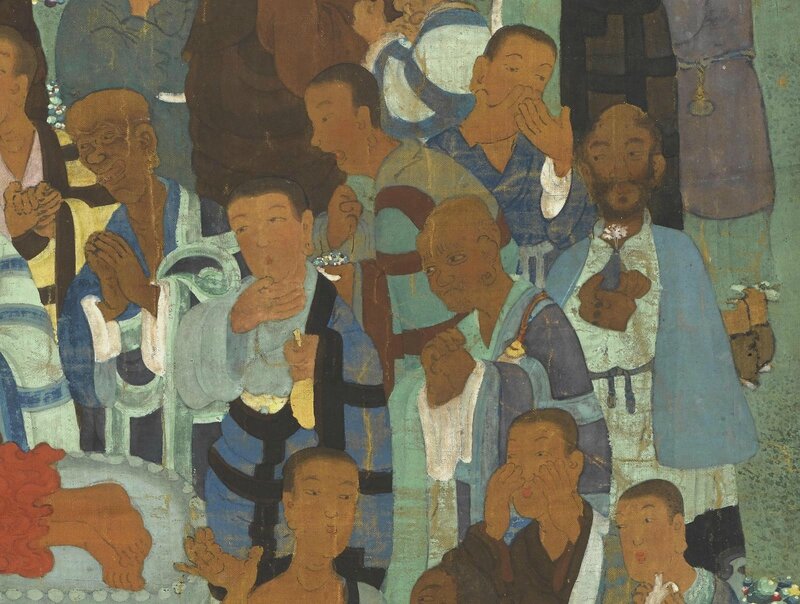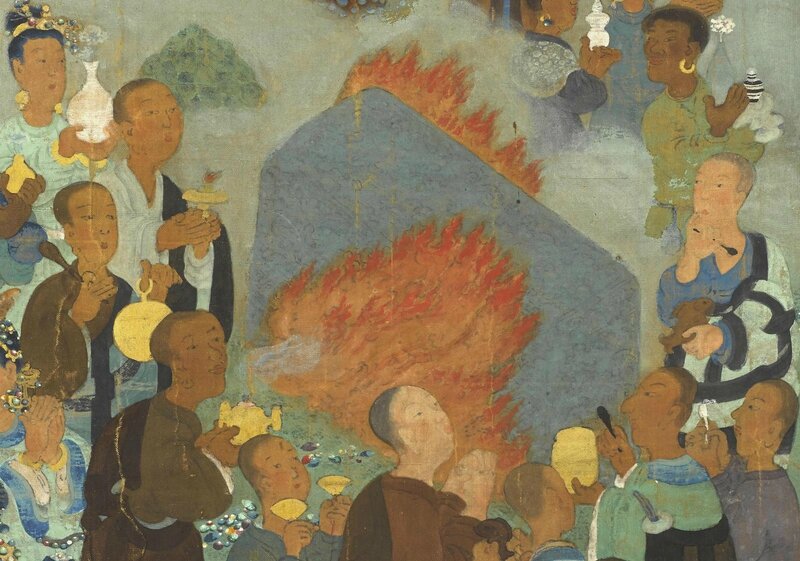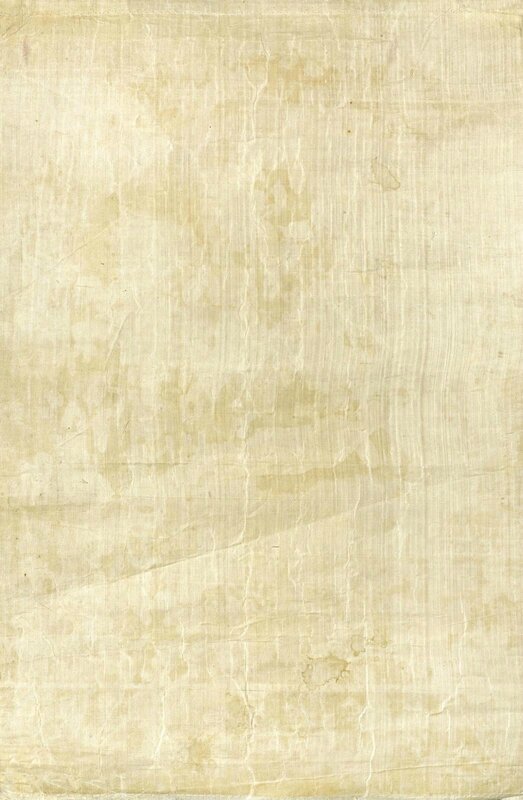 Lot 34, A thangka of Shakyamuni's Parinirvana, School of Choying Dorje, Eastern Tibet or Yunnan Province, China, late 17th century. Estimate USD 100,000 ~ 150,000. Sold for US$ 389,000 (€343,913) inc. premium. Photo: Bonhams.
Distemper on silk. Image: 24 1/2 x 16 5/8 in. (62.3 x 42.2 cm); With silks: 40 x 22 1/2 in. (101.6 x 57.2 cm)
Referenced: HAR - himalayanart.org/items/61461
Provenance: Private UK Collection acquired in London, 2010
Notes: This enigmatic painting stems from a set illustrating the Twelve Deeds of Shakyamuni. The Ninth, and final within the set, it depicts his departure into parinirvanawith a crowd of mourners from all walks of life, some anxious, some grief-stricken, some aghast, but most presenting some form of offering to the Buddha. Below his altar-like couch, two dogs crouch mournfully near four toddlers inspecting the goods in the offering pile. Above the central crowd, another group gathers around his funeral pyre, in which Shakyamuni is cremated in the Chinese manner within a coffin decorated with scrolling lotuses. In the top register, separated by a cloud band, we see a circle of musicians and the dispersal of the relics.

Distinctive in the history of Tibetan painting, this thangka is painted in the fabled style of the Tenth Karmapa Choying Dorje (1604-1674). The composition takes a fresh approach to the subject matter, and the mourners are depicted with the Karmapa's idiomatic faces, inspired by Ancient Kashmiri sculpture, and a studied naiveté. Famous for being one of Tibet's greatest artists, all Choying Dorje's hagiographies claim he was a prolific painter by the age of eight. When he came of age, he led the Karmapa sect through a traumatic period under the hegemony of a Gelugpa-Mongol alliance. An unfortunate consequence of the Fifth Dalai Lama's unifying politics (r. 1642-1682), the Karma Kagyu tradition, one of the wealthiest in all of Tibet, was "stripped of its monasteries... its sangha slaughtered and scattered, and its traditions (religious and artistic) on the verge of total eclipse." (Debreczeny, The Black Hat Eccentric, New York, 2012, p. 256). In 1645, Choying Dorje fled a doomed encampment in Lhadok, surrounded by Mongol forces, eventually taking refuge in the Chinese town of Lijiang (Yunnan province), under the protection of Naxi King Mu Yi (r. 1624-1669). There he nurtured the Kagyu sect in exile and developed his enigmatic style.

Debrecezny draws convincing parallels between the artistic responses of Choying Dorje and contemporaneous late Ming Chinese painters, such as Chen Hongshou (1598-1652), returning to visual modes inspired by antiquity and an imagined golden age (ibid.). Within the context of political upheaval and exile, it is tempting to view the Tenth Karmapa's radical style as a rejection of the status quo in Gelugpa-dominated Central Tibet. It was a climate of great codification, under which guild-like workshops reproduced a more prescriptive Gelugpa formula, emblematic of the hegemony his order suffered under. The Central Tibetan style is typified by dense gold-patterned textiles, layers of decorative embellishments, and closely juxtaposed bold colors. By contrast, Choying Dorje's style incorporates plainer (possibly Naxi) garments, empty monochrome backgrounds, and washes of similar hues – seen for instance here in the paintings sky.

There are key elements that demonstrate this thangka is not by the hand of the master, but instead made in one of his workshops either during his life or shortly after his death. Firstly, there is not quite the same adroit care given to faces, hands, or animals that typifies Choying Dorje's work. Secondly, his paintings are known for their very close awareness of Chinese material culture, wherein a porcelain vase or huanghuali brush pot seem to be observed from originals. While there are allusions here in their shape, the various objects are instead colored monochromatically. As such the present example is closely related to a workshop production of the same subject, which forms part of a complete set held in Palpung Monastery (Fig. 1, also see ibid., p. 166, fig. 5.9).

While these two thangkas are similar in composition and style, they are not copies of each other. They clearly derive from the same original composition, and yet each exhibits countless differences. Figures vary in age and accouterments. The couch on which Shakyamuni rests has an additional tier of lambs or deer at its base in our version. Their palettes also vary significantly. The present thangka's lighter tonal variations between cyan and lavender in the sky and purple in the rocks below, are replaced by more saturated blues and greens, giving the forms in the Palpung versions a harder edge. The faces within the present thangka are less generic and uniform, showing greater diversity in skin tones, facial types, and nuanced expressions - and their draftsmanship seems more highly skilled. These elements suggest that the present thangka is a slightly fresher, earlier, take on the original composition, compared to the Palpung version.

But for all their changes, core elements of the composition remain: the two dogs, an ascetic near Shakyamuni's feet, musicians in top left corner, etc. Thus, while certainly deriving from some original design by the Tenth Karmapa, each shows great artistic license given to the artist(s).

The appearance of this thangka provides the very first opportunity to examine two versions of the same subject produced by the Tenth Karmapa's workshop. It therefore, offers a host of potential insights into understanding the life and practices of the Karma Kagyu lineage under his provision. The aforementioned nuances between the two paintings demonstrate an enormous amount of artistic freedom – once again in stark contrast to the codified practices of the Gelugpa guilds. They suggest that, beyond the style and composition, even at the heart of the workshop's ethic is a resistance to Gelugpa hegemony and a preservation of the Karma Kagyu's identity – a speculation that can only be made now that this painting has come to light.
The auction offered a strong section of Indian and Southeast Asian sculpture accompanied by choice Tibetan thangkas, Himalayan sculpture and Indian paintings – all of which achieved strong results bringing the sale total to more than $3.8 million.

"By building a selective sale with discriminating taste and carefully considered estimates, we secured an excellent sell-through rate and a superior average lot value for our consignors," said Edward Wilkinson, the newly appointed executive director of Bonhams Asia. "We increased our market share significantly and established a number of records, including the highest price achieved at auction for a Tibetan ritual implement at $179,000 and a Nepalese repoussé sculpture at $365,000."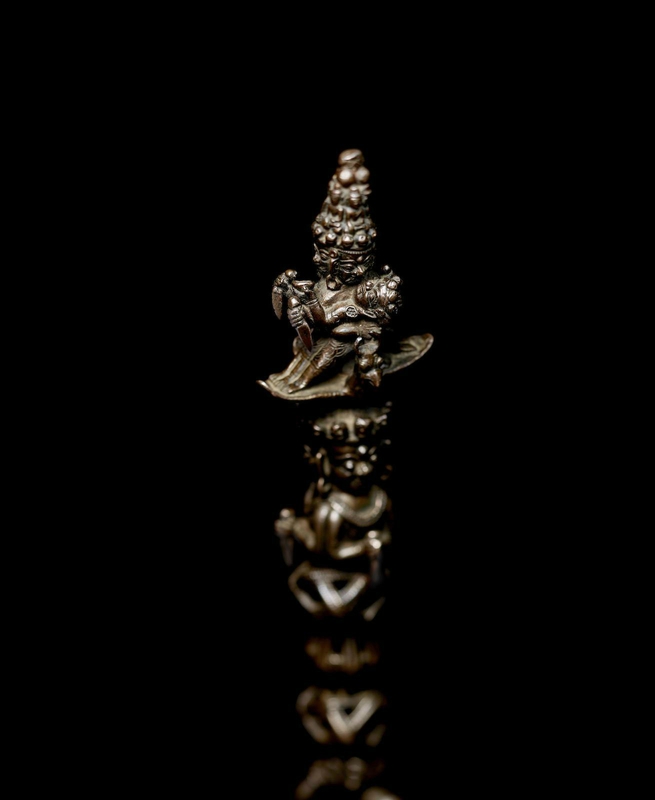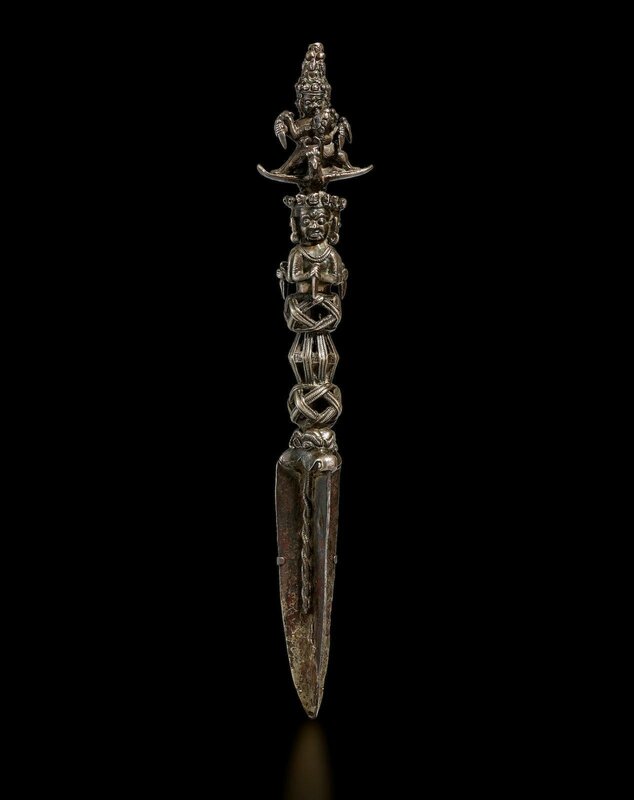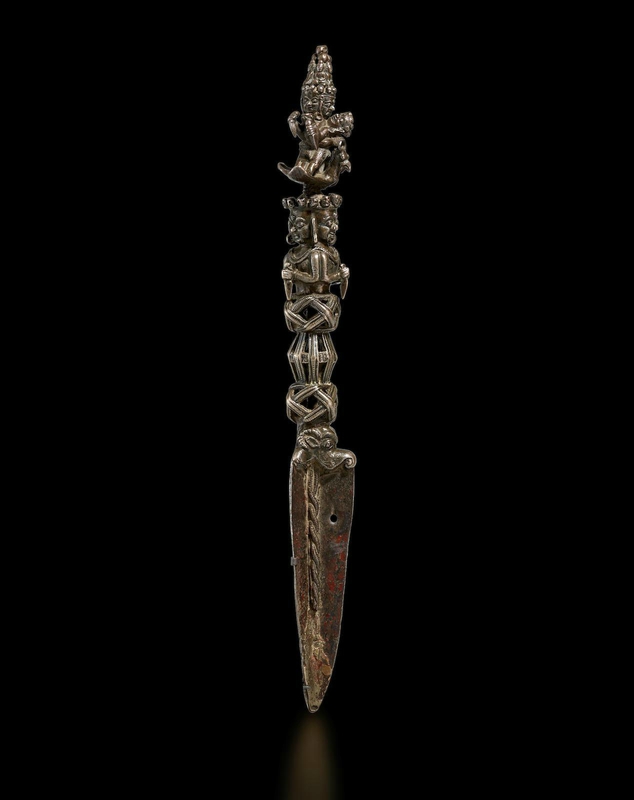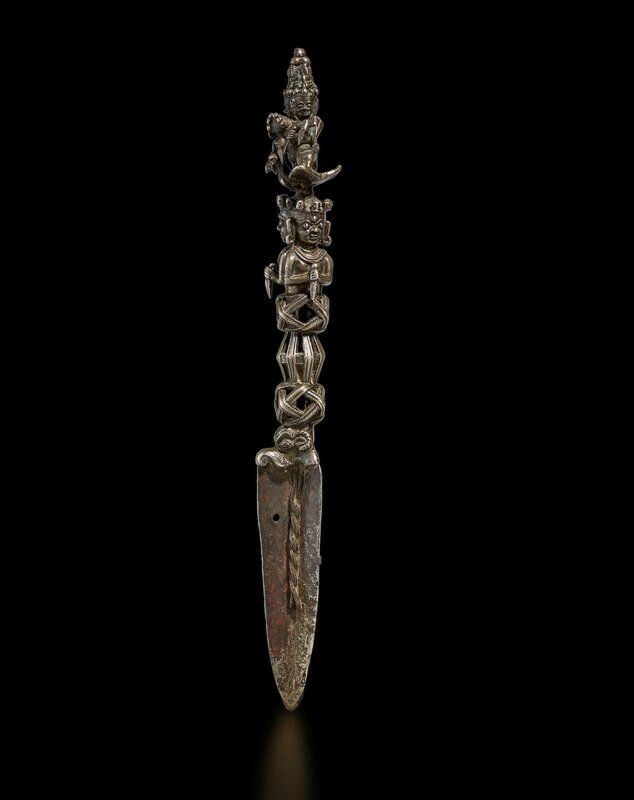 Lot 5, A large copper alloy and iron Bon purbha, Tibet, 12th-13th century. Estimate USD 30,000 ~ 50,000. Sold for US$ 179,000 (€158,253) inc. premium. Photo: Bonhams.
The tripartite blade emerging from the jaws of a serpent-spewing makara below a central 'thread mansion' grip incised with yungdrung (svastika), rising to a three-sided bust of a deity holding daggers below a mythic bird (kyung), surmounted by a six-armed and three-faced deity with daggers and his consort inyabyum. 18 3/8 in. (46.6 cm) long
Referenced: HAR - himalayanart.org/items/61444
Provenance: Private New York Estate
Sotheby's, New York, 26 March 1998, lot 185
Private Canadian Collection, since 2011
Notes: This fascinating, rare, and early ritual dagger (purbha), large and heavy in the hand, is wrought unaffectedly with a sense of intense, bound activity. The endless-knot grip appears to constrict like taut leather before the eyes. One can almost hear the sound. The bulging eyes of the fanged three-sided deity (cast in the 12th-/13th-century style redolent of a figure of Hayagriva, published in Rhie & Thurman, Wisdom & Compassion, New York, 1991, no. 54) seem to burst with animate energy.

According to legend, Padmasambhava introduced purbhas to Tibet to subdue forces hostile to Buddhism. Extraordinary tales of magic are associated with them, but there are no texts to explain, and their secrets are guarded by practitioners.

Adding to its rarity, this example belongs to Tibet's indigenous Bon religion. Key markers, in contrast to Buddhist versions of the same period – such as one sold at Bonhams, New York, 18 September 2013, lot 3 – are the absence of a vajra in the grip, the presence of yungdrung around its center, and absence of Buddhist deities. Instead, identified by his three heads, six daggers, and consort with skull cup, this purbha manifests the Bon deity Purbha Drugse Chempa.

In his study of Tibetan ritual daggers, Huntington found only "two phur-pa of this type... during my examination of hundreds of these implements" (Huntington, The Pur-pa, Ascona, 1975, pp. 23-4, figs. 24 & 25). One is held in the Indian Museum, Calcutta. Since then, two other Bon purbhas have been identified, listed: www.himalayanart.org/search/set.cfm?setID=2495, and a likely third, from the same period, published in Thurman & Weldon, Sacred Symbols, New York, 1999, pp. 150-1, no. 69.
Lot 25, A gilt copper repoussé figure of a bodhisattva, Nepal, circa 16th century. Estimate US$ 300,000 - 500,000 (€270,000 - 460,000). Sold for US$ 365,000 (€322,694) inc. premium. Photo: Bonhams.
(Cf. my post A gilt copper repoussé figure of a bodhisattva, Nepal, circa 16th century)
"As we turn now to our inaugural Buddhist Art sale in Hong Kong this November, with masterpieces already consigned, will offer a truly global perspective for our clients, with high caliber sales both sides of the year," Wilkinson said.

Other significant lots include: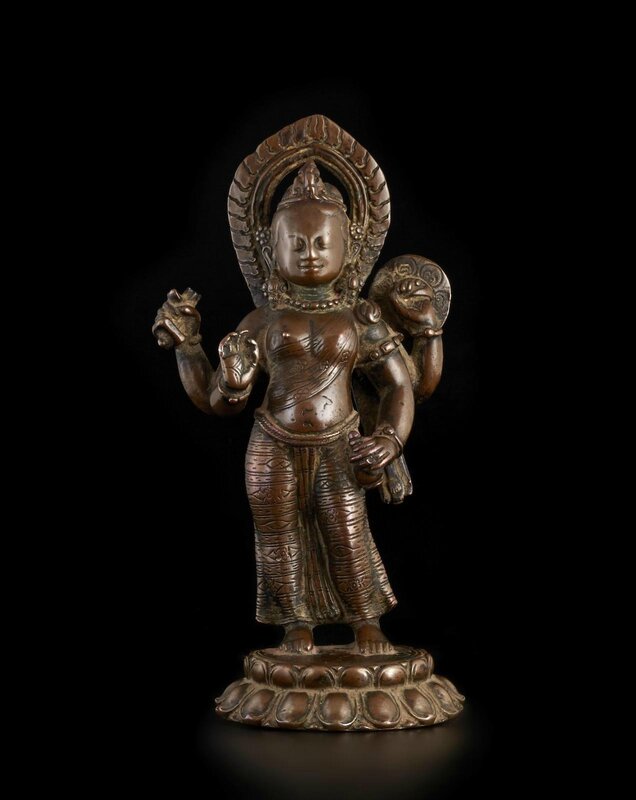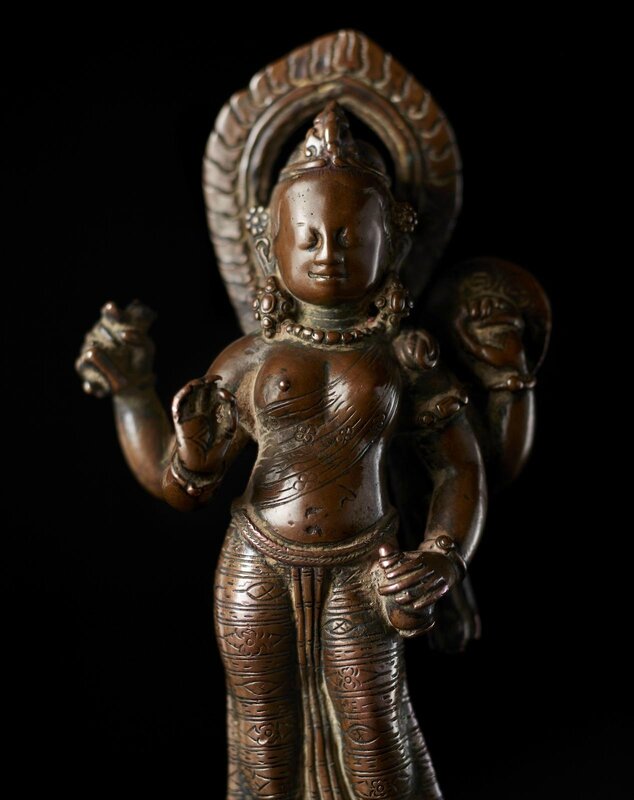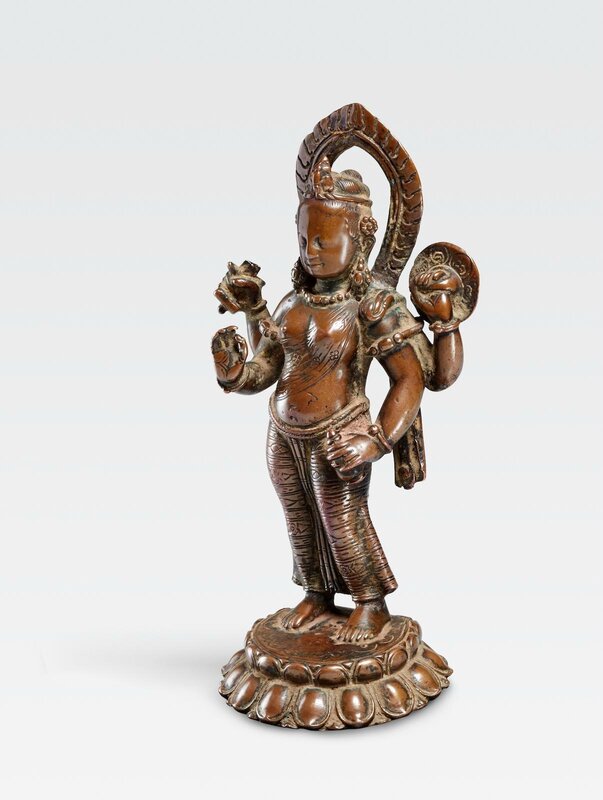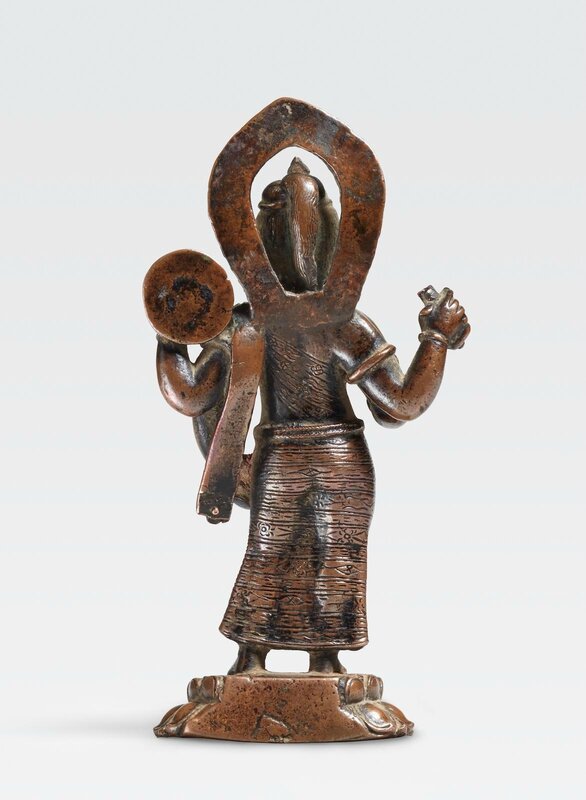 Lot 18, A copper figure of Devi, Nepal, circa 9th century. Estimate USD 200,000 ~ 300,000. Sold for US$ 293,000 (€259,039) inc. premium. Photo: Bonhams.
Naturalistically modeled with a graceful sway to the right, the bright goddess smiles with the gesture of teaching. 7 1/4 in. (18.41 cm) high
Referenced: HAR - himalayanart.org/items/61413
Provenance: Private Collection, Europe, 1970s
Private Collection, USA
Notes: This powerful goddess is portrayed as an adolescent figure with youthful vigor and natural beauty. She has high swollen breasts, well-defined buttocks, and a round stomach wrapped in patterned textiles. Her oval jewelry accentuates her proportions. Her face is plump and cheerful. Her hair is finely detailed and arranged in a loose pigtail, and her countenance is framed by the flaming aureole.

Her exact identification is elusive. She holds the hilt of a sword in her upper right hand and a shield in the upper left. The lower right displays the gesture of explication (vitarka mudra), and the lower left holds a water pot. The sword hilt and shield may suggest Durga: common attributes for the goddess, as seen in the Kshemankari Durga published in Dehejia, Devi, the Great Goddess, Ahmedabad, 1999, p. 27. However, no examples of the goddess are known showing her with a youthful, plump body, except for a single, roughly carved, Pala stele in the Victoria and Albert Museum (acc. #1879,1101.335) of the goddess seated, securely identified by the presence of her lion beneath her.

A water pot can also appear in Durga's hands, but without her buffalo-mount, or the tail normally held in one of her lower hands, we are prevented from making a definite attribution. This is especially the case in light of other deities also bearing these attributes, such as a stone Nepalese Seated Vatsaleshvari in Pashupatinath, dated to the 12th century, again rendered with a non-congruent idealized slim waist (Pal, The Arts of Nepal, Leiden, 1974, no. 234).

The repeated peacock feather eye incised to the interior of her shield is a curious feature. The peacock has many connotations in Hindu and Buddhist art, but there are no known texts that describe its very deliberate placement here. While the goddess Astamatrika Kaumari rides a peacock, reference to its feathers in a shield would be an unusual representation of the bird's function as a vehicle. At this juncture, we must classify this figure as Devi, the Goddess, who manifests in many forms.

Stylistically, the slightly squared ovoid face and youthful body are connected to a number of variously dated Nepalese sculptures, ranging from the 8th to 11th centuries. As very few early Nepalese sculptures in metal from the Licchavi period bear dates, the category remains a source of vigorous scholarly debate. An example in the Qing Palace Collection is dated to the 11th century (Zangchuan Fojiao Zaoxiang-Gugong Bowuyuan Cang Wenwu Zhenpin Quanji, Hong Kong, 2006, p. 91, no. 86). While three variously dated to the 9th and 10th century are published in von Schroeder, Indo-Tibetan Bronzes, Hong Kong, 1981, pp. 311 and 321, nos. 77G, 82F, 82G.

With that caveat, a Siddhaikavira form of Manjushri, dated 10th/11th century in the Metropolitan Museum of Art has a similar incised rippling scarf drawn across the torso (see ibid, p. 327, no. 85D). Meanwhile, her double-strand braided belt without a buckle relates to another Siddhaikavira, dated 10th century, preserved in the Jokhang in Lhasa (von Schroeder, Buddhist Sculptures in Tibet, Hong Kong, 2001, p. 499, no. 160B-E).

To obfuscate further, the incised stamen design on the top of her base is identical to one found on a Vajrapurusha, dated 10th century, in the Norton Simon Museum (Pal, Art from the Himalayas and China, Pasadena, 2003, p. 74, no. 43). While, the smooth and plump lotus petals recall the Pala ideal and are consistent with the petals on an Avalokiteshvara, dated 9th century, in the British Museum (von Schroeder, Indo-Tibetan Bronzes, Hong Kong, 1981, p. 310, no. 77A). Also compare her to another early Nepalese Devi sold in our rooms on 17 March 2014, lot 4.

An important, hitherto unpublished, addition to the rare and elusive corpus of early Nepalese sculpture, she defies exact identification or dating. Yet her superb smooth brown skin and recesses with encrusted accretions attest to this beautiful, enigmatic goddess' long history of worship and ritual handling within the culture.

Bonhams is grateful for Dr. Pratapaditya Pal's assistance with this lot note.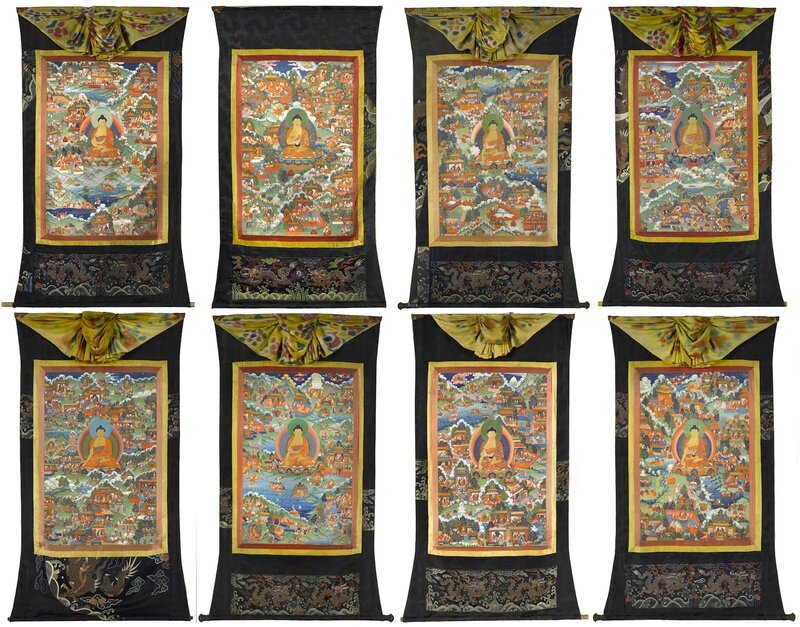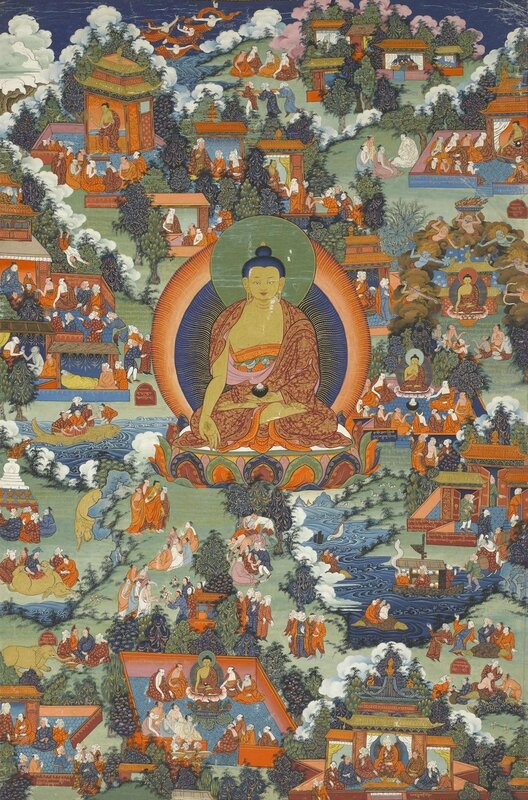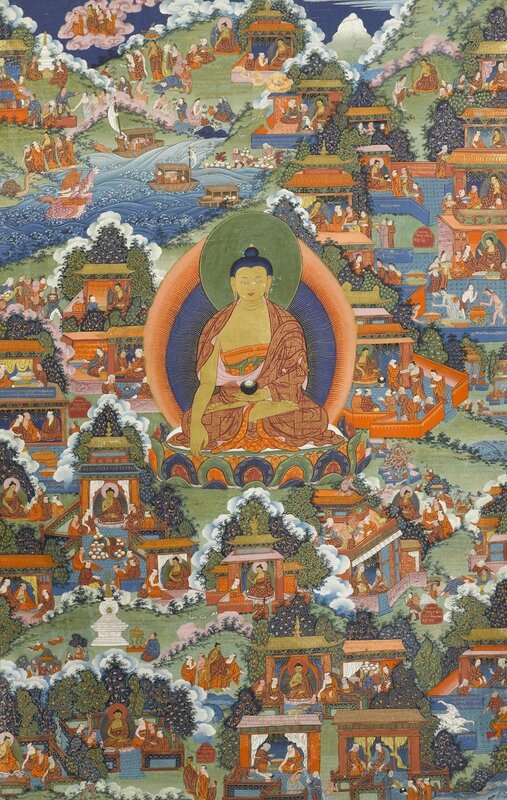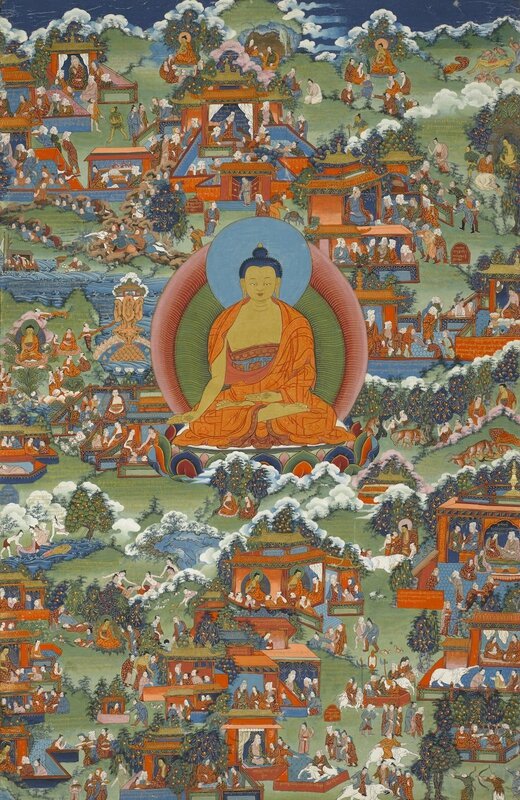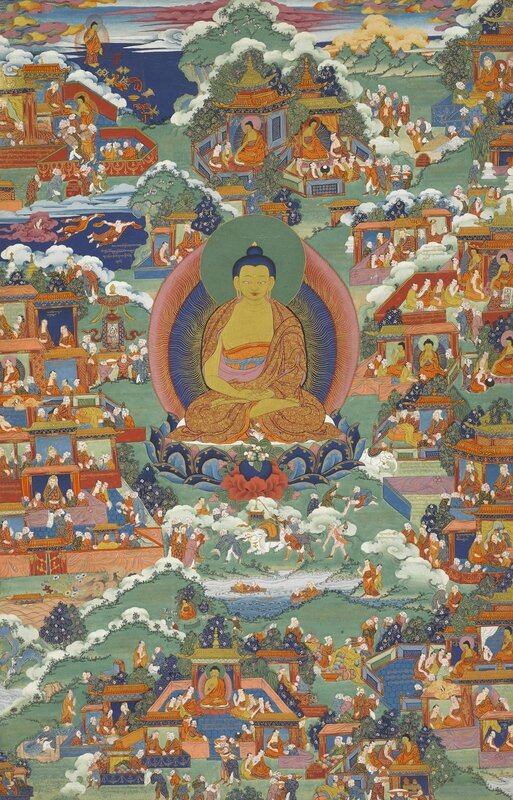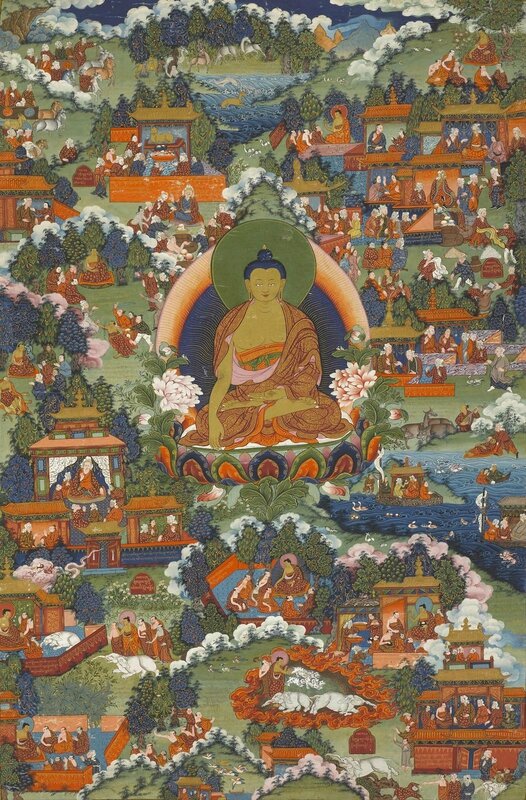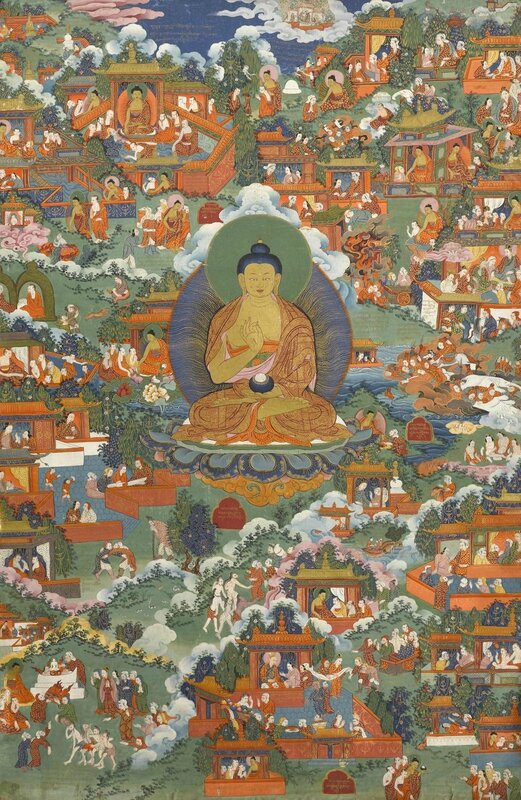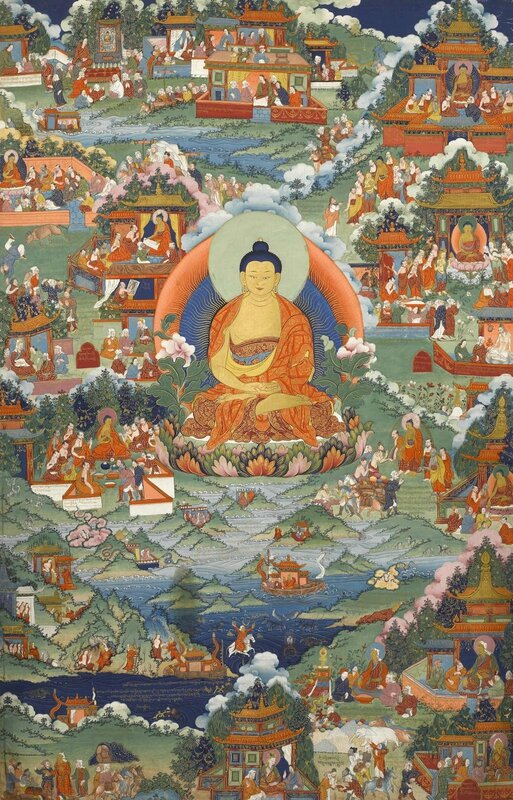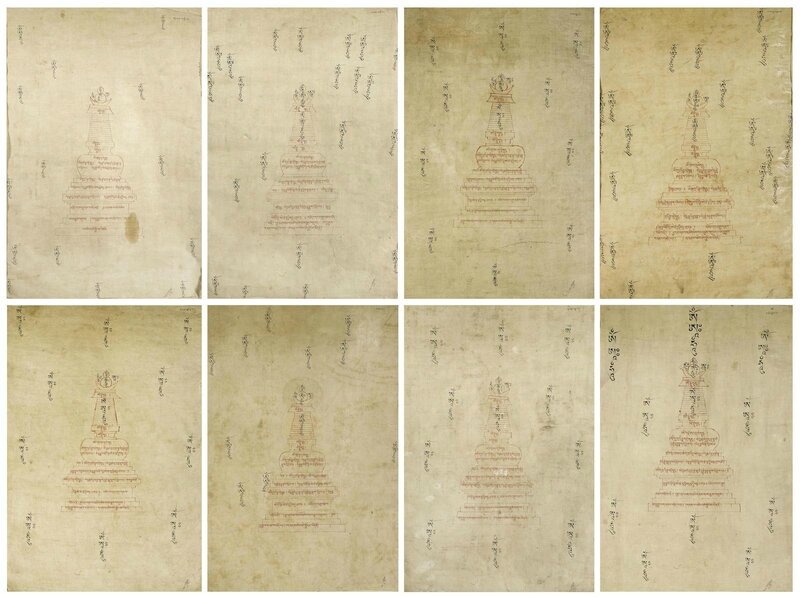 Lot 59, A group of eight thangkas from an Avadanakalpalata set, Central Tibet, 18th century. Estimate USD 200,000 ~ 300,000. Sold for US$ 245,000 (€216,603) inc. premium. Photo: Bonhams.
Distemper on cloth; the reverse of each inscribed in Tibetan with instructions for display in the top right corner, repeated 'om, ah, hum' invocations, a stupa diagram housing mantras and prayers; each bordered with original gold-brocaded silks. Image: 34 1/2 x 22 in. (87.7 x 56 cm) each. With silks: 59 x 35 in. (150 x 89 cm) each
Illustrated Stories:
6. Travels to the Island of Badara
7. The Maiden Muktalata
8. The Householder Shrigupta
9. Jyotishka's Realization
10. Born from the Womb
11. Nanda and Sundari
12. Virudhaka's Revenge
29. The Elephant Dhanapala
30. The Patience of Kashisundara
31. Golden-Sides, the Deer Suvaranaparshva
32. The Trials of Kalyanakari
42. The Result of Pandita's Generosity
43. The Pure Conduct of King Kanakavarna
44. Hiranyapani's Hands of Gold
49. Hastaka's Good Fortune
50. Performing the Ten Actions
51. The Lady Rukmavati
52. Adinapunya Offers His Life
67. Sangharakshita's Spiritual Journey
68. Padmavati's Ordeal
69. Consecration of the Dharma King
70. The Arhat Madhyantika in Kashmir
88. The Son of Hastishayyati
89. The Liberation of Dharmaruci
90. Dhanika's Offerings
91. The Eloquence of King Shibi
96. The Compassionate Elephant
97. The Turtle's Gift
98. The Strength of Spirituality
99. King Padmaka's Wishing Prayer
Referenced: HAR - himalayanart.org/items/61447-61454
Provenance: Collection of Lobsang P. Lhalungpa (1926-2008)
Acquired in India, 1960s
Lobsang P. Lhalungpa was born in Lhasa, Tibet. A talented monk-official, he was sent to India in 1947 to oversee the instruction of young Tibetans at a prominent school in Darjeeling. In 1956, the External Services of All India Radio recruited him to establish the first Tibetan-language program from New Delhi, which he managed until 1971.
Lhalungpha devoted his life to the preservation of Tibetan language and culture. His publications manifest his humanitarian spirit. In 1948, he co-authored,Textbook of Colloquial Tibetan with Tibetologist George Roerich, the son of famed Russian painter Nicholas Roerich. He translated The Life of Milarepa (1977) andMahamudra: The Moonlight (1986) into English, andThe Life of Mahatma Gandhi into Tibetan (c. 1965). In 1997, he authored Tibet: The Sacred Realm, Photographs 1880-1950 and contributed to the landmark Art History publication, Tibet: Tradition and Change. In his later years, he lived in New Mexico, where he was named a Santa Fe Living Treasure.
Notes: These enthusiastic, often humorous, compositions survive in impeccable condition with their vibrant colors intact. Their gold-brocaded silk mounts would have been a gift to the monastery from the Chinese Imperial court. Each has its reverse imbued with a large diagram of a stupa that frames a series of Sanskrit mantras (e.g. 'om bhrum svaha') ending with a four-line prayer translated:

'Patience for hardships is noble patience,
[Leading to] supreme liberation, the Buddha has said.
With respect to others,
Monks should do no harm or cause distress.'

All eight derive from a single set of thirty-one depicting the Bodhisattvavadanakalpalata – 108 stories of Buddha's previous lives. In the Lhasa court style, they derive from the same woodblock prints and are near identical to two complete sets, one held in the Palace Museum Beijing (Zangchuan Fojiao Tangka-Gugong Bowuyuan Cang Wenwu Zhenpin Quanji, Hong Kong, 2006, pp. 64-95, nos. 56-86), and the other published in Giuseppe Tucci's founding work, Tibetan Painted Scrolls, Rome, 1949, pl. 102-29.

Each painting houses three or four of these stories about Buddha's great wisdom and compassion throughout his many lives. Included is no. 32, The Trials of Kalyanakari, about a prince rewarded for his forgiveness after his brother blinded, robbed, and left him for dead after they stumbled upon the mythical Island of Gems. And no. 67, Sangharakshita's Spiritual Journey, about a monk who, having learnt the dharmain the underwater palace of the naga-kings, taught it to five-hundred sages at once; became an arhat; and flew them all to visit the Buddha. For a translation of the each story contained within these thangkas, see Black (trans.), Leaves of the Heaven Tree, Berkeley, 1997.
FINE JAPANESE WORKS OF ART
Fine Japanese Works of Art on March 16 is the only dedicated sale of Japanese works during Asia Week New York.
Polychrome wood figures from the 14th and 15th/16th centuries led Fine Japanese Works of Art – the only dedicated sale of Japanese works during Asia Week New York. The figure of Fudo Myo-o (Achala) from the Kamakura-Nanbokucho period fetched $75,000 with premium, which was matched at the same sale price by a pair of guardian figures from Muromachi period.

"Our offerings of Buddhist sculpture – coinciding with the Asia Society's Kamakura: Realism and Spirituality in the Sculpture of Japan – bolstered great interest among collectors and scholars alike. We were again pleased with the response to our print offerings, which have continued to demonstrate strong demand for fresh material in this area," said Director of Japanese Art Jeff Olson.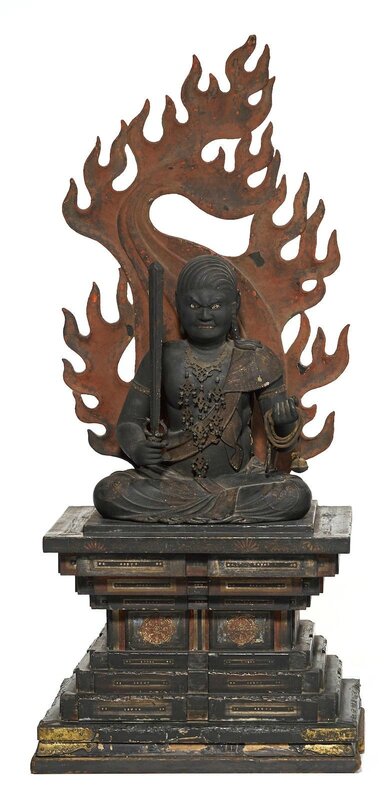 Lot 3024, A polychrome wood figure of Fudo Myo-o (Achala), Kamakura-Nanbokucho period (1138-1392), 14th century. Estimate USD20,000 ~ 30,000. Sold for US$ 75,000 (€66,307) inc. premium. Photo: Bonhams.
The figure shown seated cross-legged modeled with the soft figure of a youth but with a fierce facial expression with the upper teeth and fangs biting the lower lip, the hair swept to one side in a braid down the left shoulder, a kurikara (Buddhist sword) held in the right hand and and a weighted rope in the left, the robes draped around his waist and over the left shoulder decorated with floral roundels, with traces original pigment and gilt, the eyes inlaid in crystal; with gilt-metal jewelry; set on a ten-step base painted withrinpo (Wheel of the Buddhist Law) and flowering vines, gilt-bronze hardware, a large separately carved flame nimbus emanating from the rear, all possibly original to the sculpture. 11 3/8in (28.8cm) height of figure; 31 1/8in (79cm) height overall
Notes: For a similar figure of Fudo Myo-o by the hand of Kaikei in the collection of Shoju-in temple, Kyoto, see Hiromitsu Washizuka, Myoo: okori to itsukushimi no hotoke (Myo-o: Buddhist Deities of Wrath and Love), Nara National Museum, 2000, pl. 24; and another in the Burke Collection, see Miyeko Murase, Bridge of Dreams, The Mary Griggs Burke Collection of Japanese Art, The Metropolitan Museum of Art, New York, no. 22, pp. 75 & 76.
The sale saw a solid demand for woodblock prints from masters such as Utagawa Hiroshige and Katsushika Hokusai. A set of 55 woodblock prints by Hiroshige sold for $68,750 with premium, far above its estimate. A long bidding match for an inlaid-iron tetsubin (kettle) from the Meiji era ensued, finally going for seven times its high estimate at $68,750 with premium. This lot was followed by another inlaid-iron tetsubin with an en-suite inlaid cover from the same period which realized $52,500, including premium.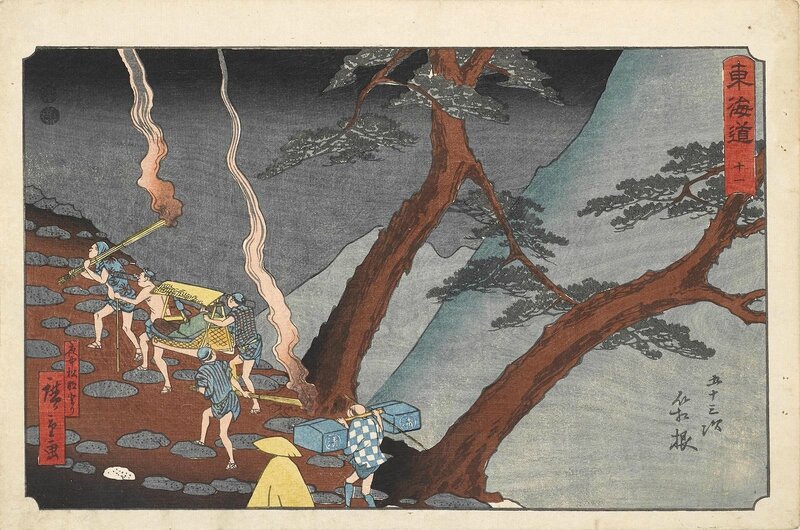 Lot 3069, Utagawa Hiroshige (1797-1858), A set of 55 woodblock prints. Estimate USD7,000 ~ 9,000. Sold for US$ 68,750 (€60,781) inc. premium. Photo: Bonhams.
Oban yoko-e; each from the series Tokaido gojusan-tsugi (53 Stations of the Tokaido) also known at the Reisho Tokaido, each with the station title and number, signed Hiroshige ga, with two nanushi censor seals (c. 1847-52), most with the publisher cartouche of Maruya Seijiro (Marusei/Jukakudo) on the side margin - varying impressions, generally very good-good color, generally good condition. 9 1/4-9 5/8 x 14 1/4-14 1/2in (23.6-24.6 x 36.1-37cm)
Notes: This Tokaido series is known as the Reisho Tokaido after the calligraphic style of the title cartouche and is considered by most to be Hiroshige's best after the "Hoeido" series published in the early 1830s.
Other significant lots include: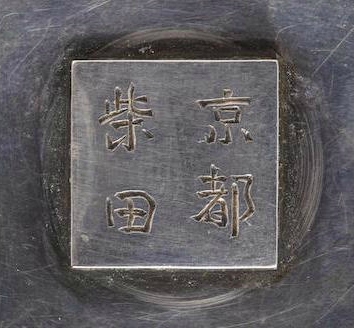 Lot 3200, A fine and large cloisonné-enamel vase, By the Shibata workshop of Kyoto, Meiji era (1868-1912), late 19th century. Estimate USD12,000 ~ 18,000. Sold for US$ 37,500 (€33,153) inc. premium. Photo: Bonhams.
The elongated ovoid vase tapering to the base, set on a splayed foot and finished with a tall neck all worked in polychrome enamels and silver wire with a continuous design of a rooster, hen and chicks before a large stand of peonies and other assorted flowers, and sparrows in flight, all against a black ground, the rim decorated on the side and upper surface with tightly scrolling floral vines against a mustard ground above linked floral roundels, the foot decorated in a similar fashion, silver mounts, signed on a silver tablet on the foot Kyoto Shibata; 13 3/4in (34.9cm) high
Notes: This large vase is very much in the style of works by Namikawa Yasuyuki (see, for example, Oliver Impey, Malcolm Fairley and Victor Harris, Meiji no Takara, Treasures of Imperial Japan, Enamel [in the Khalili Collection]. London: Kibo Foundation, 1995, cat. no. 16.) The shape and choice of color scheme against a glossy black ground and even the signature on a silver tablet, are all typical of Namikawa's pieces. However, the decoration around the top of the rim and the foot are more typically seen on examples attributed to Shibata. Shibata (last name unknown) appears to have had some connection to Namikawa, though there is much argument as to how the two were related. Some believe Shibata was at one time employed by Namikawa and later branched out to open his own independent workshop.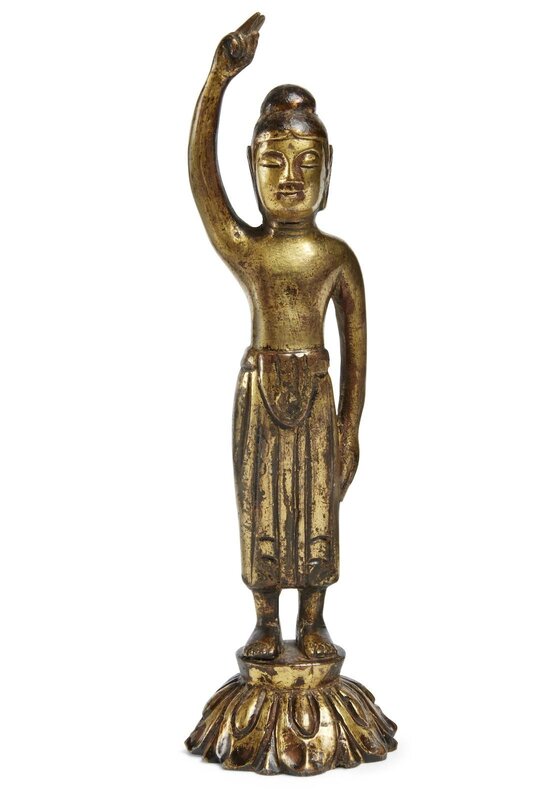 Lot 3018, A gilt-bronze model of Tanjobutsu (Shaka at birth), Hakuho (646-710) or Nara (710-794) period, 7th-8th century. Estimate USD10,000 ~ 15,000. Sold for US$ 32,500 (€28,733) inc. premium. Photo: Bonhams.
Cast in the form of the newly born Buddha, naked to the waist, his right hand pointing to the heavens and his left pointing to the earth, on a lotus base. 7 1/2in (19cm) high
Notes: After the Buddha was born from the right side of his mother Maya, he immediately took seven steps in each of the four directions and stated he was the only Venerable One in the heavens and on earth. This event was widely celebrated in early Japanese Buddhist sculpture, the most famous example being a figure in the Todaiji Temple, Nara, dated to the mid-eighth century and registered as a National Treasure. The Todaiji figure was reputedly used as recently as the 1980s for the annual celebration of the birth of the Buddha on the eighth day of the fourth month, a custom instituted in the year 606 by the pious Empress Suiko. During the celebration, known as kanbutsu-e, the figure is typically placed in a flower-decked hut and anointed with hydrangea oil. For another example in the Shōgenji Temple, Aichi Prefecture, usually housed in Nara National Museum, see Ikeda Yoko, "Dozo tanjo Shakabutsu ritsuzo (Shogenji zo) noto (A Study on The Statue of Sakyamuni at Birth in the Shougenji Collection," Nagoya Zokei University of Art and Design, Departmental Bulletin Paper, 15 (March 2009), pp. 49-59.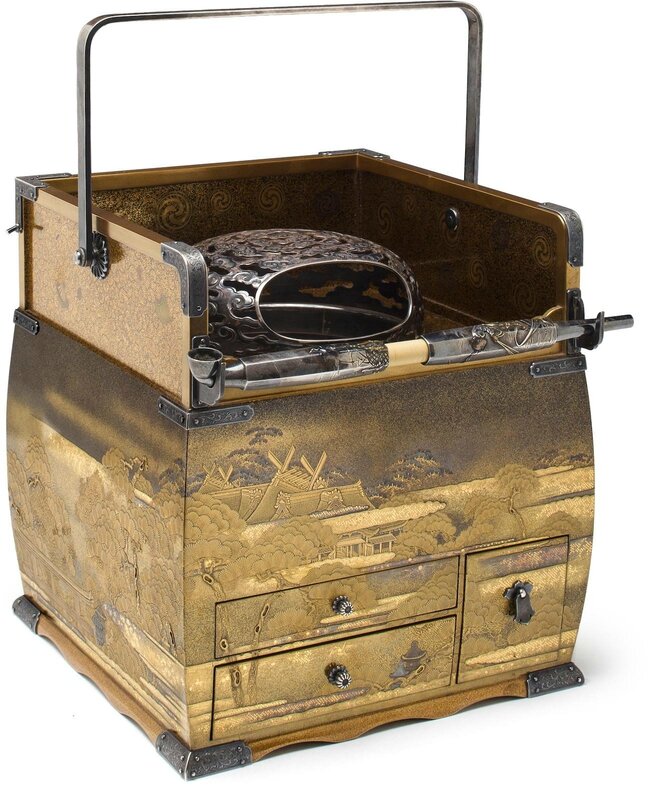 Lot 3139, A fine gold lacquer tabako-bon (smoking set) and pipe, Edo period (1615-1868), 19th century. Estimate USD 18,000 ~ 25,000. Sold U.S. $31,250, including premium. Photo Bonhams
Composed of a square lacquer case with slightly bowed sides and fitted with a silver handle, the upper housing holding a silver brazier with a domed cover pierced with clouds, the front of the case with two shallow and one deep drawer, the sides decorated with a scene of a Shinto shrine and the surrounding landscape with a torii gate, knotty pines and a large drum bridge, all lacquered in several shades of gold and silver hiramaki-e, takamaki-e and togidashi maki-ewith kirigane, uchikomi and hirame embellishments, the housing around the brazier decorated on the exterior with the attributes of the Seven Lucky Gods and scrolling vines in iroe togidashi maki-e against a goldnashiji ground and the interior with tomoe (whorls) in gold and silver togidashi maki-e against a ground ofhirame, the edges fundame and the interiors goldnashiji; silver hardware carved with scrolling vines on ananako ground; the accompanying pipe cast in silver and decorated with a cormorant fisherman holding a net and a torch, his bird perched on stump by a rock basket, all rendered in iroe taka-zogan and katakiri-bori. 8 1/4 x 8 1/4 x 9in (21 x 21 x 23cm)
Notes: Tobacco arrived in Japan sometime in the 16th century with Portuguese sailors and within decades of its introduction, it had caught on with underground and fringe members of society. Kabukimono, gangs of wild, disenfranchised members of the Samurai class adopted tobacco use as part of their image, the association eventually causing government officials to restrict the use of the substance. Despite repeated efforts to control it, the use of tobacco spread and associated artifacts and paraphernalia such as pipes (see lot 3113) became not only necessities for the smoker but items of luxury such as the present lot.
The next Asian art sale at Bonhams is the Asian Decorative Arts on March 22 in San Francisco.