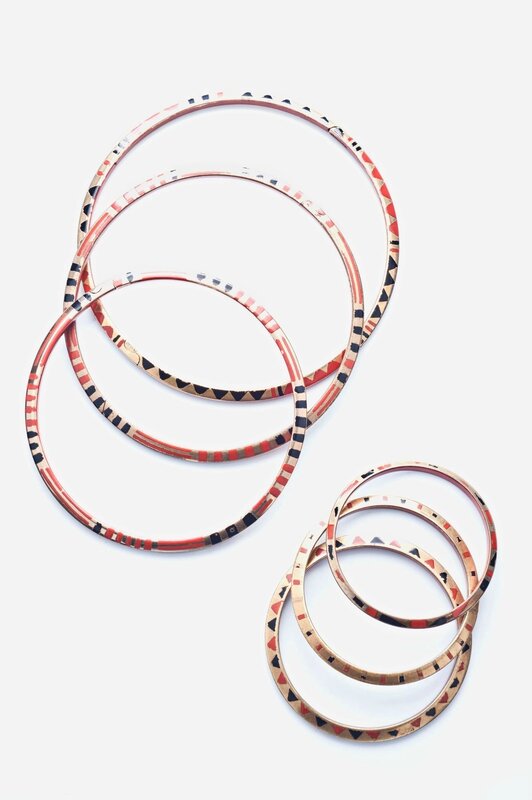 Jean Dunand (1877-1942), Three-ringed 'Giraffe' necklace and three 'Giraffe' bracelets, France, circa 1927. Each necklace and bracelet in Oréum designed with geometric designs in red and black lacquer. Signed 'Dunand'. van Kranendonk Duffels (stand 245) © TEFAF Maastricht, 2016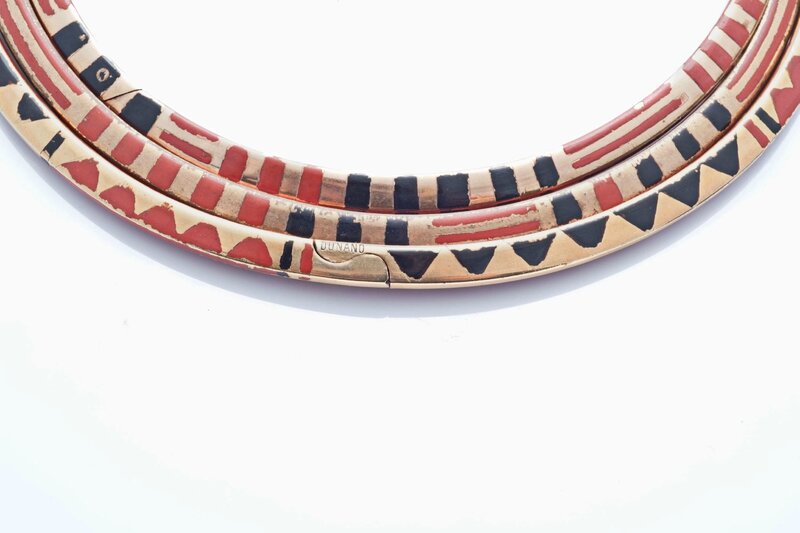 Jean Dunand (1877-1942). Detail of signature 'DUNAND' on the three-ringed 'Giraffe' necklace. Each necklace in Oréum designed with geometric designs in red and black lacquer. van Kranendonk Duffels (stand 245) © TEFAF Maastricht, 2016
Literature: For a similar necklace see; Laure Mouillefarine and Evelyne Possémé, Bijoux Art déco et Avant-garde, Norma Editions, p. 140; Félix Marcilhac, Jean Dunand his Life and Works, p. 97
Exhibitions: For a similar necklace; Paris, Musée des Arts décoratif, Bijoux Art déco et Avant-garde, Jean Després et les bijoutiers modernes, 2009; New York, The Bard Graduate Center for Studies in the Decorative Arts, Design and Culture, 2010
van Kranendonk Duffels (stand 245) at TEFAF Maastricht, 2016, march 11-22
Directors: Jan van Kranendonk Duffels, Aimée van Kranendonk Duffels, Fleur van Kranendonk Duffels
van Kranendonk Duffels has been specialized in the finest European and American antique jewellery for over forty years. Aimée and Fleur, together with their father Jan van Kranendonk Duffels select each piece of their collection with a passion for exceptional quality, craftsmanship, and authenticity.

The collection embraces a unique array of fine and rare pieces of jewellery from the world's greatest designers dating from the late 19th and first half of the 20th century. Designers like Van Cleef & Arpels, Cartier, Boucheron, Tiffany, Raymond Yard and Oscar Heyman are only a few of the many jewellery houses to be found in the collection of van Kranendonk Duffels.

van Kranendonk Duffels participate in national and international fine art and antiques fairs but also receive by appointment.
Contact: van Kranendonk Duffels, Netherlands. T +44 75 95 24 58 19 - M +39 335 6262 252. By appointment - www.vkdjewels.com - vankranendonkduffels@gmail.com