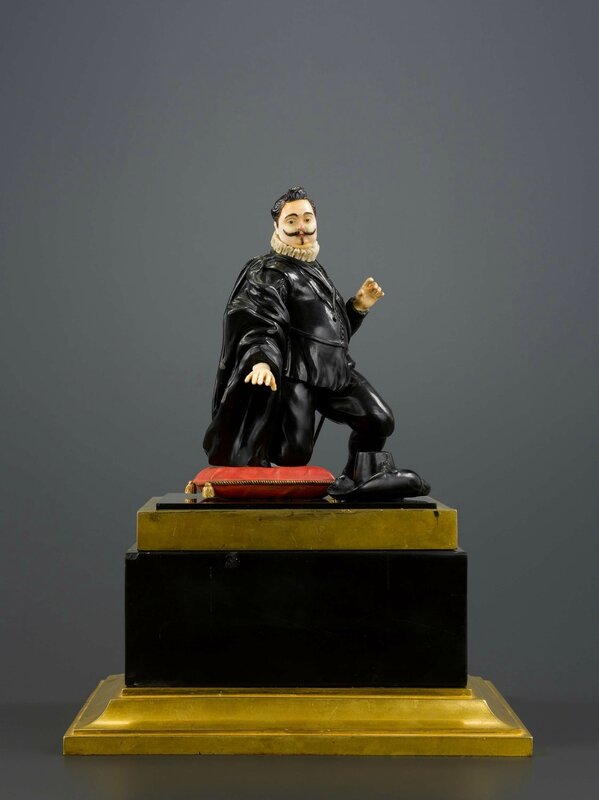 A pietre dure figure Paolo Giordano Orsini, Duke of Bracciano, Florence, Grand Ducal workshops, circa 1620-1625. Black paragon marble, chalcedony, agate, bronze. Height (without base) 16.5 cm. Height (with base) 28.5 cm. Base 22.4 x 22.2 cm. Galerie J.Kugel (stand 200) © TEFAF Maastricht, 2016
Probably after a model by Orazio Mochi (1571-1625)
Provenance: Count Nicolas Demidoff (1773-1828), Villa di San Donato; Prince Anatole Demidoff (1798-1840), Villa di San Donato; Sale Collection de San Donato, Paris, 29th of March, 1870, lot no. 314; Baron Guy de Rothschild (1909-2007), Paris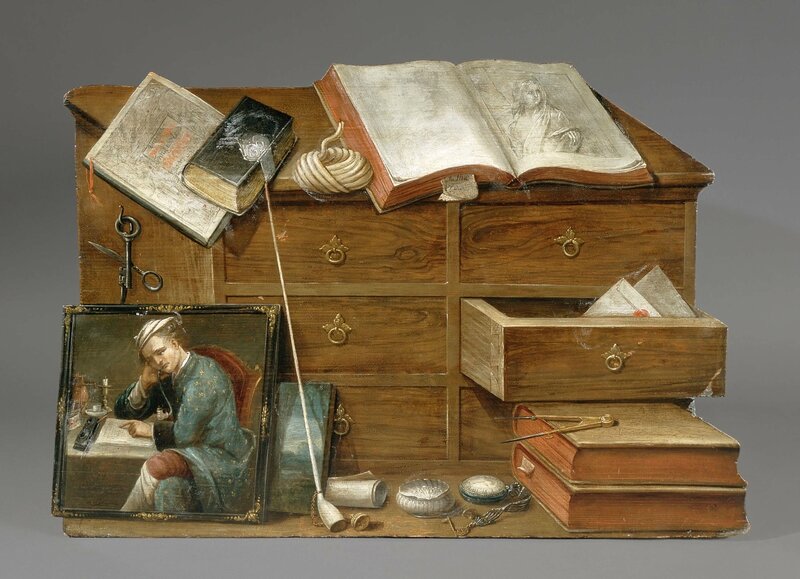 Johann Jakob IHLE (1720-1774,active in Esslinger, Germany), A vanity painting cut into a cabinet in Trompe L'oeil. Oil on panel, 61 x 88 cm. Signed and dated on the bookmark 'J.J.Ihle 1768'. Galerie J.Kugel (stand 200) © TEFAF Maastricht, 2016
Provenance: Maurice Rheims, Paris
Exhibitions: Paris, Orangerie des Tuileries, Paris, Le Cabinet de l'Amateur, RMN, 1956, no.66, p.19
Galerie J.Kugel (stand 200) at TEFAF Maastricht, 2016, march 11-20.
Directors: Alexis Kugel, Nicolas Kugel
Galerie J. Kugel, who has always been offering the finest works of art, moved to the left bank of the Seine in 2004. Nicolas and Alexis Kugel, who represent the fifth generation of antiques dealers that originated in Russia, acquired Hôtel Collot, a beautiful private mansion located near the Musée d'Orsay and opposite the Tuileries gardens, built by Louis Visconti and restored to its original splendour by renowned interior designer François-Joseph Graf. Visitors to Hôtel Collot will find an astonishing array of major pieces ranging from the medieval period and the Renaissance to the 1850's, each selected not only for its rarity, authenticity and state of preservation but also for its quality, intrinsic beauty, provenance and historical significance.
Contact: 25 Quai Anatole France, 75007 Paris, France. T +33 1 42 60 86 23 - F +33 1 42 61 06 72